Amber's continuing naughty updates since the last time I checked out her sites has the conclusion to her excellent "stalking movie" of a starlet called Trisha – Amber plays a stalker, from memory and wothout looking it up on Google… rather like the mad bad psycho fan played by Sondra Locke (?) opposite Clint Eastwood in "Play Misty for me" – Amber is a delightfully bonkers fan who barges in on Trisha in her hotel room and overpowers a sleepy Trisha and performs all manner of very naughty spanko and sexually related bondage fun including shibari and ball gags as well as spanking and forced orgasms with various vibros. Trisha, I have to say, has one of the most alluring pussies any lady could wish to possess… I think I mentioned that last time… and the way she moans with that ball gag in place is heavenly!

Trisha – at the mercy of a rather mad bad stalking Amber!
Check out the final images taken from the concluding parts of this fine series which is only available at AmberSpanks.com and compliments Amber's many naughty and increasingly daring F/F punishment films and 1st time girls that only she has had the pleasure to spank!
Did all those bad things really happen to Trisha or were they just some woerd dream? members can find out HERE… oh, did I mention Amber uses her strap on cock with gusto as well? Damn she is getting naughty as she gets ever more adventurous! If you love girl/girl, spankings, redhead domination and some well made porn from a female perspective, then do go check out AmberSpanks.com for more info!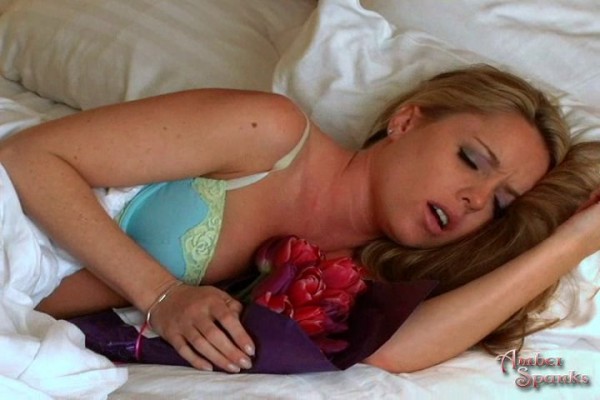 *********************************************
Of course, Amber caters to us viewing her genuine submissive side and if you know anything about her from my blog and other sites that love her… she needs maintaining and spanking on a daily basis… so she has her hands full with her web camming, her new role as a sex toy tester (damn that has to be a hard job, eh?) and of course her spanking exploits which I have covered in part… so let's see the other side as we view Amber getting some punishment treatment at her original site SpankAmber.com – the images below are taken from her latest film series there with one of her favorite web cam clients who "gets her" and what's she's really capable of during a very naughty 1-2-1 cam session – this was filmed by Amber's Daddy and you can see just what a playful minx she is when she interacts with her clients that she treasures…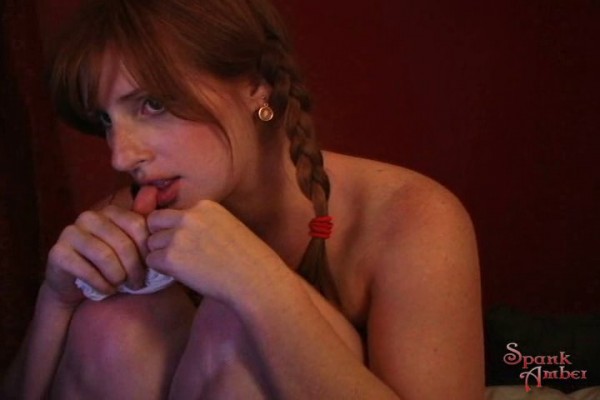 Amber is told to eat her panties after giving her pussy & tits a good hard slapping & spanking!
You can see much more of what Amber gets up to as a member of her site and view 100's of unique films from over 4 years of the site being active! There is also an option to purchase a dual membership of both her spanking sites for one lower fee which makes the best sense and makes it film for film one of the most attractive options for spanking enthusiasts out there that would get off watching a genuine spanko show us what she gets up to behind closed doors! Highly Recommended! (But I'm biased)


*************************************
Back tomorrow with news of my latest new movies at my own site and more… til then, be good! 🙂