Well, news of my early demise (for now at least) seemed a little premature, even if I have been reduced to drinking Lapsong Souchong tea (it's not a flowery girly raspberry tea or something as insipid as camomile tea), it's a strong nutty, smoky tea full of flavor (or flavour as I prefer to spell it) Actually, does anyone really care if I spell the American way or the British way? What is your consensus? I try to spell the American way and have tried to for some time as the majority of my readership are still from North America… but do any of you care if I was to spell words like "colour – flavour and talk about biscuits instead of cookies or whatever it is you call them?) Any replies in the comments section are duly noted and once again… I have digressed! 🙂
So after my impromptu soap box rant yesterday, let's move on with some various punishments and spankings from across the interwebs and let's see if I can't tickle your fancy with some of the stuff I have been fortunate to view these past days!
Firstly, this was a naughty old movie which I hadn't seen before but when you take a look at the pics from it, then I'm sure you'll appreciate it! The film is taken from Long Play & Classic Movie Specialists CALSTAR – I haven't featured them for a while, but that's not to say their stuff is uninteresting, far from it, this film just stands out for me, can you guess why?
Wow…love the before and after images? Well, when you see what poor Callie take in this old Brit long play classic, she's spanked and caned hard downstarirs, and her aching buttocks are finally relieved with some butter cream to soothe that burning bum! The film comes with a maximum Trouser Arousal of Level 5… so nervous gentlemen out there with hair trigger penises (lol) – please watch with extreme caution! Check out the delicious domestic discipline punishment pics of this film below:
I'm still downloading their movies when I can as I have just purchased a new membership and I remembered this film (I had lost it) so have downloaded this one first! It's what made me want to join again – From what I can see, members will be kept busy as the archived area is vast, virtually all the movies are long play, often up to an hour and stretch back years. OK, some of the older films are not as good quality but they are unique and at the time were state of the art 10 years or so ago! All the films are immensely watchable though and still look great after all this time, especially some of the girls that have long retired… it's like seeing a whole new load of spanking models for the 1st time and some are (for me) refreshingly retro with hair "down there" which I really long to see more girls sporting again… come on girls, let's have a return to trim "lady gardens!" This is gonna be one site I'm gonna have fun at, see why HERE 
*********************************
I haven't featured this site for at least a week (shock horror) so let's check out the girls punished in uniform
The Luxor hotel in town contacted Mr Johnson at the Birchrod Inn and asked if he could send over one of the maids to clean a conference room because that evening they were hosting an important conference. Mr Johnson sent over maid Caroline. When he arrived that afternoon to see if she had done her job properly, he was dissapointed. He gave her a sound spanking and she was told to clean again. Upon inspection her job was still not done properly so he gave her a sound paddling and during the entire conference she had to stand nose against the wall, red sore bottom on display.
& in other news, stunning Danielle gets more treatment from Mike, this time in the naval academy section, I have been talking to Dani recently, and we could well be seeing this lovely thing at Triple A very soon, see why I'm excited and why Mike will also be filming much more of her too (check out some images below)…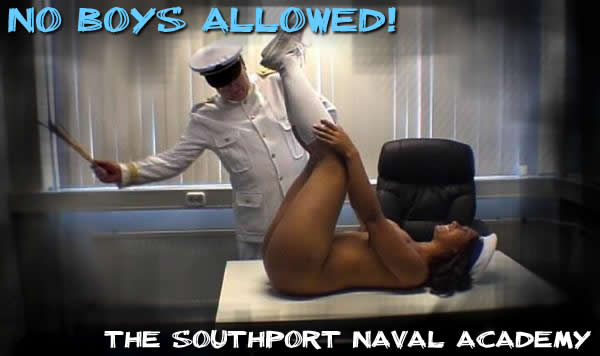 One of the oldest traditions at the Southport Naval Academy is when a cadet brings a boy in to the Academy grounds, she gets a special punishment that has been handed out for hundreds of years. She has to strip and only leave her hat, shoes and socks on and she is given a sound spanking and birching in the diaper position by her commanding officer and then she has to stand in the parade ground for 2 hours so all the cadets will know  what she has done. Cadet Danielle was caught with a boy behind the sheds and she was soon ordered to strip…
Check out more of Danielle's films now appearing in full at the other uniform sections HERE
*****************************************
Finally from me today, one of the sexiest Japanese schoolgirl spanking films I've seen in a long time. This girl is so incredibly cute, and what's more, she dares to wear some rude panties to school, only a snap knicker inspection before she leaves by her suspicious and very stern mother reveals her wanton thoughts and so she is first spanked then paddled (hard, I might add!) in them, whilst wearing that awesome school uniform! Phew! I have got you the latest images from this film and a link to view their preview clip before it disappears! Do NOT miss this one, it's a corker!

"Hmmm, beautiful slutty panties…. I have to try these on and wear them to school!"
CLICK HERE TO DOWNLOAD MY DIRECT PREVIEW CLIP OF THIS STUNNING GIRL
If you're fed up with seeing schoolgirl spankings (what???) then you'll be intrigued to know that a new film has been released at CutieSpankee with a young woman who looks absolutely scrumptious (I make these ladies sound like their meals or something, lol) she is spanked in her hosiery and her bare bottom given a good paddling as she fondly remembers her youth getting thrashed at her old place!
All the latest films and updates can be viewed HERE
**************************************
OK, I'm a little shattered as I pulled another long day at work, and I have to get up early (yet again) so need ot eat and then catch upon some sleep, I hope you at least enjoyed a few of the things I have been watching! Back soon, Chief.