As promised, here is my final update as I take a look around spanking t'internet after sorting out my site yesterday. I have also updated another blog with some nice goodies and I'll let you know about that at the end so you have enough from me to last you a little while, I hope 🙂
*********************************************
So in no particular order today, here is the very lovely Sarah Gregory first up in her 2 latest films getting the bejeezus whacked off her magnificant behind (I should know… ahem!)
A not so happy Spanksgiving (in preparation early for that family get together in America later this month (& I realize it happens in Canada too, although that was last month, eh?) < Oh and that "eh?" wasn't making fun of your accents, my Cannuck chums… we love you colonials and your Maple leaves 🙂
Sarah is pouting and acting very ungrateful. When Sarah's mother confronts her and asks her for some help preparing Thanksgiving Dinner, Sarah back talks her enough to earn herself a hard slap across the face. If that isn't enough she gets a hard bare bottom spanking from mom, from dad, then from both for acting like a spoiled ungrateful brat on Thanksgiving.
There is also this movie out right now in full called "Right answer to the wrong solutions" and has Jenni Mack topping Sarah as only she knows how – HOT! HOT! HOT! I love seeing Jenni and Sarah together, they look so damned good together, don't you think? (see below)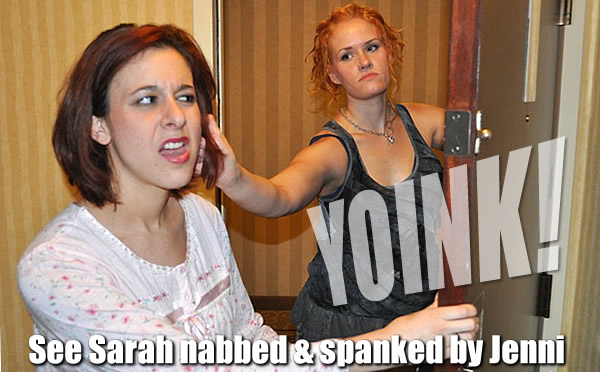 Jenni Mack is very pissed at fellow student, Sarah Gregory… when she finds out that Sarah has sold her the wrong test answers. She comes to Sarah's apartment to give her the right answer… a humiliating bare bottom spanking!
Wow! I look forward to seeing more of these 2 together and also when Sarah "has her revenge"
You can check out Sarah's great model driven site – CLICK HERE
*************************************
OK, next up I was going to post the very latest updates from NorthernSpanking.com (I still am… but I knew I had seen Jenni Mack somewhere… and here she is, my… my… Paul & Lucy were very lucky, I'd *love* to film Jenni one day 🙂
Jenni Mack spanked by Lucy Maclean (fulfilling a personal fantasy)
This is what Paul and Lucy had to say about Jenni at the time: This was a period piece set in the 1950's. A personal fantasy of Lucy, who wanted to play a 50's housewife, with a daughter who is ordinarily a good girl but disobeys her parents. The part of the daughter played by Jenni Mack is wonderfully believable. She is awfully pretty, with the most delicious bottom!
Indeed she is! & next I wanted to showcase Pandora Blake's ongoing feature there, as she mentioned herself she had forgotten some of the filming until the scenes below, and I can see why she wouldn't forget these scenes! A table tennis table, that ping pong bat… and the images taken below look amazing. Pandora Blake and Michael Stamp … he's the dusty old tutor, in his dusty old rooms of his house giving it to his private pupil as only he knows how from a bygone era… oh, and check out the dusty old garage! We have dumped our table tennis table there too, the spiders love it! 🙂  He looks the part, though he isn't really *that* old, is he? (lol)
& of course there is the latest SSS (Short Sharp Shock) movie, shot outdoors with the lovely (now retired and I got to ask her to film for me just a little too late… damn!) Lottie Kinsade… Paul admitted he had problems with wind noise in this movie, the bane of outdoor filming on our cams, but they have done some re editing to bring you the movie, the stills, are of course amazing (a couple of sunny warm images are below).
Check out all the very latest offerings from NorthernSpanking.com
**************************************
Japanese girls are NEVER EVER far from my mind when it comes to spankings and in this latest schoolgirl update below, you'll see why as one of the prettiest girls they have on there, Yuka Asagi, in this glorious school uniform that has me sighing with disbelief everytime I view these girls getting punished… *sigh*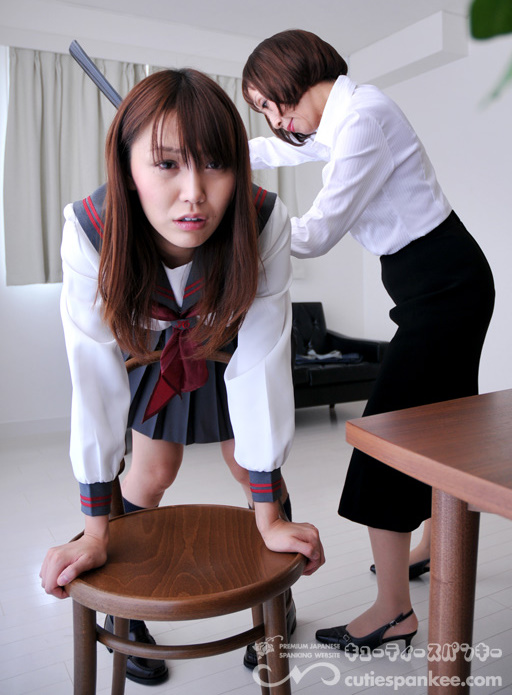 Oh my goodness! Will these beautiful spanking scenes never end???

******************************************
Finally… I am running out of time and "Er indoors" is once again glaring so here is my last upfate for now… I couldn't leave you all without a mention of a stunning new girl at Firmhandspanking.com
Meet beautiful Melanie Taylor in her Firm Hand debut: hot, HOT HOT! Caught in a casino scam, she opts for a series of spankings from owner Earl Grey. 150 smacks on her jiggling bare booty is just the start. As usual, you will be able to view the facial "Reaction Cam" and the slow-mo replays of her wobblesome butt at the end so you don't miss a single moment!
It's not just new girls now appearing, if this wasn't enough, Samantha Woodley and Michaela McGowen also appear in a new series of films – yup… for me at least that means maximum trouser upheaval (oh, not again FFS!) and a loud sigh of "O-M-G!!!"
CLICK HERE to see the free preview clips and the movies these girls are now appearing in!

**************************************
Yikes, that's it for now, I have missed so much, but I have also updated my (lesser known) blog but it is ALWAYS worth visiting and book marking as when I do ass to it, it has some quality stuff there… go check it out HERE
& if you like more retro spanking stuff, then I have been updating BareBottom.biz as well and I am starting to like the feel of that l'il ol' site now 🙂

It goes without saying that if you want a fix of what is hot in spanking then go to my Spanking Tube which has just had some amazing clips added which you will all love to bits!

******************************
Oops! I almost forgot… please do take a look at the Triple A Clips Site – there are some hidden and not so hidden gems amongst the 80 plus clips and will suit those who don't like memberships as well as a few hidden extras that not even members can view yet! Like the clip below released yesterday of Emma Brown… check it out!
There is also a free preview, the only place you'll see this is HERE right now 🙂
That's it, it's gonna be wierd not having a laptop or internet connection… so I hope you enjoy reading what I've placed here and you can always check out my rather large archives if you get bored, I do sometimes and it's amazing what stuff there is from a few years back! Adios! Chief.