Happy New Year everyone! As usual, I make it a tradition to show you some of my favorite posts and images from the various sites I have loved showing you… so take a look back through 12 months of some varied and amazing stuff I have written about! Chief
Check out the posts that made it to today's SPECIAL NEW YEAR HONORS
*******************************************************
December 2010
I checked out lovely teen girl next door of Amelie in some of her new films from Spanked-at-Home who are updating again, and how – so they get my "thumbs up" especially as if you've never joined this site there now are around 110 full length films to download and it looks as if Amelie is the latest fave (she is cute!) getting some very hard punishments courtesy of Alex. You will see her get a very real tearful OTK spanking from her latest film and a hard caning in her bedroom without much introduction… across her already previously spanked cheeks for another naughty previous infraction! Enjoy the images I have got for you and you'll see why Amelie, with the other girls next door is very addictive holiday viewing!
Amelie in her latest film: "Budget Exceeded!"
Amelie is spanked with her pantyhose on, then they are pulled down for a proper OTK spanking!
In these hard pressed financially difficult times, especially this time of year – This isn't the 1st time that Amelie exceeded the budget set by Alex for her mobile cellphone. He had warned her about this before but obviously not forcefully enough as it appears she only learns when she's given a proper spanking so Alex does what is needed and gives her an eye watering spanking that you can see from some choice images below!
See more of her pantyhose spanking & bare bottom punishment HERE
OK, want to see how Amelie's bottom was already so red before this spanking? Of course you do! Check out her nasty caning punishment which is typical of so many films from Spanked-at-Home where many scenes of girls like her are filmed in their bedrooms, for me, the most "Holy of Holies" – in that punishing a girl in her safe haven environment is the sort of best deterrent to modify a naughty cheeky girl's behavior! I love the humiliation angle of this and as you'll see below, Amelie's bottom is quickly exposed and she's bent over and made to present it for the cane!
A dirty uncleaned kitchen means a very sore bottom for Amelie!
Amelie knows in Alex's house that domestic duties are more important than her leisure & pleasure! She knows damn well from past experience what will happen, if she was to ignore this rule! So when Alex found Amelie on her bed, watching TV, while the kitchen was a disgusting mess, he didn't attempt to chastise or talk to her about it, or the duties etc and being lazy… (blah blah blah) oh no, he just went into punishment mode and gave her a severe caning on her bare bottom, which, once again, was still sore from a previous spanking only the day before! Yup, Amelie really IS the naughty girl next door we'd ALL love to spank , strap and cane if we were given the chance, and who can blame me or you? Just look at her puppy dog eyes and that gorgeous meaty bum of hers that screams "SPANK ME!"
SEE THE FULL UNCUT MOVIE OF AMELIE'S CANING HERE
******************************************
January 2011
Ok, I have rather been a "Dodo" about the site Hand-Spanking.com website – I once joined up many years ago only to be a little disappointed. However, now, I took the plunge again last night and, well… I'm blown away!!! You may all know I have a rather delicate fetish for all things Japanese so to see this site with a clear and easy navigation once inside was a joy! A model index with names which I always think is now essential really makes it worth viewing and the films have all been remastered and all new content is widescreen 16:9 ratio showing us far more clearly on a larger screen all the essential spanking action… and finally, of course, the girls and spankers are a joy to watch, even the English translations are near perfect so it's hard not to miss ANY of what is going on! This site covers all manner of F/F spanking in all your usual locations of the home, school and at work and there's a strong theme of Mother/daughter relationships and role reversals which I like… I suppose I could be on here gushing for an age and boring you, so instead, just check out the very latest update below (as of jan 28th 2011) which I've covered (God, this girl is cute). Also,  to show you a taster of what is inside, I've got a collection of some beautiful pics which showcase exactly what Hand-Spanking.com is all about!
cute Kurumi is about to be spanked by her cruel Stepmother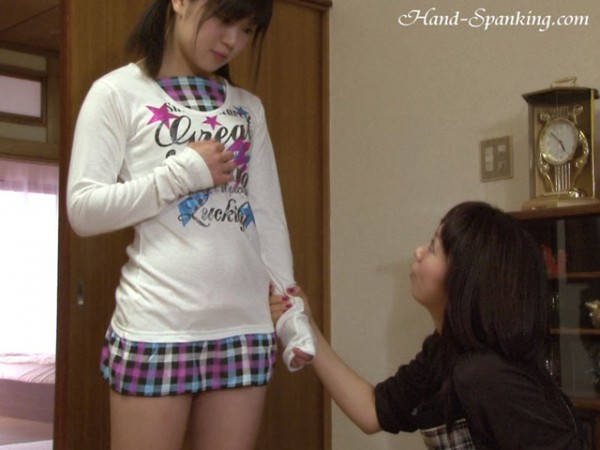 "Kurumi spends her high school days in constant fear of the punishment her stepmother could inflict. It's hard not to see why this 18 year old cutie is a victim of her cruel stepmother who obviously enjoys spanking her tight white bottom!"
Crumbs! You can see MUCH MORE of Kurumi's spanking punishments HERE
OK, I wasn't going to review this site but it is fast turning into that so here goes…
"What do you get for your money?"
Considering the vast array of spanking films (there are 100′s of films and most seem to average out from what I've downloaded so far to around 10-12 minutes which is fair) they only contain F/F action: I knew this in advance and it is obvious from their tour pages this is what to expect. Will you find the girls spanked with other implements? No you won't as this is strictly "hand spanking" as the title suggests and that, too, is fine by me. It's a shame I would love to see their menfolk spanking the girls but this is how it appears to be with the 2 big Japanese spanking sites, (edit: maybe I should import some Japanese girls and spank them myself? … as long as I had my cast iron protective undergarments on!). I am guessing that the owner employs English speakers or is fluent him/herself as the the English version is impeccable and the translations in wmv format are pretty much spot on, so I can concentrate on the spanking and dialog without giggling at the English translations that I sometimes see on foreign language spanking sites who want to cater for the vast international English speaking market! Costs are reasonable too. Considering what is available to download, $24.95 per month or the highly reasonable longer term membership options ($60 for 3 months) seem fair and full updates of movies usually come at one full movie and images per week!
Ok, here are some more images which, as they say, speak a 1000 words
and considering my waffle, that's no good thing!
Ok, I think you get the idea, there are quite extensive tour pages including free intro clips that give you a better idea of what to expect if you've never seen this site before and they do show you the quality of their movies which is totally acceptable! The spankings are not the hardest in the world, but then again, I don't always want to see girls brutalized, this site fulfills a real niche of seeing very pretty women spanked by women in a variety of believable situations and of course, no girl, and I mean no Western girl cries as beautifully as a Japanese girl and hearing them cry out is somewhat addictive! (I've noted even in orgasm they seem pained from my, ahem, review of vanilla Japanese stuff, but that is of course another story and another hard drive of naughty materials).
So, finally to recap, do I like the site? Hell, yes! You know I have been raving about Japanese girls for some time on this blog (you only have to enter "Japanese" into my search box in the menu bar and you'll find a ton of stuff…) well, if you liked what you had seen before, you will love this site too and my highest recommendation is that from now on this site will get a regular updated feature as well as my odd ramblings about their archives, and since the site looks to be updated with a new film and images every week without fail I shall be letting you all know about the latest ones when they come out from now on! In conclusion, those who like asian girls, Japanese girls who cry beautifully and are into F/F punishments and hand spanking will love this site! For those requiring more severity, (some spankings are tougher than I once remembered which is good and there are red bottoms of course) if you're into wanting to see nasty hard spankings then this isn't for you.
Want to know more? See what all the fuss is about by clicking the banner below:

*******************************************
February 2011

As promised, I have a real treat for you as I have been dying to share the news about our latest shoot we did at the weekend which brought back the wonderful Leia-Ann Woods and I finally managed to get the beautiful Irelynn Logeen and once again this combination worked on so many levels. Some of the stuff we filmed and photographed was (well, in my humble opinion) very VERY good and I can't wait to see the results once the edits start coming to me! I have got a nice little "Behind the scenes" free gallery which helps explain some of what we got up to but there was so much more.
The location was excellent, the company great (thanks girls for making it a fun shoot!!!) and, thanks to my partners in crime for getting me absolutely hammered Saturday night after the girls went their way… "Hey, Kids! Don't do copious amounts of Stella Artois…" my recovery was ridiculously slow with a hangover from hell on Sunday! All this after being insulted as "Cakeboy" by Leia (but more on that later) Click the main image below and it will take you to a free gallery, most images are raw and I've reduced them in size but you'll get the idea of what's going on!
OK, as you'll see, my little purchases on eBay were a success, I got myself some genuine vintage Guide uniforms and we used this for some image sets and a great film that had the girls trying to sneak out dressed up in this cute gear to a fancy dress party… needless to say, I disapproved of the way they dressed so thrashed them both! I also upped the intensity of the spankings in many films and you'll see some great OTK spankings and Leia got to "top" a few times too so F/F lovers are catered for and one film was particularly hot as Irelynn's soft rump was turning a toasty shade of red to match her hair! I also managed to break my favorite hairbrush in a pyjama film with Irelynn, so she got to keep it as a trophy! There were the usual schoolgirl scenes – and you can never have enough excuses to spank a girl looking incredibly sexy in various uniforms and outfits! We decided to try out some interesting cam angles too but we took advantage of the location's great views to do some spankings and punishments against the windows (after it stopped raining… sigh) for all the world to see, I don't know if anyone did, but they would have seen the moon rising early!!!
One quick short sharp shock type scenario I filmed with Leia came from one of her tweets as she made a derogatory remark about me helping myself to some cake at the restaurant that Leia, Irelynn and myself were at the night before. The place was starting to close (so I just thought I'd get my share, that's all!) see the cheeky tweet below… "cakeboy" indeed!
Ok, so you get the idea, there are so many more films including a great bathroom finale that has a soapy sud spanking of both girls, so lots of goodness to come!!!
*************************************************
& if you check out the very latest update today, as promised, it's the film of Kami in her Flamenco dress, I have got you some preview images taken directly from the film and I also have important news about all future films as we are upping the quality of the playback as an additional option for those that want to watch HD films in larger, crisper 1280 x 720 size – it will be in MP4 format and there are now dozens of media players that can easily view this, it beats our Wmv versions but that will also be available in clip and full file format as standard and won;t change as we fully understand it's still the most popular playback format from our previous poll but to increase the size of the films in Wmv isn't as good as MP4 so we're going to try that as an added option and will add both files when the full updates are due (so we won't cheat you with "remasters" or other cheap nonsense!) However, to change it into another format , like say, Real Media would also mean resolution loss so that's why we stuck with MP4 – we hope when you see this full file and all future movie files – that you will be suitably impressed!
Some Wmv Images from the film "Flamenco failure"
You can see a FREE PREVIEW CLIP from this latest movie HERE
(Full description of the movie is on the page too!)
Remember that we update the site at least 3 times a week, we sometime add bonuses (I did today) and updated the full video image set and half the film already with some great spanking scenes, we will always aim to get at least 1 new film out every week without fail! I'm hoping to get out a film with Irelynn next once the edit is complete and it's a good OTK spanking film for those that are into that sort of thing (yes, I love OTK spankings!)
Take advantage of our low prices and even better 3 and 6 month memberships which just make sennse when you work it out! Enjoy! We enjoyed making these films, I hope this shows!

As I promised, I will be letting you know how films are sometimes made and the little tricks we employ as well as any interesting points or images that you may not normally see! The below film scene has been shortened a little but it is still over 4 minutes in length and plays instantly so you can check it out if you are not a member of Triple A Spanking (why not?) then here is a chance to see one of the shorter films with Pandora Blake spanked by Miss Bradley. Go take a look at it (I have tried to make the quality as best as I can for Flash but the HD video format I use doesn't compress that well, it's still quite clear but nowhere near the quality that members can download 
Firstly, I must say, as you will have seen from the above movie, what an amazing spankable bottom Pandora has! It was a nice scene to film, in fact, I was the cameraman as the 2nd cam was being used downstairs for an OTK spanking film with Leia-Ann Woods (but that is for another time and another post). Miss Bradley has a rather large booming voice as I'm sure you are aware, so we had to ensure that she couldn't be heard downstairs (lol!). All connecting doors were shut and so we began… as I said, it was an easy scenario, a simple spanking film with a believable reason for further punishment… a lazy girl preferring to stay in bed rather than get up. (Pandora was happy to snuggle under the bed covers as it was a huge snuggly comfy bed). Now I know that Pandora is a very visual actress, she reacts beautifully when spanked and of course is able to ad lib and go with any given situation with ease. (Meaning she is a pleasure to work with!) Now… having just one cam, I wanted to ensure that I could capture both Pandora's facial reactions with her banging her fists onto the bed which I noticed and also the action of her kicking legs and bared red bottom getting a hard spanking from behind. So I decided to film from behind and to the side during the movie, making sure not to shake the cam too much and then when it was over, I moved around so that I could capture a long spanking scene with Pandora's facial reactions (yup, she got spanked twice to make this scene…)
You'll notice this handy trick where we avoided dialog and had Pandora spanked… it was then easy to edit and include as one seamless spanking scene! I liked the result and of course it was my last excuse to see Pandora spanked in her jim-jams… as both she and Leia were looking forward to the Hot Tub where we filmed our last film with them together… but as that movie isn't out just yet (edit on Dec 2011 – it IS now!) , I will let you know when that comes up and of course you will all be the 1st to know nice and early HERE at the SpankingBlogg or my other blog TEEN-Spankings
In case I hadn't already, check out a few scenes from the film and bear in mind what I explained to you above, maybe you'd like to watch the film again 
You might also be interested in the fact I took some HQ images too and this one I thought caught the moment, Pandora curled up and her sore warmed bottom fully exposed – you can almost feel the heat coming off it… now that would be a neat internet invention!!!
Click on the thumbnail – full size image is actual size that members get to view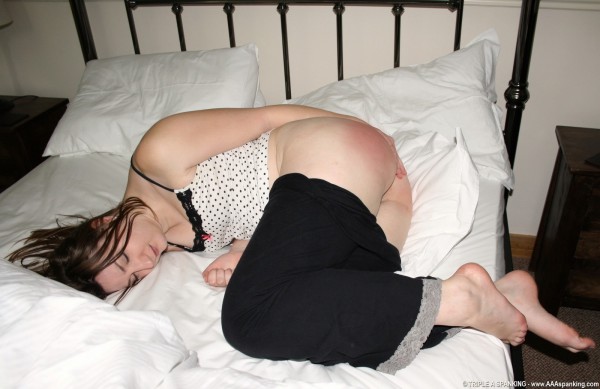 Check out the full site tour pages HERE –  I am currently ensuring that at least one new film appears every week (edit again in Dec 2011 – we keep our promises!!!), along with further plans to introduce a special bonus area and upload films in an even higher HD resolution very soon – We are trying our best to bring you some interesting and believable spanking films which are run by spankos, starring real life spankos, made for spankos!
*********************************************************
March 2011
As the weekend approaches and the weather here in England remains surprisingly pleasant (for once), my missus (Er Indoors) has currently been "outdoors" in the garden busying herself and goading, then bullying me into sorting out the hated steep grass bank we have… I hate cutting that, but as it's dry, I guess I'll do this tomorrow before all that greenery goes nuts… "What the hell are you on about, Chief?" I hear you moan… give us the spankings we crave, you dick… and stop prattling on about grass banks FFS!"
Okay…okay…. stop bullying me! I'm close to tears as it is! & that is the 1st topic of the day as I logged into SpankAmber this morning to see what joys she has uploaded there this past week (I couldn't really log on much anywhere last week, of course) and Amber Dawn shows us in a fantastic and unique movie as only she can make what can sometimes happen when she is on her webcam… now Amber has been neglectful of paying her taxes (I know that pain) so has been extra busy camming recently to pay off the IRS, and you can really make her do just about anything, especially if it's got a nasty twist, we all know Amber is a beautiful pain slut and this episode shows how some naughty guy who's holding the purse strings makes Amber clamp her tender nipples with clothes pegs, shove a butt plug up her tight hole and then make her strap herself HARD (he's not satisfied and instructs her "HARDER!!!" with the heaviest leather strap he could see in the room as well as more clamping humiliations which brings Amber to tears! An interesting "twist" (literally, if you see the full movie) and a fantastic film that members of SpankAmber can go view now!
Check out the intro of Amber as the latest Cyber Bully logs in… (there's no actual spanking but I urge you to check it out as it shows you precisely how Amber interacts with her paying tormentor… and I have some images of what happens later so you can see for yourself (I feel it's only fair to Amber I don't give away all her content, of course, but this is what members will get to see!)
Go cyber bully Amber yourself HERE… Her webcam online times are well advertised on her Twitter account or her blog – She loves it really!!!
********************************************
April 2011
It only seems fair since I celebrated the national days of Wales (& Cornwall) recently that, as a true blooded Englishman… I celebrate OUR National Day today – April 23rd – St George's Day!
We celebrate St. George's Day, but which St George? Because there are two, actually…
There's the George from the popular folk tale who slays a dragon, and there's the real St. George who died on 23 April. So what do we know about the two Georges? Well the one that killed the dragon was born in Coventry and the real one was born either in Turkey or Greece depending on your point of view. Either way, he has served England for nigh on a thousand years.
Our relationship with St. George started in 1098 when he appeared to English Crusaders at the Battle of Antioch and helped them to victory. By 1415, St. George was so popular that 23 April was declared a national holiday and the Bishops of England ordered it to be celebrated like Christmas! The folk tale of St. George and the Dragon dates back to the Middle Ages when dragons were commonly used to represent evil, so it's an excellent tale of good triumphing over evil. Since then St. George has been popularly identified with English ideals of charity, chivalry and courage (now known as the 3 C's). St. George's Day is a great opportunity to recognize what binds us together and celebrate England's rich culture, heritage and sporting traditions… and of course, on this blog, our love of all things "spanko" – the following are taken from some websites representing all that is great about English spanking!!!
This is a special week in Britain, 2 long holiday weekends back to back as we celebrate Easter and St George's day this weekend… Easter Monday to me means watching footie (soccer) and then Friday 29th Prince William makes Kate Middleton his bride in the biggest wedding ceremony that outshines anything glitzy and cheesy from Hollywood as real Royalty show us how it's done – oh… and we get another Friday to Monday holiday for that privilege… yay!
However, why I am even celebrating since I work freelance and self employed is beyond me, LOL! (oops!) But it's a special "Feel Good" week and I know that many streets throughout Britain will have the old fashioned street parties, I remember one celebrating the Queen's Silver Jubilee in 1977 and it was pretty special, I think only the end of WW2 had something like that been done previously. I don't remember it for Prince Charles and William's beautiful mother Diana (R.I.P.)
So it's a return to values… and here on a spanking blog… it's a return to BRITISH discipline today! So do enjoy… I've rambled on long enough!!!
Amber is promised a bedtime slippering by mother after she had been caught smoking with school friends! This is a particularly interesting domestic movie as Amber's bottom really reddens throughout the film and the many roving camera angles captures the girl's anguish and delightfully embarrassing position she is in… oh and of course, it's a pajama punishment which I quite like 
A Special Movie clip of this scene and when Amber got home to earn her mother's initial displeasure can be viewed at the special link shown below:
CLICK HERE FOR THE FREE VIDEO GALLERY
More Free clips like the above featuring HOT girls similar to Amber are shown on the HOME PAGE
**********************************************
Jasmine Lau is one of those beautiful English girls you'd love to have over your knee, almost begging her to do something wrong… I have decided to show you a film I just found released at Sound Punishment with Jasmine in her school uniform (and I have news about her as she will be showing in more mores coming to my site very soon as well and have included a reminder below of what she has appeared in)
So Firstly, Jasmine is both cheeky AND disrespectful, 2 qualities guranteed to get any schoolgirl soundly spanked with the hand and a slipper (the quintessential instrument of choice, it seems). Jasmine possesses both these negative qualities in abundance so gets her well earned punishment below!
Just watching Jasmine get thrashed in her films here is worth the sign up fee alone at SoundPunishment.com
(& if you check out their home page you'll see the above FREE movie clip)
******************************************
As promised, another decent place to see recent films of Jasmine is at AAAspanking.com – naturally I should know since I filmed them (lol) and I can tell you there are MORE coming very soon, but to recap here are some images taken from some of the movies (not all or I'd be here all day!!!) she's starred in… and I have to say the pairing with Kami Robertson in some of these films was GENIUS if I say so myself, they really complimented each other perfectly!!!
If you haven't done so already, check out the TOUR PAGES as they contain free preview clips and you can see some of the films with Jasmine in them, naturally.
Have a great St. George's Day to all my fellow Englishmen & women out there!!! I'm off to sit in unseasonally hot midday sun and drink lots of Pimms cocktails… "Yay!"
************************************************
May 2011
From something old to the very latest full movie updates now available at FirmHandSpanking.com as there is a return for Carey Brooks, who has an amazing secretarial look and a body to die for and just looks so so spankable, as well as another episode of OTK Air with bubbly Kat St James who was born to wear that uniform… I gotta say, I'm looking forward to the new series called Pan Am coming this Fall (I can't wait!) about the halcyon days of when air stewardesses were oh so glamorous and virtually stars in their own right! Sneak trailer preview of what ABC will be showing and I'm hoping that either Channel 4 or Sky in the UK will take this up, I'm sure they will!
& so onto kat St James at OTK Air.
Corporal Air is a fun airline, but not when things go wrong. Flight attendant Katherine St James drinks alcohol on duty and a trolley runs down the aisle on her plane! Eric Strickman has to spank her bare bottom, followed by 45 with a wooden spoon: "That hurts!" she yelps.
I swear you will fall in love with Carey's cute pert bottom, take a look at her perfectly shaped cheeks… OMG!
Carey Books has a booty designed for spanking! Full cheeked, bouncing and bare, she's due 50 swats with a stinging leather paddle in The Office. Her offense? No virus software on a vital business computer. From creamy white to deep red takes minutes, ensuring she's sore as hell!
Their description is perfect, I viewed this film previous to this write up and it's awesome, her first full bare bottom punishment and I hope (well, I KNOW) there will be many more coming – all this and MORE at FirmhandSpanking.com
********************************************
Right, as I was on a theme (briefly) of stunning air stewardesses, I have never forgotten this clever piece of advertising which celebrated the 25 years of Virgin Atlantic a few years back… I'm an 80′s guy anyway… so loved the sound track… LOL! Still, the advert below reminded me of something Mike at Spanked-in-Uniform has on his site… was he influenced by this commercial or the perception of airline stewardesses? I'd like to think so!
So to briefly celebrate this fact, check out some typical images taken from the airline stewardesss spanking section of this Uniform niche site – if you're not into air stewardesses (or flight attendents as some like to call them nowadays) then fear not… there's plenty more excuses to see girls in various specific uniforms thrashed for our viewing pleasure!
The girls of Europe Air have a unique contract that means their misdemeanors are punishable like below!
See can see more of these girls and all the other episode previews at Spanked-in-Uniform.com
(Yes, I made this banner, so if you see it displayed elsewhere, remember where it came from!)
*************************************************
June 2011
It's been a short while since everyone reading this blog had their Japanese spanking fix… I get more searches for this type of spanking on my blog (even more than pajama/pyjama punishments!)… so to give what some of you have searched for, here are the latest (stunning) Japanese girl spanking updates which you have come to expect on here! I start with probably the cutest girl currently on the books of CutieSpankee, called Shizuku… she's  finding out just what a spanko perv her nasty step mother, old Mrs Kanga, can be!
& as a special feature today I have made a comic strip from another most recent update where I used a little artistic license, OK, in the actual film, it wasn't a "Rear of the Year" award… but looking at this cute office girl's behind, I couldn't resist! The actual movie is available from inside the member's area now to download! Click on the comic strip below to enlarge fully!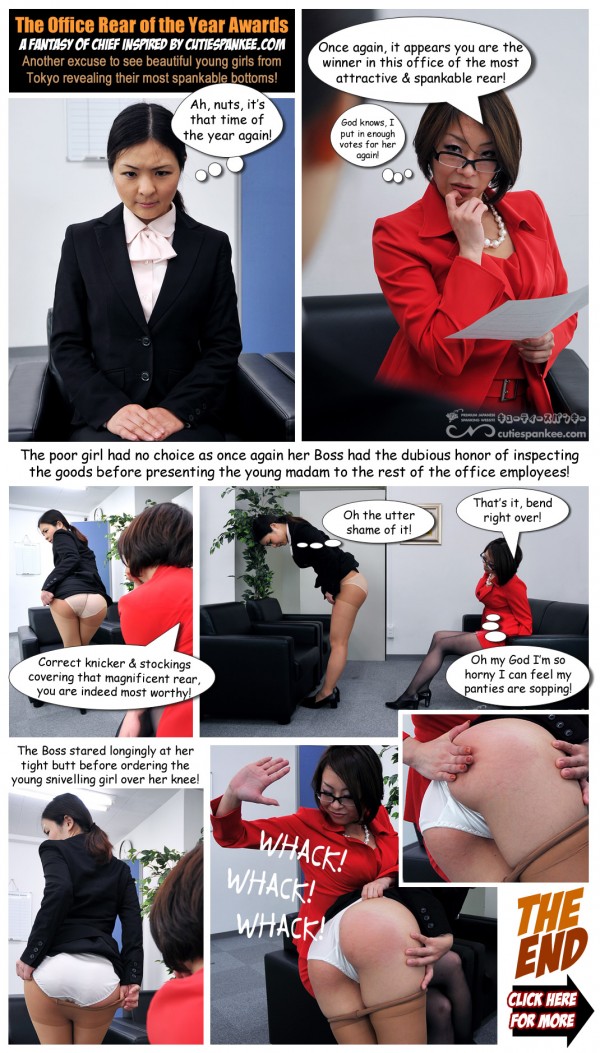 More from CutieSpankee including free previews of the cutest girls can be seen HERE
*******************************************************
July 2011
OK, here are a few of my present spanking crushes, and I'm sure you'd appreciate that these girls are (naturally) stunning, but they also can take quite a spanking  punishment when pushed… and that suits me just fine! Before I start, I'd just like to mention that Winter's film at AAA Spanking is now available to download (yes, another crush) but just check out yesterday's post for all the juicy details on that – I'm still savoring the sight of her red ass… but on I must go… or I'll be caught in some state of regressive "Tushy Limbo"… unable to stop waffling about beautiful girls and their bared blushing bottoms! *sigh*
So to start at PunishedBrats.com and Lorraine who is simply one of my all time faves, she has so much about her, the way she sometimes whines, a beautiful pouty face, a lower lip that quivers seductively and that ass… oh boy… just check out her latest (of many) films all exclusively found at this site only! In the ongoing series of the Cookie Drive it's Pixie's turn to spank irresponsible Lorraine. She and Lily Anna are determined to make her bottom every bit as sore as their own…
See more of Lorraine, Pixie & co at PunishedBrats.com
********************************************
Adrienne Black needs no introduction on here, she… alongside Michaela McGowen & Samantha Woodley are unashamedly my fave spanking actresses at FirmHandSpanking.com so it was indeed a pleasure to see that all 3 girls are currently featured in new movies, and I will save Michaela for sometime this weekend but for now, feast your eyes upon the tall beautiful Adrienne as she gets into more trouble with Earl Grey in the ongoing College Discipline series!
This current College Discipline series of Adrienne can be viewed in full HERE
************************************************
I often return to watch the uppity models at BunBeatingFun getting their comeuppance, and one film I watch with alarming regularity (yes I replay them!) is this "tarte francaise" a drop dead gorgeous French pornstar called Caprice. The girl could barely speak a word of English but who the hell cared? Greg certainly didn't and it just gave him more of an excuse to get her over his lap for the real fun to begin!
As Greg recalled: "Her name's Caprice and the way she says it, the name simply drips with sexuality as indeed do all the other exotic sounds that lilt off of her (ahem) talented tongue. But exotic and beautiful though she may be, Caprice has been verrry naughty. & so, it's spanking galore for this French whore!"
I can HIGHLY recommend this film, it has also been remastered so plays in Wmv full screen (which helps!)
For the full list of other troublesome models and wannabe starlets getting the spankings they so richly deserve (and they do!) go check out the tour pages of BunBeatingFun.com for some free movie previews and see the sort of trouble they get themselves into!

*********************************************
August 2011
Hmm, well as I write this I hope all my American chums on the East Coast are safely tucked indoors away from Hurricane Irene… I will never moan about our shitty summer weather again! Seriously though, I have family out there at the mo who were visiting friends in Long Island, who were then planning on meeting more family on the Delaware beaches/Baltimore area afterwards… um… oops! Plans are changed and they fly back next week from Newark… bugger!
So, to capture the awesome nature of Irene, I was going to put up a clip from Youtube, the "Goodnight Irene" song, an old classic, however, it is also the football anthem to a small club (giggle, any "Gas" supporters who read this will be murdering me since I support a basket case club in the same humble league as them at the mo…) anyway, enjoy the Goodnight Irene rendition as the fans who are playing away in a cup game behind the goal at Premiership club Fulham's Craven Cottage ground sing out loud and proud then have even more to celebrate as the underdogs won this game (I think)
Ah… that's why I love English football, the passion of the crowds!!! *sigh*
& so today to my spanking news updates and I'm starting with my own little site and the very latest film with a popular return of Kami Robertson as a naughty texting schoolgirl given a rather cruel and unusual punishment in detention!
This latest movie sees Kami in detention for stealing from the local shop. Mr Osborne had promised the owner that she would learn her lesson & pay back what she had stolen. However, Kami had been secretly texting at her desk instead of writing her lines when her phone rang giving her away much to the disgust of stern old Osborne. He read her damning texts about what she thought of it all. No matter, Mr Osborne had the perfect deterrant in the form of his trusty birching rod, a tightly bound collection of long treated hazel twigs tightly bound & far more painful & stinging than the cane and he intended to use this across her thieving hands & her bared bottom to ensure she wouldn't forget this detention in a hurry! There was no warm up or preparation, this was done quickly & severely without warning. Whilst Kami's hands were still burning, she was ordered to turn around, lower her knickers & bend over the desk for a cold birching which you will see she hated as the collection of twigs bit into her soft white rounded cheeks!
"The setting for this movie looked as austere as the images suggest! Not a place for any girl to flout a detention, least of all with Mr Osborne wielding such an implement!" Both Kami & I loved making this film, mainly because it was a first for us both… she had never been punished on her hands before, she had recalled… and I had originally wanted to strap her hands but when we saw the possibilities of this nasty bound birch, a few test swats off camera and her gasping " I think I can do this!" – well, the rest is shown here! (I can tell you this open palmed hand punishment really stung, Kami's bottom could take the punishment but she still had difficulty writing her letter of apology at the end… testamount to the painful thwacks given to her!
Hope you like this interesting schoolgirl punishment film
Now out to download at AAAspanking.com
*edit Dec 2011: This was probably my fave film I made of 2011!
***************************************************
Hmm, do you like cheerleader punishments? Of course you do! Sso I'll stay with this as I bring you something a little different from Dallas, one of my all time fave spankers! Dallas is deadly with a paddle too, as you'll see below! He plays Coach Armstrong, reminding Jenny that she has to take "one for the team" – ah, that old chestnut, lol! She isn't keen, obviously… and wimps out but you can be assured that Dallas uses all his powers of persuasion to ensure she really does take it hard, and this clip is only a foretaste of what you can expect from the full movie, which is … um, awesome 
Images and clip preview are taken from DallasSpanksHard.com
Some images from this punishment show off what happens to Jenny's delicous bottom!
I promise you won't want to miss Jenny's films – All located HERE
***************************************
I wasn't going to feature Clare's excellent Exclusive Education 6 again so soon, but since there are some amazing images of the classroom punishment and new girl Lilia Spinoza getting spanked by Clare in her cheerleader uniform, well… it was hard to resist! So just feast your eyes on the following, literally FEAST on these bottoms of all shapes, color and size… warning, please do not go blind at such delight! 
You can of course see pretty Lilia in the multiple spanking punishments of the classroom, which is always a firm favorite for those that want to view the entire EE series… I hope Clare does persuade her to film again, she's a real cutie!!!
& of course the famous multiple bum shots never cease to amaze me, hope you like these with Lilia in the foreground
GirlSpanksGirl.com is part of Clare's Amazing value CLARE FONDA PASS (choose the sites you want!)
********************************************************
September 2011
I have picked this below is because I find it inspiring, I know our cam guys have purchased special filters and want to test them out on a dream sequence movie… anyway, here is a perfect example of how to do it! It's from a site I haven't covered in a while, and I should be as this is one of the most overlooked spanking sites in my opinion, I reckon, and that is the original Bars-and-Stripes.com – the female punishment site that covers the correctional institute for wayward madams, whether it's in their cells, in the Warden or Governor's Office, hell, even in their specialist punishment dungeon for the naughtiest brats there and of course just about every well known gorgeous UK spanking star has "Done Time" there with the officers and Matron… like Amelia Jane Rutherford, for example. The clip I have for you below is a little different, as she struggles to get to sleep in her punishment cage after her latest thrashing, we see her dream… or is it a nightmare unfold? I love the dream sequence in this film, it gives the editor something to get arty about and of course it doesn't detract from the fact that we are seeing a butt naked Ms Rutherford spanked too! Click image below for the free clip and I have also cut you some image grabs throughout the full movie!
The FULL movie of Amelia in her dream along with her many other unique punishment films at this website can be seen HERE and I highly recommend it, but if you are still not convinced just how good this site actually is, then you might want to check out something a little more traditional from Bars-and-Stripes.com – Hmmm, how about a verbal lashing from Prison Officer Lewis for a very uppity Sasha Harvey who thought being assigned Laundry Duty was too demaning for her! Oh dear! Click on image below which leads to a long play streaming clip of her OTK spanking!
More movies of naughty girls at this prison reformatory can be seen HERE
*********************************************************
The following film is one I've always liked & when you check out the screen grabs from this movie you'll appreciate that this movie is well worth a peek as 3 girls in their Blue Gingham Dresses are spanked and strapped by Miss Smith. Images below will give red blooded gentlemen "wood" – so please be warned! 
See the screen grabs from the movie and the final large pic is a sample HQ Stills image which members will also be able to download too!
As you can see this movie has the girls showing no shame which is why Miss Smith had to thrash them all that much harder! I can tell you viewing this wasn't the only thing that ended up "hard" so be warned, it may not contain caning scenes, but I forgot all about that when I watched it again… there were many other naughty distractions!!!
If you're interested you can see the FULL Movie HERE
Click image below for another way to view this movie too!

It's late here in England and we're expecting what is left of Hurricane Katia to dump an obscene amount of rain wind and such you'd expect from such vicious uncaring weather systems that grow to 500 miles wide across the Atlantic… just plotting on how to wreck our tiny island nation within the next day or 2 – great! Now it's OUR turn *groan*
"NATURE! DAMN YOU!" *pointlessly shakes fist skywards*
***********************************************
October 2011
I hadn't realized that Sarah Gregory and Kat St James had been on holiday earlier this month, what's more, I did feel a little jealous that she was on the beautiful island of Aruba (it's off the coast of South America in the Carribean), I haven't had a holiday this summer at all, and after my crap week working all hours for a pittance whilst inflation and costs of living skyrocket… I wonder when I will be able to afford to go to an exotic location again. (I'm away visiting family in France for a short stay in a few weeks, but it will be up in the cold mountains… no sun there!) However, I'm not bitter, Sarah & Kat looked fab in their bikinis as you can see below… and what's more, they got to make a spanking film in their hotel bath tub, which has just been released on her site, and it's worth the entrance fee alone! Seriously, check them out!!!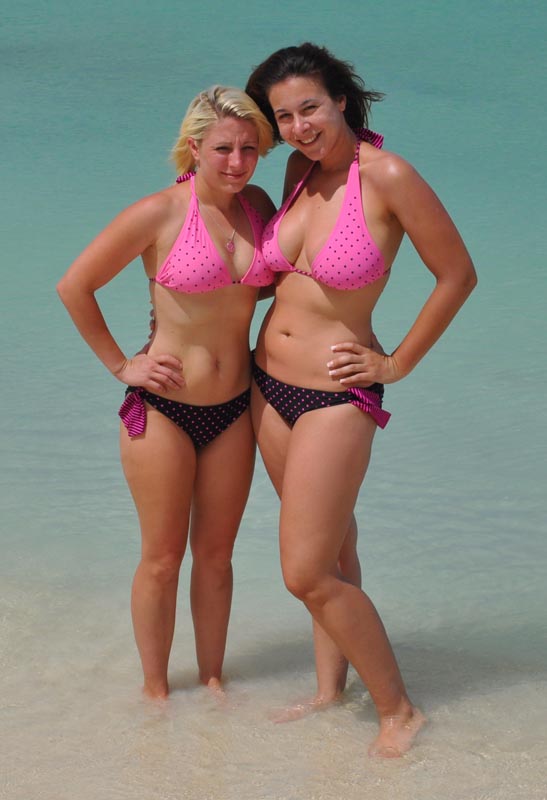 Sarah and Kat are on vacation in Aruba. Kat is trying to take a relaxing bath and Sarah wants to get in. Kat says she will let Sarah in if she pays the price. As Sarah gets in, she is pushed around to find herself bottom up and getting spanked. Apparently that was the price to get in. Sarah gladly takes her sensual spanking and then gives some back to Kat.
I love bath tub films… I'm sure you will too when the girls are as sexy as these
Click here to view MORE of Sarah's holiday shenannigans and spankings!
*********************************
November 2011
The next 2 sites I'm featuring here have had some fantastic new movies recently, mainly because I have absolutely fallen for these 2 girls, Scarlet and Paris… you'll recognise them as I had featured them virtually everytime they appeared… so I have combined some of their most recent updates – images shown below are from Sarah's site SpankingSarah.com where she finally canes the girls out of their cute gingham dresses…. and the free clip is one of the latest films to come from English-Spankers.com that has Mr Stern getting all the luck as he thrashes both girls after watching them flog each other naked (it's a hard life but someone has to do these things!)
Sarah knows all about the cane, she has been caned many times but never to tears. Her object today is to cane these girls till the tears start to flow and boy do they get a caning. Their small pert bottoms are raised for the swish of the cane expertly applied…
See all the free previews with Sarah and the many girls like Paris & Scarlet HERE
I can assure you that next time I am up their way I will be barging in with our cameras and making some films but in the meantime please do check out why poor ol' Chief here has some serious wood watching these girls continue to spank and flog each other below at English-Spankers
******************************************
Did you make it all through that? Well done, see you next year (it probably already is in Australia and new Zealand at the time of writing!)
HAPPY NEW YEAR!
PS. Can you handle another "best of" post from one of my other blogs? OK, another 12 months of different posts but LOTS of spanked bare bottoms… CLICK HERE
& also check out a 12 feature "best of" from the past year of my Spanking Tube previews HERE