The start of another week, as we hurtle towards Xmas… at work we have started taking sweepstakes on whether the Euro will collapse by then, or not. My date is 19th December. The prize? 30 Euros (lol) – this lack of respect for what was and is supposed to be a decent currency stems from the fact many of us feel resentful how the rest of Europe treats our island nation. I remember the shameful day Britain was knocked out of the exchange rate mechanism (the ERM as it was called) in the early 1990's when the major European currencies were trying to stay within a narrow band to see if the forebearer of the Euro could actually work. Of course, George Soros made $2 Bn Dollars off our country in a day (when $2Bn really was a lot of money then) when he forced the Pound out of the system when the markets sensed a killing.
It caused untold havoc with employment and national shame as our currency devalued nearly 20% overnight! I'm sure the Germans and French are secretly printing their previously precious Marks and Francs as I just don't see how the industrial stable economies of northern Europe or the peoples of these nations can sustain the wasteful "Mediterrean economies" that have recklessly borrowed beyond their means for years and whose countrymen list pastimes as "Tax Evasion" as a way of life! Why should the hard taxed Germans pay for all those lazy, tax avoiding Med types chilling out beside the beach? I resent the fact Britain has had to indirectly bail out these basket cases via the IMF (yes I haven't forgotten the 1970's when our country humbly went cap in hand to the IMF, but that's another story). So here we are, Europe really is on the brink, the markets are closing in for the kill, like wolves circling a wounded Bison, it's far from over… but one wrong move now and the wolves will tear the beast apart…
The Euro may well go down the crapper just as Sterling was kicked out of the ERM all those years ago, and for once, I won't gloat or be smug as Europe is our largest trading partner… to put it in terms here, European customers will not be thinking about renewing their memberships or buying new ones as they wonder what the hell has happened to their savings and pensions and earning power outside their country! So, I actually hope I lose my bet, not because my prize would become even more worthless overnight, but because this is something the world just can not take anymore, we've had years of hardship (well, I have) – it won't get any better and of course what does that mean for producers of our fave subject? It's a disaster too, as people have less money to spend… more sites may cut back or close altogether as the margins to continue are at breaking point for many already!
So on that happy note, why don't I just get on with what is out there and let you decide what to maybe purchase to escape from all this financial doom and gloom as some sites nowadays are better value than ever, but you have to watch out for those that promise a ton of sites for little – as that is the sort of updates you will get – little overall – and I don't actively showcase any sites with these policies here so fear not as I take you to Dallas and his punishment of one gorgeous Samantha Woodley!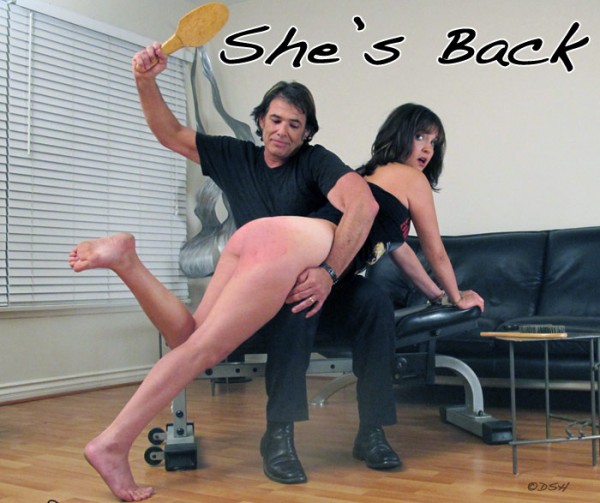 Seeing her latest punishment right now – her first genuine comeback to the scene after a few years out (yes she is still showing as new updates as she had filmed a lot of stuff years back) but to see her with Dallas again, I will show you some scenes of her 1st day from the movie as her facial expressions show off perfectly what she goes through with her paddling and hand spankings!
I hope Dallas doesn't mind this clip I cut as it is a small part of what I hope will be enough to capture the respect and friendship between these 2 as Dallas gives her a punishment that it sppeared she badly needed! Below is the description of the series of films to come from the man himself!
This is what Dallas had to say about this outstanding return punishment: Now regardless what some will say, this is the first on camera spanking she has received in two years. She exited from the scene for her own personal reasons. When she called requesting a spanking where she could not run away, I felt I owed it to her… and you.

This was a spanking punishment that took place over a two day period. I started with an over the knee hand, hairbrush & paddles. You will love the way she squirms and eventually cries from this very real punishment. Anyone knowing Samantha also knows that tears are few and far between with her and spanking. She felt jaded and wondering if she was even into punishment spankings still. I guess she found out. Sent to the corner (which she hates), Samantha was MADE to say 'Sir' (which she also hates). There she was MADE to relinquish control.

She spent the night in handcuffs and was awakeded to continue her punishment fully nude the next morning. I clear wrapped her to the bench to really make the 'running away' message loud and clear.
Next, she is given a riding crop whipping, the belt, a long severe strapping and a super hard hand spanking that she admitted was the worst over the two day period). YOU WILL LOVE THIS SPANKING BECAUSE IT WAS REAL! See it all exclusively from Dallas Spanks Hard
*****************************************************
 Ok… and onto my friends in Euroland and beyond as I took out a membership to Girls Boarding School again recently to see what Headmaster Tom has been up to… and "boy" has he been busy! You'll be seeing a lot more of their stuff here as his site gets back to basics as only Herr Headmaster knows how… severely! Witness the state of Elin's bottom (below) afte a rather severe bedroon dorm style strapping and some excellent snivelling cornertime! Now if only he'd find Micaela and tharsh her (it was one of Michael's finest triumphs, for me, but alas… I think beautiful Micaela may not be back but as a member you can download her films she did make and this was possibly one of the best looking girls to have been given the GBS treatment… still Elin's trim scholastic figure (below) is a visual treat for those that like to see their naughty girls given a proper hiding!
You can much more of Headmaster Tom's craftmanship with hand, cane and tawse HERE
**************************************
In Russia, no one hears the schoolgirls scream anymore, or at least, I don't think anyone cares if the latest tear jerking thrashings  are anything to go by! I used to avoid this site like the plague, but since their excellent makeover a few years ago and the better quality films and editing, this site is one of those I try to keep to myself, if you know what I mean…. some of their punishments are very severe, but they are in no way as brutal as some I won't mention here (which I just don't get, to be honest. ) Me? I like to see pretty girls on the internet getting realistic punishments, if that involves shame, humiliation, nudity, very red and sore red bottoms and some simple storyline I can get and be taken into, then… *sigh* – so be it 🙂 I'm a simple man with simple tastes… but only taste the good stuff *wink* (Didn't Winston Churchill say something similar once?)
& if the girls ever thought safety in numbers was preferable, they could be right – as some of the detentions like this one featured below are to be avoided at all costs, hard no nonsense discipline at lunchtime then sent back to class without anything to eat to reflect what a thoroughly miserable afternoon in class this girl would endure trying to sit comfortably! Ouch!
Tears, nervous girls & very hard punishments from Russia – Click HERE for the full previews
*****************************************************
OK, onto something a little lighter as I bring you one of my fave models from Punishedbrats.com -another of my must see sites that you always see me harping on about! Lorraine Little, ever since she burst onto our screens courtesy of PB some 18 or so months ago (possibly longer as my abillity to tell time is appalling) she was bratty, pouty, cried and complained a lot… and of course, that butt of hers, O-M-G! So perky, so spankable, just aching to be tanned as she wiggled and squirmed over whoever was punishing her (usually sister Beverly if it wasn't Aunt Veronica or Uncle David) – well, feast your eyes on her most recent film, her hair is still short, I have gotten used to it now, but that pout, that ass, that sassy bratty behavior, it's still there…. begging for her to get punished!
Lorraine pouts and brats – but she still gets a spanking!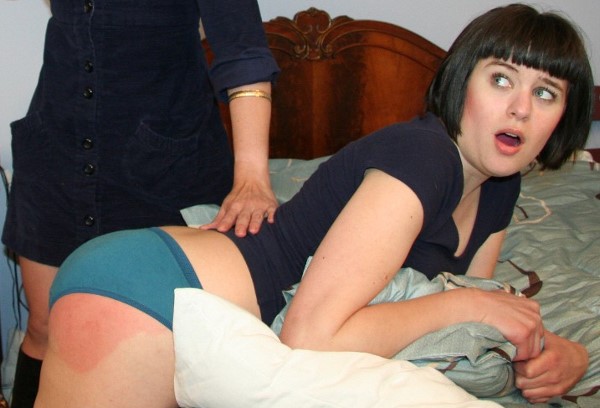 Check out MORE of pouty Lorraine's brattiest movies alongside her tormentor Beverly Bacci HERE
****************************************************
A brat film with a different perspective? Well, check out Brandi's humiliating punishment as she is stripped and made to kneel on a stool whilst she is spanked and strapped from behind!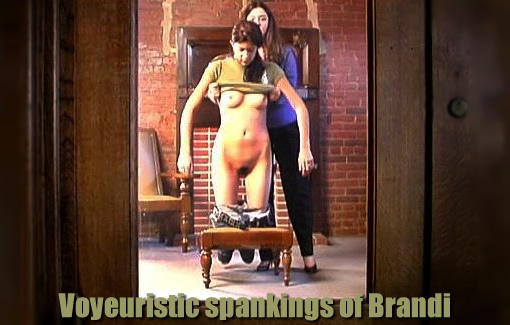 Such was the force of the strapping and the sheer shame of knowing there were others peeping at her discipline session, tears ran down her cheeks! See what I mean from a few images cut from the movie below, Brandi's pert trim body is timeless thanks to film… forever one of my fave spankees from the past, captured on film for all (internet and domain name) eternity 🙂
See the vast archive of teen Brandi's many severe and excluisve spanking punishments HERE
You can also check her out at the sites below where she also featured quite heavily, especially with her fellow naughty girl at the time, redhead Jessica who was my first redhead spanking crush online many moons ago!
& of course let's not ignore Jessica paddled on her own, she had the tightest perkiest ass that could take a hell of a wooden paddling, seeing her punished still like that I just find an awesome sight to watch! (Especially in her uniforms!!!)
Check out Teen Jessica's equally alluring site – STILL updating with new content and images like these above!
*******************************************
& finally today, as promised, I got my act together and have been uploading a film to our Clips Store HERE whilst writing this (yes, men can multi task… sort of) and it's a great bratty film with Sarah Gregory, not seen anywhere and I doubt it will be shown at the main site in all its HD glory for a while so this is a great preview for anyone obsessed with all things "Sarah G"… and who wouldn't be? I re ran this film earlier and it made me smile so much, she was just so sassy and gave me "lip" at every chance, mocking my accent, our chocolate, being a complete Diva… hence the name of this film "Diva Spanking" (yes, boring title, I know… yawn!) What isn't boring is the hard stinging paddling I gave her with our very stinging composite paddle that Sarah later confirmed in her best "Queen's English" … "Hurt like buggery!"
Click image below to access this latest film