Gosh! It's been a few days and I have just not had time to come on here until now, I really hate being away from blogging so hope to make up for this with a special update today. Remember that I had mentioned that at my site there was new girl Jenna Jay? Well, her full film is now up to download along with a ton of images, it was an introductory spanking which I had the "pleasure" of carrying out and I can tell you this girl is HOT! She is going to be something special for 2012, so we are happy to show you ahead of most of the competition as they are sure to invite her to film. In fact, I rarely do this but I wanted to get out a F/F schoolgirl punishment film for next week, and both Jenna and another fantastic first timer called Taylor will star in this movie alongside another new face, Emma who plays a very fierce and nasty headmistress… so thanks to Jenna for ruining my update schedule, lol! See what all the introductory fuss is about in the galleries I have made below, don't you just love natural girl next door types? I know I do! Click images below to view more of Jenna:
OK, I shall move swiftly on as no doubt you are sick and tired of hearing about me bleating on about our little site (though if you do purchase our long standing Annual Deal giving you spankings at just $8.50 a month (that's just around 5 of our British Pounds) then there is a special lottery entry that all members who have purchased this deal will get entered in for, and that includes those who purchased it before this month (you'll find out more next week!) The Offer is a kind of Xmas bonus thing so will end Dec 24th and then I draw the prize at random from a list of those who have purchased the annual membership.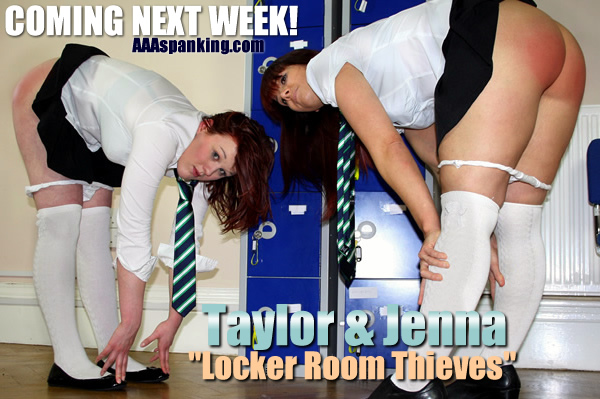 ***********************************************
OK, well, where to next? As I have run out of time over the last few days, I'm gonna try and find galleries where possible to start with as these help me provide you with more info, so to our Brit friends at the following sites, thanks for providing these galleries as they help explain the latest updates… and they also have a special limited Xmas Deal on too knocking a generous $10 off their normal monthly price, and this remians permanent for as long as you are a member… so first off, check out English Spankers below and their latest film now out in full. (As ever, click images to enlarge or find the free gallery)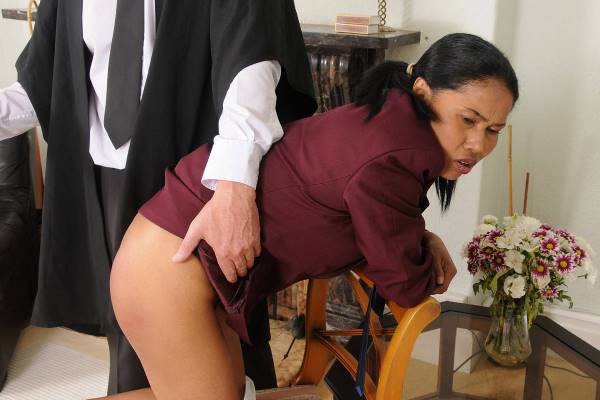 Check out a special FREE Movie preview clip of this schoolgirl film HERE
*******************************************
& over at SpankingSarah.com – this is what I want to see again, sarah in her sub role getting a good hard thrashing as we all know she can take, and this back to basics film with a very stern "Mr Stern" clicks all the right buttons for me, the images here that accompany Sarah's film are great too! As you'll discover!
Check out the free preview of this "cracking" movie HERE
************************************
& schoolgirl Leah (or Lena as I remembered her) is this week getting a strapping from Headmaster and that delightful wobbling butt of hers is indeed addictive viewing as you will see from this pretty teenager who is properly punished and humiliated in her latest episode shown at RedStripeFilms.com
& it goes without saying you can view a great freeview clip HERE!
*********************************
Finally, another site with a similar offer for the Xmas period is SoundPunishment.com (so please do go check out their offers especially if you might be a returning member, why not take advantage of their generosity?) and I have pleasure in introducing yet another Masie Dee update from this site (I believe she is now based in Holland but comes over to film in England as and when) -anyway, feast your eyes on this lassie's humiliating punishment, with her privates and anus fully displayed, no hiding place for her on that bench at all!!! Yikes!
Oh my! Checkout what other naughty films Masie has been involved in at SoundPunishment.com
***************************************
Staying in the UK, my friends at NorthernSpanking.com are busy as usual providing consistently top notch spanking films and here is a little collection from the very latest updates you can check out from this past week!
There's a new girl who I haven't seen before called Sarah Jones, who has curves in all the right places and I just know that Paul would have had fum spanking her lovely bottom, below area few early preview pics of  her introduction, I can't wait to see more! Yup, it features an argument over who owns the remote control for the TV… (we did a film of that recently as well, lol! Well… it's a good place to start an argument and get someone over another's knee, right?)
 The conclusion to the multi girl punishment films starring Pandora Blake, Aleesha Foxx & Xela Chaste by legendary Kane's very own Josie Harrison-marks is what is next and I enjoyed this film immensely, as I am sure you will get an idea of what happens to the girls from these images shown below:
& I couldn't think of anything more tempting than seeing Zille Defeu and Irelynn Logeen together, caned, spanked AND in jim-jams! Northern thought of it and alongside the ever impressive Stephen Lewis, You just know these 2 are going to be thoroughly punished as they should be!
Check out many more updates at NorthernSpanking.com
***************************************
In Holland, Mike had been busy employing Sarah Bright from SpankingSarah.com that I had featured earlier… so once I had heard she was there filming, then I knew Mike would be dressing her up in his various uniforms, so how nice to see one of my fave uniform punishments, the thrashing of naughty air stewardesses… and of course, Sarah gets into deep trouble in no time at all (fortunately!)
Sarah Bright is an experienced stewardess who is joining the Europe Airlines team. During her first interview she got her contract to sign and she was told she had two days to learn her pre-flight safety speech and then to come back. When she returned it became obvious she had not learnt it so Mr Johnson took her over his knee and she got her first sound spanking at Europe Airlines.
You can see MORE of her punishment and the other specialist spankings HERE
******************************************
Staying in Europe before I take a quick trip to the States for the final part of this update… I decided to go through my archives of what I had on this site as I wanted to check out Yasmin Garcia again, she filmed extensively with Bars-and-Stripes.com and her intake, for me, was one of the more memorable detentions. She went though the ritual punishments and degradation, she starred alongside Leia-Ann Woods as well, a true devotee to anything prison-like (and of course predatory with her fellow female inmates) but this time I'm focussing on her punishment with nasty warden O'Brien who gets off whacking her girls in her charge… never provoke Officer O'Brien, ladies!
Check out MORE prison style punishments at Bars-and-Stripes.com
*****************************************
I love seeing role reversals, so who better to see getting a good man spanking than one of the sassiest and cheekiest tops around, none other than cougar, Clare Fonda, who I gotta say still looks "fit as" as we say here in England!
Clare Fonda has some fantasies about being spanked by a younger man and she explores them with guest star Kyle Johnson in a nephew/aunt scene where discipline restores the age appropriate behavior as you'll see here. Kyle gives his slutty aunt a good old fashioned hard man spanking that leaves her cougar cheeks burning bright red with shame!
Oh my goodness! Yes, I have "wood" – see Clare's punishment in full at SpankedSweeties.com
& whilst I am on the subject of sweet looking girls getting a spanking, I was blown away by the pairing of Jenni Mack, and my nomination for spankee of the year, Veronica Ricci… Jenni's red hair (surprise!) caught my attention and this sexy and slutty F/F spanking works on so many levels for me, especially when the girls are caught by Miss Chris and all hell breaks loose at Spankedcallgirls.com – I'm sorry, but when I like my F/F spankings, if they're as sexy looking as this, I'm sold! Click on the images below for 2 fantastic galleries that better explain to you what happens next!
See MORE of Jenni and Veronica in "action" at the naughtiest punishment site – Spanked Callgirls
**********************************************
Remember that both these sites can be included as part of a package where you can choose 3,4 or 5 of Clare's top rated sites as a pass for a fraction of the combined cost, the best multi site pass out there with NO repeats of content across her sites 100% guaranteed!
***************************************
OK, that's it for me for now, however, please do go check out these 2 clips stores below and other pay per download sites – as I will be adding much more content very soon and I promise you that if you don't want to sign up for a membership and only want to view the odd films then these options below are especially for you! Enjoy!
& the original NaughtyBottom – still offering some classic movies at rock bottom prices with MORE new movies finally coming very soon (yay!)