Xmas is fast approaching, tis the season of many work related meals, I have another tonight, all the good work I have done by losing 20 Pounds these last 6 months has gone undone in a festival of gluttony and excessive eating these last few weeks! Another reason I loathe this time of year, to be honest. If you know me, you'll know I hate this time of year. I have just prepared my Xmas film at our site (sigh) and in the spirit of giving, our members will get a massive 25-30 minute film in one go, no broken parts in gorgeous HD, featuring 4 lovelies spanked needlessly in some extremely tacky and festive gear. Danielle was one of those girls… and after her filming came up with the idea you are about to see below! This is also advertised on the front of our site and it was mainly her idea, so anyone bitching about me exploiting the poor lass… think again! It's also a nice extra and a "thank you" to the lucky winner… what do you have to do? Click below and see how to enter and be a part of the draw.
& this offer is available to ANYONE who has purchased a Year's Membership, we are reviewing our pricing structure very soon so this annual deal along with the current pricing WILL change as we are now so much bigger than when we had envisaged the site to start with… so if you also want to take advantage of accessing our site for under $20… which, to be honest, is waaaaaay too cheap, then get it while you can as we will be upping the prices very soon! Not because we are greedy or mean, but because we have no choice, being based in the UK, the Dollar exchange rate is killing us, hosting costs more for the extra bandwidth of all our extra films and it covers the costs of wasting time tracking down pirates and costs that this involves as well as funding for new models and such. I have thought long and hard on this and hope you won't be too upset, so I'm giving fair warning: I will probably raise the monthly fees in a few weeks, but will still seek to encourage those who want to support us with pay per view options and kick ass longer term deals like we have now!
Get it ALL for under $20 while you can – ALL JOIN OPTIONS HERE
**********************
& so onto my next fave theme, seeing drop dead gorgeous Japanese girls spanked in mother/daughter type roles and who better to start this off than Cutiespankee.com who have 2 amazing films with this stunning actress who whimpers beautifully when her tight bare bottom is paddled out of her cute school uniform! *swoon*
OK, if you thought this mother/daughter spanking and paddling looked hot (the movie is fantastic, btw) then check out the 2nd featurette as this girl prepares for her punishment when mother calls her for the inevitable!!!
You can see much more of the latest free movie previews exclusive to Cutiespankee.com
*****************************************************
Staying in Japan, I loved this role reversal movie and can imagine this happening in such economically challenged times… it's called "Stupid Office Worker" and stars a real hot cutie called Anri who threatens her boss she and many others will leave for better paid jobs unless they get a pay rise… but the boss can't do that and offers up her ass instead as punishment (done in typical Japanese style which I absolutely love! The female boss really looked ashamed!)
However, boastful Anri sent an email to her boyfriend about making it all up and foolishly sent it to the company's chief exec who forwarded it to her office boss who exacts a suitably humiliating payback spanking!
Click HERE to see the latest special free movie previews & more!
**********************************************
I have had some requests about Samantha Woodley recently, and she filmed a ton of content at FirmHandSpanking.com – even though it may have been filmed a few years back… it still hasn't been released until now so to all intents and purposes, it is of course "brand new" and unseen… I have to say, her latest bratty episode they are showing during breakfast in her "Learning Curve" series was one of the sexiest punishments I've seen – with her spanked with a wooden spoon in the kitchen, with her tight pink panties still on… all this for not being able to make coffee and burning the toast! Enjoy her humiliating & sudden hard breakfast spanking as you'll see below!
Of course, this site isn't just about featuring some of the hottest Sam Woodley films… oh no, even long established players like Alison Miller with probably the jiggliest, wibbly-wobbliest bottom that can take a really hard thrashing still features on a regular basis… and that's good news, as her films are amongst the most popular and for good reason… watching Alison getting spanked on her bare bum is an event in itself… check out the images below then check out the short preview clip I've cut which covers the slo-mo action replay of her spanking/paddle brushing and you'll fully understand what I mean!
Warning for my gentlemen viewers: Miss Miller's jiggling bottom WILL cause severe trouser arousal!
More fantastic jiggly ass spankings can be viewed in full at FirmHandSpanking.com
*******************************************
Here's a site I haven't featured for a little while, keeping it to myself again (lol) and this headmaster is stern as hell, as he always is, taking no crap off any of the girls at Spankedcoeds.com and this tearful girl has yet another semi naked spanking across his lap as he reminds her that this pre bedtime punishment is for her own good (ahem!) and there will be more of this when she wakes up (how awful!) – Please do check out some scenes bel0w which showcases what she endured!
More hard spanking action from the Headmaster can be seen HERE
**************************************
Finally today, I thought I'd feature a model I hadn't seen in ages, and so I decided to peruse her section inside Northern Spanking and here area few choice images taken of Samantha Johnson… one of my all time fave English girls in The Scene that I would *love* to spank personally…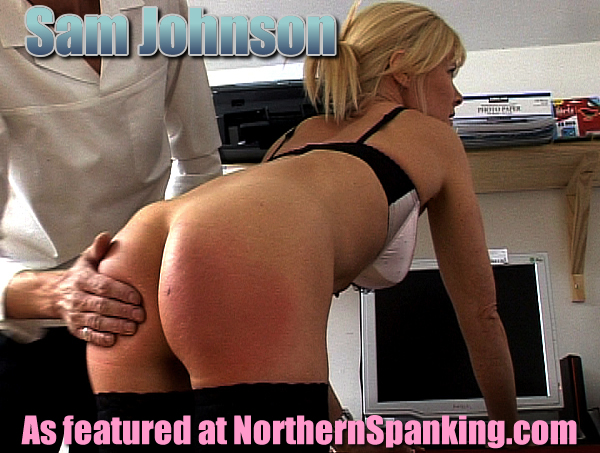 below you can see some of her many films she starred in at NorthernSpanking.com – Enjoy!
Check out the many films of samantha and of course so much more from one of the longest established spanking sites from the UK! NorthernSpanking.com
*******************************
Have a rest if you are not working on the Sabbath and enjoy the countdown to Christmas that is under full steam here in England, as I am sure it is wherever you are (well, unless you're in Saudi Arabia, The Emirates and suchlike… and I'm sure my site is blocked there anyways!)
I'm off out for my meal – I have the special "Cakeboy" pantaloons on for added comfort 🙂