I'm knackered! I've had a long tedious day at my regular job and came home with having little sleep these past few days but I also sat down and spent time getting this update out as I had promised and I can see already from my stats that it's a popular movie, and why the hell not as this features gorgeous Jenna Jay and Taylor Richardson, spanked, paddled and thrashed with a bathbrush side by side and in the diaper position… in – those – uniforms! Oh, and of course, check out those naughty panties which "angered" me as well!!! (hmmm, well… possibly *not* angered!)
…& who do these panties belong to?
These magic panties foretold what was about to happen to Jenna!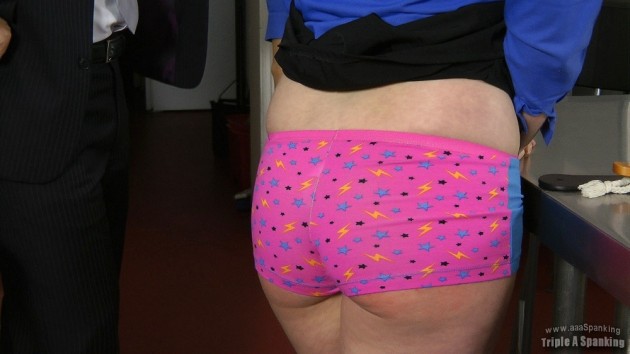 Hmmm, and Taylor's we're any better with sizzling lightning bolts.
OK, the panties aren't magical, but they didn't help the girls when I had spied them both slacking in the kitchen, not making the sandwiches as promised…. and that is why this film is called "Sarnies & Red Bottoms"
Meet Taylor & Jenna in their uniforms, who are about to feel more than a little foolish!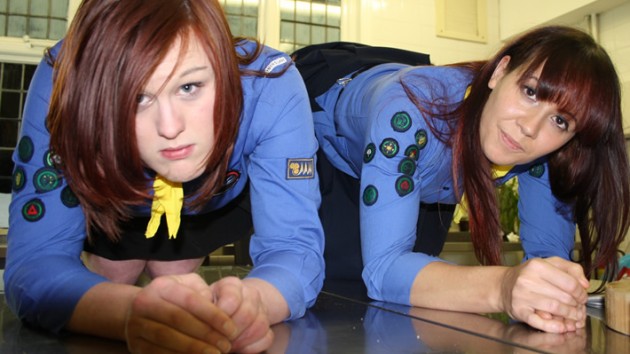 I rather enjoyed making this film as you'll see from the images below, it was a great kitchen location, the girls looked absolutely fab in my authentic guide uniforms and of course they got some unusual punishments which actually look pretty good on film, definitely a good spanking romp. The angles in the kitchen were really tight (as you'll see from a few behind the scenes images and the lighting issues were almost making us pull our hair out with frustration, but in the end, it came out OK, as I hope you will agree!
Jenna & Taylor were 2 unhelpful Girl Guides who should have been preparing the sandwiches for the local Village Hall Fete but instead the girls gossiped idly and even prepared the food most unhygienically! Luckily, the ever suspicious Mr Osborne had been viewing their behaviour on CCTV (he always does that with potentially naughty girls, doesn't he?) and he wasted no time confronting them both with evidence of their shambolic attitude and quickly took turns to spank both girls in front of each other. But worse was to come as he ensured they were thoroughly humiliated in their uniforms after seeing the disgraceful blight to their dresscode with racy panties, he whacked them both on the bare with the paddle and that awful bathbrush they really hated, their bottoms stuck out high in the air and in the embarrassing diaper position on the cold stainless steel kitchen table! Ladies & Gentlemen, you miss this film at your peril!
I have some images below which I took behind the scenes and the dilemma of the kitchen table as I had wanted to do a decent facial shot but it would have meant doing several takes and after what the girls went through, we decided it wasn't worth it as this film needed to be spontaneous… which made it special… they didn't know what was coming and had to endure the bathbrush and a paddling in the diaper position on that table! (Mean… wasn't I?)
There is a free movie preview of this film shown HERE