Hi everyone, I have had a real "mare" of a day at work so am waaaaay behind my preferred online activities… I will be updating my site with a new movie tomorrow when I have more time, sorry about that, but if you saw my post yesterday, you can either see the new film in full "Sarnies & Red Bottoms" from the Clips Store – or handg on to watch it in belting HD quality from tomorrow evening.
So that means I have a 2 part update for you today, as I am invited to a neighbour's for a bite to eat and so will upload something else later as I only have 30 minutes here so enough of my waffle and on with what is a superb opening update from Sarah Bright's site spankingsarah.com with this excellent retro bonus movie update of Wynter Sky in hussy red getting a carpet beater thrashing!
When Wynter Sky decides to steel her Mistresses clothes and jewellery she gets a bit carried away and lays on the settee playing with her pussy, very naughty especially as she is being watched by the butler. He gives her an ultimatum, punishment his way or she will have to go. Left with this choice she finds herself in a variety of the most revealing positions whilst he beats her hard with a rattan carpet beater this really hurts her pride, her pussy and her bottom.
This is a cracking movie of a girl I know well, lots of pussy play, exposed and humiliating spanking positions and *that* carpet beater wielded by Mr Stern! This film is worth the very fair entrance fee alone and you can see a wonderful FREE Clip HERE
**************************************
& from another site in this network at English-Spankers.com Mr Stern is finalising his audition of voluptuous Holly (who you will have seen before cruelly thrashed by both Sarah and Mr Stern at this site and previously at Sarah's) Check out her amazing wigglesome bottom that can take about anything thrown at it, including the cane! This is a girl that can take a hell of a thrashing, if you remember!
The final part of the story of the spanking life of Holly.
This is the series that you seem to love the best on English Spankers. We get a real live and honest insight into the lives of our favourite spanking models. This is the last part of the story told by young Holly, a lady very new to the spanking scene, indeed I think that these are her first films. Now the most severe punishments will be handed out. The crop and then a very nasty plastic paddle applied to the bare bottom before a good hard traditional caning. This has been a real insight into the life of a girl who loves to be spanked.
Yiu can see a very good free trailer of this final full movie installment by clicking the link below!
CLICK HERE TO VIEW THIS MOVIE
*******************************************
Finally, I had to let you see a little more of the extremely spankable, fuckable and whatever else-able Jadie "Trouser Arousal" Reece as Paul from Northernspanking.com admits this was one of his fave sets he took images of as you'll see below: Lucy Maclean (who I have to say was looking scrummy and ALL woman, mmm… sorry Paul for coveting yet more flesh, lol!) decided that Jadie was just rather too dirty before her spanking and caning so a nice excuse below as you'll see Lucy soap up the suds and give naughty Jadie a sopay wet groping wash before the spanking and caning… you can see the spanking pics at the site, I'm a rease and I hope you like these images I have of the "warm up"… and "Yes!" I… have… wood! 🙂
"Hello! Look at my eyes… not my gorgeous tits!"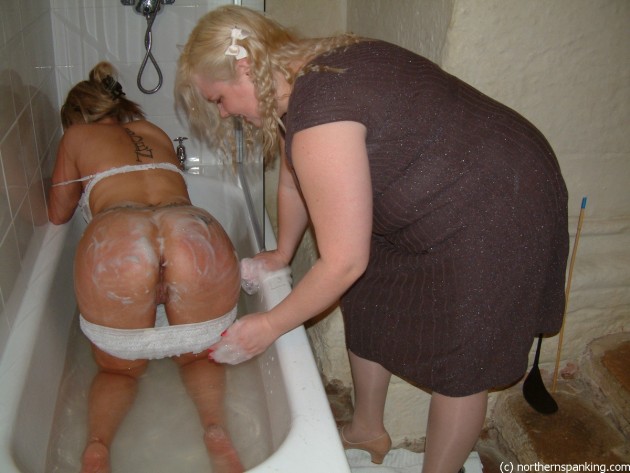 Wanna see more? I don't blame you!!! Check out NorthernSpanking HERE
**************************
OK, I am now hobbling off over to my neighbour's on 3 legs… ahem! back later with part 2!