As promised today, I am bringing you some very special Cream Horn rated spankings which I hope you will enjoy! These are a collection of past and up to the minute spankings from across t'interwebz, so please do ensure that you are sitting comfortably and relaxed… please do ensure that you have been to the toilet (do so now as you could be some time gazing at this spledifera of spanking talent.
Have a glass of your finest vino, bubbly or milkshake (whatever turns you on) to hand… and remember to lock the door for that extra privacy as I show you some of what I have been viewing and downloading today… I'm spent, I'm sure you will be too! Ladies and Gentlemen… I give you today's Cream Horn Spanking Specials! *drum roll*
Possibly my all time favourite spanking model from Punishedbrats in the past was Juliet Valentina, when she had that perfect girl next door look, with her long blonde locks and able to play a schoolgirl or naughty cheer girl at will! She has since come back… and depending on her real life commitments, so I understand, she could well do again (I can hope!) – But fear not, as you will (probably) already know, there is a vast collection of Juliet's films waiting for you to discover her talents at PunishedBrats.com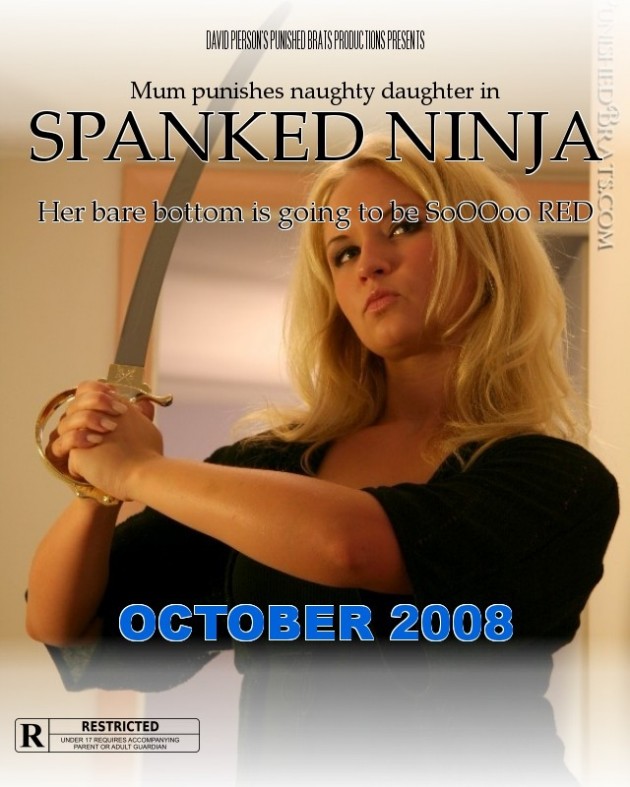 Not sure who made this poster at the time – but it's a giggle.
Edit: Just been reminded that it was Cutiepie of CutiePiesSexySpankings.com that made it (nice one!)
One of my all time fave films of Juliet is shown below, I think it was the combination of that school uniform, the OTK spanking and just how breath takingly beautiful she looked that day over one very lucky David's knee!
"My Ass is AWESOME!" – Juliet Valentina (made up by Chief)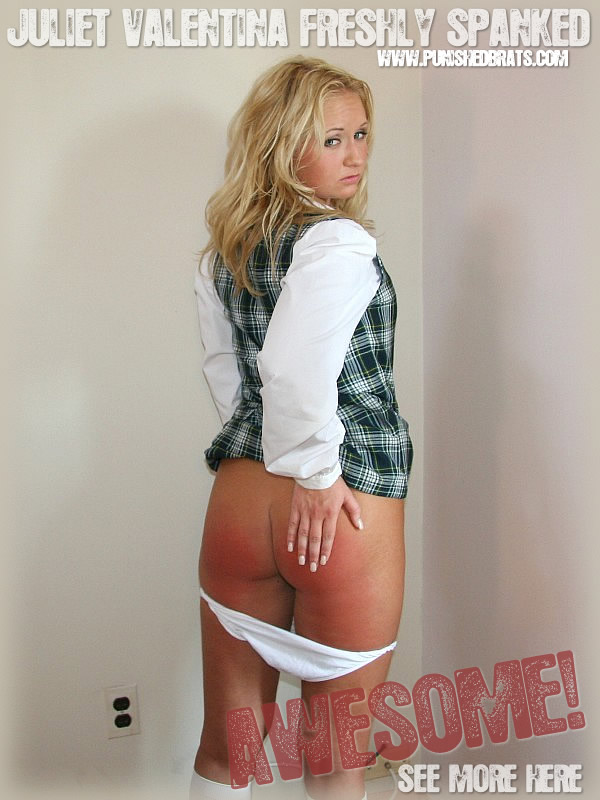 Currently at Punishedbrats.com there are heaps of great new updates with new girls and as you'll see in the latest images below, this site, with it's amazing archives just gets better and better!
Pixie was and still is my number one girl and the reason so many have stayed loyal to Punishedbrats.com – now that she also edits the films, when she can find  time to be in front of the camera… we get fantastic images that accompany this recent film called "Office Pal" – don't miss it, it's Pixie at her wriggling, yelping best over (the very fortunate) David's lap!
the storyline: Ten had been taking advantage of her friendship with her supervisor, Pixie, by asking for a lot of time off work. Now she has left an important project incomplete and it's Pixie who has to pay the price when her boss finds out! See how Pixie coped with fixing the problems at work with a very sore red bottom! Click HERE for the free preview
********************************************
Amber Dawn has been a busy spanking bee recently… secretly acquiring newbies like insects to honey… this blonde waif came to Amber for a correctional spanking punishment… I don't think this young lady will be back as she looks like she might just try to behave and avaoid those stinging hand strokes on her bare soft bottom… but I'm sure glad she gave her the "once over" as Amber has some private time, I'm guessing she might even have broadcast this as part of a webcam show – I'd like to think so 🙂
Amber Spanks Abbey Rhode (like the play on the name… were her parents Beatles fans? lol)
At the time of writing this I have just noticed that there is a new full movie just added, it's a HUGE file and it's called Amber spanks Alyssa… she looks f*cking hot and the file size is a humungus at 2.7 Gigs! I'm currently downloading it as I write up this post today (predicted to take well over an hour and then some) so I promise to get back to this but YOU can view this and Amber's other sites on a Special Trial promotion for under $5! Sign up through SpankAmber and there are the member page links to all 3 sites! That is so cheap… but also, her long term memberships are worth every penny, you'd be hard pressed to even download a fifth of what Amber has in her archives in the trial period! Anyway, check out some teaser images of Amber and Alyssa below… this looks well worth it alone for a 2.7 Gig download!
Edit: I have just seen it – F*CKING HELL!!!! I will get you news of this SOON! See for yourself!
**********************************************
Things are hotting up, aren't they? I have a ton more stuff for you yet and while I'm taking a break to waffle a bit, please take a break and get some fresh air, stretch your legs a while… as I aim to bring you what's hot and new across Clare Fonda's excellent sites… and at the 1st site I'm going to showcase for you, there is a theme running ever since they hit the 100th episode in this ongoing spanking soap opera… that of "female wrestling and powerplay" – Who wins, gets the power to spank the other… and I have to say I had to make a choice with this as these themes are in both episodes 101 and 102, so here is number 101 with Kay Richards and Ashli Orion (who is tall and athletic, whilst Kay is bosomly – I love the way her breasts hang like they do…but that's another trouser busting distraction… ahem!) Let's find out how they get on!
"Ding! Ding!" Round 1:  Kay and Ashli are working out when they begin to argue about how their relationship has turned out. First, they begin smacking each other's bottoms playfully. Then it becomes war. They wrestle and spank each other harder and harder with hands and even hairbrush. It leads to some kissing, but Kay is still bitter about the breakup, so she spanks Ashli hard and tells her "no fooling around!" – Go girl!
SEE THE FREE REVIEWS AT MY SPANKING ROOM MATE
The next site with new content was the one voted most improved in 2011, so that means we are taking a quick look at SpankedSweeties.com
Why? Because it is one of the hottest girl-girl spanking sites. Each girl is interviewed, takes some hot photos then gets down to a long, hard spanking. Clare uses the prettiest girls and a good array of newbies, first timers and established models – some have been spanked before and tell us all about what happened to them growing up and re enact some events and some have never had their bottoms spanked before – these girls often have very red bottoms, which I love, of course… take Lilia Spinoza… one of the stars of EE6 ( <<< click this link as it is a really good free gallery of Lilia in a cheer girl outfit!!!) as a convincing cheer girl, see her get a man spanking across the lap of Double Dan in that cutsie school uniform! Mmm!
See what makes this site addictive viewing – Click Here for the tour pages
Finally from Clare's site GirlSpanksGirl.com today, tall slinky Elise is in trouble with her mother, Clare (again) home from school, Momma has a few things to say and Elise is humiliatingly stripped and given yet more demeaning discipline designed to make her daughter learn to avoid such bad behaviour in future! This punishment included a hand whacking with a wooden ruler which was kinda "ouchie!" (Oh, and Elise looks drop dead gorgeous over Clare's knee, doesn't she?)
This is part of the Disciplinary Section (with all the hour long movies and the infamous EE Series of schoolgirl films) – I just thought I'd also show you what I hadn't seen in a while , which was amazing… this was the film between Chloe Elise and Sarah Gregory in one of these home domestic discipline classics, this film is  one of Clare's finest in my opinion and I forgot just how bloody good it was! (Thankfully I found a gallery with a complete explanation for you, so click on the image below and all will be revealed!)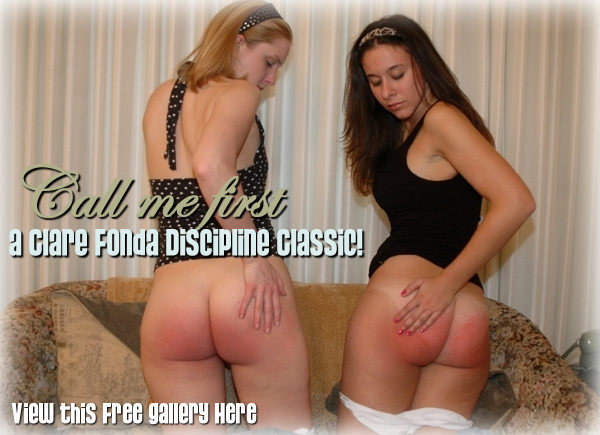 These movies and the latest updates I have shown you of Elise can be viewed seperately at GirlSpanksGirl.com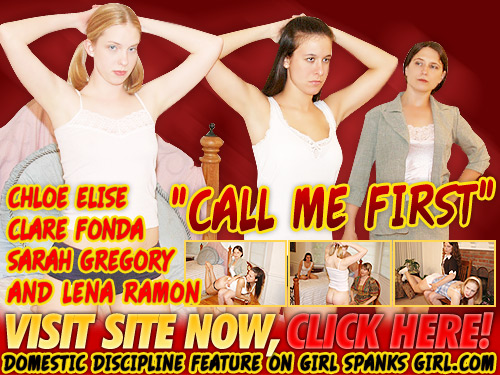 ******************************
All Clare's above sites featured here today can be purchased seperately, for they are all HUGE in their own right… or you can get the BEST multi site deal around and get these sites in any combination YOU choose of 3, 4 or 5 sites in the CLARE FONDA PASS – saving a lot of money on monthly and further on quarterly membership deals!
*************
That's it from me, tomorrow I will be focussing on European sites and some that I haven't for a while which I promise you won't want to miss! Until then… cheers! Chief.
Pass the cream horns around, will you? 🙂