Ok, as promised, some spankings from Europe, this was supposed to have been done on Friday evening and it's now saturday AND St Patrick's day (which I find a dreadful bore…) so no more references from me except to say "COME ON ENGLAND!" in the Rugby Six nations game later today.. against? Ireland! (Ha! Same as last year, only I hope we win this time!) Right, as virtually all my North American readers are now wondering what the hell I am on about, let's move on shall we?
But before I continue, I'd like to apologise to the chap on my customer support that I know reads this blog – "Sorry" – I had you mixed up with another person who is DEFINITELY not legit and got caught out so I am dealing with that issue right now… So to the innocent gentleman (who actually sounded very decent in his replies to me yesterday) I hope that you enjoy the site (oops!)
******************************************
OK… This isn't strictly a European site, though a lot has been filmed in the UK, but the 2 girls are definitely British (and of course undeniably cute) – I'm wondering if this latest series with Amelia Jane Rutherford at FirmHandSpanking.com is one of her most visually striking yet? It looks like it was probably filmed a few years ago, but it's still new to us all, Amelia is just so… so spankable in these images, the movie is as good as these images promise, trust me!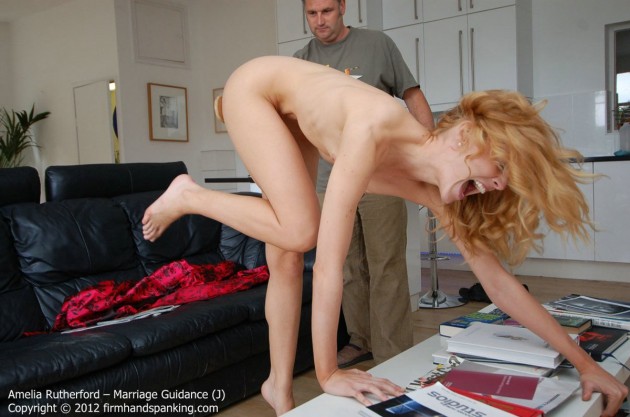 This is what the site has to say about this film: Marriage Guidance has helped Amelia Rutherford's relationship with husband Richard. But when there's bad behavior, she accepts she'll be punished. A totally nude 12-swat paddling tests her resolve and extracts some yelps. Richard swings the board with strict resolve. Hot!
As if that weren't enough, another Brit, the new lass, Belinda Lawson *swoon* is featured in the very latest movie now out at this fine site and as you'll see below from these images… they have another winner on their hands!
School skirt up and panties down, bouncing bottom bared, pretty Belinda Lawson is told to bend over a desk for Mr Anderson to make her study in End of Term. Texting instead of working hard costs our high school beauty 61 strokes with a leather strap. Now those must sting!
Edit: A brand new Belinda Lawson film has also been released! More to come on that SOON!
Members of FirmHandspanking.com can view that and more right now!
****************************************************
 Over in Holland, Mike has been busy setting up another uniform spanking franchise, this time a good excuse to thrash wayward waitresses… with the only tips they'll be getting are some good sound "schpaannnkings" across their cute outfits and bare bottoms. Welcome to Mike's 50s Diner!
This is brand new and there are new girls featuring here as well! I love the frilly knickers the girls must wear, seems Mike does too and it's not long before these are pulled down – check out the images and see the 1st storyline from this new uniform niche.
Mike's diner is close to opening and the hiring of new waitresses has begun. The lovely Cory and Loni are first. They are given the instruction folder and they have to memorise it and return the next day. The next day Mike takes the role of the customer and orders a few items on the menu from them. They do not perform well and both girls end up over the table a few times getting their bottoms spanked soundly by Mike!
Enter Mike's Diner below and see what else is being served up!
Whilst at Spanked-in-Uniform.com – You may want to know that there is also a brand new update featuring Kami Robertson in that amazing Gym in the "Rockford School of Dance" … she can climb that rope but Mr Johnson is just going to be waiting below with a huge heavy strap… lol!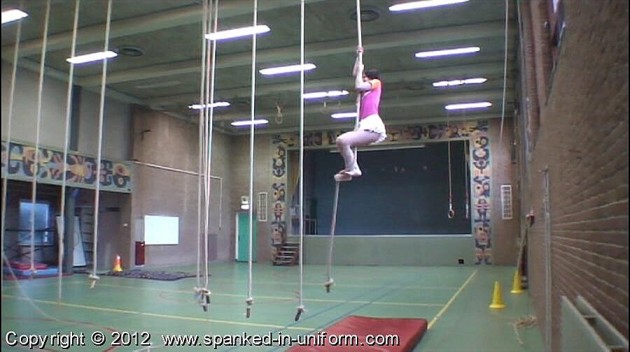 When coach Johnson passed the gym, he heard someone in there and as there were no classes planned there, someone was out of bounds. He fetched his strap and caught Kami Robertson red handed climbing the ropes without supervision. She could have hurt herself so coach Johnson made her bend over and she got a long sound strapping which had her in tears by the end – and then she was sent home (still snivelling).
See MORE of Kami's many punishments in all manner of uniform – Click HERE for more previews
*******************************************************
Here's something very special from NorthernSpanking.com – part of their model fantasy series (which I always appreciate as I try to encourage all our models to explore something they'd like to try with us!) Anyway… check out Roxy Valentynne who had never been caned before… until now!
Having never been caned in her life, Roxy wanted her first ever caning to be special and she liked the idea of being a naughty schoolgirl, caned by the Headmaster but can't resist finding a perverse thrill from her newly caned, and quite welted cheeks when she gets home from school…
Wow! Love those beautiful welt marks, don't you? Check out MORE of Roxy at NorthernSpanking.com
***********************************************
Finally, if you want to see an amazing long OTK spanking, please do go check out Pandora Blake getting an intense session over the knee of Thomas Cameron… I loved this, and I know all you fans of OTK will too! Click on the image below to enlarge it… you'll get some idea of the spanking that took place! (yikes!)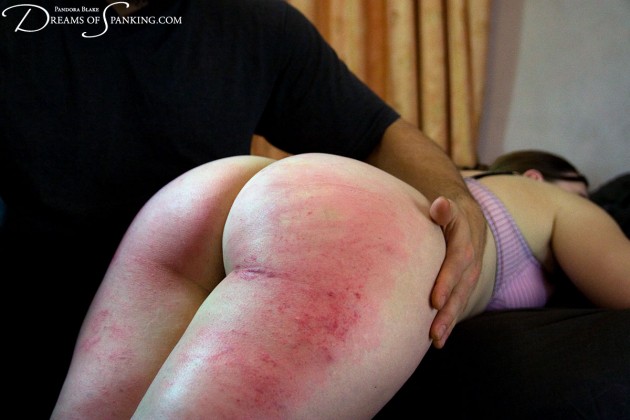 Click here to view a free trailer preview of this cracking OTK spanking!
If you're not into OTK (what???) then there are some humourous films too with some strong storylines and themes I know you'll just love, including a damn good hairbrush punishment in a whacky (pardon the pun) film called "Secret in the Wardrobe" … oh and of course there are some established stars like the (awesome) Caroline Grey I never tire of raving about and a great performance by Adele Haze, who I must admit I haven't seen much of as a top… but she is perfect in this film… there is a free trailer too on the home page & some taster images taken from the film are below!
With her father away, Caroline is left in the care of the household staff. Her governess, discovering her secret, takes her over her knee – and both she and her maid are in trouble with the butler
Oh the secret? I can't spoilt it, but it's a "fluffy" surprise! 🙂
***********************************
Edit: We walloped the irish 30-9 – get in boys!
(& well done to Wales for winning the Grand Slam!)
Oh, if you're after MORE spanking updates from me, please do go check out my other blog which has a whole post dedicated to everything from the Land of the Rising Sun on St Patrick's Day! Have a good weekend. (click image below for this special feature)