This is a schoolgirl themed update and one I want to reminisce with you. I had originally planned a patented Chief Rant at the Fuel Tanker Dispute and our Government's USELESS crisis management over this whole ridiculous affair, but I might save that for tomorrow (you lucky people, eh?) Let's just enjoy some real good schoolgirl stuff I enjoyed viewing over the years instead today!
Do you remember this? The Female Disciplinary Manual, I actually got Mishka to read from it in a forthcoming movie as I then spanked her in her tight cute Gingham school dress… (sigh) and you'll be soon able to see this at AAAspanking  – but here's a good reminder of what this manual was all about! I'm sure this isn't genuine, but it looks like a 60's educational supplement for teachers, it's great anyway and well worth a read!!! Whoever did this sure had a lot of time on their hands!!!
This section below covers the "Spanking and the Ruler".
Click on the links below to obtain the page to read this.
I find it amazing that such a pamphlett could exist, if it were genuine… be nive to think it was, eh?
Now, I can remember what you are about to see happening to me when I was a nipper, being verbally chastised and rulered by Head of Year when he patrolled the corridors (I was sent out by the teacher and the fact a pupil was hanging around there meant they were there for punishment, able to be heard by other pupils… oh the shame!)
Anyway, I enjoyed seeing these girls get it instead, they're much prettier than me but I did blub when the ruler landed across my open palms! Well, what we have here is a prefect and a silly girl caught arriving late from 2 very different websites, but both specialise in teen and schoolgirl punishments!
Prefect Paige at SpankedSchoolgirl (yup, I don't often promote this website but it does have some fantastic archives and is well worth a visit) is first up in this wonderful hard hitting classic as she is noisily punished across her cute bare buttocks with the cane, and there's a free clip and image gallery to show you the full shame of this punishment! Click on image below for the Free Clip.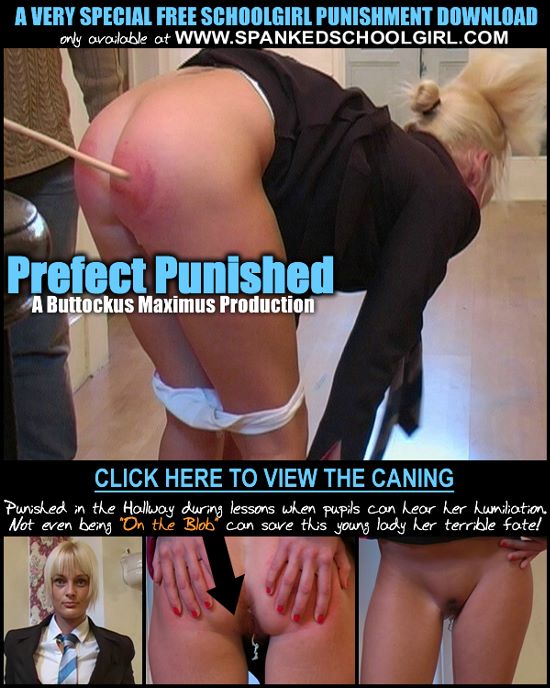 Paige thought that a girl in her delicate "time of month" could escape punishment, well, how wrong she was. You'll see her thrashed with her mouse string hanging down in shame as that cane crashes into her teen buttocks time and again! The way it should be! Click image below for more images from this classic SpankedSchoolgirl movie!
This movie and 100s more of innocent looking schoolgirls available HERE
************************************
Now all the way to Japan and my fave asian teens from CutieSpankee as they squeal blub and get their soft cute rumps spanked and paddled when their harsh mistresses are seriously pissed off with them! Here at school, one beautiful girl in her prim and proper uniform is caught ariving late for class and is punished outside in the hallway as the other girls can listen to her fate, imagine the shame and humiliation of having your knickers pulled down! A free clip and images are below in this very latest update OUT NOW!
Click Here for the latest news and updates if you want more!
View more free content & then sign up at their very reasonable prices if interested!
**************************************
Here's another classic I hadn't watched in a while from Regulation Knickers and this Catholic Punishment film has the poor girls facing an awful humiliation detention and caning at the hands and rod of Miss Lancer!
See all the naughty girls in regulation uniforms and knickers given the thrashing they so deserve
CLICK HERE TO VIEW THE LATEST FULL MOVIE UPDATES DIRECT FROM ENGLAND!
*******************************************
The next spanking I'm featuring here is from REALSPANKINGS.com and this vast site has so much to offer. I was digging around my old RS Folder… (as you do) and came across this wonderful paddling, featuring Kailee Robinson as the spanker (looking f*cking sexy as ever) but check out the gorgeous girl and that rounded bruised rump as she is PADDLED in her pyjamas, this is a perfect "Pyjama Punishment" as I see it – the way she is forced to remove them after being battered across her cheeks then a long lingering scene as she feels the heat of her very red cheeks – another awesome film with many extra angles from REALSPANKINGS (taken from my archives) Enjoy!

The below movie clip is best viewed on VLC Player or Real Player (it's in RM format)
There are plenty more cracking movies like this at REALSPANKINGS

OK, back with brand new updates tomorrow and my "Tanker Rants! Ciao!