Schoolgirl spankings, what's there not to like? Well, it's pretty much a required part of most spanking websites to cater in some part for this particular niche nowadays… some sites are simply named after schoolgirls (so it's pretty obvious what you'll be getting) others feature dedicated sections inside their members area (like mine… and I shall give you a quick preview of what is coming there at the end of this post). Now, just about the only spanking sites that don't cater to schoolgirls are those that make sure you are clear of that by suitably naming themselves some domestic related name or that they cater to much older ladies etc which is an imprtant niche in itself and which I too am a fan of… and even then I find school uniform role play, age play and such… it's an entrenched part of our spanko psyche, isn't it? It's not solely because we're all enormous pervs wanting to see schoolgirls in uniform thrashed (as pleasant as that may be, lol) but also a reminder of our youth, the days many of us discovered we were into spanking, like some stolen moments, I myself remember being turned on at the sight of a female pupil in tears from a school next to mine, the girl in question I often walked home with and she recalled her encounter in the front of class with the slipper (over her knickers) from her math Teacher, who was apparently a real stickler. I never forgot this story and about 6 months later we started dating and I did manage to gently spank her once in a roleplay I "engineered" and never felt so alive until that moment… sadly she didn't reciprocate as I had hoped, thinking of her humiliating punishment… but that memory of my first spanko spark is still very strong and I guess that is why so many of us, like me, LOVE to see school themes at spanking sites!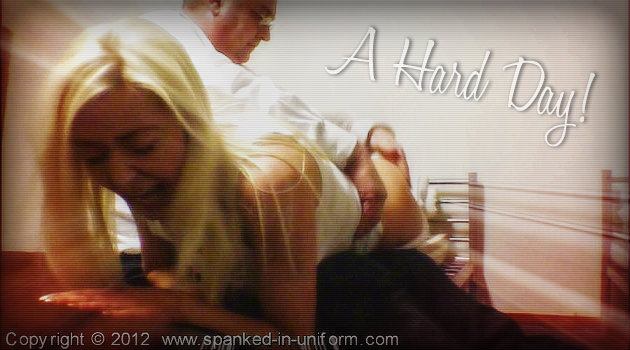 So it is with great pleasure that Mike at Spanked-in-Uniform.com has updated his schoolgirl section… and he did promise me it would be "right up my street" with the beautiful Landra (featured above), who I admitted to him I had a thing for.. and the equally gorgeous Clover (thankfully with some grown up hair "down there" as you'll see as they are punished naked in the bathroom at one point!) I also have some exclusive images as well as the screen grabs, these are what members can also download, just be aware I have reduced them in size as that is only fair for those who might want to join this great site and see the larger images and the film for themselves!
Below are some screen grabs from the movie and the storyline behind this latest episode!
St. Catherines girls Leandra and Clover are having a hard day. The night before they stayed up late chatting with the result that the Headmaster stormed into their Dorm Room at 7:00 AM and rudely awoken them. He put both of them across his knee and gave them a sound spanking. They were then told to go and shower and be dressed in 20 minutes. When he went to check on them, they were again chatting instead of showering so he gave them both a good scolding and a sound nude strapping!
& as promised, check out some special previews taken from this movie for you here!
Wow! Leandra and Clover together look stunning, don't they? You can see all their other collaberations together at Spanked-in-Uniform.com and I'm losing count of the uniform niches added… it's a uniform lovers paradise 🙂
**************************************
If you saw the Caption Competition (please do enter, you could WIN the FREE membership!) then this is taken from my next film at AAAspanking called "Pyjamas Canings" and it should be out for members this Wednesday! You'll have seen details of this competition previously… and I will keep that post featured at the top of the blog's main page until the competition ends (I'll give you some notice, it will probably be around for a few weeks, so get your thinking caps on!)
I haven't got any images from the film edited just yet… but I will give you an exclusive free preview in tomorrow's blog post, I'm running out of time today, sorry! (I have an important meeting at work tomorrow so need to prepare for that!) *sigh*
Until tomorrow… and PLEASE do enter the competition… OK? 🙂