As the weekend is upon us, and millions of Brits hurry down to the pub to drown their sorrows or celebrate surviving yet another miserable week in this present economic climate and can start to see the end of winter is in sight (lighter evenings and milder weather has started to cheer me up as I no longer go to work and come home from work in total darkness and today was amazingly mild and blue skies, it just makes one happy, don't you agree? What also makes me happy is the sight of a beautiful girl and her bare bottom thoroughly punished that it is a tell-tale glowing red that shows me that she has been taught a lesson… and such! Anyway,  I have decided to celebrate the coming weekend with an excuse to show some good ol' bare bottom punishments you'd expect from me! Help me celebrate my "Fine wine and cigar" moments that I have been viewing this week from my darkened, locked study!
Kat St James – need I introduce this So Cal babe further? Check out her interview and several spanking punishments that she takes courtesy of Clare Fonda, Kat recalls her childhood spankings and is interviewed by Clare before we get to see the movies of some scenes of her memories from growing up at home!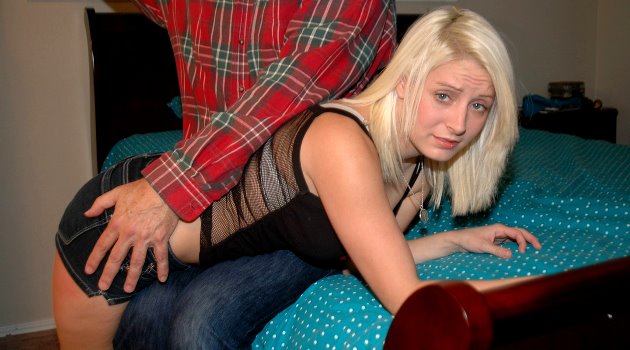 Kat is given a "Man Spanking" by Double Dan who played "father" in this film which members can now see!
Check out her tight pants which really show off her pert cheeks! Yikes!
As well as being spanked by dad, she was more often than not spanked my mom as she recalls in her interviews as he wasn't around as much, I have included a quick look fantastic image set (all images liek th eabopve are in far smaller resolution than members get to see) along with a short 2 minute clip you can preview immediately of Kat talking about her spankings growing up… this is the very first part of the interview, but you get the idea, I hope… and not only is Clare playing her mother superbly in the subsequent film from this… but she is a top interviewer who gets some interesting replies from Kat in the full interview! This is what makes SpankedSweeties.com such a good site, in my opinion. See for yourself below:
Kat's personality really comes out in these "family spankings." As Clare reckons… "She is definitely one of the most gorgeous ladies in the scene" and this was shot at the Shadowlane Party they attended last Fall. Getting spanked in real life or "playing" is one of Kat St James' favourite pastimes and she was disappointed that she could not play so much at the party (as she had to keep her bottom nice for shoots!)
You can check out MORE of Kat's fantastic spanking punishments HERE
Whilst I am reviewing one of Clare's sites, it would be rude of me not to show you the very latest hot slut spankings at SpankedCallgirls.com where Clare features her latest duo together as hooker babes chastised and thrashed by brothel owner of her naughty whoring franchise from "Momma Clare" who , of course, knows how to deal with girls that stray and try to rip her or her esteemed clients!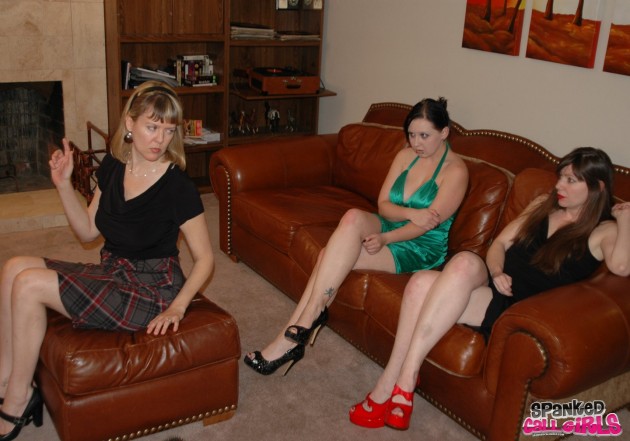 "C'mon… it don't matter much WHO is 1st, you're both getting it good across my lap!"
Clare has worked with Celia (in black) for a while and trusts her, but Celia seems to be quite the enabler when her perky-bottomed friend Moon bails. Slut spankings for both- hairbrush applied! Moon is a hot liitle gothy who is schooled by Momma Clare & Celia is of course no stranger to a solid thrashing as you'll discover!
See how this spanking ends with a flourish – Click HERE
I couldn't avoid any of Clare's sites without my usual visit to GirlSpanksGirl.com (for my F/F spanking mega fix) and the much anticipated remaster of the early Exclusive Education Series to HQ-Wmv continues with season 2 (one of Clare's most iconic films, I have always imagined her as that nasty nurse dishing out the punishmentsd alongside the cruel teachers to the 8 lovely girls that also includes an early performance by none other than Amber Pixie Wells… so please do check out these reminder images and be assured that teh quality of the playback now matches what you see here… well worth it, only EE3 to go and the entire 6 series so far will be available in best quality making thsi site a "MUST SEE" in my opinion, if you have never viewed it… now's your time for lovers of F/F discipline and some very naughty and ruder intimate punishments!
Images below are taken from Exclusive Education 2
– now showing in higher WMV resolution playback! –
Check out all the hot glowing bottoms on display at this school of disrepute!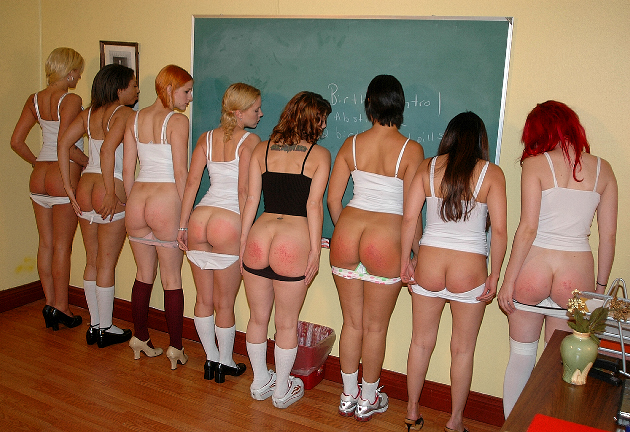 See the previews of this in more detail – CLICK HERE
All the above sites of Clare Fonda can be viewed seperately, which are already excellent value condsiering their vast archives at each site, but of course, you can also choose these sites as part of a 3, 4 or 5 site package at the awesome CLARE FONDA PASS network which will save you a ton of cash and keep you busy with daily updates, I dare you to try and keep up!!!
********************************************
& now to something completely different… you all know how I admire Caroline Grey, I really do think she has one of the sexiest and most spankable bottoms in the British Isles (and I need to rectify that and get her at my site sometime this year!!!) anyway, at Bars and Stripes – Caroline's latest punishment is with the cane!
Caroline Grey – Prisoner 4237
Sentenced to 12 years (that's one of the longest terms at this reformatory) Caroline's latest punishment is a harsh caning on her bared bottom in a really humiliating discipline session where no one can hear (or care) if she screams or cries out! No neighbours to worry about here! See why I rate Caroline so highly (below)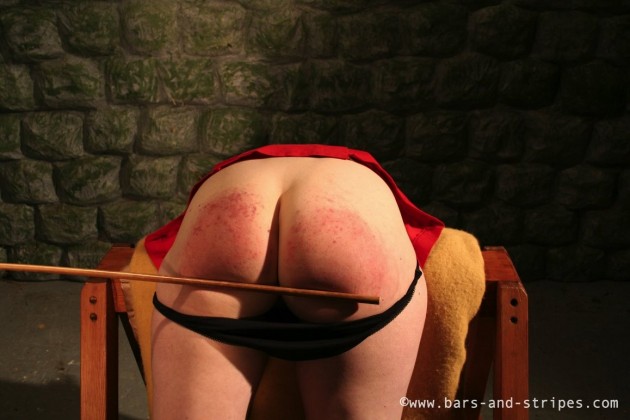 Check out what actually happens to Caroline in her latest embarrassing punishment caning HERE
**************************************
& finally, in a way to celebrate the mild weather, perhaps the good folk of Northern Spanking feel the same too and have released another good feel outdoor production, despite it actually being rather bitter and cold (check out Leia's thick overcoat in the pics!) there is a sweet new girl called Molly Malone – without a wheelbarrow (it's an old Irish song adapted for us hoolies that love our football… or soccer as my North American chums would say)
"She wheels a wheel barrow… through streets broad and narrow!"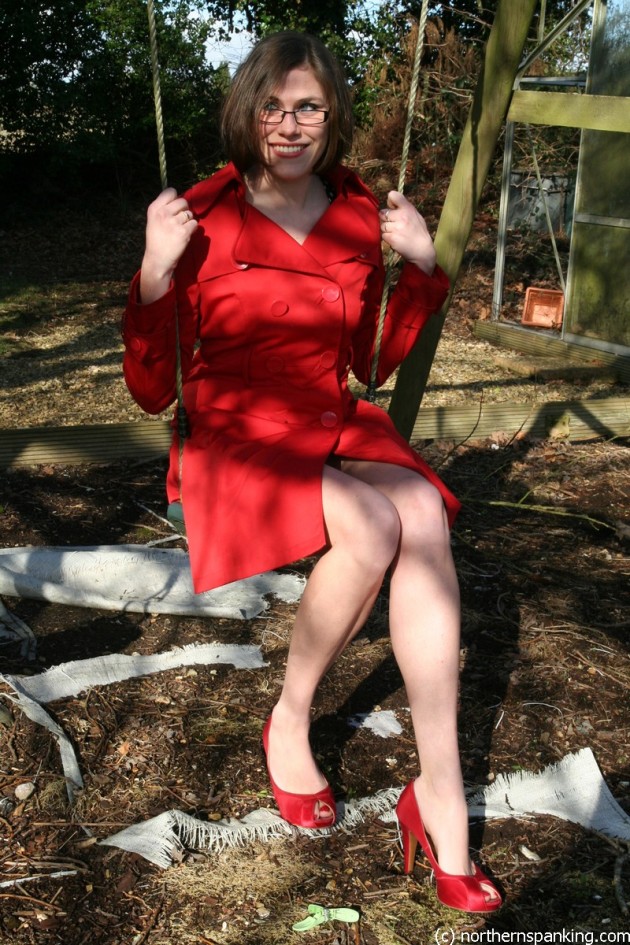 Molly Malone – before Leia gets hold of her!
OK, it's a teaser, I know… but Molly looks absolutely fab, don't you agree? & I haven't seen her anywhere else, so a nice 1st show for this smiling spanking newbie!
One girl that Paul from Northern enjoyed filming over the years is the amazing Jadie Reece, I must admit I have rather a thing for her too, and Paul admitted that this scene with Lucy "cleansing" the filthy girl in the bath tub (and note where her fingers pry and interfere with!) was one of his all time faves… hard to not disagree, this is out for members of NorthernSpanking.com to peruse (and enjoy!) – Warning: Contains scenes of masturbation and female fingers intruding said nether regions where some disgruntled folk may be upset that this is not a purist spanking: "Fuck that, it's Jadie Reece, naked, soaped, sudded, lathered and then fingered and spanked by a smiling, filthy minded Lucy!"
Jadie gets what's coming to her from Lucy in the bath tub!!!
More of Jadie (much more!) and new girl Molly can be seen right now at Northern Spanking HERE
*****************************
Have a great weekend, I have been drinking copious amounts of Shiraz whilst writing this so am a little "squiffy" – Have a good one! Chief.