I had made a promise that I'd get you some insider info on my next film, well, unfortunately, editing the data and the images was taking too long so I will announce the film when it is updated later this week… but be aware that all good things come to those that wait!
OH, AND IT'S A LITTLE LATE, BUT TO ALL MY FELLOW ENGLISH TYPES OUT THERE, HAPPY ST GEORGE'S DAY! Yup… fly the flag unless some council busybody says you can't because… God forbid, the cross of St George might offend someone of a non Christian faith (sigh). So here's the new football strip our overpaid players are wearing which came out today in preparation for our glorious failure in the Euro Finals coming in June… I actually quite like the new strip, England's 1st home kit colours that are the same colour as our national flag (the away strip has always been a favoured red shirt and white shorts… so this reversal is pretty cool in my opinion!)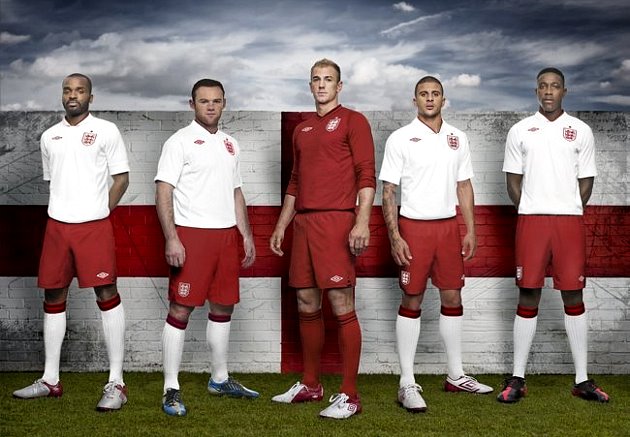 Ok, and onto some amazing previews of what my fellow "English" spanko producers have recently been letting their members download, and in no particular order of spankiness… let's start with some cracking images from a spanking of a very sexy girl called Kelly Wilson from SoundPunishment.com – The image set brings out the best of this lovely girl, don't you think?
Check out more of Kelly's unique spanking films and image sets HERE
************************
Sasha Harvey is all woman… just so so spankable! I still remember many years ago being present at a filmshoot where she had the severest leather strapping I had ever witnessed, her bum ended up a welted angry red… this is a lady that can take her punishment! Unfortunately for her, Mr Lewis can dish it out too so when she is lazing around in the garden and asked to clean up… then this is what happens to madams like Sasha that won't do as they're told! From the series "Clean Sweep" at NorthernSpanking.com
Sasha has done a whole load of great films with Northern Spanking – check them out HERE
******************************************
& finally today, a classic pyjama-fest with Uncle Paul and Dani Hunt his blubbering neice placed over his lap for being a stroppy feisty girl! This is from the forthcoming movie which members will be able to see at SpankingSarah.com – & I can't wait to download it, can you? I love Dani… and I love seeing "Uncle Paul" chastising her.. this so reminds me of the film we did together (a reminder at the bottom of this post!)
Sarah Sly gets involved in the case of the runaway girl, this is a long and involved story of deception and pain through lots of spankings and other punishments. The story starts as Danielle Hunt is to be punished at bedtime by her Uncle. She does not want to be punished and puts up quite a fight but she ends up over his knee being spanked and slippered on her pyjamas and on her bare bottom. A good old fashioned punishment well delivered!

***********************
Remembering Paul in a similar situation with his step daughter Sara Winter… this film proved quite a hit, click on the image below for the free gallery reminder.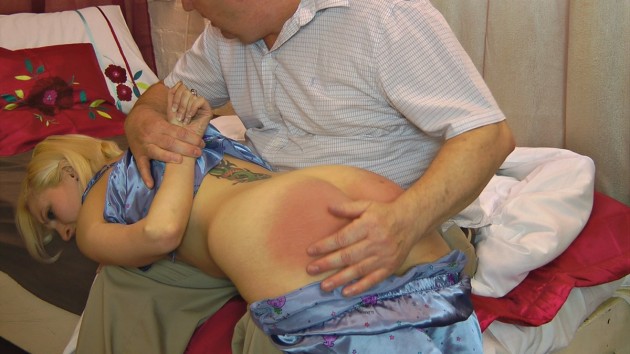 Available in full HD playback from AAAspanking.com
If you just want to see this film only then it's available as 2 short (and cheap) clips – click below and you can download this as a really cheap one off movie of your choice (the OTK spanking and/or the later punishment)