Well, it's a miserable Easter Monday here in England… chilly, damp, grey and nothing to go outside for on a typical Bank Holiday after the weekend *sigh* – so I thought I'd find some nice warm American spanking images to cheer myself up and I thought I'd start with Sarah Gregory as her latest film has her dragged in from the pool and spanked by Daddy for being outside too long in that gorgeous warmth! (She'd be BEGGING to come inside if she were outside in the UK today, or freezing her ample bits off, that's for sure!!! Brrrr!)
So check out one of my fave brats getting a thoroughly deserved spanking by her Daddy, Paul Rogers.
Sarah has been grounded. When Daddy comes home from work early, he is not happy to find his grounded daughter out in the pool and she starts to brat off giving him a hard time so he drags her into the house and gives her a hard bare bottom spanking on her exposed wet bottom! You can see more of this movie and download it HERE

"Ouch! Daddy gave me a proper spanking for being such a brat!"
Keeping it in the family (no it's not Mississippi… sorry, only kidding! I love you folk of The South! Honest!!!) – oops, there goes my last remaining southern reader… (come back, Sir!) Um, as I said, Sarah does the domestic and family stuff so well, and as I didn't let you know about her last spanking exploit, here is a brief reminder of what older sis, Lily, got up to with her younger brat sister's very ample and spankalicious posterior… and that "Attitude Adjuster" paddle looks kinda "ouchy!"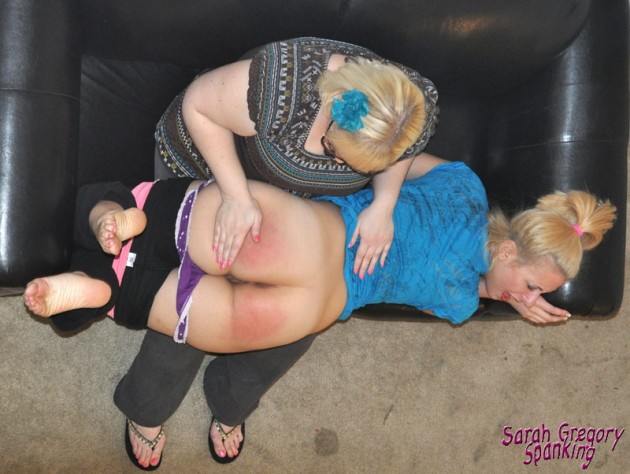 Sarah's big sister, Lily, is left in charge of taking care of Sarah while mom is out of town. Sarah thinks that taking care of her means dropping everything and doing what she needs. Well, Sarah wants pizza and Lily is on the phone with her boss. Sarah doesn't care, hangs up the phone, and demands her sister.."take care" of her by making her dinner. Well Lily takes care of her alright… with a hard spanking and paddling!
You can Check out all of Sarah's original movies at her bratty best right here

**************************************
I was going to give you some sunny spankings from Badtushy.com but then realised that I had shown these before, what I haven't shown you, though, is this amazing film from around 6 months back that I just had watched again earlier today… and I decided, "what the hell? You can warm yourselves or feel warm just looking at thieving Becky's roasted red rump!" Indeed! (& it's Ms Law at her nastiest best!!!)
Ms Law catches her girl's best friend stealing from her pocketbook, but instead of calling the cops, she bends her over and spanks her over and over in front of her tearful blonde haired daughter! Every time she would cry, Ms Law would smack her bare ass even harder! Seriously, see how red and busted up this thieving fool's ass really gets! A BadTushy Classic!

***************************************
Where would I be without my fix of brat related spankings if it wasn't for the aptly named Punishedbrats.com – well, fear not, I have some cracking new updates from this fine site and of course these girls are getting what is most deservedly coming to them… over the lap of their tormentors! Yay!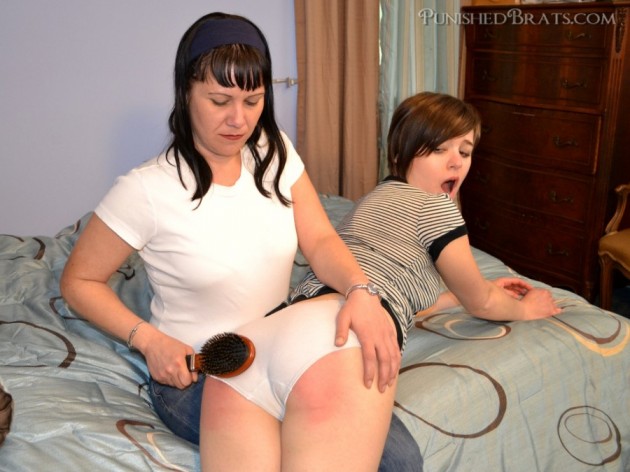 What better film to showcase a real beautiful brat than pouty Lorraine Little? & who better to give her a hard hairbrush spanking than her no nonsense Aunt Veronica? I love these 2 together and I always feel I've had my money's worth watching any of the films with them in. Fortunately… Punishedbrats.com has a considerable amount of content with both ladies… so enjoy this latest Aunt & Niece punishment re enactment.
Veronica takes in her troublesome niece, Lorraine, then immediately enacts some strict rules and discipline starting with a good hairbrush spanking for her all her recent bratty behaviour. Lorraine is quickly learning that if she's going to live with her Aunt Veronica, she's going to have to improve her attitude or she might never sit down properly again!
Check out more of this stunning spanking film with Lorraine & Veronica at their best!
************************************************
In sunny California, Clare keeps on getting some amazing new talent in, some from LA's infamous Dominion Club… and of course, LA is full of beautiful, wannabe actresses and budding porn starlets who are more than happy to let Clare know about their in house shenanigans growing up, which often included spankings so – at SpankedSweeties.com – this is the site that showcases such stories which are re encted for our benefit and here we have a gorgeous newcomer by the name of Riley… that "Momma Clare" gets over her knee after her introductory interview!
Clare had this to say about new girl, Riley: "This was Riley's first spanking shoot, though she was no stranger to being spanked! She was discliplined by her mother, father and even the nanny. Riley is a tall, gorgeous model of Arabic descent, with an amazing round spankable bottom".
************************************
OK, before I go, you might want to know what is coming out later this week at AAAspanking.com – it's a real treat with Danielle Hunt who absolutely LOVED wearing this uniform, so I ended up making 2 films with her in (and out) of it… can you guess why she is going to be spanked in this 1st film? (heh heh!)
I shall also be uploading this film at the Clips Store later TODAY and there are some new additions added there recently for those that only want to download the odd clip, part of a movie or entire film but never seem to like membershoip sites… so the choice, as they say, ladies and gents… is entirely yours!

Have a good remaining holiday today. Happy Easter.
Oh, and DO NOT FORGET THE CAPTION COMPETITION!
Someone will win this, it may as well be YOU!