Before I bring you some excellent new spanking updates I have just been reviewing and watched, with a nice glass or 5 of fine wine in the darkened locked Study that is my personal domain… I just wanted to say a public "thanks" to those that took time to email me about our latest Girl Guide update that I featured out at AAAspanking.com yesterday. I had a few questions and was happy to answer them in private, I answer all private mails, as long as they are not crazy or discourteous, so if you don't want to leave comments, you can always mail me at my site's customer support links or the address I have on my profile page at this blog!
I am going to finish the Caption Competition sometime soon after the weekend of 20-22nd this month… it would be nice if some of the several thousand unique views I get here and 3 times that number at the Tube site could try and enter… as someone WILL win a month's free membership:  it's FREE to enter and the only thing I'd  need to notify the winning entrant is a contact email address for the winning caption (that's it, I'm not going to spam it, I have nothing to spam it with and have no time for that shit anyway, lol) Anyway, think of something amusing and you might get a membership for gratis, ok?
My 1st spanking update of the day stars one of my most fave models to have appeared at Punishedbrats.com in ages and I love seeing her new films, this girl called "Pi", aka 22/7 or "the mathematical constant that is the ratio of a circle's circumference to its diameter" has not only a unique name, but one of the most amazing asses that turns an angry speckled red when paddled hard, and she can take quite a lot as it is obvious to see! I feel David surpasses himself with Pi, I'd love to film with her, I really would… can you see why in the images from her latest movie? (below)
Pi is heading out wearing a tiny scrap of cloth she calls a dress. David won't allow her out of the house unless she changes and when Pi flat out refuses, he has her bend over the railing for an extremely hard paddling. Embarrassed and all cried out, Pi might just decide to stay in for the night afterall.
Click HERE or on Pi's sore red bottom (above) for a special free preview clip of this new film
******************************************
I featured lovely Danielle yesterday appearing as a naughty, sexy Girl Guide, well, she has also been in a new recent movie for FirmHandSpanking.com though they seem to want to call her something completely different (Rhiannon Parsons), it's obvious who she is… and to show that the schoolgirl updates they have are no fluke, I have some images from the latest Kelly Morgan movie as well (which is a real OTK cracker!)
This is a painful detention punishment and it's the 1st of many that members will get to see!
As promised, from the same site, I give you a quick look at the very latest film with beautiful Kelly Morgan in that trademark FHS blue uniform looking rather uncomfortable in her 1st school uniform OTK spanking punishment!
Kelly Morgan is back in the film "Cheer girl Captain" and looks hot in her private school uniform! As cheer captain, she's held to higher standards. So when her grades suck, coach offers a simple choice – corporal punishment or lose her captaincy. See those tanned butt cheeks jiggle over his knee with 275 smacks – 125 bare!
*************************************
Finally today, a right old classic schoolgirl catfight ends in much mayhem and sore red bottoms in this fun but hard hitting spanking films from NorthernSpanking.com – the sort of film they do so well, as you'll see… and I love seeing blonde Lexi get a good hard spanking punishment too! Images and the storyline are below to let you understand more!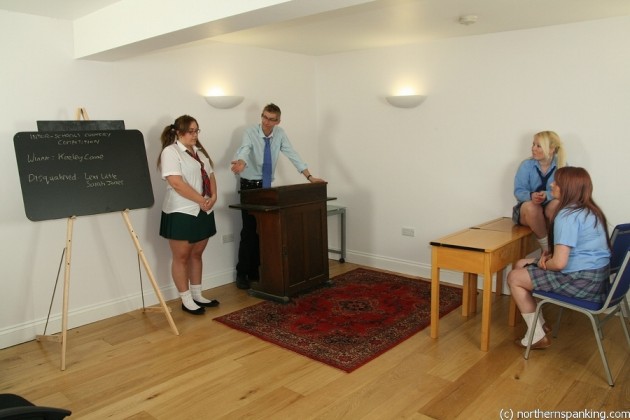 Lexi and Sarah were disqualified from the inter-school cookery competition when it transpired that they had copied the recipe they used from another competitor. Bringing shame to the school, both girls are given detention for the rest of term. It is during one detention period that Mr Kennedy decides to invite fellow competitor, and winner, from the competition, Keeley Caine to talk to the girls about her success and fair play. What Mr Kennedy doesn't know, is that Keeley did steal the recipe from Lexi and Sarah in the first place! Will he discover the truth however, or will Lexi and her big mouth land her in even more trouble? You will have to see more that members can view in the movie series at Northern Spanking!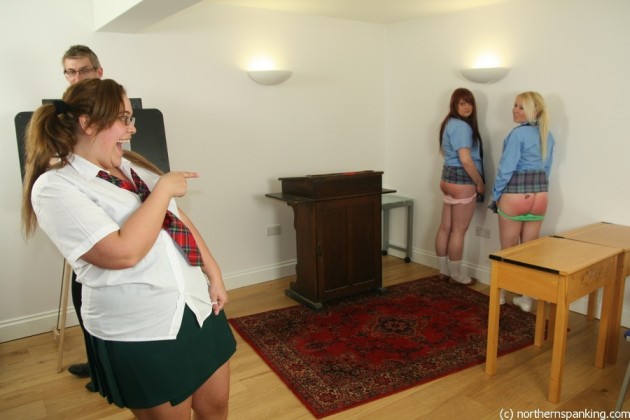 As well as this great schoolgirl film, there is a brand new update released today co starring Irelynn Logeen and Zille Defeu (OMG!) these 2 together are HOT! as you'll see in this image below, members can view more of the spoilt little rich girl Irelynn doing what she pleases with her poor subordinate maid!
****************************************
& if you are unsure what I have coming to AAAspanking next week, then check out a double introduction movie with Zoe and Jess (over Zoe's lap) FF lovers… you are in for a treat these coming weeks at Triple A! (fine wine viewing indeed!)