Apart from my missus, "Er Indoors" – who has just got back from a visit to her daughter… and is about as bratty as she ever was (peace and quiet has been shattered) – "just who else is deserving of such spanking discipline", I thought? Let's take a look at an old classic I hauled out from my personal archives, then I'll show you 2 latest films from another site of a really hot bum-ba-licious girl who I love seeing spanked – AND with my fave implement – that dreaded bath brush!
"I'd like a chocolate flake on that and do you have Mr Whippy ice cream?"
What happens when 3 girls decide to act like total sluts and drive without a licence? Well… they get what they deserve! They do themselves any favours, dressed up like hookers with one shameless girlin tight revealing leggings and the others in fishnets, they decided to go out into town and just do whatever the hell they wanted. So the spanking they'd get for behaving so badly would be in front of each other and on their bare bottoms.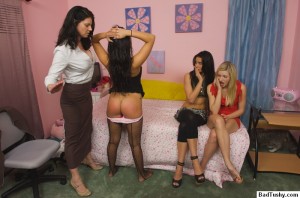 The nastiest brat gets a spanking to remember and some humiliating verbal lashings from no nonsense Ms Law who gets into the zone and whacks this screaming tart until her bouncing butt cheeks were a deep shameful crimson!
SEE THE REST OF THESE GIRLS SPANKINGS – CLICK HERE
*********************************
My second more recent look at one girl in particular is Aleesha Fox, she really does have one of the most spankable bums out there on film and amongst many girls I shall be filming later this year, I'd love to see Aleesha at my own site. She has been a welcome addition in the meantime to FirmHandSpanking.com – as you will see below in her last 2 films as the hapless "Nanny" (or "Au Pair" if you prefer) to Earl Grey (and Amelia Jane Rutherford… who I have no doubt I already showed you spanking her… which was fun to watch!)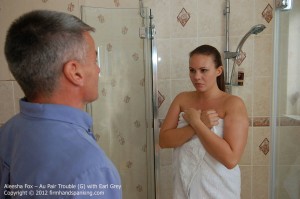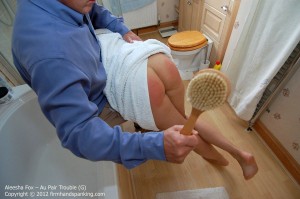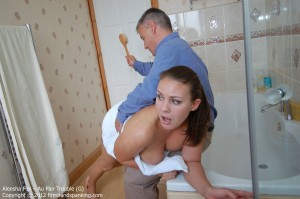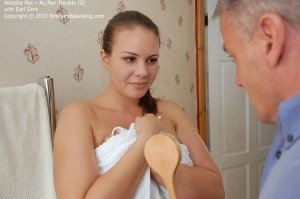 Leaving the door to the shower room open while her employers host a dinner party downstairs earns an instant over-the-knee spanking with a bath brush! Aleesha Fox is in Au Pair Trouble again with Earl Grey eager to spank her naked bottom. Will 51 smacks change her behavior?
See the free movie preview of this punishment HERE
& as I mentioned Amelia, you can see both her and Earl Grey sort out their Au Pair in another domestic mishap recently  from the same series for the unfortunate Aleesha! I think she should be looking for alternative employment unless she prefers to stand often!!!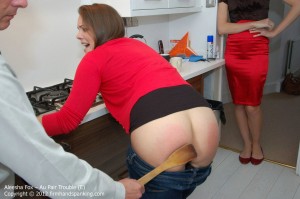 "Keep Calm & Spank On" – See more of this unfair home discipline HERE