This is a recap from a post I made last year, but I thought you'd like it anyways! It features all manner of ladies, milfs and model brats gettings what they so often richly deserve… a good old fashioned … SPANKING!
I had recently been watching some older ladies getting spanked (as I often do anyway) but what got me was the way that they so deserved their punishment and took it… well, quite tearfully! I also have some brand new updates and of course that's where I'm going to start today with a fantastic feature length movie from BunBeatingFun.com as my good man, Greg (aka TMS-The Mystery Spanker) gives this bratty, potty mouthed model, Charity, something she should have received a lonnnnng lonnnnng time ago!
Below are some images and a contrasting spanking scene where her already very sore bottom had been spanked for well over 20 minutes and was soothed by some ice cubes… but of course that means a moist wet bottom is also ripe for a final spanking, right? & you can check out what Greg had to say about this latest girl as well!
In the course of our initial conversation with this naughty minx, she made mention of suffering from a rather nasty sunburn and then went on to tell us that she would be unavailable for at least a week. Charity, you see, is a Florida girl and on the beaches down there the summer sun can wreak true havoc on a young lady's skin. Not nearly so much as the flat of a man's hard swung palm on that of her bouncing bare bottom however. Charity, we've little doubt, was "unavailable" for a rather longer spell after her visit with us and, given both her poor attitude and her potty mouth, we can only regard that as a good thing.  A very good thing!
Don't miss more of naughty Charity getting what she deserved HERE
**************************************
I'm really starting to like the feel and look of RedStripeFilms.com as they continue to show real women of all ages shapes and ability to take a punishment… and the first is a favotite of mine, Katie Didit who I have to admit I have a thing for! She's great, both as a dominating mother or aunt figure and as a great sub that can really take a good thrashing! This role below shows just what she can take! Ouch!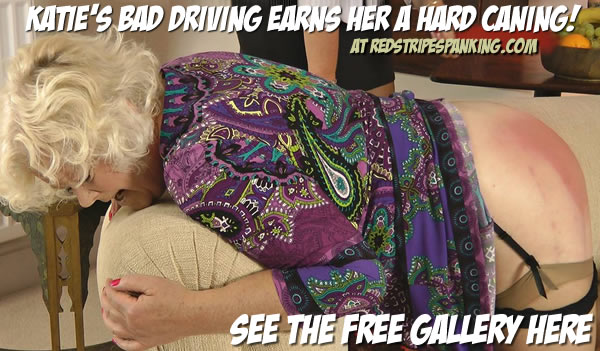 Police woman Sarah has punished bad driver Katie in an unofficial capacity. Not content with the punishment administered she starts to use a selection of heavy paddles on poor Katie's bottom. She is soon marked and feeling the pain of the beating then Sarah picks up the cane and bends her over for a long hard caning. Now it may be that Sarah is not really a police woman, perish the thought, but she looks the part, strict and nasty and oh, so dominant! (and Katie oh so submissive!)
Joanne wants to be spanked by her boyfriend; he is not sure what to do so contacts RedStripe for help. He soon has her over his knee and after some initial reluctance and some kicking from his lady he sets about her bottom like an expert. This girl ends up with one of the hardest spankings we have seen administered to any first timer! Indeed it would be hard by anyone's standard. A great real sexy spanking scene, high heels stockings and kicking legs!
DON'T MISS ALL THE VERY LATEST REDSTRIPE FREE HD SPANKING PREVIEWS SHOWN HERE!
& of course I couldn't go without showing you what Sarah Bright from SpankingSarah.com was up to… this time ensuring that a very naughty nurse Clover who she caught about to hop into bed with her supposedly "ill" man gets not just one dose of a paddle… but a DOUBLE dose! Hell hath no fury like a woman scorned!!! This was one of my fave movies released last year!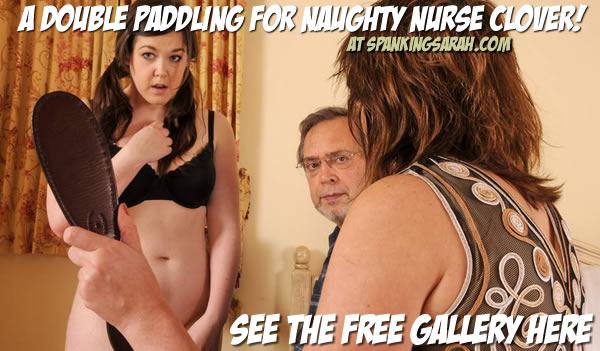 Nurse Clover is having a real bad day, not only has she been punished for seducing her patient, it now turns out that she has been stealing from him as well. Sarah is not about to put up with that and the patient suddenly seems to get a new lease of life when it is decided that Clover should be punished by both of them. Two stout paddles are found and clover is placed over the bed, her uniform is taken off and this double paddling gets underway!
Of course, Sarah just doesn't carry out the punishments… oh no, she is a self confessed naughty minx that also needs correction , often for lewd conduct… and can take a thrashing unlike many other girls! Some choice images below you won't find on the outside of her site, will… I think prove my point!
OK, you get the idea, right? If you haven't already, please do check out Sarah's excellent tour pages HERE that show off HD quality preview clips including the very latest of the double paddling of poor Clover (it's a cracker!)

****************************************
& so to a cracking punishment I had watched again recently courtesy of DallasSpanksHard.com and this was a unique long play film which I hope Dallas won't  mind me taking a sliver of a clip from to show you guys as it's an awesome piece with a mother of one of his earliest models, Cienna… getting it… yup, her mother, Ann. In case you'd forgotten about this, it was very popular at the time as he had receiv ed requests for more matures… (I hadn't forgotten and as I'm posting a few more mature things today… I thought I'd finally include it in this relevant post!) To be honest, seeing Ann take her punishment, a grown woman, a very attractive older lady, in fact… brought to tears.. well… wow! I'll let you see a short clip of Ann receiving the razor strap (one of many various punishments she got including, of course a good hard warm up OTK spanking we all know and love from Dallas!)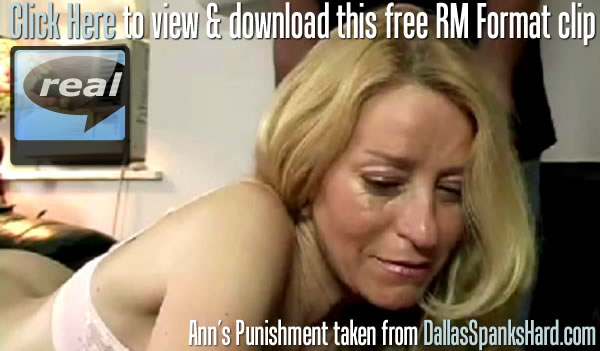 This is what Dallas had to say about this amazing & unusual punishment request (below):
We have never encountered a daughter requesting her mother come to me for discipline… until this happened! Seems one of our first models – Cienna – had a problem with her mom and her mom's mid-life crisis. Cienna felt her mom Ann was going way overboard with some of her actions when it came to her newly discovered nightlife. When Ann started with a slew of one night stands and late nights, Cienna felt she needed to step in and ask for my help. Cienna laid the hammer down to mom, either slow down… or we are done as mom and daughter. A little drastic perhaps, but Ann did decide to come to me for the motivation to help her achieve this bridge.
I had Ann report to me and sit her down to discuss what was going on. She was kind of pissed that her daughter was pulling the power play. I covered the agreement she made with Cienna before standing her against the mantle to await my punishments. After the hand spankings had left her bottom on fire, I had her lay down on the ottoman where I REALLY TURNED UP THE HEAT! I got out my implements and one at a time BLISTERED her bare bottom. She tried to hold back and bare the pain but I forced her to let go as the TEARS started and her sobbing makes her whole body quake! If you love the thought of a mature woman being spanked until the tears pour down her face, THIS ONE WILL BE ONE YOU WATCH TIME AND AGAIN!
& with that, I totally concur! If you want to see MORE of Ann's punishment & similar
CHECK IT OUT – CLICK HERE & SEE IT ALL HERE!

******************************************
OK, I have to bring this to a close, I just don't have enough time at the moment which is really frustrating so here's something which I am glad I started on at AAAspanking.com – producing galleries to promote the films to make it easier for people to see and appreciate what we have, this is just a small collection below of the early stuff and I'm sure you'll be seeing plenty more soon all over t'Internet! Enjoy!
Don't forget that there's a whole load of HD free clips on the deliberately extensive tour pages!
Please check out the latest brand new film with Cheerleader Mishka in the 30 minute film now released, so be sure to check that out or pop back here when I bring you first news of another great film next week which is a double schoolgirl special!