Hello everyone, first up, I have some great news, so click on the banner below and help celebrate our fantastic best ever British summer (not) – I decided to bring this back as I was feeling so f*cking miserable, our useless summer just gets worse and worse with washout after washout and bigger flood events with severe gale warnings and the awful month's worth rain downpours falling overnight that some folk in my country have had to endure… WTF happened to global warming? It is sooooooo depressing, so I felt like cheering those who purchased an Annual Pass to AAAspanking last year (which most will start to be expiring pretty much about now) and thought I'd extend this offer for those who wanted to continue enjoying my site for the knock down equivalent price of just $8.50 per month with a one off purchase (no rebills, obviously) – just click the banner below for the proof it's currently on offer! Enjoy… as it may get pulled anytime this "summer" 🙂
I first found out from this offer from this newspaper clipping (ahem) – well, OK, that's a little white lie but a fun one all the same 🙂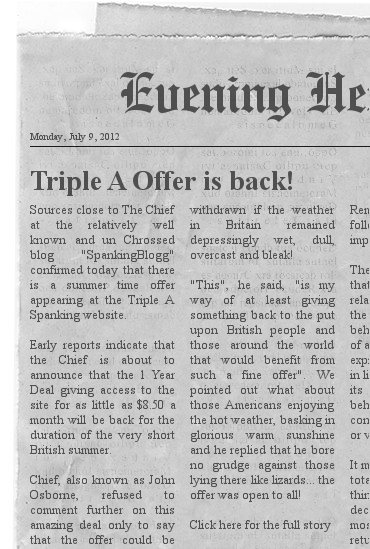 & to help you decide – here is what is coming out THIS WEEK as Mishka turns up the heat as a filthy cheerleader try out who just can't keep her fingers (or anything that will fit into her tight hole for that matter) when easily distracted waiting for her Cheergirl Trial. Click on either image and they will leader to a full and complete gallery of the movie that is about to hit the site! I much prefer Mishka's use of the Pom Poms! 🙂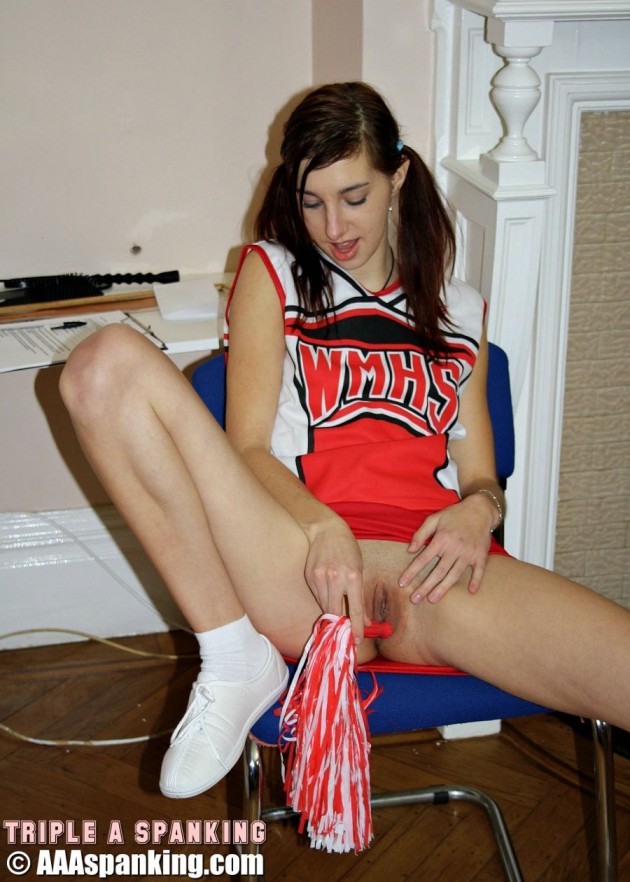 CLICK HERE for more of Mishka and the 100 or so other films now available!

***********************************************
& so to the rest of today's great spanking updates starting with one of my fave sites FirmHandSpanking.com who have really put out some excellent films recently… like the 2 below!
Kelly Morgan as a cheerleader? Yup, this series continues and fits nicely in with the start of today's update, don't you think? Check out Kyle's latest punishment of this beautiful girl as  a prank goes wrong costing her a 31-swat bottom spanking to tears (below)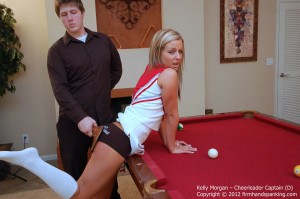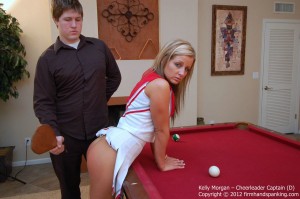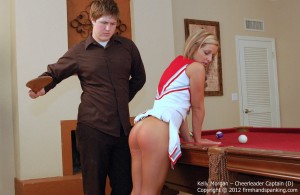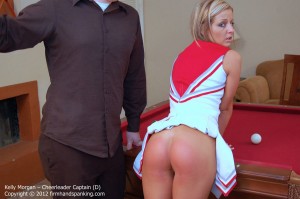 Kelly Morgan fesses up to changing the music for another cheerleader's routine in Cheerleader Captain. To have any hope of getting back her place on squad, she asks to be spanked by Mr Johnson. 31 swats with a leather paddle, 10 bare, bring tears of genuine sorrow and a sore butt.
In the next series finale, Director Amelia Rutherford (you'll see her behind the scenes) creates a wonderfully hot scene for Au Pair Trouble with Aleesha Fox and Earl Grey. Aleesha wants to be caned but is shocked by 18 strokes as she counts them out. Then she's strapped with his belt, almost nude…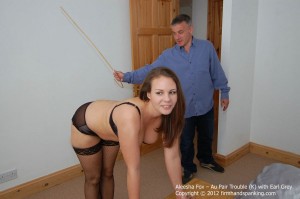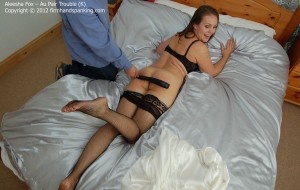 See a FREE Movie clip of the above scenes HERE
*************************************************
The next brand new update is from when Sarah and her daddy, Paul Rogers visited England last year and this was filmed in London with leia Ann Woods – it's really good and promises much more for members… check out "Uncle" Paul giving Leia a good thrashing (you'll see why in the explanation below)
Leia is just about to get into the shower when she gets an important call that she must go into work right away. When Uncle Paul gets home, he is not too happy to find a flooded house. He waits for his niece so he can properly punish her for her irresponsible behaviour.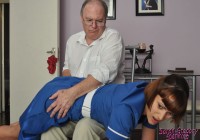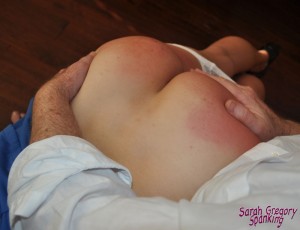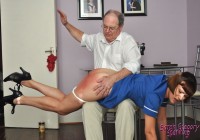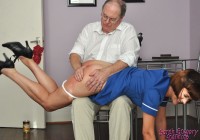 Check out more of daddy Paul Rogers and Sarah Gregory's collaborations which include real gems like this spanking punishment of Leia Ann Woods! CLICK HERE for their latest offerings which do NOT disappoint!
*****************************************************
There is a girl you can see at SpankingServer.com that is featured nowhere else, and she is stunning! She's called Miela… and, well, I rather have the trouser rumblings for her as you'll see below in a typical scene of her getting a good hard OTK spanking and caning punishment from a very fortunate but stern Peter Schober… who does his job of thrashing this beauty with utmost professionalism *cough*
Miela wonders how the hell she arrived in this position… again!
This is how it happened (below)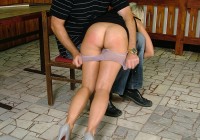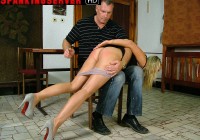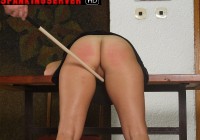 See far more of the addictive viewing that is Miela – Click HERE
*******************************************************
Finally today, a very good film starring 2 of the curviest, shapeliest figures and bottoms in Spankoland… Sasha Harvey and Jadie Reece, team together in a Glamour Shoot that ends up very quickly being, well…. a rather nice SPANKING shoot (yay!)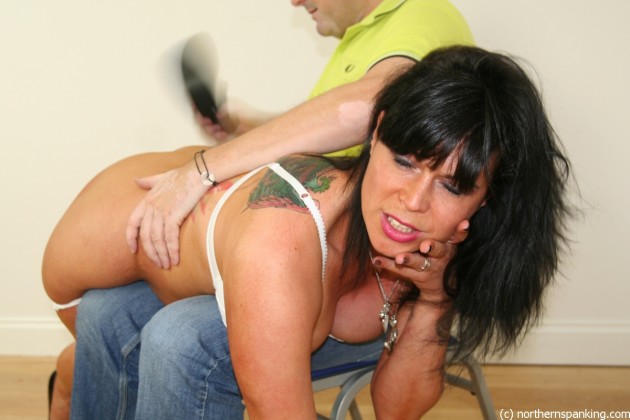 "Hang on… this doesn't feel like a Glamour Shoot!"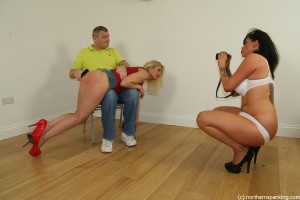 I love this last image of Jadie as it looks back past Stephen and to Sasha in the background!
Need I say more than this is from the folks at Northern Spanking – bravo!
**********************************************
& please do NOT forget my British Summer Offer *smile*