In between my internet connection letting me down all day yeasterday and this morning, and my main PC blue screening twice (I've just bought a new laptop for website work and am desperately getting all my programs I use onto that ASAP so it will be a painless transition). Take this example today:  I have been trying to upload over 1 Gig's worth of data to my site today with a crappy rural upload speed of approx 300kbs… meaning the transfer of data takes approx 7-8 hours. Half the data was sent when the PC blue screened, meaning I lost 4 precious hours, it then happened again after another hour so I finally got my ass into gear and got the site FTP account onto my laptop and am currently uploading from there from one of the external hard drives I use to back up my site whilst I write this blog post. It's currently at least 7 hours still to upload at the time of writing… So I hope members realise the trials and tribulations that I sometimes go through to get you your updates (on time within reason).
As a nice distraction, as the title suggests, I want to delve into a subject on spanking that I absolutely LOVE – seeing redheads spanked. Redhead girls do it for me every single time, I'm afraid. I think if I had Julianne Moore as my milftastic redhead spankee, I'd retire and play upon her constantly until my arm, hand and whatever other appendage I had that I'd be trying to hide inside her would fall off, heh heh!
*******************************************
Ok, and onto my first special as I feel I have overlooked this fantastic British girl in exile over in LA, one Miss Sophie Nova, who has basically filmed for all the spanking houses on the West Coast (damn!). This fetish model, originally from Southampton in the UK, is one of those redheads with beautiful flawless alabaster skin that is perfect for spanking… as Dallas has found out on several ocassions. If memory serves me correct this was her first spanking site she worked with way back, and some of her work showcased this year with Dallas has been rather remarkable. I'm not sure how "affected" her English accent is, as to a Brit it's certainly NOT really from Southampton, maybe she plays up on this and accentuates it a little, it's sexy as hell (posh totty) – rather in the mould of a certain beautiful Amelia Jane Rutherford (who I can vouch DOES talk like that in real life and is just… gosh … SO NICE!) – but I digress…
In a whole series of special films, members of Dallas Spanks Hard can see Sophie playing a reporter who we see sides with the banking scuzz, which really doesn't impress Dallas any more than me… and with some careful blackmail and some underhand techniques he has this snooty arrogant reporter, britches down, spanked senseless and to tears. Check out her 1st series where she is given a good old fashioned hand spanking…
In an effort to provide you something a little different,
all images below come courtesy of the movies themselves!
In the next series Sophie is given the belt across her bottom. From what I remember, this is something she will take and will take a good hard thrashing (she certainly does in this film) and this starts to bring her to tears… time to have this snooty reporter realise just how bad some of these bankers are and stop sympathizing with them! I think the belt does the trick!
The 3rd installment that was shown a few months back involves use of the hairbrush, and from what I am aware, Sophie has always hated this implement more than any other. Strange really, I would have thought a paddle would hurt more, though hairbrushes (the right ones, and I ensure personally that I have the RIGHT ONES!) do in fact act like a heavy paddle but with greater placement power… anyhoo, this is a real tear jerker… she really DOES hate that hairbrush!
& of course, there was also a delightful movie with this sympathizer learning how to surf on a board, paddling out on the waves, getting into position… courtesy of Dallas helping her with a nasty whippy crop/cane that got her attention! I have enjoyed watching Sophie here so much that I will find you MORE of this stunner from another of the sites she has worked with…
But first, a couple of images of her on that surfboard… naked and looking HOT!
CLICK HERE TO SEE A FREE PREVIEW ON THE TOUR PAGES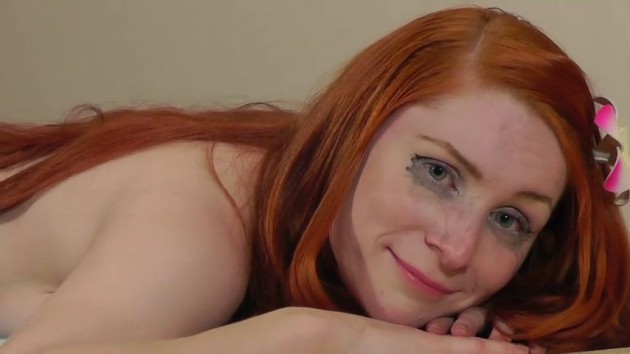 **************************************************
As I said, Sophie also appeared at Clare's sites… and this one in particular, where she worked alongside the late Hollie Stevens are a few films I haven't forgotten… the girls are given a thrashing by Momma Clare for not turning enough tricks and getting the most out of their clients! Of course they blame each other and it doesn't help either, they both get a humiliating spanking by Clare…
I've mainly concentrated on Sophie today, but as you can see, Hollie was looking the part a few years back and also made several more memorable appearances for Clare's network…
This full hot movie can be viewed HERE
& in a continuation, the girls argue and bicker after their humiliating punishment and they catfight with each other, each getting to butch slap and smack each other… to the obvious viewing pleasure of SpankedCallgirls.com members!
Hollie & Sophie give each other hell!
Sophie & Hollie's films can be found here at SpankedCallgirls.com
**********************************************
Another redhead model that I simply adore and have made no secret about is porn actress/spanking starlet, Dani Jensen. With a super sexy voice, killer looks and a cute girl next door look, she is also NOT shy and will fulfill every naughty whim that I have seen of her and also seeing her spanked is a delight. I remember when she was first introduced at Spanked Sweeties, the film and image set you will see below never left me and seeing her over Clare's knee getting a good spanking was just the start of her many films she made across this network of sites!
Check out Dani Jensen in the girl next door look getting a spanking off her "Momma" (below)
This is one of the best F/F OTK spanking films and you can see it all HERE
Both sites from this network can be viewed as part of the infamous best value CLARE FONDA PASS
************************************
No redhead special on spanking would be complete without Amber Dawn from spankamber.com – so of course here is a little reminder from a good wake up spanking film that her Daddy carried out on the sleeping beauty… looking so scrumptious there, I'd have left her in peace and admired the view, but her Daddy had seen this lazy side to Amber many times before… and he knew just what to do to get her attention!
Amber at first thinks it's all fun but soon the hand swats get harder and the more humiliating aspect as to why she was being punished resulted in her sweet titties getting a mauling too as he spanked her awake with a beautiful red bottom to match her flaming hair!
 Check out more of Amber's big booty 41″ bubble butt getting the thrashings it so deserves HERE
***************************************************
Finally, to something brand new and unseen (from Scotland in the UK) – Serena Storm has made her kinky debut with Northern Spanking and you can view this most buxom real redhead with an amazing bubble butt (view some teaser images below) as Stephen Lewis introduces her to the delights of spanking and corporal punishment in this very real, grown up introductory session!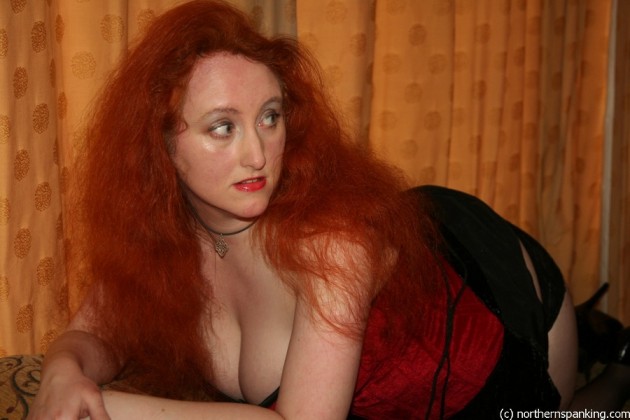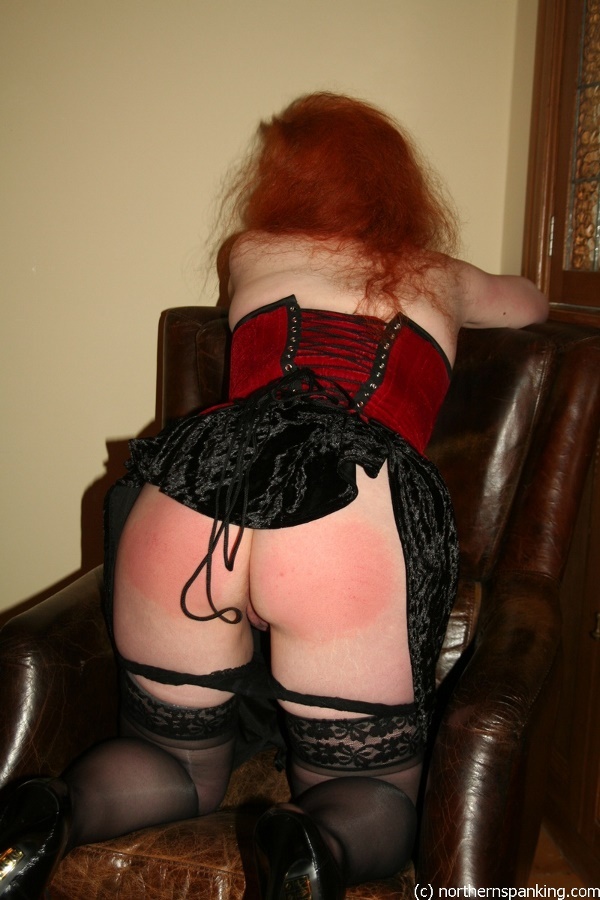 Check out more of Serena and more films to come of her at Northern Spanking
********************************
That's all from me for now, I'm still waiting for my content to upload onto my own site, internet connection here today has been painfully slow (including my blue screens of death which haven't helped). Cheers, Chief.