Here we are again, the cusp of a weekend where many stop working, spend time with the family… and for some, a time to slope away and check out what has been uploaded at all our favourite spanking houses! Well, no doubt I have bored you silly with my stuff this week (lol) so here are some more updates from the select producers that I genuinely love watching… so anything I may have missed in the week, here's the time to catch up! & what a start as I give you the amazing Joelle Barros (not at my site, she's out next week and I am going through some of the content I made, oh crap… it's looking awesomely HOT! but that's for another day) so let's check out her latest series starting over at Punishedbrats.com
This is the 1st of the "Naughty nanny" series:  Joelle has just started caring for David's two children and made one of the worst mistakes possible – she's lost the kids. While David is able to reassure her that the children are home safe, he must also provide her with the punishment she deserves. Images below are from this latest movie!
There is also a free preview of Joelle's punishment spanking – CLICK HERE
****************************************************
 Here's the long awaited new spanking film from SpankedCallgirls.com which has 2 newbies to this site, Heather and Alex (who I must admit I have only seen Alex as a sub before this) and you'll see both girls argue, wrestle and bicker when they recieve news about their latest assignment from new brothel madam, Snow Mercy… I have shown you what happens to Heather when Alex gets the upper hand (but I'll let you know that Alex gets it too later, of course!)
Madam Snow calls Heather to inform her that either she or her friend Alex will be getting their first job with Snow's company. After she hangs up, Heather declares that she is the chosen one. But Alex disagrees and the girls begin wrestling and spanking each other. They end up over each others knee for long dosages of spanking, with hand and hairbrush, until one gives in.
& this follows on from the recent delightful carnage of Veronica Ricci's "party" at teh same site
Click image below for a special free gallery preview…
So check out why I love this site so much HERE – mainly catering to those that love F/F spankings!
*************************************
I recently had the "pleasure" of finally downloading and watching the last part to the Naughty Tutor (Day 3) and it was without doubt sizzling hot, I of course ignored my own Trouser Arousal and paid for it with some seriously creased and ruined underwear… but I can tell you it was worth it!!! See why (below)
Layden is late for her next lesson. So she is going to get a different kind of lesson – a spanking lesson that will teacher her to be on time once and for all. She looks very frightened as Tutor Alexis towers over her. Layden pleas not to get another spanking, over her already sore bottom. But Alexis puts her over her knee and gives her a sound hand spanking, followed by some with the hair brush, then another lesson in sex education, as Layden is made to pleasure herself with an electric device.
This is the infamous site that also includes ALL of the Exclusive Education series! CLICK HERE!
****************************************************
The newest site in this Clare Fonda (or should that be Big C?) group of sites is Spanking Sorority Girls and ANY site that has the beautiful and addictively viewable Veronica Ricci as a spankee or spanker (or both as she is just "lush") should always get a mention. Veronica tempts a new pledge (a stunning blonde girl next door type) called Lily Banks… just see what they get up to in private…
Veronica Ricci sneaks into new pledge Lily Banks room to do some friendly groping, as a way of welcoming Lily to the sorority. But Lily is having none of it and resists. The girls struggle a while before Veronica gets Lily over her knee for a spanking that turns Lily's bottom bright red (in fact the first ever spanking Lily Banks has received). Lily is feisty and she fights back and begins spanking Veronica until she agrees to help Lily get out of the sorority…
but as I'll explain in  a further update, they get caught out and punished, but you can see that film (and the one I have shown here) in full right now HERE
Needless to say all of these sites from the same network can be viewed at a fraction of the combined cost individually at the Clare Fonda Pass
**********************************************************
Kelly Wilson is back at Sound Punishment
& finally today, I knew that Agean from Sound Punishment was filming with her again (yes, we do chat amongst ourselves over this side of The Pond) so couldn't wait to see the 1st results of this film with Kelly Wilson, who I like seeing spanked… hey, you never know, she might appear quite soon at my site too! *wink* But until then, see the largest collection of Kelly Wilson spankings anywhere! The latest is a military type discipline… and I love the austere setting (surely not a Church or Village Hall… it's crossed my mind to do that, lol!) and the authentic Royal Airforce uniforms! It's an excellent spanking movie…
Kelly Wilson thought that the modern RAF would be a safe place to flaunt her feminine wiles to get what she wants. The Wing Commander soon dispels her of this idea by delivering an old-fashioned severe hand and paddle spanking to her delectable bare derriere!
CLICK HERE TO VIEW THE FREE PREVIEW CLIP OF KELLY'S SPANKING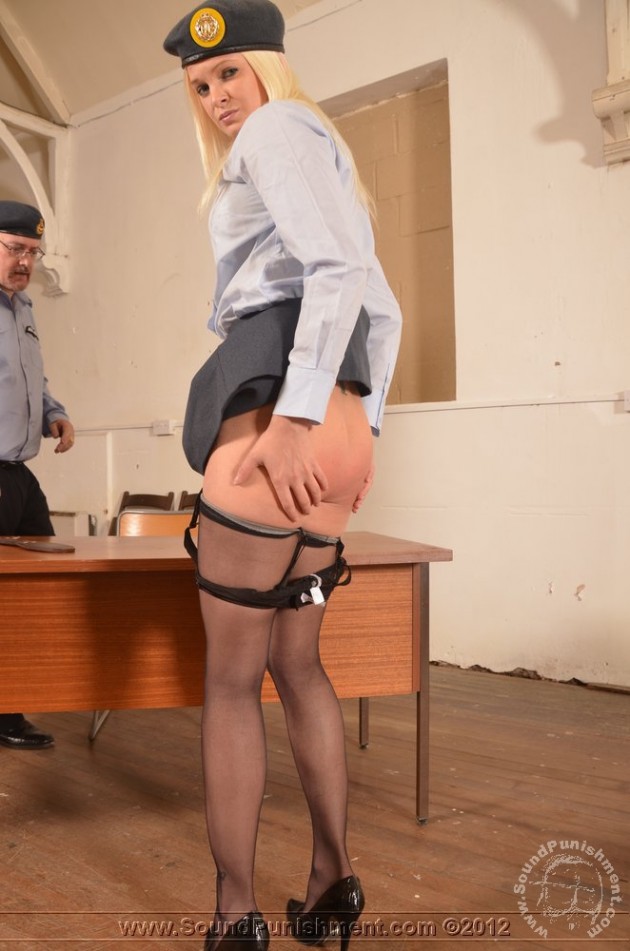 ******************************************
Have a great weekend everyone! I shall be busy updating my Clips Store!