As promised, here is my theme for the day on this blog… what a surprise! Schoolgirl spankings? It's a good excuse to catch up on some great spankings shown recently at the various sites below which you may have missed elsewhere. So let's kick off this bumper visual feast with a trip to Spanked-in-Uniform.com where I had seriously neglected the most recent schoolgirl updates from the St Catherine's section on his great site!
One of my bugbears – girls not able to tie properly – is investigated (below)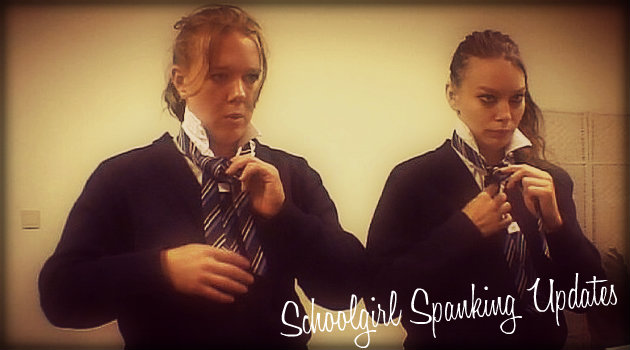 After spending time in the corner, the headmaster showed them how to tie a schooltie properly. They had never done it before as their mothers did it for them. It took a few sound leather paddlings and hand spankings to motivate them but finally the girls left with their schoolties tied properly and looking like proper neat St. Catherine's girls!
The next film update is a popular schoolgirl theme – Bullies!
Junior girl, Rochelle, went to the Headmaster and told him she was bullied out of her lunch money and the Headmaster soon figured out that the bullies were two senior girls, Betty and Julie. He found them during recess and marched them straight to his office. After a strict scolding, he put them over his knee and gave them both a long hard bare bottom spanking followed by some lengthy, humiliating cornertime. Bullies were NOT tolerated at St Catherines school!
& finally (for now) the latest schoolgirl themed update out now to download in full…
The yearly athletic meet between a rival school and St Catherines had just finished and the other school  had won by a small margin. That was due to 2 girls slacking around and not doing their best. They were both told to report to the Headmaster after the track meet.  Following a long stern lecture both girls went over his knee and the Headmaster used a hard nasty rubber gym shoe on their bottoms and both were near to tears by the time he had finished with them!
For more schoolgirl type spankings – check out the tour pages HERE
*********************************************
There's a full schoolgirl fantasy spanking film now available to download with their usual excellent photo images at Northern Spanking featuring the adorable Aleesha Fox in a pristine schoolgirl uniform. This is primarily based on a grown up theme of a partner playing a schoolgirl and letting the lucky fella live out his spanking fantasies… I wonder if Paul "insisted" on doing this? Gives me some perverse ideas for a forthcoming filmshoot! (oh wait, I have already filmed stuff like this too…. heh heh!) Anyway… I (naturally) loved this film so please do check out some choice images from it (below)
Download this great HD film from the good people of Northern Spanking
****************************************************
Not to be outdone, at Spanking Sarah this week there is a superb schoolgirl dorm strapping and caning film with the beautiful and very flexible Kiki Devine as you'll see below… don't forget to check out the amazing free preview at the end of this info update!
Kiki thinks she is alone as she spanks and plays with herself on webcam for her boyfriend. BUT, teacher Sarah returns and catches her and is determined to teach her a real lesson. Naked she is first of all paddled and then made to stand and bend over whilst Sarah delivers a full force caning to her bare bottom. Poor Kiki takes a real hard caning, no mercy shown here
See much more of Kiki's punishment by the predatory Sarah in this free preview HERE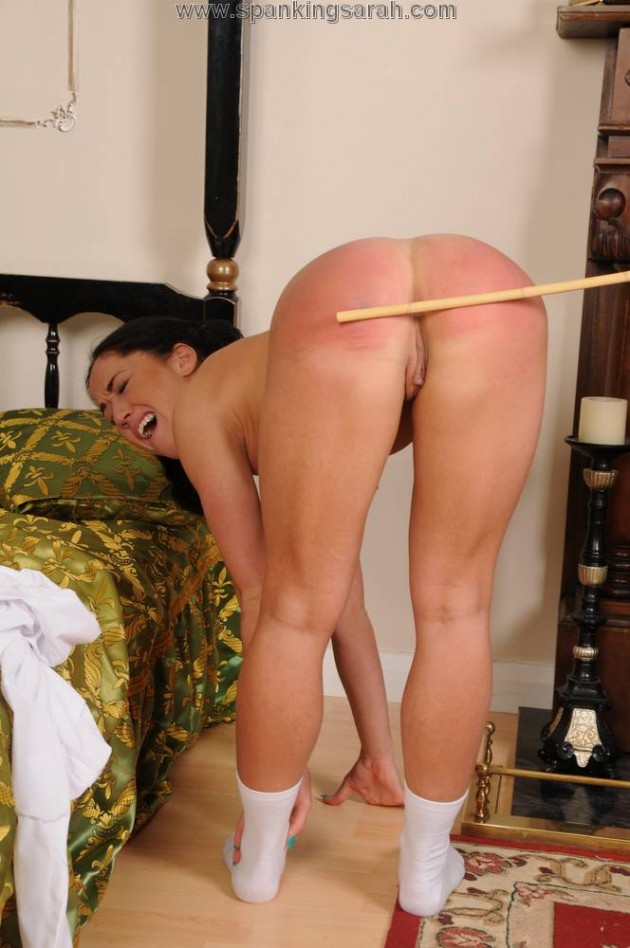 ****************************************************
& finally (for now) a short sharp trip to the Reform Institute of the Headmaster's wicked world at Spanked Coeds – this is a particularly devastating bathtime punishment that has some powerful breath play as Clarice is made to run the water in the bathtub (not the cleanest tub by the way… which would add to the whole uncomfortable-ness of what was to come, in my opinion) and that was her head being held under the water several times until she got the message… and that was AFTER the horrible wooden ruler thrashing she got across her already very sore bottom!
OK, that's it… but there are more punishments with Clarice and also with a great new girl to this site called Mila which you can find out more about at this link shown below
************************************************
& in case you like to see various bathroom themed spankings (I know I do) then *surprise surprise* my very next film is a rare treat… as it co stars Leia Ann Woods AND the retired (but not forgotten) Irelynn Logeen… fans of both girls are in for a delightful treat! Oh… and the bathtub was very clean 🙂
*************************************************
& it goes without saying that I offer my heartfelt congratulations to Hywel & Amelia on their recent Nuptials
Congratulations from me to you both, you make a great couple!!! (click image for her blog post)