I shall not dwell on the fact this is a significant date, we all know what happened just over 11 years ago today… and I have to say it was great to see the "Freedom Tower" being built in NYC on my recent visit… however, this is a spanking blog and spankings are what you all crave so to satisfy that need I have a great start to today's updates with news of what members will be able to view (from tomorrow) at my own site, the much awaited birching film of Kami Robertson in the submissive maid series.
Kami is stripped naked and given a hard birching by the Master of the House
I have a few early exclusive images to show you, as there will be a photo set that will accompany the long play film as well as the usual HD video screen shots that are always shown with any movie at the site. As you should know by now, it comes in 2 versions, WMV (960×540) – and MP4 which plays at (1280×720) size resolution. Both versions look great and wmv also comes in smaller sizes for those with slower connections but as the world wide web gets faster I reckon this option will become more obsolete, but for now, believe it or not, I know that there are still many members who join who do not have a very fast connection and have thanked me in emails for providing the smaller file sizes so they can take time to download the films. OK, as I said, here are some exclusive images from the future photoset which best showcase what happens to hapless maid, Kami Robertson.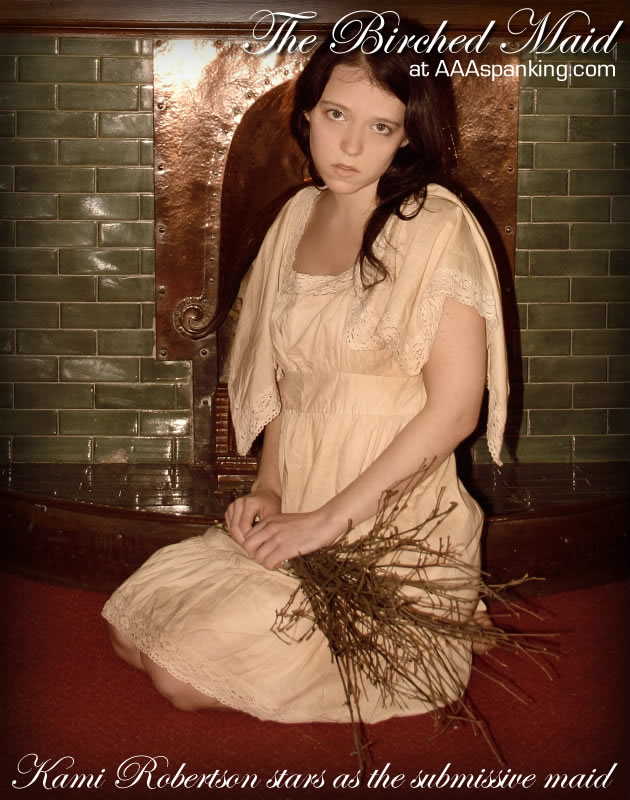 This is the 2nd of the "Submissive Maid" series of films and Kami took a birching from her Master of the House. She had to go pick the birch twigs herself and tie them together before presenting Harold with The Birch and he made her assume the position he wanted to punish her in over the chair. It wasn't long before the criss-cross tell tale welts from the birch could be seen and Harold ordered Kami to remove her clothing so he could see her reactions more clearly in this eery light as she fought for breath and tried to hold back her tears until her body convulsed in pain and the endorphins took over allowing Kami to take the full punishment. This is one of the most intimate and severe films we have ever made and should be a "must have" for all collectors of spanking erotica.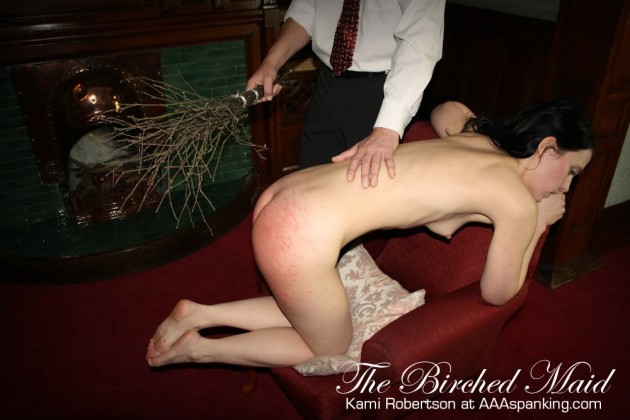 You can see an exclusive early preview of this film below!
Check out MORE of this film HERE

*************************************************
I couldn't resist showing you this more sexually themed spanking out now at Pandora's Dreams Of Spanking as she and one of her poly partners D show us what happens in private with this feature called "Mirror Mirror". It shows the love, lust and a leather belt as he skilfully claims both Pandora's body and her willing submission. Two large mirrors reflect every moment of intense eroticism, from spanking to "other intimacies" as you will discover. Images below are reduced in size and members get to see 131 images in this new update out now!
See MORE of what Pandora has been up to on the extensive tour pages HERE
***********************************************
& finally in this all English line up today, here is a gorgeous new girl called Lucy who looks oh so spankable in that naughty uniform, luckily she is just that as she is one of the naughtiest girls in school and the new teacher wastes no time in reminding her that he takes no nonsense from misbehaving girls in class!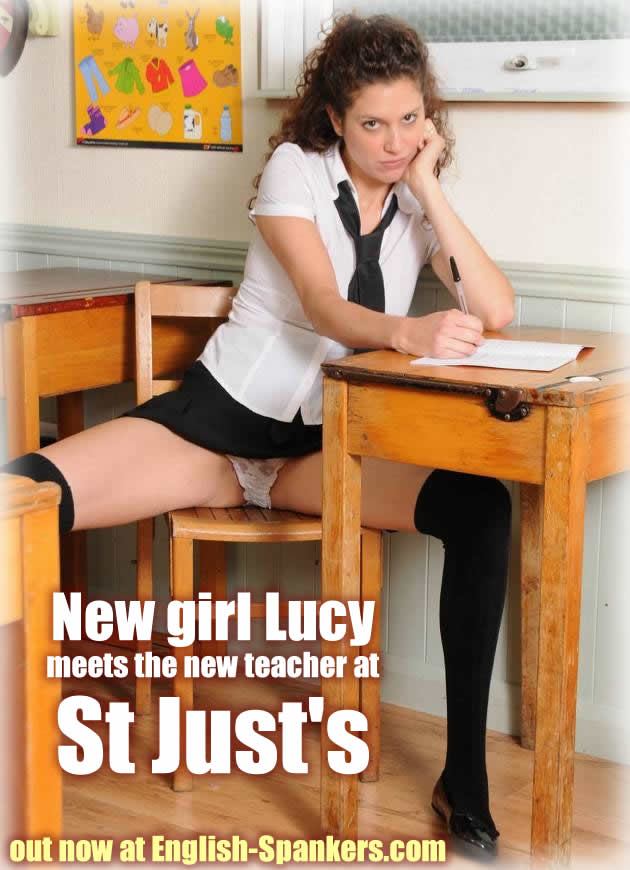 The new master at St. Justs school for young ladies is taking his first detention class and has the misfortune to get involved with Lucy, the naughtiest pupil in the school. When she refuses to carry out her detention punishment he decides to give her a spanking. Over his knee he spanks her on top of her knickers and then removes them for a really sound beating on her tender bottom. The first video by this exciting new girl on the spanking scene – images below (reduced in size) are courtesy of English-Spankers.com
Check out a FREE HD-WMV Clip at this link HERE of new schoolgirl Lucy

**********************************************
To those that say we English sites don't know how to produce good spanking scenes, the above should be proof enough we know what we're doing and we like what we do! Have a think again as we have some of the hottest spanking scenes and exclusive girls around!