Sorry, I have had to be away from my laptop until very late and so I apologise as I had promised to get you some more updates out! It's far too late now so here is a selected few faves of mine I have posted over the last 2 years and I hope you enjoy seeing these, especially if they're for the 1st time!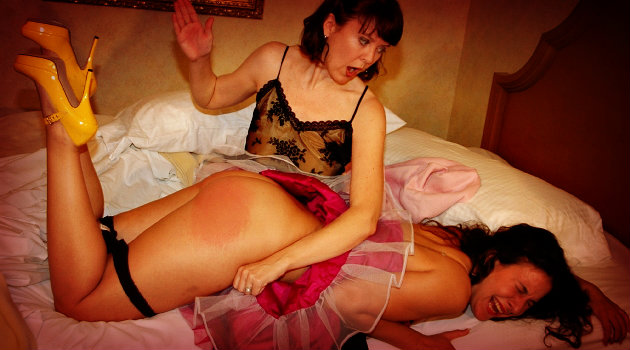 All these little beauties are courtesy of the Clare Fonda, network of sites which can be accessed by the infamous CLARE FONDA PASS and I've included a banner from each site to show you what is available on their tour pages as there's so much more, anyway, these are some of the typical updates which members have come to expect across the unique group of sites!
At GirlSpanksGirl – the long play movie specials, erotic and hard punishments of girls by girls…
Next 4 galleries are from MySpankingRoomMate and these are classics of this spanking soap opera, note the great guest appearances such as the lush Amber Pixie Wells in the 1st 2 galleries featured below from some excellent episodes! This site's tour pages are well worth checking out!
The of the naughtiest movies from Spankedcallgirls are very hot with some bright red bottoms and very sexy slutty girls getting it good – You'll often see humiliating punishments and all manner of rude extras at this site from whoremongerer "Momma" Clare's never ending stable of girls…
From the delightfully sleazy world of spanking these tarts to the genuine first timers and special interviews, auditions and suchlike including spanking model fantasies being acted out!!! This makes up the attraction of Spanked Sweeties! See these classic updates below, I expect to see more auditions and newbie discoveries as Clare insisted on looking for fresh meat for her events such as the Exclusive Education series and the Big C who has taken over the sites continues in this fine tradition!
All the above sites are worth signing up to in their own right, they'd keep you very busy hammering the space on your hard drives, but there's also the site I love which includes all the above sites and more that Clare operates and that is via herCLARE FONDA PASS (check out the pricing against the other sites and you'll see that it is a really good value offer!!!
*******************************************************
Never underestimate the power of the beauty of seeing cute Japanese girls spanked, they cry so pitifully, even the way they cry, their reactions to a spanking and more often a paddling (this seems to be the instrument of choice in this country) is enough to make a grown man like myself go weak at the knees! Add this to the breath taking stunning beauty of some of these teenagers, well, you have a winning combination for a spanking site, and this is EXACTLY what we have at Cutiespankee.com – Japan's premier cute girl spanking site, you'll see girls dressed impeccably in a variety of gorgeous school uniforms, sexy secretaries and amazing home discipline scenes!
I have 2 workplace discipline movies & images which have been recently released, including 2 sample clips.
The Pay Day: The 2 secretaries bottoms were exposed, spanked and cropped by their cruel Boss to make up for their many faults in a special Monthly Discipline Review – you can also check out a free sample clip of this below.
In the continuing series of workplace type disciplines check out this naughty film, imagine the shame and embarrassment which the Japanese do so well when confronted by a cruel presentation of corrective training practices: here you'll see the employees showing their bottoms and receiving discipline in front of their important business clients they had let down! It's a good excuse for yet more humiliation and spanking, of course!)
As I said this site isn't only about discipline at work or at home, I enjoy the schoolgirl punishments, without doubt this site has the best dressed girls and also the cutest teen rumps to get a good spanking! below are some images from the very latest film update, I think you'll understand what I mean with their cute uniforms and oh so soft bottoms getting a hard spanking!
Check out the Tour Pages HERE that contain more recent updates and a full profile of all the cutest Japanese girls baring their bottoms and more for guaranteed humiliating punishment spankings!
**************************************************************
So finish this with the last 2 sites starting with NorthernSpanking – this is a classic starring Kami Roberston (so NOT a latest update, just me enjoy letting you all know what is available in those locked away member areas!!!) She was featured in many a movie from their archives, and I liked this one from their Short sharp Shock series (I believe this was number 47 and there must be close to about 70 odd now)
Reason I'm showing you this is because I am a lazy so-and-so and saw that there is a really good clip – click on image below, it is nearly 3 mins in length and shows you exactly what is going on, I have to say though that the full length film continues and lingers on Kami's poor welted caned bottom for a good 5-6 minutes more after this, and of course in a far higher resolution playback!
& if you're back from watching that clip I have some images taken from this movie (below) which best shows off Kami's caning for her 3rd school expulsion!
I have just taken a look at the very latest update which appeared there today and it's the final part of "Snotty Lottie", an excellent title and a good old fashioned slippering story of a brat in much need of some severe discipline!

Lottie looking particularly stunning! With thanks to NorthernSpanking.com
When Lottie's dinner arrives in her lap she begins to realise that her attitude towards Lucy the waitress may have serious consequences! The customer, it seems, is in fact not always right as a disappointed Lucy is transformed into a very, very irate Lucy with a hard hand to spank Lottie's bottom… and when that becomes too sore, she resorts to her footwear!
CHECK OUT THE LATEST SPANKING MOVIES & MORE HERE!
Another movie inspired by viewing the Teen spanking Tube made me realise that there has since been am amazing re edit update as part of an upgrade toBunBeatingFun – and the generous webmaster hasn't even made it known – but I am, as this is possibly one of the sexiest sassiest models he had ever spanked hard over his knee! ladies and gents, I present to you, Monica, one of the 1st models to get the BBF treatment!
Check out the clip below, and then a short clip of the REMASTER from later on in the film, you'll see what I mean, this is a very generous update and the full file download in the remastered format is something like 340Mb for 15 minutes and this movie lives up to the site title BunBeatingFun!
Click image for the special preview clip


– then check back here for more info –
& here is the mouth watering description of Monica! She's a dancer! This jewelry laden five-foot princess has one of those sweet little bodies that simply oozes with sexuality. Monica told us that she had never been spanked and anticipated that the experience might prove "interesting". For the next twelve minutes this minx's tight little ass cheeks are made to dance under a steady, burning rain of resounding spanks. Through screams, threats, and finally tears, the relentless stinging rhythm continues unabated. This is one long overdue red assed lap dance Monica never fully anticipated!
& check out part of her relentless spanking as BunBeatingFun MEMBERS can now view it in Hi Res Wmv playback!
I think you get the idea, members can also get to watch plenty more angles of her most wrigglesome OTK spanking! For your info Monica is one of around 80 models that can be downloaded, most of the girls here have not been spanked at any other site and most kick up and bitch as much as bratty Monica did – very satisfying viewing!!!
See the extensive tour pages below at the banner & decide for yourself!

******************************************
Cheers! Chief.