HAVE A GREAT TIME MY FELLOW SPANKOS!
Let's hope 2013 isn't too harsh on us all – & as promised, a special blog yearly review by month!
**************************************************************
JANUARY – Model brat Sarah
I was chatting to Greg, owner of BunBeatingFun.com earlier and wanted to know a little more about his latest modeling brat, Sarah… as in this new full film (over 500MB download and 22 minutes long!) poor Sarah mentions "Not again!" What is that all about, I thought… as this is her first showing on the website (and a good one at that, as you'll see!)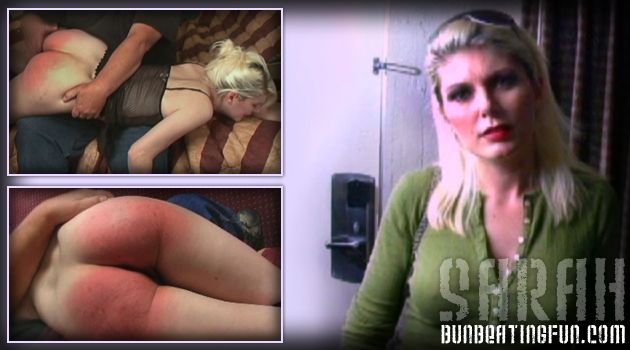 The official blurb on the site says this about the film… then check out some of the images I've taken from the movie (they aren't as good as the movie itself but I think you'll get the idea!)
Sarah is a model/actress from Philadelphia, the city whose most enduring symbol is that of our nation's Liberty Bell. Enduring more than a scant few minutes of this woman's diva-ish act is no easy task however.
Indeed, to be seized with an overwhelming urge to wring Sarah's lovely neck merely consigns one to the ranks of all too many who passed her way before.
We had a better idea.  A much better idea…
The story so far (above) was that Sarah arrived at her seedy location to do a lingerie shoot for a colleague of our Mystery Spanker… she dicks the poor guy around, demanding double pay and in the end the exasperated photographer/cam guy calls inthe main man… now Sarah has crossed paths with him before and that is why her facial expressions above are classic as she tries to run and barricade herself in the bathroom but she is hauled over his lap on the bed and the deserved relentless (and it is!) spanking begins! The next images are of her punishment and I'll explain why she knows the mystery spanker afterwards!
So, as you'll see… a tearful blubbing Sarah is given a dose of her own medicine as she is spanked and treated harshly with a good honest punishment OTK spanking. The sort we'd all approve of for all those girls who have wanted to rip us off! Her ass turns a wonderful hue of red as you see it jiggle under the crashing strokes of the mystery spanker's shovel hands!
As I said, she had met him before, in fact they did a filmshoot previously, it was a shorter film and that was because she complained that the spankings were too much so they cut it and called it a day… so imagine his surprise when she contacted him again wanting to film another spanking gig… only HE dictated the terms, "you get a proper spanking or not at all and that's what you'll get paid for…" she obviously decided on going through with it as this is a cracking long play movie and is the latest in the series of model brat punishments… and it is already becoming one of my fave films at this site! (Can't wait to see the first film of her when that gets edited in time for, ahem.. comparison's sake!)
Check out MORE of this and all the model brats right HERE

*****************************************
There is also an option to view some films as one offs if you don't want a full membership, I have selected a few films below that you can see for yourselves, there are free previews as well, so do take a look if you're interested! (Click image for the download and preview pages)
More movies including more brats like the above can be downloaded as one offs HERE

*************************************
Below is a public information announcement sponsored by this spanking blog
***************************************************************************
FEBRUARY – madams we should see more of
I'm in a cheeky mood! "Er Indoors" is currently well away and outdoors, running amok as she is still abroad with the grandkids and comes back tomorrow! The place is a mess, a typical lazy bloke like me has take away meals strewn all over the place and I am about to clean up and hide my utter sloth… she'll nag, of course, as I haven't recycled this week, we had a power cut while I was away at work which has totally screwed the heating and I haven't changed the timers and I haven't washed all my dirty clothes just yet from coming back earlier than her from my hols… and I still have some clothes from the last film shoot I did in one of the spare rooms out on the bed waiting for a wash and iron… she'll go nuts, but I deserve it this time… and I thought… "who else should I watch that DESERVES a good thrashing?" and I retired to my extensive collection of spanking erotica courtesy of SpankingTeenJessica.com and you can see 2 examples of her "getting it good", I have a couple of clips below and some reduced vid grab images from another movie that highlights just what this gorgeous little madam could take in the past! Oh… and check out her rump… OMG that's sweet tushy!!!
want to see her rump getting it? Click to play the other angle (below)
Yikes…. short and sweet, you get the idea though and check out this great punishment (below), Jessica was made to take a paddling with various implements on one cheek at a time before a much bigger nasty strap and paddle were finally used across her burning cheeks, the end was unusual and cruel as she had to sit awkwardly against the wall with her hands strected out clutching what had just made if difficult for her to sit down!!!
The Teen Jessica site is still updated and the remastered films look even better, well worth a look!
************************************************************
MARCH – Cream Horn spankings
As promised today, I am bringing you some very special Cream Horn rated spankings which I hope you will enjoy! These are a collection of past and up to the minute spankings from across t'interwebz, so please do ensure that you are sitting comfortably and relaxed… please do ensure that you have been to the toilet (do so now as you could be some time gazing at this spledifera of spanking talent.
Have a glass of your finest vino, bubbly or milkshake (whatever turns you on) to hand… and remember to lock the door for that extra privacy as I show you some of what I have been viewing and downloading today… I'm spent, I'm sure you will be too! Ladies and Gentlemen… I give you today's Cream Horn Spanking Specials! *drum roll*
Possibly my all time favourite spanking model from Punishedbrats in the past was Juliet Valentina, when she had that perfect girl next door look, with her long blonde locks and able to play a schoolgirl or naughty cheer girl at will! She has since come back… and depending on her real life commitments, so I understand, she could well do again (I can hope!) – But fear not, as you will (probably) already know, there is a vast collection of Juliet's films waiting for you to discover her talents at PunishedBrats.com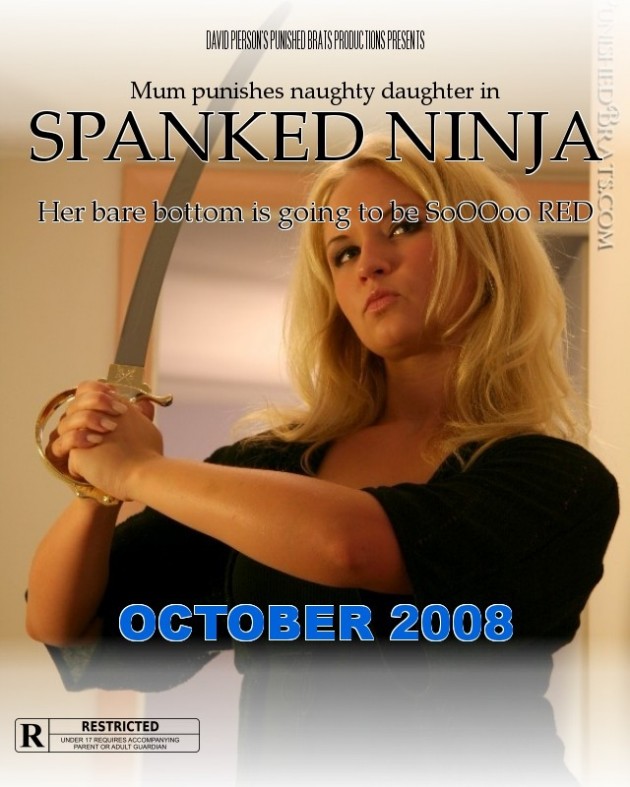 Not sure who made this poster at the time – but it's a giggle.
Edit: Just been reminded that it was Cutiepie of CutiePiesSexySpankings.com that made it (nice one!)
One of my all time fave films of Juliet is shown below, I think it was the combination of that school uniform, the OTK spanking and just how breath takingly beautiful she looked that day over one very lucky David's knee!
"My Ass is AWESOME!" – Juliet Valentina (made up by Chief)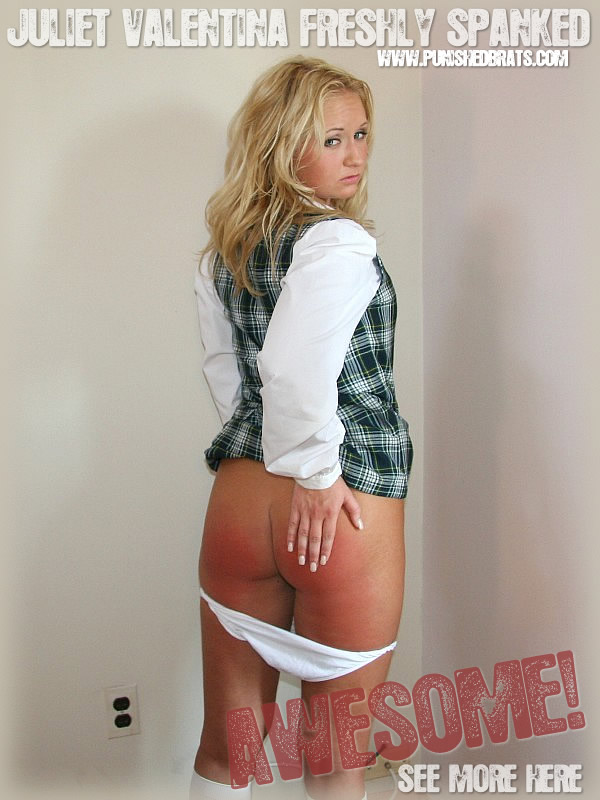 Currently at Punishedbrats.com there are heaps of great new updates with new girls and as you'll see in the latest images below, this site, with it's amazing archives just gets better and better!
Pixie was and still is my number one girl and the reason so many have stayed loyal to Punishedbrats.com – now that she also edits the films, when she can find  time to be in front of the camera… we get fantastic images that accompany this recent film called "Office Pal" – don't miss it, it's Pixie at her wriggling, yelping best over (the very fortunate) David's lap!
the storyline: Ten had been taking advantage of her friendship with her supervisor, Pixie, by asking for a lot of time off work. Now she has left an important project incomplete and it's Pixie who has to pay the price when her boss finds out! See how Pixie coped with fixing the problems at work with a very sore red bottom! Click HERE for the free preview
********************************************
Amber Dawn has been a busy spanking bee recently… secretly acquiring newbies like insects to honey… this blonde waif came to Amber for a correctional spanking punishment… I don't think this young lady will be back as she looks like she might just try to behave and avaoid those stinging hand strokes on her bare soft bottom… but I'm sure glad she gave her the "once over" as Amber has some private time, I'm guessing she might even have broadcast this as part of a webcam show – I'd like to think so 🙂
Amber Spanks Abbey Rhode (like the play on the name… were her parents Beatles fans? lol)
At the time of writing this I have just noticed that there is a new full movie just added, it's a HUGE file and it's called Amber spanks Alyssa… she looks f*cking hot and the file size is a humungus at 2.7 Gigs! I'm currently downloading it as I write up this post today (predicted to take well over an hour and then some) so I promise to get back to this but YOU can view this and Amber's other sites on a Special Trial promotion for under $5! Sign up through SpankAmber and there are the member page links to all 3 sites! That is so cheap… but also, her long term memberships are worth every penny, you'd be hard pressed to even download a fifth of what Amber has in her archives in the trial period! Anyway, check out some teaser images of Amber and Alyssa below… this looks well worth it alone for a 2.7 Gig download!
Edit: I have just seen it – F*CKING HELL!!!! I will get you news of this SOON! See for yourself!
**********************************************
Things are hotting up, aren't they? I have a ton more stuff for you yet and while I'm taking a break to waffle a bit, please take a break and get some fresh air, stretch your legs a while… as I aim to bring you what's hot and new across Clare Fonda's excellent sites… and at the 1st site I'm going to showcase for you, there is a theme running ever since they hit the 100th episode in this ongoing spanking soap opera… that of "female wrestling and powerplay" – Who wins, gets the power to spank the other… and I have to say I had to make a choice with this as these themes are in both episodes 101 and 102, so here is number 101 with Kay Richards and Ashli Orion (who is tall and athletic, whilst Kay is bosomly – I love the way her breasts hang like they do…but that's another trouser busting distraction… ahem!) Let's find out how they get on!
"Ding! Ding!" Round 1:  Kay and Ashli are working out when they begin to argue about how their relationship has turned out. First, they begin smacking each other's bottoms playfully. Then it becomes war. They wrestle and spank each other harder and harder with hands and even hairbrush. It leads to some kissing, but Kay is still bitter about the breakup, so she spanks Ashli hard and tells her "no fooling around!" – Go girl!
SEE THE FREE REVIEWS AT MY SPANKING ROOM MATE
The next site with new content was the one voted most improved in 2011, so that means we are taking a quick look at SpankedSweeties.com
Why? Because it is one of the hottest girl-girl spanking sites. Each girl is interviewed, takes some hot photos then gets down to a long, hard spanking. Clare uses the prettiest girls and a good array of newbies, first timers and established models – some have been spanked before and tell us all about what happened to them growing up and re enact some events and some have never had their bottoms spanked before – these girls often have very red bottoms, which I love, of course… take Lilia Spinoza… one of the stars of EE6 ( <<< click this link as it is a really good free gallery of Lilia in a cheer girl outfit!!!) as a convincing cheer girl, see her get a man spanking across the lap of Double Dan in that cutsie school uniform! Mmm!
See what makes this site addictive viewing – Click Here for the tour pages
Finally from Clare's site GirlSpanksGirl.com today, tall slinky Elise is in trouble with her mother, Clare (again) home from school, Momma has a few things to say and Elise is humiliatingly stripped and given yet more demeaning discipline designed to make her daughter learn to avoid such bad behaviour in future! This punishment included a hand whacking with a wooden ruler which was kinda "ouchie!" (Oh, and Elise looks drop dead gorgeous over Clare's knee, doesn't she?)
This is part of the Disciplinary Section (with all the hour long movies and the infamous EE Series of schoolgirl films) – I just thought I'd also show you what I hadn't seen in a while , which was amazing… this was the film between Chloe Elise and Sarah Gregory in one of these home domestic discipline classics, this film is  one of Clare's finest in my opinion and I forgot just how bloody good it was! (Thankfully I found a gallery with a complete explanation for you, so click on the image below and all will be revealed!)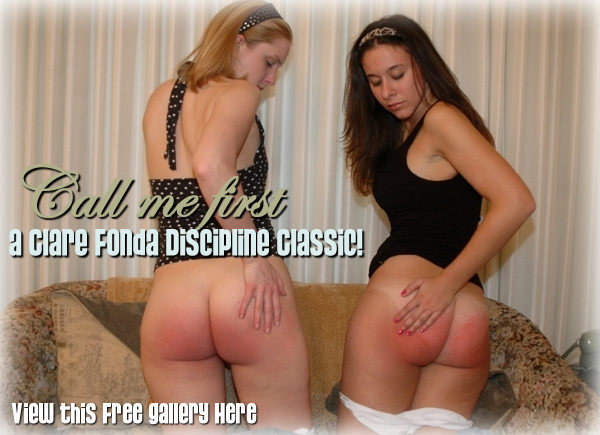 These movies and the latest updates I have shown you of Elise can be viewed seperately at GirlSpanksGirl.com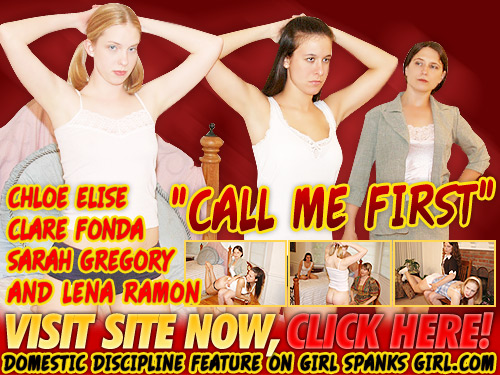 ******************************
All Clare's above sites featured here today can be purchased seperately, for they are all HUGE in their own right… or you can get the BEST multi site deal around and get these sites in any combination YOU choose of 3, 4 or 5 sites in the CLARE FONDA PASS – saving a lot of money on monthly and further on quarterly membership deals!
*************
That's it from me, tomorrow I will be focussing on European sites and some that I haven't for a while which I promise you won't want to miss! Until then… cheers! Chief.
Pass the cream horns around, will you? 🙂
*******************************************************************
APRIL – Gorgeous girls punished
My internet connection out here in the rural wilderness has been painfully slow recently, especially on upload speeds so I have been trying to get the 1st part to my movie uploaded for members tomorrow… God , it's painfully slow, I am dreading uploading the full WMV and MP4 files (groan) … anyway, as I have been doing this in advance, I decided to surf around and check out some other sites of extreme interest and as the title suggests, bring you some unashamedly good looking girls in some of the latest most recent updates from a few of my favourite sites! I'm not sure if these have already been highlighted elsewhere yet as I just have not read anyone else's sites for a few days as I have been busy my end… so I hope you find these here reasonably early and enjoy what is a visual feast of spanking entertainment that will create a rumble in the gentlemen's trouser department and for you ladies who are partial to the sight of a very beautiful female (or 2) disciplined on her bare bottom… I'm sure these girls will get you nice and moist "down there" (oh God… I hope so!)
Just a random spanking image I found on the internet (You know I love that Japanese crying shit… lol!)
OK, inspired by my gorgeous japanese girl and their amazing costumes… I give you the latest gym outfit spanking and HARD paddling film now out at CutieSpankee.com – oh… and there's tears and crying too!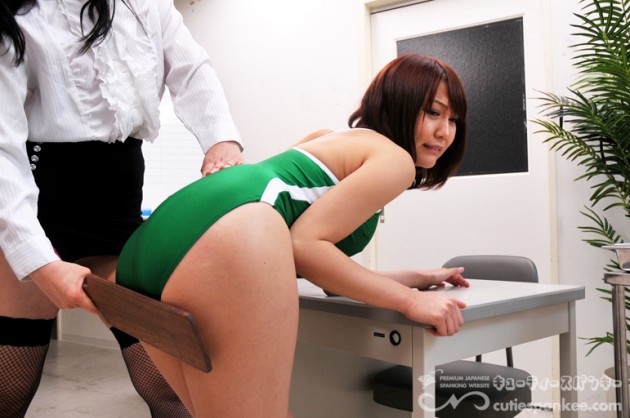 This site gets it right everytime when it comes to knickers and uniform punishments of the cutest girls imaginable! Scroll down through some select images of the films that members have been able to view, these are all taken from just some of the films that have been uploaded over the last 4 or 5 months! I think you'll get the idea… and the paddlings MUST be seen… and the whimpering girls MUST be heard! Underestimate CutieSpankee  at your peril!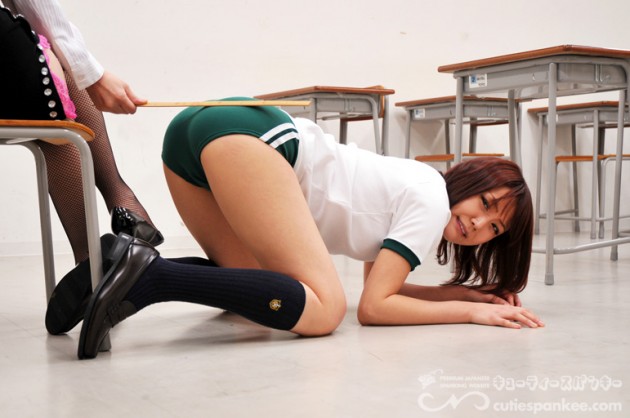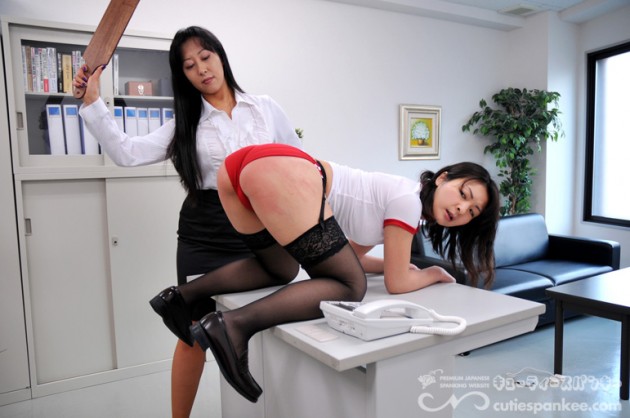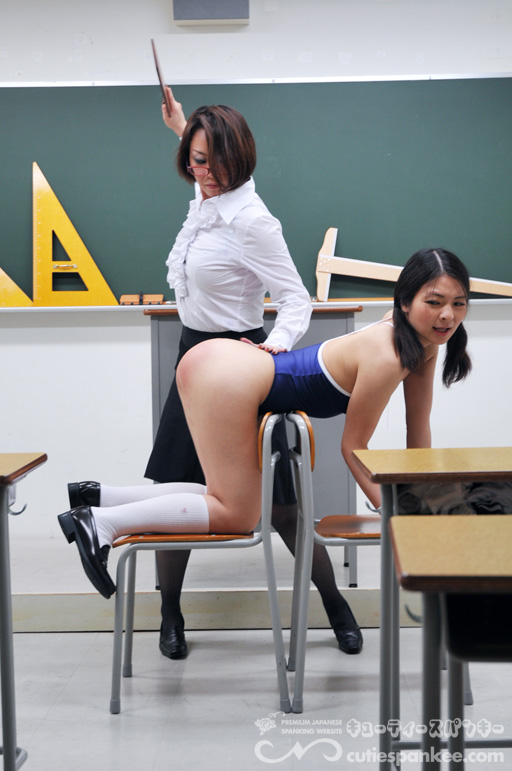 *************************************
& one amazing new film update I saw today comes from my good friends over at English-Spankers.com who have an unbelievablely cute new girl called Paradise who has the most spankable tight bottom and isn't afraid to get thrashed for our viewing pleasure in this audition paddling on camera!
Glamour model Paradise is now at the second part of her audition to become a spanking model for English Spankers. She has been spanked hard and now she has to bend over to get her bare bottom paddled with the leather paddle. Aunty Katie has a very strong right arm and really lays it on to this young ladies bare bottom, the whacking does not stop till Katie is satisfied that Paradise has received a real good thrashing.
CLICK HERE TO SEE THE FREE HD MOVIE PREVIEW OF HER PADDLING!
***********************************************
At NorthernSpanking.com there are a couple of updates I'd like to tell you about, one film is now complete, that of the wonderful brat, Jenna jay, who I had the pleasure of spanking myself, as I'm sure you're aware… I know how David must feel in this film… admiring his handiwork on her hot red buns… mmm!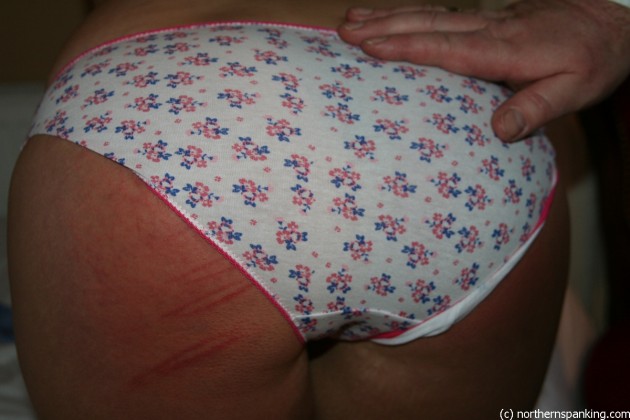 In the conclusion to this film… Jenna has been very naughty and sent to her room to await David and the inevitable punishment to follow upon her tender cheeks! Paul and Lucy had this to say about her (and I of course can't wait to see more of her here!)
"A super warm welcome to our newest lovely, Jenna Jay. Pretty, young and very submissive, we promise you will be seeing a lot more of this naughty young lady."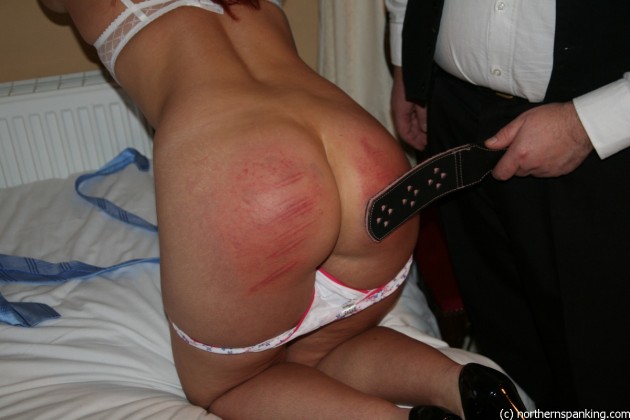 From this there is a new film with some equally lush pantie spankings (to start with, at least) this stars Sarah Gregory when she came over to the UK last year, she did a double film shoot with us and Northern at the same location over a couple of days so Sarah's bottom was rather sore by the end of all that! Here Donna gives her a spanking in the film "E for Effort"
Captain of the netball team, Sarah, is a lazy toad. Her coach is constantly on her back trying to motivate her but to no avail. During her latest motivation session, Sarah shows significant lack of effort AND insults Miss Davenport. Nothing else but a trip to the Headmaster's office will suffice.
Click on the panties below to see what members are about to view more of!
***********************************
My last quick look at today's last site is one of the most popular – FirmHandSpanking – and for good reason. Just check out thses 2 image sets I have for you, taken from the members area and you will see why it is so popular!
Twins Marissa & Clarissa Berkeley get the bath brush treatment lying ashamedly together so they could both witness the other's humiliation at having their bared bottoms thrashed very hard with the dreaded heavy bath brush, leaving rather visible marks as you can see! An amazing film, the best ever yet starring these 2 unique girls!
& of course there is the beautiful Belinda "schwiinnnng" Lawson who gets a rare wooden paddling from none other than Amelia Jane Rutherford. There's not much to say about this except perhaps utter another "schwinnnnng!" and stare at Belinda's red cheeks in awe! #smitten  – #trouser bumpage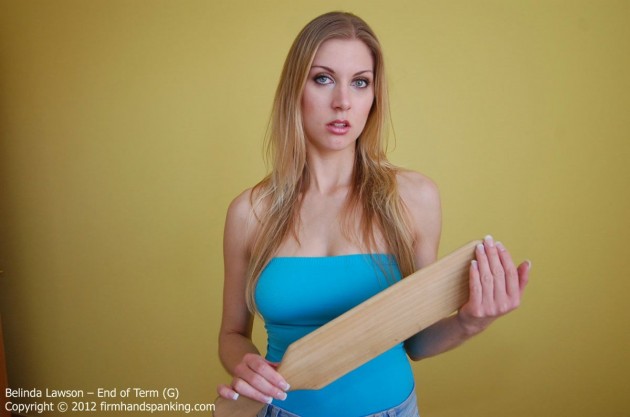 Click here to see free movie previews of more stunning girls spanked at FirmHandSpanking.com
********************************
& before I go, I have been very busy at the Clips Stores recently, uploading films madly, so those who only want to view the odd film or 2 are well catered for, including the FULL movies out now of the new girls showing tomorrow at the site and also the full film of Mishka – so Clips Store downloads have their advantages too! 🙂
Click any image to view the recent films at AAA Clips Store

***************
& also at the Naughty Bottom Clips store too!
***********************************************************
MAY – Keep Calm & Spank On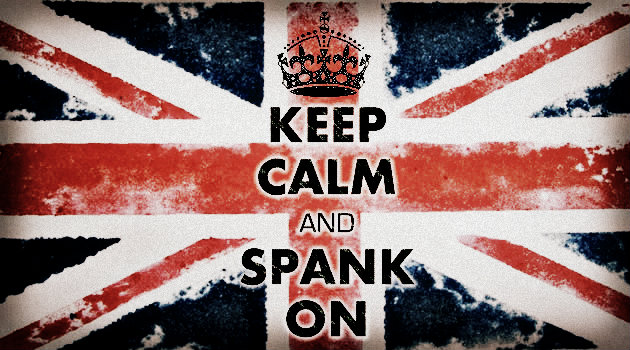 I couldn't help but make up this retro WW2 poster for my blog as we are being bombarded with the old classic slogan "Keep calm and carry on!" Something quintesentially British… perhaps it's because the Olympic Games are not far off (just 87 days, in fact) … or the fact our feckless immigration staff at Heathrow are forcing travellers and visitors to queue for hours to get admitted to Britain (and I thought the INS were a pain in the arse – ha!) anyway, here's my out take on it as I celebrate everything British with some of the very latest spanking updates from a few select sites from our side of The Pond.
"Keep Calm and Spank On!"
Jenna Jay gets a good hard spanking and strapping from Nimue in the very latest Short Sharp Shock movie from NorthernSpanking.com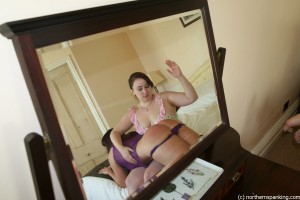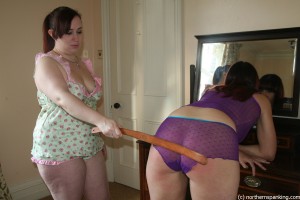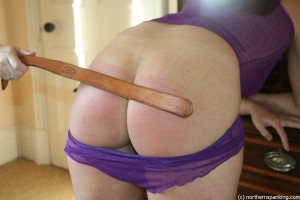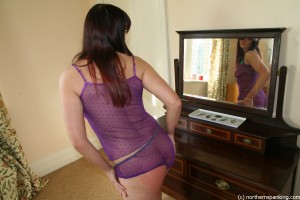 There is another short sharp shock film released which starred Amelia Jane Rutherford and Stephen Lewis… this was an intensely personal film for Northern co owner, Lucy… as Paul explains below these fab images from the movie!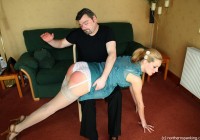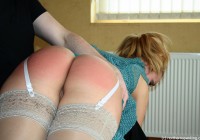 This film has a personal and interesting story behind it. At the time of filming, our own Lucy was involved in an intense DD relationship with her Dom which had changed from their previous BDSM dynamic. Lucy found the exchanges so intense, so real, so cathartic and so full of love that she wanted to capture those feelings on film. So we embarked on making this short with Amelia Jane and Stephen. Both of them captured the emotion of a real DD involved couple perfectly, and we believe this scene to be pure magic.
& finally from this great site, a fab pairing of Zoe Page and Caroline Grey, having met Zoe not too long ago, I know just how great she is to work with, I'm going weak at the knees just thinking about the way she disciplines the girls!
Zoe wastes no time in getting to the "bottom" of things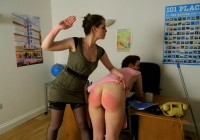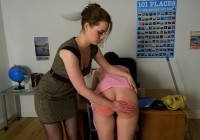 When incompetent cleaner Caroline turns up in Zoe's office, she infuriates Miss Page with her ineptitude. Zoe tries to control the rage building up inside her, but there's always a breaking point and when Zoe reaches hers, Caroline has NO idea what is about to hit her…but it will be VERY hard!
See all these latest punishments and more only from NorthernSpanking.com
***************************************
Now as it's late and I have a course tomorrow morning… (keep calm!) the final 2 images here are of the very latest film updates to come from the sites mentioned, these are both amazing and I love the photoghraphy that accompanies these HD films, something which you should remember as both sites are well worth a look and have a fantastic free preview section for you to check out what they're offering.
1st from English Spankers – this beautiful new spankee called Kiki who has curves in all the right places making her such a spankable thing (as you'll see below) – Click image for the amazing free gallery and further preview access:
Click HERE for the FREE HD Movie preview of this stunning F/F Audition spanking
…then see what is coming out this week at SpankingSarah.com as the 2nd installment of "The Runaway" with the ample bottomed Dani Hunt is shown – you will NOT be disappointed with this one either (loving the hand strappings and humiliating positions she is in)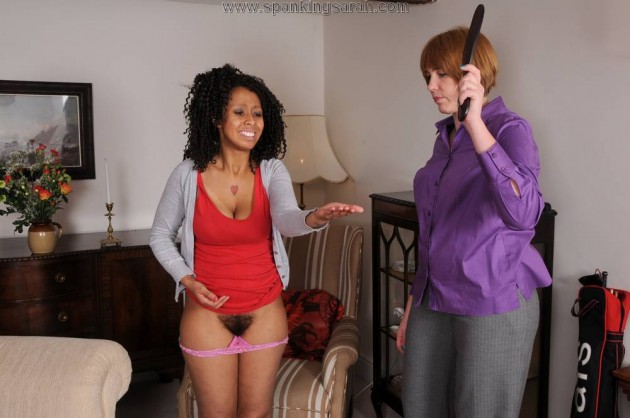 Then check out the free HD movie previews and see for yourself!

*******************************
OK, I'm off to have a nice cuppa (tea) before bed…  so "Keep Calm…. and Spank On!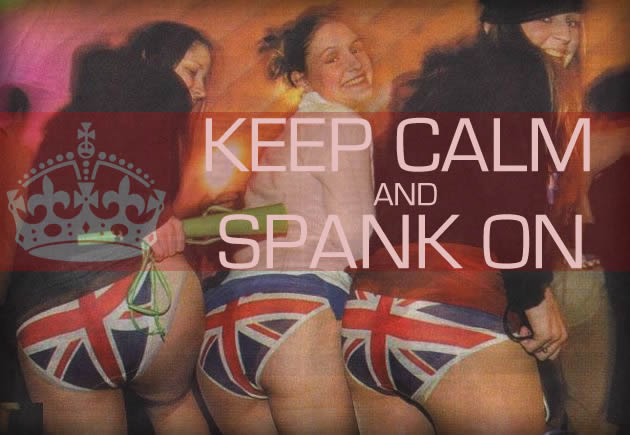 *********************************************************************
JUNE – Jubilee Spanking Special
Welcome to the Diamond Jubilee Edition Spanking Spectacular
Yay! Time to celebrate! Today in the UK we have an extra free holiday and as I'm sure you can see from the Union flags here… in every town and village bunting is festooned everywhere fluttering in the gloom that is our great (damp) British summer! So even if today is a damp squid, we care not… only one other monarch, Victoria, of our great kingdom has reigned for so long… and I doubt she would be "amused" with the spanking shenannigans I am about to give you… come to think of it, I doubt her majesty, Queen Elizabeth 2nd would either… so at the risk of high treason and losing my head… enough of my Jubilee ramblings and on with what you're all here for! A cross section of global spanking smut that I have been fortunate to watch, past and present!
I couldn't resist bringing you something from one of gorgeous redhead Amber Dawn's sites, so here is a great spanking I had just watched again from the vast archives that is AmberSpanks.com – here she is initiating real life sub Anna into her world of girl on girl naughtiness and sexually charged spankings that I so enjoy viewing!
This session with Anna was hot for a number of reasons, the images you see above were only taken from the 1st 2 of 8 films they did together… for example there's a fantastic mutual butt slapping film and a great scene of Anna being spanked in the shower… members get to see this from the archives… and the good news is that you get access to ALL 3 of Amber's sites with one passcode. No extras and there is still a special Trial Offer giving full access all areas from under $5!
CLICK HERE TO VIEW MORE OF AMBER'S GREAT SITE & JOIN UP INFO

A blast from the past next as I dug out this old spanking classic from badtushy.com – something I'm sure not many of you will have known about, so check out what you can see from their archives too, this site is mainly geared to F/F spanking and punishments but every now and then, especially in the archives, you get some great male on female spankings, some rather naughty.. like this film which I loved as it has the football jock testing out who should be the head cheer girl… her initiation was rather different to what she had imagined… no simple blowjob for this girl, oh no, that would be too easy! She takes the test to see how much her ass can get spanked until it is a burning red (that blowjob can wait!)
See more of this film and check out the very latest HOT girl girl spankings HERE

One of the most recent movie updates (and possibly one of their finest) from Japanese spanking site CutieSpankee.com is a classic maid and mistress scenario… the beautiful submissive maid is giving a back and foot rub to the mistress of the house when she admits to her that she needs to be punished for breaking some plates. Well, this mistress needs no second asking as you'll see below in these amazing free previews (with unseen images you won't find from other free sources) including a special exclusive free trailer! This is a beautiful masterpiece of Japanese spanking erotica!
For the full movie & the very latest extensive tour pages – You can see much more HERE

Continuing the girl on girl theme, you will be happy to know there is a 2 part movie update at Spanking Sororitygirls which shows us further initiations dreamed up by the girls for the new pledges… however, someone has to try out their ideas! Images and the storyline to the 1st part of this film are below!
Roxy explains just how rushing will work: The pledges will get spanked and/or paddled for every infraction of the sorority rules. When Kat asks for a volunteer, Kat pinches Karina, who jumps up, essentially "volunteering." Roxy uses a laser pointer to demonstrate how big Karina's bottom is and where she will be getting spanked. Then Roxy spanks and paddles Karina who didn't expect this to be so painful!
…but when Veronica is caught laughing, she will find herself over Roxy's knee for a spanking too, followed by another hard paddling which members can see now and I shall update this very soon – see MORE of this latest film exclusive to Spanking Sorority Girls
Remember that in this network the Clare Fonda Pass now covers the above site and of course the next lifestyle domestic discipline update below which stars Clare Fonda giving a rather good OTK spanking punishment to Alex Reynolds… with use of the cane too!!!
Images and film courtesy of Girl Spanks Girl
Alex Reynolds is a life style sub with a nice, curvy bottom, who can take a hard spanking. Clare Fonda tests Alex's tolerance with a long series of mother/daughter spankings. She lectures young Alex, spanks her bare bottom for a number of reasons, and if you missed it, gave her a humiliating mouth soaping CLICK HERE – This was Clare's last long, traditional spanking shoot, though there is still one shot earlier that will be released after this instant classic.
See more of these films at GirlSpanksGirl.com
*****************
Or view these sites as part of the top value Clare Fonda Pass
***********************************************

At Spanked-in-Uniform.com I have a treat for you as it covers parts 1 and 2 of the schoolgirl section where catherine and Nicky are caught playing truant from school. It's a "schpaaanking" spectacular as both girls get a thrashing downstairs in their unfirms then in the most holy of holies, their bedroom – such shame and humiliation… it's highly addictive viewing!
Images and full storyline from Part 1 (below)
Nicky and Catherine decided to play truant. They gave the Headmaster two fake doctor's notes and stayed home. He obviously noticed the fake signatures so after school, he paid them a visit at home. After a good scolding both naughty girls went across his knee for a sound spanking. After the spankings the Headmaster told them that he would pick them up the next day at 7:30 and they better be ready! Will they?
Um… I think not as you'll learn from the images and full storyline (below) of Part 2
At 7:30 the headmaster arrived at the house but of course the girls weren't ready! He asked Nicky's mum for a good slipper and he went upstairs. After a scolding both girls were ordered to put on their ties, and each had to lay over the bed for a sound slippering. The HUGE slipper made their schoolgirls bottoms very red and stinging. Then he drove them to school.
Click HERE to view the entire uniform spanking archives

& finally today, a brand new spanking movie from English-Spankers.com that stars Pandora Blake in a dominant role (at least in this part of the film!) and the delightful Jenna Jay who is one of the naughtiest answerer-backers in the biz… which of course gets her into all leaps of trouble!!!
When Jenna makes a mistake at the office her junior manager Pandora threatens to report her to Katie Didit, the boss of the company. Jenna, being new and a bit unsure does not want this and so when Pandora offers to spank her bare bottom instead she agrees. She is placed over Pandora's knee and spanked at first on her panties, these soon come down and she gets a real hard whacking on her bare bottom turning it a bright red. Despite her obvious pain the spanking continues till Katie unexpectedly returns to the office…
Click HERE to see a free HD movie preview of this latest film

*********************************************************
I hope you enjoyed my little Jubilee spanking mix… I will be back tomorrow with the full inside goss and review on the very latest release at AAA Spanking which stars Leia Ann Woods over paul's knee getting a rther well deserved thrashing!
!!! 1 MORE DAY TO WAIT !!!
"You spent WHAT on my credit card?"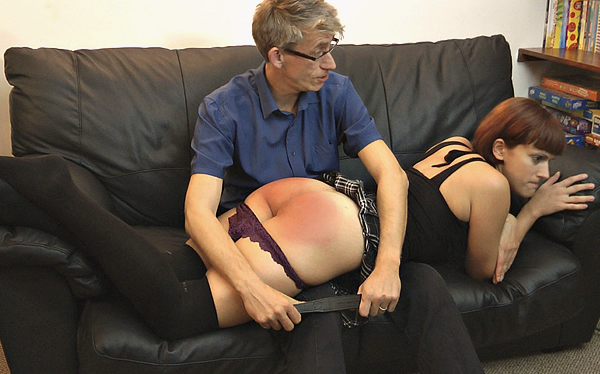 *******************************************************
JULY – Holiday Spankings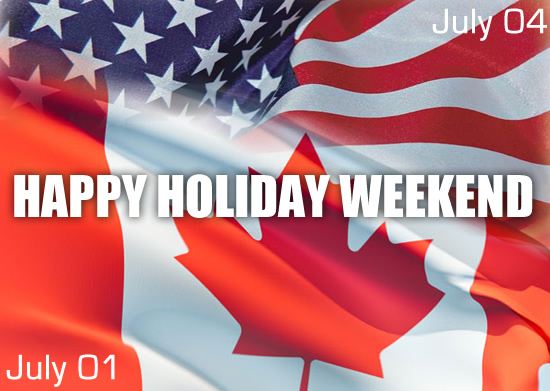 Well, I might be a little premature with July 4 but to my considerable Canadian readership… I hope your weekend is going well and that you are all having a ball outside in the fine summer weather! & to celebrate that I have found some North American updates for you all today, past and present, so I hope you like what you see. Happy Holidays!
The great outdoors, I have never featured this film, but I love it just for the fact that Chelsea took Pixie all that way for a good hard spanking! Awesome views too… the film was called "Pixie's Peak Experience" courtesy of the Good Spanking Network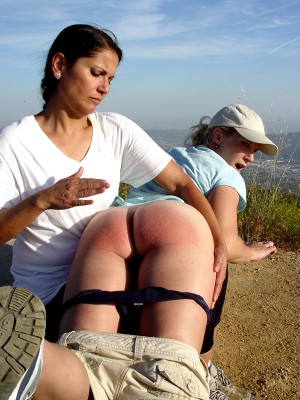 See the full movie of Pixie's spanking HERE
**************************************************
A new film at Spanking Sority Girls next as senior sister, (blonde stunning) Sarah Gregory catches out new pledge Christy… thinking she's avoided those nasty hazing rituals… WRONG!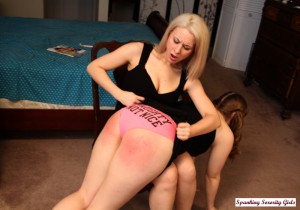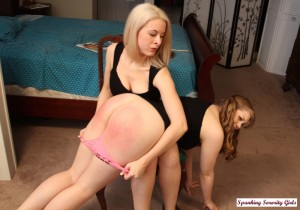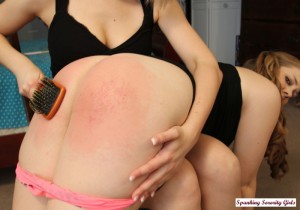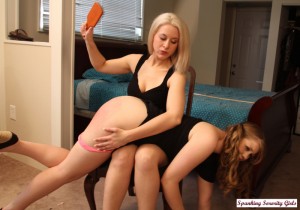 When Christy arrives to the sorority house later than the other girls, the troubled school girl believes that she has missed any hazing activities. But senior sister Sarah Gregory shows up to her room to give Christy a personal demonstration as to what she can expect in her pledge year. She spanks Christy over her knee with hand and hairbrush, long and hard. Then she finished her off with several strokes with the cane. It is a rude wecloming to the sorority for the pledge who likes to fight.
See more of this latest movie and the other features from the new & unique SpankingSoritygirls.com
***************************
The spanking soap opera that is My Spanking Room Mate continues with this whacky episode based on a true event and stars some of my fave girls like Lilia Spinoza (who still hasn't finished my interview request, hmm!), Missy Rhodes (schwiiing!) and both girls over the capable lap and hands of beautiful Mary Jane!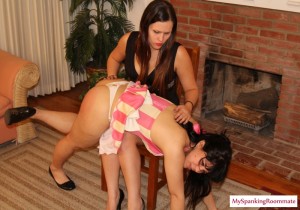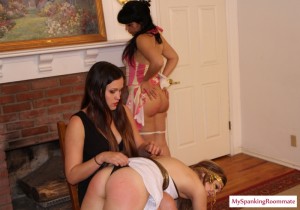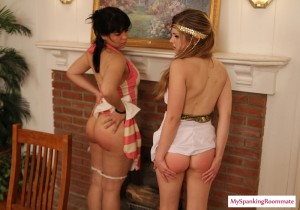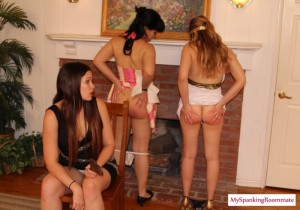 Missy was late for her shoot in real life – which she never is, and she wanted to work that into a spanking scene. So the main reason she gets spanked in this episode is for making Mary Jane late for a photo shoot. Missy said that Mary Jane spanks so hard she never wanted to be late for anything ever again.
Check out all 111 episodes now showing at My Spanking Room Mate!
******************************
& finally from this network today, this is why I love this site so much when real naughty films like this get made. I am not ashamed to say I really "got off" watching what is out so far… there is a complete series photo set out (in much larger size than the images you see here) and I can't wait for the revenge… what am I waffling on about? Check out the images and story so far (below) – then see what is in store – I CAN'T WAIT!
Images and latest film taken from Spankedcallgirls.com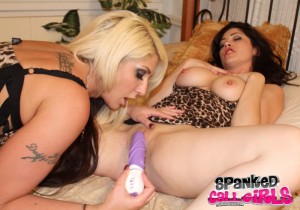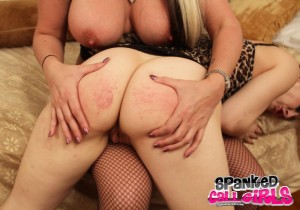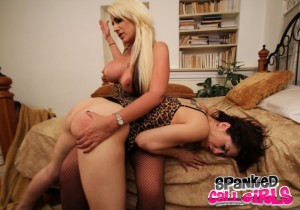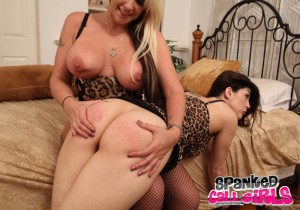 Kay Richards visits a client and is surprised to discover that it is a lady (Kelli Staxxx). Kay begins making out with Kelli, but keeps checking her phone and texting and even takes a call. Kelli has had enough and spanks Kay hard for this. But then Kay finds out that Kelli was hired by new callgirl madame, Snow Mercy, to spy on Kay! This is where it all changes as we will then see kay turn the tables on Kelli… and why not? Kelli has THE most amazing bubble butt as you'll see from these teaser pics below! members will be able to see this whole film HERE!
Kelli's big bouncy bottom is addictive viewing – FACT!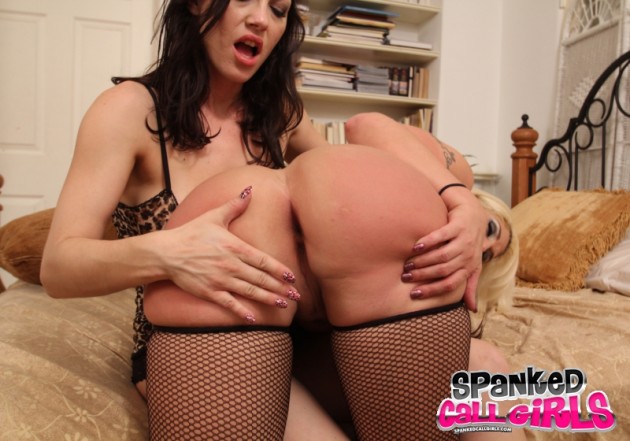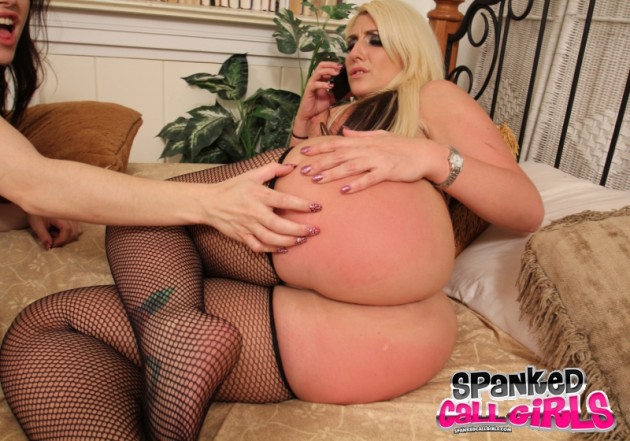 All of the sites in this group (Sorority, Roomie and Callgirls) can be viewed as part of the Clare Fonda Pass
See the amazing price reduction on accessing up to 5 sites of your choice from this network!
****************************************
I end today with some fantastic recent new films now available to view in full from Punishedbrats.com
David and Pixie have been busy getting us some fine rump roasting action and the new girls Piper and Tara are welcome additions to the brats we have seen tamed and tanned previously!
New girl Piper continues to impress me in this film called "Taking a Dive"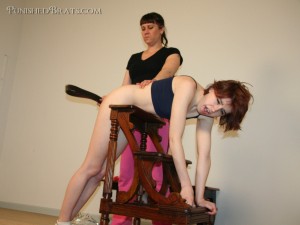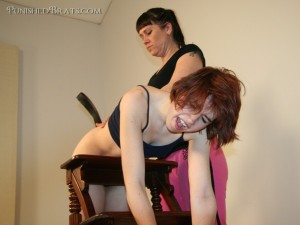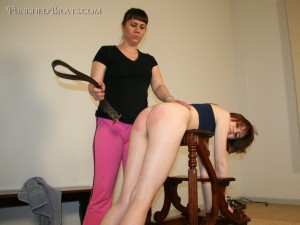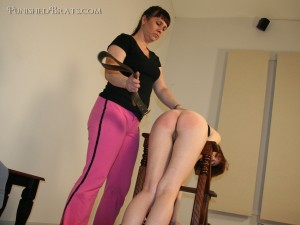 Piper is undressing and about to head to the showers when Coach Veronica stops her in her tracks. Coach is not at all pleased with the girl's complete lack of effort on the courts and bends her over for a strapping with the belt before allowing her to continue on to the showers.
See a FREE Movie Preview of Piper's punishment HERE
Also check out bratty schoolgirl "Tara" from the complete film, "Can you hear me?"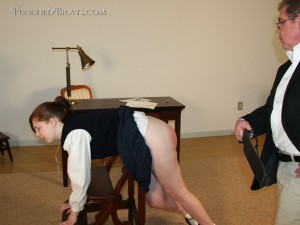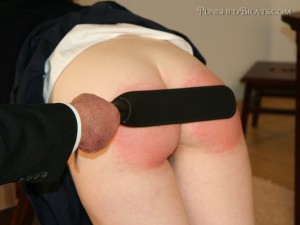 Check out MORE of Tara now showing at Punishedbrats.com
Tara is once again sent to Mr. Pierson's office. This time her teacher suspects she has a cell phone on her in class which is not allowed. Of course Tara denies this vehemently, but it's obvious she is lying when her phone begins to ring in the middle of her argument. She has to surrender her phone and take her punishment with the school strap. With a tear streaked face and a red strapped bottom, Tara is made to kneel on the wooden steps to conclude her punishment!
STOP PRESS! David has informed me of a stunning new addition that members will be seeing shortly, she is called Marissa and took her very first spanking on film despite things like Veronica's high fever and a possible film shoot postponement wrecking havoc with the best of laid plans! Fortunately, David had the hard task of tanning Marissa's bum and this tearful girl took quite a thrashing… which I am sure is going to be a surefire hit with members and newcomers to Punishedbrats.com alike!
Some preview images of Melissa (below)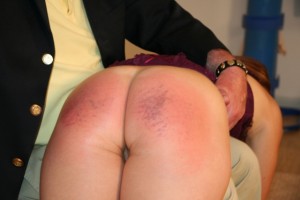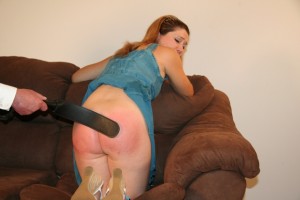 See MORE of new girl Marissa COMING SOON!
have a good holiday season everyone!
*********************************************************************
AUGUST – Spanking Wood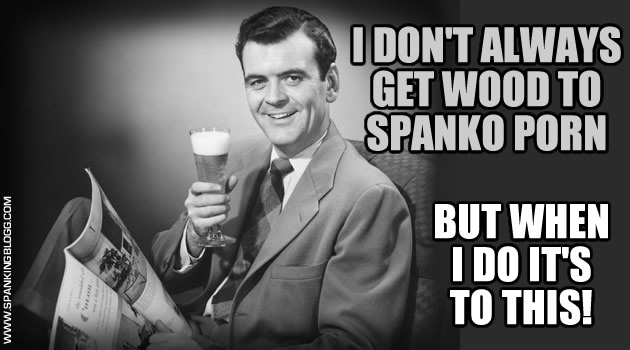 Kami Robertson stars in a unique film "Race Cheat" with Kami punished as a naughty girl guide! I've mentioned this film before at one of my other blogs but as there is also a NEW film with a great long play story arc coming out at the main site tomorrow, I thought you might also want to be reminded of this little nugget first as it's the only place you can see it (it's not at the main site) – Please do read on for more info, Kami fans… then I will show you what's coming over the next month or so!
The above images are taken from a unique girl guide spanking and paddling film of Kami Robertson,. who I have to say made the MOST adorable girl guide I have ever spanked, as you will see… absolutely stunning… and she took quite a pasting too, especially in the scenes you see here with the dreaded bathbrush! I loved this story too, a bonus of working with Kami is that she insists on working on a decent storyline and this was a good one. This film is still not available at my main membership site, it is only available at the specialist CLIPS STORE – I still have no plans to release this anytime soon so if you want to see this or any of the scenes, do go check it out as it is a cracker!
You can view it at SpankingLibrary (the bathbrush scene shown here with a decent free preview) I would have uploaded the rest at this site too but it is painfully slow and not always successful to upload to them (downloads as a customer are fine, by the way! (but I have NO patience which is why there aren't many films there… nothing more frustrating than trying to upload and the connection times out their end) but it is good value as I can set the price rather than it usually being fixed at a clips store at approx $1 a minute and I have started to shorten some clips there to make that more viable and cost effective for those on a tighter budget! CLICK HERE
Or you can view the FULL film and/or clips from this special inique film at the CLIPS Store
CLICK HERE to find the exact location of this Kami Girl Guide Film
*************************************************
There is also a new Kami Robertson film coming out tomorrow at AAA Spanking
This will be going up tomorrow (Wednesday) and co stars Harold Jackson who employs Kami as his live in maid and he exploits her submissive nature by demanding ritualistic punishments for her poor work which he finds fault with at all times of the day. It's a dark film, with an equally eerie lighting to capture this mood. Kami's skivvy maid outfit is perfect and what she has to endure in the build up for the concluding film where she presents a birch and is punished mercilessly in between intimate caresses that no employer in the outside world would dare cross… but it's an enclosed place, a private place of Kami's submissive world – a daring spanking film noir as you will soon discover when both these films come out over the next few weeks!
CLICK HERE TO VIEW MORE FROM AAASPANKING
& coming soon, the second of this maid series with Kami's naked birching!
THIS IS NOT TO BE MISSED!
This week is also your last chance to get the long tern Loyalty membership working out at just $8.50 a month!
Seriously… Once this is gone, I doubt I'm bringing it back, not even for Xmas! So be warned!
Check out our most competitive pricing structure HERE
 *****************************************
OK, back soon with more updates.
Check out my other blogs, I intend to update these far more from now on… so check em out!
******************************************************************************
SEPTEMBER – schoolgirl spankings
As promised, here is my theme for the day on this blog… what a surprise! Schoolgirl spankings? It's a good excuse to catch up on some great spankings shown recently at the various sites below which you may have missed elsewhere. So let's kick off this bumper visual feast with a trip to Spanked-in-Uniform.com where I had seriously neglected the most recent schoolgirl updates from the St Catherine's section on his great site!
One of my bugbears – girls not able to tie properly – is investigated (below)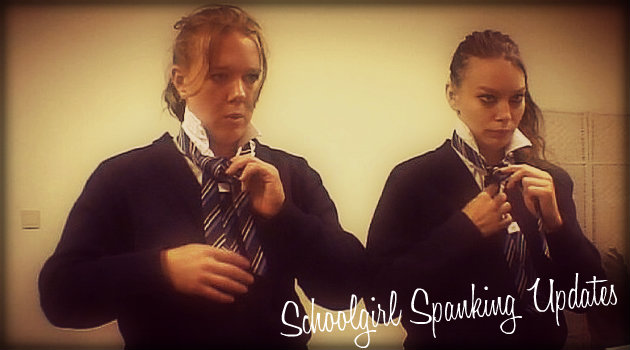 After spending time in the corner, the headmaster showed them how to tie a schooltie properly. They had never done it before as their mothers did it for them. It took a few sound leather paddlings and hand spankings to motivate them but finally the girls left with their schoolties tied properly and looking like proper neat St. Catherine's girls!
The next film update is a popular schoolgirl theme – Bullies!
Junior girl, Rochelle, went to the Headmaster and told him she was bullied out of her lunch money and the Headmaster soon figured out that the bullies were two senior girls, Betty and Julie. He found them during recess and marched them straight to his office. After a strict scolding, he put them over his knee and gave them both a long hard bare bottom spanking followed by some lengthy, humiliating cornertime. Bullies were NOT tolerated at St Catherines school!
& finally (for now) the latest schoolgirl themed update out now to download in full…
The yearly athletic meet between a rival school and St Catherines had just finished and the other school  had won by a small margin. That was due to 2 girls slacking around and not doing their best. They were both told to report to the Headmaster after the track meet.  Following a long stern lecture both girls went over his knee and the Headmaster used a hard nasty rubber gym shoe on their bottoms and both were near to tears by the time he had finished with them!
For more schoolgirl type spankings – check out the tour pages HERE
*********************************************
There's a full schoolgirl fantasy spanking film now available to download with their usual excellent photo images at Northern Spanking featuring the adorable Aleesha Fox in a pristine schoolgirl uniform. This is primarily based on a grown up theme of a partner playing a schoolgirl and letting the lucky fella live out his spanking fantasies… I wonder if Paul "insisted" on doing this? Gives me some perverse ideas for a forthcoming filmshoot! (oh wait, I have already filmed stuff like this too…. heh heh!) Anyway… I (naturally) loved this film so please do check out some choice images from it (below)
Download this great HD film from the good people of Northern Spanking
****************************************************
Not to be outdone, at Spanking Sarah this week there is a superb schoolgirl dorm strapping and caning film with the beautiful and very flexible Kiki Devine as you'll see below… don't forget to check out the amazing free preview at the end of this info update!
Kiki thinks she is alone as she spanks and plays with herself on webcam for her boyfriend. BUT, teacher Sarah returns and catches her and is determined to teach her a real lesson. Naked she is first of all paddled and then made to stand and bend over whilst Sarah delivers a full force caning to her bare bottom. Poor Kiki takes a real hard caning, no mercy shown here
See much more of Kiki's punishment by the predatory Sarah in this free preview HERE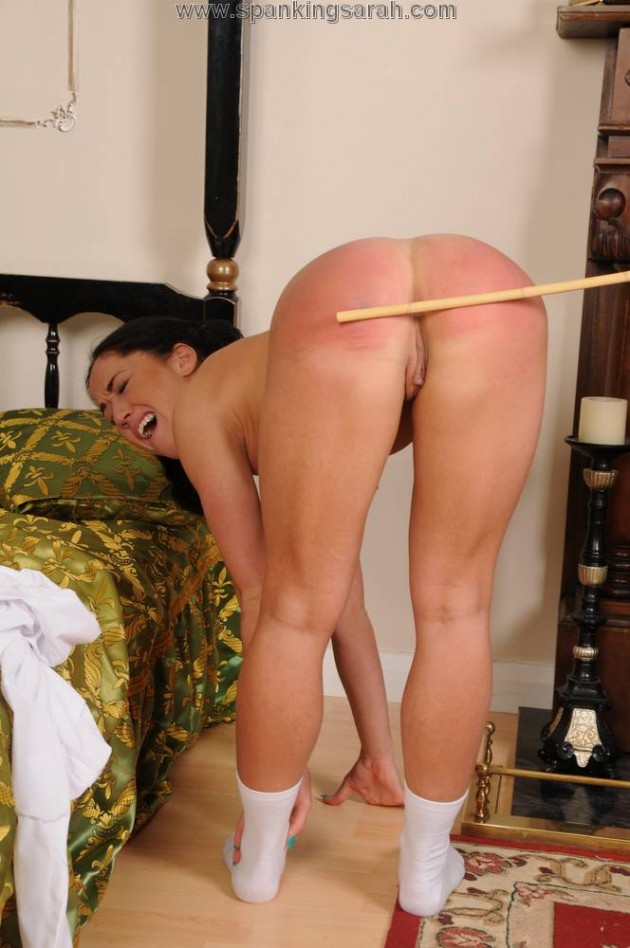 ****************************************************
& finally (for now) a short sharp trip to the Reform Institute of the Headmaster's wicked world at Spanked Coeds – this is a particularly devastating bathtime punishment that has some powerful breath play as Clarice is made to run the water in the bathtub (not the cleanest tub by the way… which would add to the whole uncomfortable-ness of what was to come, in my opinion) and that was her head being held under the water several times until she got the message… and that was AFTER the horrible wooden ruler thrashing she got across her already very sore bottom!
OK, that's it… but there are more punishments with Clarice and also with a great new girl to this site called Mila which you can find out more about at this link shown below
************************************************
& in case you like to see various bathroom themed spankings (I know I do) then *surprise surprise* my very next film is a rare treat… as it co stars Leia Ann Woods AND the retired (but not forgotten) Irelynn Logeen… fans of both girls are in for a delightful treat! Oh… and the bathtub was very clean 🙂
*************************************************
& it goes without saying that I offer my heartfelt congratulations to Hywel & Amelia on their recent Nuptials
Congratulations from me to you both, you make a great couple!!! (click image for her blog post)
**********************************************************************
OCTOBER – Cheerleader Jessica Jensen
Sorry I have not been here sooner, I had to rely on my new smartphone to catch up with mails and such as my home broadband connection had been playing up, it's taken days and been really infuriating. It seems to be back to normal (well, it's not great as I still have to rely on copper wiring rather than fiber optics and the upload speeds are crap, basically). I first ensured that the concluding part to the Aleesha Fox and Zoe Page film was uploaded earlier today – eventually – then I think I have just about confirmed my next new spanking model who I shall be filming with next week at a new location, which I am quite excited about. Another real girl next door type who is just 21… sounds promising! You'll all be the 1st to know about that, of course… & in the meantime, I have an awesome new film coming out this week at AAA Spanking starring 2 cheer girls and me (aren't I lucky?)
Jessica Jensen, who I am proud to say was first properly showcased at AAA Spanking stars in a really tearful movie called "Cheerleader Mayhem" as she got a double whammy punishment off Zoe, a rival cheergirl… then me. When those lucky enough to see this view the full film, you will see her real tears and fantastic reactions… not to mention that fine sexy red ass of hers in that lovely outfit! & of course there's a great bonus of Zoe in her cheer girl outfit too scrapping with Jessica! I'm really excited to be showing you this film as it was one of the highlights of the day when I worked with them both… I hope that the images taken from the movie below give you a good idea of what members can expect… and of course, if you can't wait until Wednesday… those that only want to download the odd film can download the HD-WMV version immediately at the Clips Store – more on that later 🙂
Images taken directly from the film "Cheerleader Mayhem"
For more info on how to view this film as a member – Click HERE
There will also be an additional update of HQ pictures of the girls in their cheer costumes for members too!
****************************************
As I mentioned earlier… You can also see this stunning film IN FULL right now as a special one off download and that's at our Clips Store – just click the image below of Jessica in trouble and you will be able to view this film in WMV-HD playback 🙂
FOR THE FULL LIST OF FILMS – CLICK HERE
*********************************************
I will be back with my updates of the week very soon, now that I know I have an internet connection again! Take care… and apologies in advance for not getting back here and at my other blogs sooner! Regards, Chief.
***************************************************************************
NOVEMBER – To boldly spank…
OK, as some of you might know, I am a massive geek and love all things Sci-Fi – and especially the Star Trek franchise so I was really excited to see one of Mike's latest uniform additions at Spanked-in-Uniform.com which is loosely based Starfleet's finest of the Federation… However, this is NOT Starfleet in the future… but Earth Fleet (after all, the Dutch are now in Outer Space… in another alternative timeline, or something equally impossible and contradictory, lol!) Anyway… who can resist seeing girls getting spanked in those skimpy Earth Fleet uniforms? Let's beam up to the Disciplinary Ship Genesis… a place where no Earth Fleet cadets want to end up for long! Unless they are quadrupeds that don't need to sit down (OK, I'll shut up, I'm geeking you all out!!!)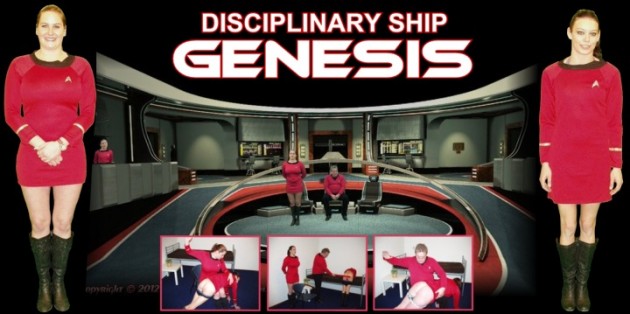 This is what the website says about the new series!
It is the year 2364 and Earth Fleet Command has decided that all females serving in Earth Fleet that have discipline problems, serve some time on the Disciplinary Ship Genesis. Commanding Genesis is the very strict Captain Rogers who runs his ship with an iron hand. Join us on her missions and see ensigns, Earth Fleet cadets and officers get rid of their discipline issues by means of well spanked red sore bottoms! To boldly spank where no man has spanked before!
In part one from the pilot episode we see Captain Rogers arrive on the Genesis while she is in spacedock. Lieutenant Betty & ensign Monique greet him at the airlock but almost  immediately the Captain notices Monique's hair is not tied up according to Earth Fleet regulations. He informs Lieutenant Betty to take Monique to her quarters as soon as the ship enters warp and to spank her soundly for this dishonour. & then she will get spanked too for not noticing an ensign with her hair loose. As soon as the Genesis was heading for the Uhura system at Warp 6, both Betty & Monique were having their bottoms soundly spanked and they were then introduced to the Captain's dreaded "Punisher".
See more of the Captain's Spank Logs of this new series HERE
Also featuring at Spanked-in-Uniform.com this week… the stunning Leandra!
Back to something more down to Earth at Mike's 50's Diner…
In part two of Leandra's painful evaluation she first gets a sound birching for serving the wrong flavour milkshakes a few times. After the birching she got a sound OTK slippering for not knowing how to make a proper banana split and lastly she had to bend over for a sound bare bottom strapping for being rude to a customer. She left with a very sore bottom!
Take a taster for yourself of the delicious Leandra's punishment – Full movie is Here
***********************************************************************
DECEMBER – Miss Bum Bum!
Yes, I know you're all dying to know about this… the winner of Miss Bum Bum Brasil this year was beautiful Carine Felizardo with some obvious assets that made her a natural winner… check out the clip below for the news item… I don't think you'll really care if you speak Portuguese or not, you'll understand Butt-ese well enough! 🙂
Carine Felizardo, from the Brazilian state of Para, has won the Miss Bumbum Brazil 2012 pageant in Sao Paulo.
Carine stated… "I'm very happy with the victory. I was confident because I know I'm in my best shape right now, I expect much change for the better from now on. Already I'm very happy with everything that happened… but I will invest even more in my modelling career."
The 25-year-old, who received R$5,000 (approximately £1,460 or $2,330) in prize money, has reportedly accepted an invitation to pose nude for the cover of Sexy magazine's January 2013 issue. Asked what makes a woman sexy, she said… "Women have to love yourself."
In the Grand Final, Felizardo vied with 14 other contestants to be judged the owner of the country's best bottom. The contest comprised an elimination round that featured representatives from all of the country's 26 states and the federal district of Brasilia. The contestants' preparation for the competition included surfing lessons and jungle training. Graciela Murano, a Brazilian writer, was quoted as saying that her country had a "thing with butts" and also that the word "bumbum" was a commonly used term in the South American country. Murano also said that while most people knew of the competition, they pretend they're not interested.
"Every woman has read about it and won't admit it and every man's dream is to be a part of the judging team."
Below are some images from the Miss Bumbum Brazil 2012 pageant in Sao Paulo…
with Carine Felizardo as the winner! Enjoy!
So, Miss Carine Felizardo, can you show the Chief why you deserved to win the "Bumbum" contest and let us see your oh so spankable bubble butt?
Warning, Images below are of a very spankable nature!!!
"Thank you, Carine!"
********************************************
Back with my susual updates in the spanking biz later… if you can't wait, please do go check out my image laden movie review of a classic long play sex and spanking film starring the amazing  Paris Kennedy at this link HERE
**************************************************************************
& that is it *phew* for another year, I hope you had a great time reminiscing over what I had posted this past year…. here's to plenty more in 2013! Have a great start to the year! Chief. xx