Money, I have been to my accountant today and am nervously awaiting how much I owe the tax man… I have to be quick as the deadline for payment is by the end of the month. From my initial meetings, I think it will be more than I had bargained for… oh well, that will mean one less film shoot, which is damned annoying, but I live in hope and will see exactly how much it is I owe late tomorrow (then I gotta find a way to pay it off…)
You see, I have been utterly useless this past tax year for 2011/12, I'm normally quite good filing things away, but this past year so many receipts went missing, which means less to claim back, it's damned annoying and I have only myself to blame… just as the Thompson sisters do in today's short, but excellent feature I have for you courtesy of Firm Hand Spanking
Check out these awesome images of the ongoing series of the Thompson sisters long and painful rehabilitation on how to repay debt on their credit cards they abused when their rich daddy gave them some financial responsibility, they ignored that and spent and maxed out the cards in no time. The girls owe THOUSANDS between them… yet this latest butt blistering spanking (the site claims 700 spanking swats, I haven't counted, but it could well be!) only knocked off $400 on what Carina owed… ouch, a painful lesson indeed. Fortunately, Carina Thompson has one of the sexiest most spankable butts around, and like her sister , Beth, these girls are really not liking their spankings at all, which I find all the more enjoyable to watch as Patrick Bateman… the family lawyer employed to administer the swat reduction task… does a fine job indeed! Check out these images below and see for yourself!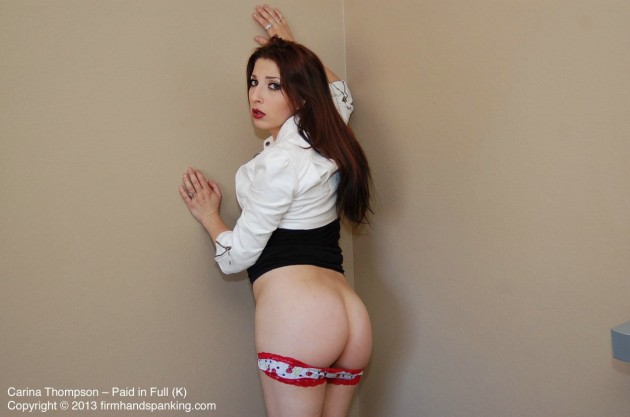 Check out a free clip of Carina's punishment and the entire "Paid in Full" series – Click HERE
*******************************************
Before I go a couple of plugs for another blog I am updating with some great Girl/Girl spanking content
CLICK HERE for the Teen Discipline Spanking blog
Also I have become somewhat addicted to uploading and reblogging pics on my Tumblr page recently
I'm not sure if it's a good thing or not, I reached my upload limit today (lol) so check it out, I update this DAILY and it features spankings, gifs, clips and images I personally like from beautiful ass/butt shots to more naughty vanilla porn images and redheads too incl. girls with some nice lady gardens and great running water features (heh!). Since I have finally bothered to update the blog there, followers have started coming in, last week I had about 10 which was pretty miserable, I have considerably more now and that fuels my addiction 🙂
Check out the Spanking Blogg Tumblr blog HERE
********************************************
Clips Store  Announcements
There's a special early free preview of Jasmine & Sophie getting an OTK spanking, this film will be available on the main site late next month or early March but I shall be uploading the second clip and full film tomorrow, Jasmine's OTK film is up and she looks f*cking HAWT! See for yourself below 🙂

I have also started the Brazilian spanking series as individual films at another clip store I own although you can see this as a 4 film pack at NaughtyBottom.com (and this pack also contains oodles of fantastic exclusive images) – however, if you just want to download one film (or 2 etc) and trust and know the Clips Store format, then I understand and am making these available at the Naughty Bottom Clip Store – the 1st is an excellent OTK spanking film of 3 girls who didn't know what to expect.
Click image below for a direct link and there's a free reminder clip there too!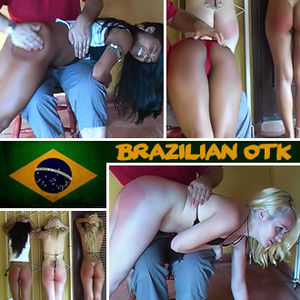 ******************************************
Back later with news on my latest new film at AAA Spanking starring Amelia Jane Rutherford and Molly Malone
"Don't miss that one!" – cheers, Chief. x