I sometimes re read my old posts on any of my blogs… looking for inspiration or something to base an update on… I had forgotten just how damn fine Raquel dressed in a cheer girl costume was who mainly starred at the following site below, I had to copy that post from ne of my other blogs and show you guys first before continuing with my updates. Oh my… what a lovely blast from the past, I do hope you enjoy the sight of her getting spanked by the equally lovely Mrs Burns!
********************************************
Ok, and onto the cheer girl spankings as promised! This is an awesome classic I just wanted to let you all be aware of and it's exclusive to REALSPANKINGS.com
Wow! this is just a taster, as you get to see another angle of this paddle punishment as well as much harder and longer spankings across her bared bottom and you will catch some beautiful expressions from a girl I hadn't really noticed until I started scrolling through the cheergirl spankings and she just popped out! Literally, with her perky tits and cute butt and that naughty expression on her face, she's the whole teen minx deal! So, I have downloaded a shed load of Raquel's spankings and am… ahem… perusing her excellent stuff without the hinderance of any trousered clothing below… LOL! (Ha! take that, Trouser Arousal Alerts – ™ Chief)
Fortunately there is some excellent image stills that always accompanies the movies and this captures Raquel and Mrs Burns (who I still have a massive crush on ever since I saw her getting spanked and fucked hard on many an occasion… but that is another story). Please do enjoy… I know I certainly am!
See more cheergirls and all of Raquel's movies at Realspankings.com
*******************************
Cheerleader Bailey Sullivan is paddled by Miss Baker…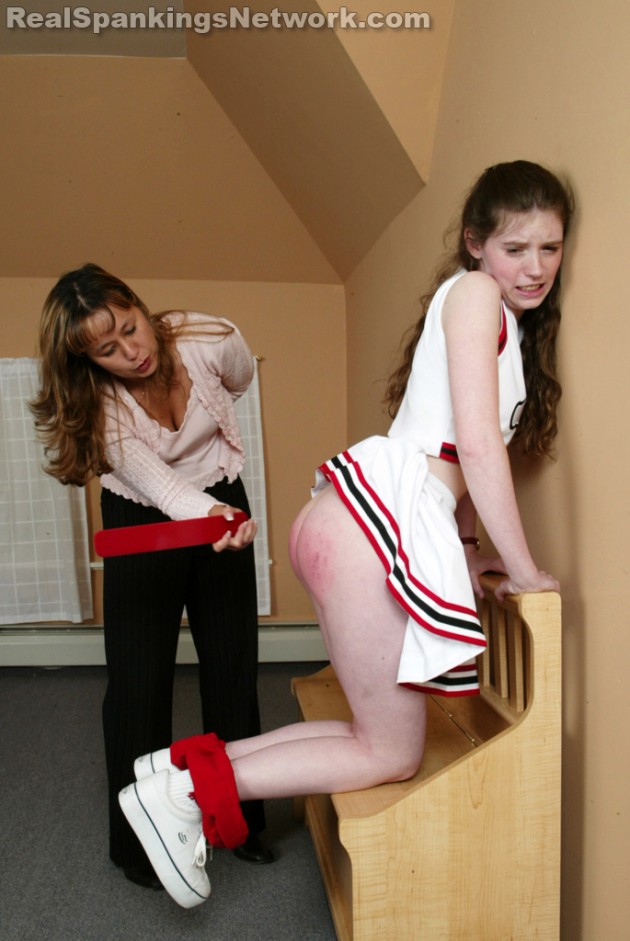 While I'm with the same group of sites, one girl is VASTLY under rated and there's a whole mini subsection, where if you join her site  (in this case) SpankingBailey.com – you also get access to Teen Brandi and the Teen Jessica franchises too! You can't go wrong with this option, and as I give you something special a schoolgirl struggle between Bailey and Mr Daniels… this is only part of the possibilities of becoming a member of these sites gives you!
This may have been from a few years back but go see for yourself, check out the latest images and movies that are advertised, remember what you saw here and imagine what you'll be getting now! & if you have the time and inclination to view a whole network run by Mr M (and it's bloody good!) then the vast Real Spankings Pass is the one to get and will save you a fortune if you want to download 100's of Gigs of data to your shiny new external spanking library hard drives that Santa may have brought recently down your chimneys!
RealSpankings and Spanking Bailey are part of this network featured below:

**********************************************
OK, later on at my site this week comes a new film from beautiful and cruel Zoe Page as a lecherous girl guide who picks on her fellow guider, who I have just discovered from Sarah's fine news blog HERE is the best new UK spankee winner, Jessica Jensen. (My blog and website also got a few notable mentions so that made me happy). Anyway, I am fortunate to have filmed so many movies with this lovely girl and this latest one is quirky and rather naughty as you'll discover as I give you the inside gossip on this movie before it goes live this Wednesday at AAA Spanking
God knows if this ever happened in real life and I came across a pair of girls dressed and acting like this!
This is why I love making such fantasy films, I hope you enjoy this one too!
The movie will come with 200 (yup, 200 video images) as well as an impressive  high resolution stills set and it is approx 20 minutes long (from memory). Some sample images from both in full size are available (above) and below before anyone else! I will also make this film available at some point for those that only want to download the odd movie at my Clips Store, and for those that wanted to know, the Kami PJ film is up in full and in parts for your convenience and choice and I'll advise you all when the Jessica Jensen movie is up there here on this blog.
Zoe Page was a hopeless girl guide, she never put in the effort with earning badges. Her latest task was to make a decent sandwich but she was totally clueless & asked her fellow guide, gorgeous Jessica Jensen (voted best new UK spankee), who she knew had a "thing" for her, to help out. However, when Jessica laughed at Zoe's attempts to make a sandwich the darker side of Miss Page appeared as she turned on a smirking Jessica & started to spank the bewildered girl. Jessica tried to please Zoe since she secretly wanted more from her domineering friend so she allowed her to spank, paddle & use a crop on her bare bottom leading to some naughty pussy play. Seeing Jessica masturbate her juicy minnie which turned Zoe on, but only to cause some more discomfort to poor Jessica for her own wicked amusement! See how a besotted impressionable young lady would try almost anything to please Zoe in this very naughty girl guide spanking fantasy adventure!
There will be a link to a free pussy spanking clip on Wednesday! Zoe at her pervy best, believe you me!
I have to admit, Jessica was a little un nerved at times by Zoe… which was something Zoe sensed and took advantage of but that was only to explore Jessica's limits as these set of films that so many of you have seen between the girls and myself were filmed before Jess had really done any proper spanking films which she admitted was helluva  different but worthwhile compared to her usual porn films she was used to making. However, she did really well and I'm sure we will get her back at some point this year as there are more films we've made yet to come and of course she is starting to appear at other spanking sites like Spanking Sarah and English-Spankers – and well done to Jessica for winning the best new spankee of the year award! I actually watched some of the movies we made together again and have to admit she looked pretty damned good on them at AAA Spanking so actually I am not surprised – and I actually feel rather pleased with myself (for once) for finding such a gorgeous spankee first (I'm not sure she will thank me, though… lol!)
See why for yourself here!
*************************************************
OK, that's it from me tonight… I shall be back very soon and with more news from other sites and some personal news about what I will be up to later this month! Have fun. Chief