Some real visual treats for you today! From some of the very latest films to a few that I have again recently watched and been impressed by (then realized I had never shared my view on them here!)
So where do I start? FirmHandSpanking.com always have some of the best visually pleasing spanking updates around! I mean in terms of the girls and the image sets they produce (now always around 24 images to compliment the short films) I didn't mention the lighting in the videos as I sometimes find this to be a little disappointing if the room is a little gloomy as they only ever use natural light… which can sometimes make the subjects look too cold, or the action scenes a little too dark. But who am I to lecture? I still love the site to bits otherwise I wouldn't be placing them at the top of today's post, would I?
I would just like to appeal to the owners to think about lighting sometimes… I can understand if we film girls at spanking parties in our hotel rooms and can't lug lighting on planes and such… and so we try to find an area that has a load of natural light to film with… for the most part, Firm hand does this perfectly… but in some cavernous halls the light gets too dark which is a shame… however, on deciated film shoots… Come on guys, your films and spankings are great… show them off at the best possible quality and let us gaze on the punishments without squinting at the screen, eh? (I'm really selling this site, aren't I? LOL!!!)
Am I a cynic to say that no lighting avoids the hassle of moving lights around on set, ideally you should have 3 sets of lights but most of us do with 2 as we often miss out the backlight of a standard "3 point lighting" and instead go for the option of 2 lights , the "Key light" and the "Fill light" to remove the harsher shadows. Anyway, the films at Firm hand are still good, I just feel lighting would help sometimes. But check out the images below, 3 stunning sets from some of their most recent films! #HAWT #HAWT #HAWT
Beth Thompson – the final part to the "Paid in Full" series (I really enjoyed the sisters getting thrashed!)
Beth Thompson has a new job, but Patrick Bateman's final punishment to settle her credit card debt elicits tears with a ping pong paddle. First on denim shorts, then panties and finally bare, she pays the price. Watch out for director Kat St James in an out-take!
Belinda Lawson – the latest film of her "School Detention" series
Hot blonde high school senior Belinda Lawson is in trouble for bringing no study materials to School Detention. Richard Anderson administers a hard, fast spanking. Skirt up, panties down, her buttocks quiver and redden under 180 fast smacks. Ouch!
Allaura Shane is given 44 whacks with the strap for borrowing Allison's clothes without permission!
I love seeing Allaura Shane getting punished, I personally hate seeing her being the top (she makes me angry and I just want to get in there and spank her myself…lol!) Anyway, be that as it may, she is a great bratty sub… getting EVERYTHING she deserves, and both she and Allison Miller have done many many films together that they can take it to levels where other tops and subs might be uncomfortable with if they have never worked together. To me, seeing Allison and Allaura together is like seeing bratty sisters spank each other – perfect!
Now that's selling the site again – I would LOVE to spank all these girls personally, I'd sell my soul (or very nearly) to do so… there, is that reason enough to join? heh heh
CLICK HERE TO SAVE THE CHIEF'S SOUL and check out the latest goings on at Firm Hand Spanking!
***************************************************
One such chap that does use lights and gets them right in his films is Dallas from Dallas Spanks Hard and I have the proof for you in some video screens from part of a series of films he made when Danielle Hunt (foolishly, lol) went and visited him on her last whistlestop USA tour. I did talk to Dani about her time in the US at my last filmshoot with her and she told me that her tough time at Dallas' shoot was as painful as the one she did with me so I fely quite honoured since this film looked rather nasty! Testing the levels she was capable of… maybe that skin butt padding that Dallas was talking about isn't coming back? See more below: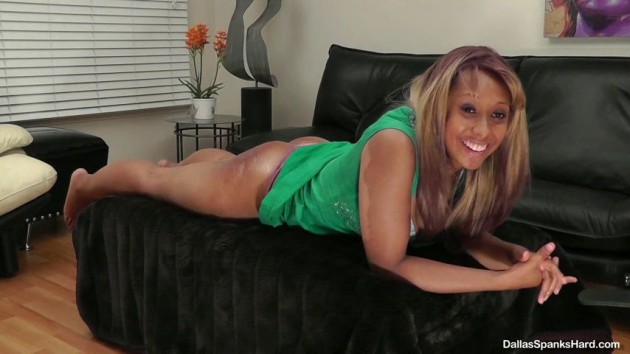 Dani turned up late for her shoot with Dallas, so imagine the punishment he had devised for her! Images below are from the scenes where her bottom is covered in the sticky vitamin K oil and stinging straps and implements are used across her wide bottom as her protective butt padding is worn away making the punishment hurt even more for her!
Check out more of the entire awesome Danielle Hunt punishment series HERE
********************************************************
Something I had in my archives was this amazing film, again the footage isn't the best we're used to nowadays but it is still highly viewable but it was filmed a while back, but as it stars Jessica and Brandi, 2 girls now long retired but content STILL comes out at their respective sites and there are also remastered movies replacing the old Real Media files from the past… join any of the sites and you get access to 4! One is primarily an archive site but choose any site below and you still get updates at Teen Jessica and Teen Brandi – hell, even lovely Bailey Sullivan, who is so cute, gets updates at her named site so the low members fee is still well worth it and for this alone I still proudly recommend you at least visit them and see for yourself!
Anyone remember this old classic? Spanking Twister – I love this game, I might just dust mine off and get the 2 new girls I have at my next filmshoot into some rather uncomfortable and very compromising positions dressed in not very much at all, heh heh! Til then, feast your eyes on this 4 girl fest!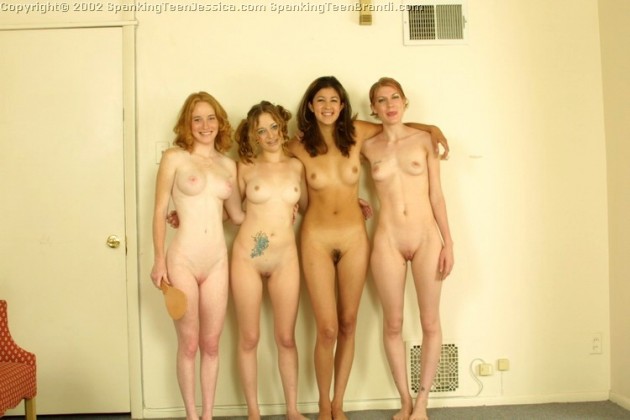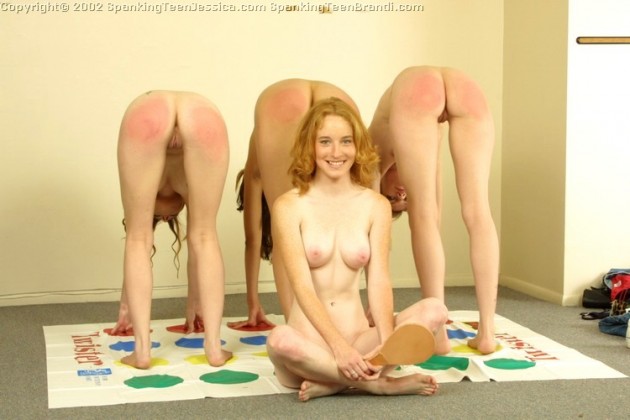 Join any of the sites (below) both the same price and you get access to the other sites FREE 🙂


***************************************************
Finally… a couple of wonderful films now available to members at Punishedbrats.com (still an amazing $17 per month!) and these 2 films star some of my fave PB characters!   Audrey is back, and getting spanked by manly Perth (last spanking Ten Amorette) and the double trouble and perfect pairing of Pi & Joelle Barros.
Celebrity personal trainer is at his wits end with his new PR rep Audrey. When she's caught texting instead of completing the assignments he's given her, he tosses her over his knee and gives her bottom a thorough spanking.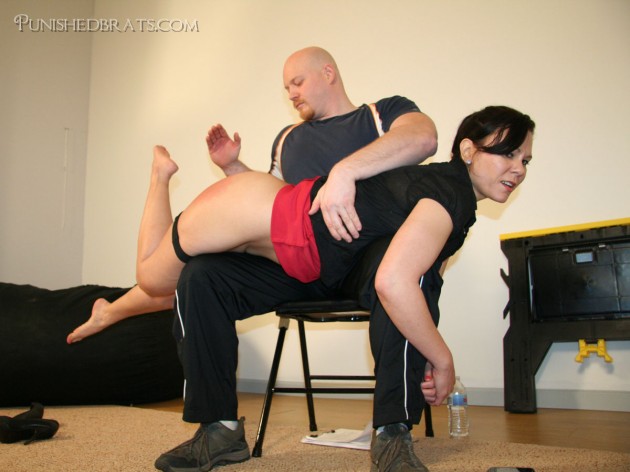 Perth is a well known fitness guru complete complete with his own line of As Seen On TV home exercise equipment. Audrey is his newly hired PR rep who seems to be doing everything in her power to sabotage him. Is she out to destroy his business or does she have something else in mind entirely?
There is a free clip of Audrey's punishment on the home page of Punishedbrats HERE
Check out my last offering today of Pi spanked over the lap of slinky Joelle #HAWT #HAWT #HAWT
Artistic Differences: Pi is going to think twice before voicing her opinion too strongly again after her punishment from Joelle.
Check out MORE of the girls anfd their punishments HERE
**********************************************************
OK, that's it… hope you enjoyed this eclectic mix of past and present spanking films… back soon 🙂
Enjoy this nice pic of a very naughty schoolgirl punished earlier by me (I wish!!!!!)