Edit: This post was started last night but my internet connection gave up on me so this is the 1st of 2 posts you will see today 🙂
(sorry about that!) … "Carry on!"
The weather here in the UK is unusually mild and spring like today, everyone I have seen has a big smile on their face, it's amazing what a glorious day's worth of sunshine can do… I love this country when the sky is blue, it's mild and it's not bloody raining or grey (which isn't often)… here are 2 contrasting images of my journey to work, first thing this morning as the sun rose… it was -2c (28f) with fog and mist but the sun was rising and burning this off… then on my way home I took a picture of my favourite copse by the roadside… the trees and the sky, the clouds all made this a perfect moment… sorry to bore you with this, but I wanted to share it anyway 🙂
OK, so with that feel good factor… here's some very sexy spanking updates of hot girls getting their bottoms whacked for our obvious viewing pleasure! Enjoy this spanking erotica from some of the best sites around on both sides of the Atlantic!
Adrienne black – spanked and strapped naked in the latest Highfliers series – c/o Firm Hand Spanking
Beautiful blonde Adrienne Black stands nervously naked in High Fliers, waiting to be punished for wearing just a towel on a plane! A 100-smack OTK spanking and 25 with a strap turn her buttocks crimson. See stunning Reaction Cam and slow-mo replays! Check out the full film including the OTK spanking, strapping and slo-mo replays from FirmhandSpanking.com
Check out a free video clip of her hand spanking naked over Kyle's lap (hot!)
For those who can not view the vid clip – click here for the WMV version

*********************************************************
English Spankers has an incredibly sexy young girl called Bow Jangles (I laugh everytime I see that made up name written down," lol"… see?) However, don't let her name put you off, she is a gorgeous girl next door type I LOVE seeing getting spanked… so it's bad news for Bow when Aunty Sarah happens to be living in the same house as a punishment across her bare backside is never far away!
Just when Bow thinks all her punishments are over she is overheard telling her friend that she did something naughty with Aunty Sarah's coffee. After a good slapping on her legs and her shorts she is ordered to undress completely and bend over in the chair for a real hard application of a thin whippy cane onto her bare bottom. She does not like this at all and the fight is soon whacked out of her as she endures a well marked and beaten bottom
Check out a really cool long play clip of this movie below!
For those unable to view Flash media – click this link HERE for the .wmv version 🙂

****************************************************************
From Northern Spanking comes a delightful and naughty schoolgirl spanking film that has a classroom FULL of the little madams who give the run around to prefect Zoe Page… then are brought into line by Music teacher Miss McLean… more is promised in this ongoing series as it also stars Stephen Lewis – hmmm, watch out girls! See some of the action below in some choice images, storyline and a free exclusive clip from the latest installment for members right now!
It is near to the end of term for Miss McLean's music class and the girls are still struggling to learn the song they started at the beginning of term. Prefect Zoe maintains an air of perfect, but will Miss McLean see through her? Will the other girls be cleared of bullying? Will the girls ever learn the song? And most importantly, will our ears survive the experience?
Check out a free clip of the excellent painful hand tawsing of Leia by Miss Maclean!
& for those who can not view the vid clip – click here for the WMV version
For the rest of this schoolgirl punishment movie – download it HERE
***************************************************
As promised, I will now be working on bringing you the full file and new film update at AAA Spanking starring Jenna Jay in an awesome ransom movie as a kidnapped rich daddy's girl… I'll elaborate more later today, Grumpy Cat (below) approves in his own unique way!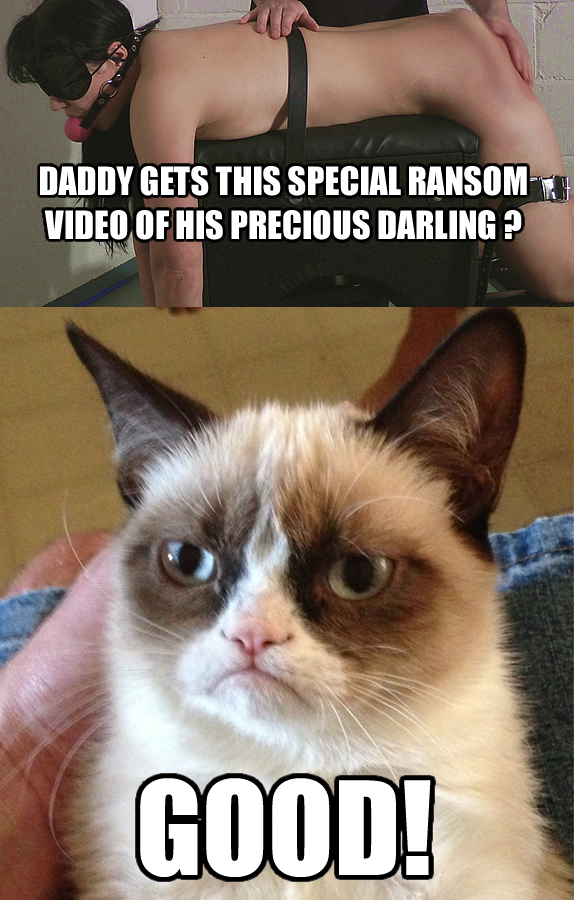 **************************************************
There's also news as I have just resurrected an old blog for F/M spankings and such, I couldn't bear to let this site go so have started to revamp it and will update it at least 3 times a week, the 1st new post is now up in over a year (oops!) – so for those that like this sort of thing click on the link below (and with some more sites to come soon!) I am going to be a busy boy!!!