Before I start today, this post was originally started on Saturday before I went away and got so horribly drunk most evenings, writing a post was the LAST thing on my mind! It's now Tuesday, so I better get my act together and get you a  post, most of this will now most prob be out of date (whoopsy!) 🙁
******************************************************************
(written Saturday afternoon) : I'm in a great mood! Hooray! Why is that, you ask? My useless football (soccer) team actually are starting to put some results together and actually beat our bitter rivals today! I shan't bore you with the details, some of you will remember who I support (we are crap, by the way) and it is to protect the useless scum that lost to us today… haw haw haw! "Thank you , Exeter!" (oops, sorry, *titter!*)
So let's investigate what is HAWT out there at the moment… and one of my fave spanking stars is out in anew spanking movie at Firm Hand Spanking, the very lovely and beautiful long legged 6 footer, Adrienne Black (oh my!) – "Schhhh-moking!"
Adrienne Black – in "High Fliers" as a naughty punished flight attendant!
Gorgeous flight attendant Adrienne Black hates dogs! The tall blonde is in trouble when a wealthy client tries to sue the company for losing her Chihuahua dogs at the airport. A spanking and 23-stroke strapping is the bottom-roasting penalty in High Fliers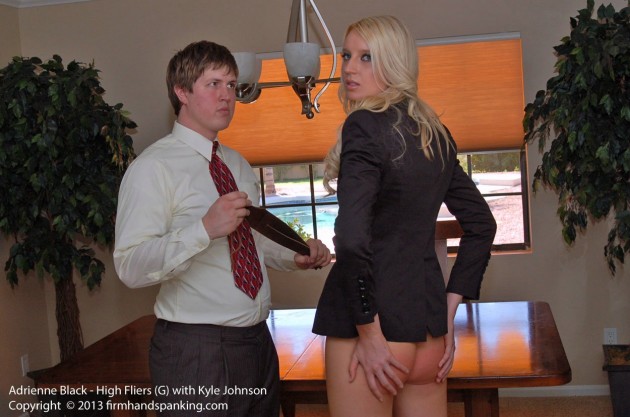 See ALL of leggy Adrienne's many spanking films exclusively from FirmhandSpanking.com
**************************************************
btw: Our team played again yesterday and put in their WORST performance of the season… so I am once again depressed over the useless pile of shite that pretends to represent my once proud football team! *sigh*
& on with the updates that I can find for you today!
This next one shows the full amazing film between Julie Simone (who is a real bitch spanking her girls!)~ and Gianna… who took one of the heaviest F/F hairbrush punishments I have seen… it's an awesome film – DO NOT MISS IT!
Ms. Simone finds cookies and racy magazines in Gianna's dorm room during a routine room inspection. Neither snacks nor inappropriate media are allowed in the girls' room. Gianna, still dressed in her PJs, is dragged into Ms. Simone's office for a hairbrush spanking. The heavy wooden hairbrush leaves Gianna's bottom sore and well marked. As if that weren't enough punishment, she's made to kneel in the corner and watch helplessly as Ms. Simone samples her cookies!
Behind the scenes goss: Julie spanked the living hell out of Gianna with that large hairbrush. The cookies in question in the story were Christmas Cookies sent by G's mother. David Pierson (webmaster at PB) admitted that Julie surprised them all, mostly Gianna… when she sat on her to quell her writhing. After the spanking he had Julie put little G in the corner. But what surprised them all most was when Julie ate Gianna's Christmas cookies! It was a moving scene and of course it got to be a part of the film!
Don't miss this amazing film and do your best to support sites like David's (and mine)
Times really are difficult and our sites are genuinely struggling at the moment!
CLICK HERE for the extensive tour pages of Punishedbrats.com
***************************************************
Another great F/F punishment coming up, this time from English-Spankers.com as Mr Stern's other half, Sarah Bright, takes this role quite seriously when she dishes out a 2nd punishment to a very upset and distraught , tearful Darcy Grey – I liked this film, I am sure you all will too!!!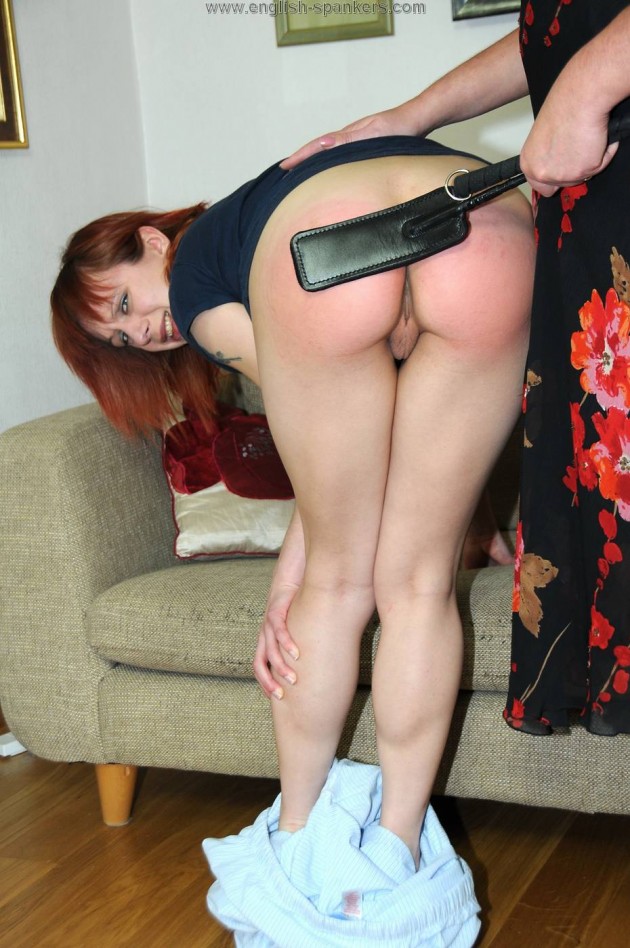 Darcy thought that the spanking she has just received was going to be the end of the matter concerning her immoral behaviour with some local lads but she reckoned without Aunt Sarah. Now after a good telling off, she has to bare all for a very hard and well applied beating with a nasty looking leather implement. This brings the required amount of contrition from this naughty young girl.
Be sure to check out the cracking free preview clip on the home pages HERE
*******************************************
Here's something a little different… I have always admired Lady Sonia, one of my favourite British Milfs… not only is she ever so kinky, she still has got when it comes to dominating, teasing, cuckolding (poor Charles her put upon husband) and of course she is one of the best at POV style films, talking to the camera and involving her audience (admittedly mainly men like me, lol!). She does such a good job of this that I'm not ashamed to say I'd love to have a chance with her, she is my Milftastic dream! But she does all this so well… she is a real cougar that hires fantastic looking tyounger men, often with huge cocks for her and her friends to milk, play upon and do whatever the hell she wants. Anyway, here's a recent update that has something else, she has worked with many spanking models, and the screen grabs in this nurse fetish film with the gorgeous Leia Ann Woods shows us just how versatile her site has always been…
and of course, I have also got you some of the real filth she so enjoys doing after that too… but you can see MORE of that at her site's fantastic tour pages HERE or click on the images below!!!
*******************************************************
& finally for today… a trip to Holland for some "schpaaankings" of some very naughty girls.
2 of the latest updates are shown below:
The 1st taken of Alex Reynolds spanking lovely Leandra in the Rockford School of Dance series!
Coach Johnson interviewed and hired Alex Reynolds as assistant coach. She said that she was a cheerleading expert and could show his team some competition winning routines. Coach Johnson also explained to her that she must not hesitate to spank any of the girls – as that was the way discipline was enforced at the Rockford School Of Dance. The very next day she had reason to put Leandra across her knee and soundly spank her!
See Leandra getting the "hand sch-paaanking" she deserved HERE
Nurses… what's there NOT to like about seeing them spanked in those oh so very sexy uniforms? Check out the latest film starring Aleesha Fox and Danielle Hunt (below)
Nurse Aleesha forgot to feed one of the most difficult patients Mrs. Johnson – so nurse Danielle scolded her for it. Instead of reporting it to Dr. Johnson, she decided to spank Aleesha with her hand and shoe. Dr. Johnson caught them and Aleesha was soundly birched on her bare bottom for forgetting to feed Mrs. Johnson and Danielle then got a harder spanking with her own shoe and caned for daring to take matters into her own hands!
Don't miss all the naughty girls getting their sound spankings – check out the extensive tour pages HERE
*************************************************************
Finally for today, just some update news on some clips and unseen footage
Where you can go download right now at my Clips Store!

The infamous Wheelbarrow spankings take pride of place at the moment with both Joelle Barros and Carissa Montgomery (sch-wiing sch-wiing!) assuming the intimate and embarrassing position… as well as full feature updates of the recent movies like the popular "Naughty Mr Bear" and "Ashley's wriggling OTK". Something for everyone that only like to download the odd clip every now and then! (click images below to take you to the download and review pages)
************************************
& Coming this week to AAA Spanking! (check back tomorrow for news on this!)
A Schoolgirl Dormitory Punishment Film!!! (yay!)