I can't help but feel jealous and the fact I am missing the BBW which I guess starts tonight as fellow spankos meet together in Atlantic City and maybe one of my biggest mistakes this year so far is not attending. I have just found out that Joelle Barros (who will be my next update at my own site in a stunning set of PJs) and David Pierson from Punishedbrats.com will be there as well as many from England, & it's more of a Trade Show than other parties as well as filming and meeting and networking… so I feel really CRAP at missing this one! Vegas seems an awful long way away.. but that is more of a holiday for me anyway as I will be there long before and after the SL event and hope to do a very small roadtrip with Uncle Dodgy Dave beforehand (should be fun!). Anyway.. I have 2 film shoots planned and am getting in some people I haven't worked with and some returnees who I can't wait to film with again… so at least I am excited about that (can't say who just yet as I'd hate to scupper anything and look foolish if that gets called off… ) but one girl you will be at least pleasantly surprised with, I hope if it works out!
So with eyes focussed on America, not only that awful Boston Bombing… but the dreadful events unfolding in Texas with the huge deadly blast at a fertiliser plant in as they estimate (at my time of writing)  between five and 15 people killed and more than 160 people injured and dozens of buildings destroyed in the town of West, near Waco. Not sure if it's an accident or deliberate… but obviously thoughts go out to everyone affected 🙁
So without putting MORE of a downer on today's events… let's just get on with why you're really here… to read about spankings and the various spank sites that bring you some amazing updates. I'll concentrate on all things American today, so here are some of my fave sites including a feel good classic at the end which I know F/F spanking lovers will adore, like I do!
Joelle and Pi are one of the hottest combos and precisely who I's have chosen to spank each other… in the image below we see Pi getting her revenge on Joelle Barros – what a lovely visual treat!
Role Reversal… starring "22/7" & Brazilian chica, Joelle.
Even though Joelle readily admits her mistake, she still has to take every bit of her punishment.
Joelle mishandled company money and it's Pi that steps in to correct the situation. Of course Pi isn't about to let Joelle go unpunished after she's been on the receiving end so many times. Pi takes a small leather paddle to her cousin's bottom to make sure she's learned her lesson.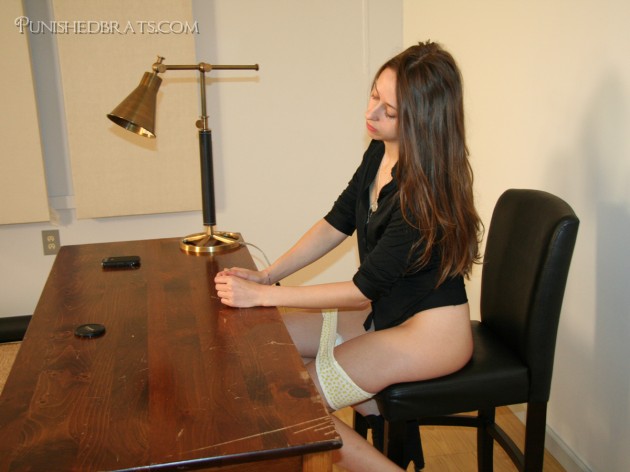 & don't miss the amazing film between Charlie Sky & Veronica Bound, this film, shown below, is out now to download in full! It's called "Quiet time : To the Woodshed"
Charlie is given a little free time as Veronica practices her meditation. But Charlie blatently ignores orders to entertain herself quietly and repeatedly blasts her music. Completely removed from her state of Zen, Veronica drags Charlie out to the woodshed for a strapping.
Click here to watch Charlie's punishment film – (FREE Clip on the front page)
Asian beauty Mei Mara is a sassy girl who shows us exactly why she gets punished so often… she's new to Punishedbrats.com but already a firm fave of mine already!
Mei's 1st day: Mei managed to get hired as a receptionist at Dr. Veronica's office by overstating her qualifications. On her first day, her inexperience is showing right off the bat when she shows up in an outfit that is completely inappropriate for the office. 
Check out this latest film and see what's coming with the special appearance of the UK's very own Pandora Blake (on her way to BBW but stopping off at David's for a film shoot!) – this looks hot!
*********************************************************
OK, it's midnight here in the UK and I have run out of time and will have to bring you my promised F/F punishment for next time – so will just leave you with Samantha Woodley (it could be worse) in this brother/sister type fantasy style spanking with Kyle Johnson… and of course, it's Sam Woodley, so anything she is in is totally AWESOME… she proves she still has what it takes… I love hearing her complain and protest and of course seeing her bare jiggling bottom spanked a beautiful red too!
Taking ecstasy and then lying about it costs beautiful Samantha Woodley a butt blistering to remember: 180 smacks on her denim shorts, 143 bare bottom and a tough 124 with a wooden spoon. The lady has to learn, but this is tough Brotherly Love from Kyle. Ouch!
CLICK HERE TO VIEW THE FREE PREVIEW of Samantha Woodley's latest punishment movie
************************************************************
Before I go, let me share my love of Wonder Woman for your perusal… *sigh*