First of all, I would like to wish all my fellow Englishmen and women a happy St George's Day – our patron saint and national day that is thankfully starting to be celebrated and not ridiculed by some as some sort of racist thing for daring to fly the St George's Cross as it could offend muslims or some such rot (seriously!!! some barmy local councils in the past decreed that flying our own national flag… in our own country might be offensive – FOR FUCKS SAKE!) Am I getting annoyed yet? (lol) Well, I get annoyed when I see some English people getting drunk on St Patrick's Day (nothing really wrong with that, any excuse for a party, I say) but what rankles with me is how some are so clueless about their own national identity and the day that we celebrate it… it really should be a national holiday here in England… I think St Andrews Day in Scotland is celebrated, and I'm not sure about St Davids Day in Wales… but they might have a day off too… but in any "normal" country, the national day is a holiday… right? (Take July, for example: The 1st for Canada, 4th for USA and 14th for France and so on…) These are all national holidays… I know there are many English who are now campaigning for 23rd April to be one too! I am one of them 🙂
Slay that Dragon, St George – & I don't mean Madame Presidente de Kirchener (haw haw)
*******************************************************
& on with the catch up spankings that I have missed, and news of one coming up, even if it involves one of those pesky colonials! However, I'm sure you won't mind as I get all patriotic and show you some of the best stuff coming out at the English sites today!
English-Spankers.com start by having the most patriotic of names and there's a double visual treat for you as I missed out their AWESOME and I do mean AWESOME self spanking feature of Kiki Devine last week. This caused me all sorts of unwanted trouser bumpage as you can imagine… and the gorgeous thing really did belt her wet glorious behind as hard as she possibly could!
Spank Cat says: It does not get any hotter than this!  It is just about the most amazing and sexy self spanking video you will ever see. Starring the beautiful Kiki Devine beating herself on her beautiful bare bottom till sit is red and she is in tears, you can't see the tears as she is in the shower whilst doing this and at the same time stripping  off and showing her amazing body! This top British glamour model had never been beaten this hard and yes… she did it all to herself.
You can check out a FREE Clip of Kiki's amazing self spanking HERE
& if that wasn't temptation enough… check out who is there THIS WEEK! One of my favourite English spanking models, Leia Ann Woods… she looks stunning as a maid, and of course, even more so in this latest humiliating punishment courtesy of Mr Stern… images below are from the very latest film out today!
This was what Mr Stern had to say about the latest film: The latest recruit to the Sexy Cleaning Company is Leia Ann Woods and right from the start we knew something funny was going on. She chose a very old fashioned maids outfit with big bloomers as her sexy cleaning clothes and then she did need a lot of persuading before she posed in the sexy way required, bare bottom well on show. Still, it did give us a good reason to give her a real hard over the knee spanking with the bloomers opened to reveal her very spankable bottom.
A free preview of Leia Ann's spanking and the very latest updates can be seen in more detail HERE
**********************************************
I did a special feature for Northern Spanking at one of my other blogs HERE a few days back (that was a stunning film with 3 very naughty girls getting punished!) & I was really happy to see a film from the vast archives that the good folk at Northern have built up over the years bring us this film of a 1980's parody (my fave decade) as Nicole Reina gets the deserved spanking and punishment coming to her in "Oh Whatever!" *sch-wiiiing!*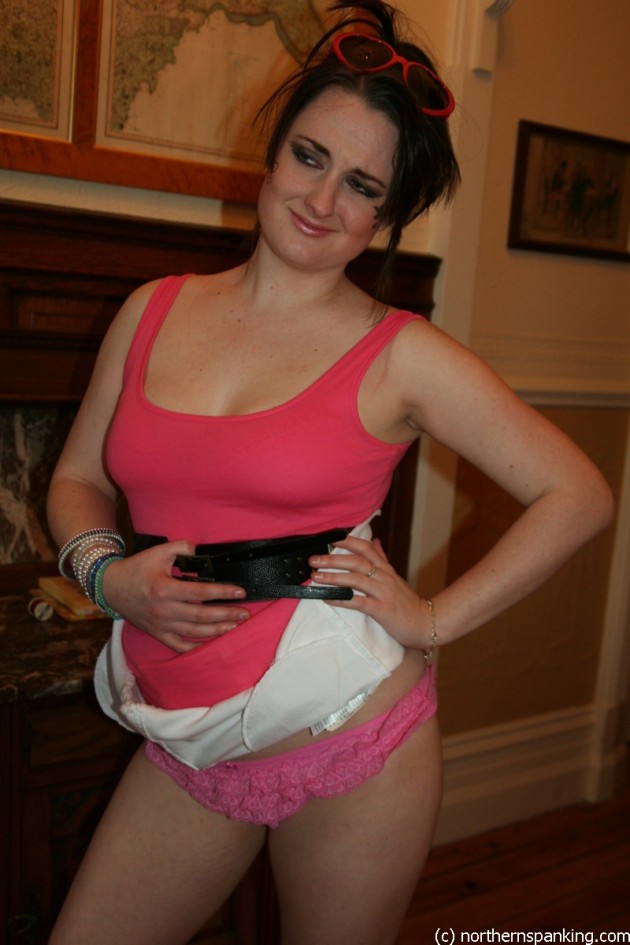 What do you mean there's more to come??? "What-evvvva!"
& a peruse through the archives on this fine day brings me to a set of images I loved and of course, I think Paul did too – there can never be enough nursing staff punished, especially when they wear such cool uniforms and stockings… here is Ingrid Bose getting the "Kennedy" treatment in this dark and chilling image set I know you will get!
Nursing Manager Paul is so annoyed at nurse Ingrid's constant lateness that, after several phone calls and no appearance, he decides to pay her a visit in the nursing quarters. Its not a visit Ingrid will forget in a hurry as a result of the furious spanking she receives. Deciding she is not fit to wear the uniform, an incensed Paul then roughly strips Ingrid, first to her panties and then losing even that small scrap of protection, she is paddled very hard indeed!
Enjoy one of my fave sites that I visit often… you will too if you've got the spanking bug! CLICK HERE
***************************************************
Now talking of dark and troublesome updates… how about this latest from England's premier Prison Punishment site, you know…. Bars and Stripes which has Officer Zoe Page using one of the inmates, Xela Chaste for her own amusement! These girls have only themselves to blame as they get treated like dirt and are often punished for no reason other than they can be! Xela performs humiliating exercise routines in this latest episode of "Confrontation" until Miss Page can stand it no longer and thrashes her because she can!
Some info on inmate Chaste: and why she is incarcerated (below)
Sentence: 6 Years Imprisonment
Background information:
Chaste is inside for running a bordello, a rather low brow establishment with illegal imports from foreign shores, in collaboration with a foreign ambassador, who happens to be a personal friend of the Governor. The Governor knows nothing of this so Chaste thinks she has a lever to bend the guards with. She has always been threatening to reveal the names of people who have "turned a blind eye" on her release, including the Governor's friend and the guards have a suspicion that she has spoken to the journalist who has been allowed access to The Prison to do a feature on Prison life.
So the Prison staff embark on a programme of "retraining" to ensure that she is suitably contrite upon leaving and sympathetic to the establishment. She maintains her arrogant attitude from the outset but finds that maybe she will have to adjust to her life inside rather more compliantly or things will become even more uncomfortable for her. She has been given 6 years to think about things after all…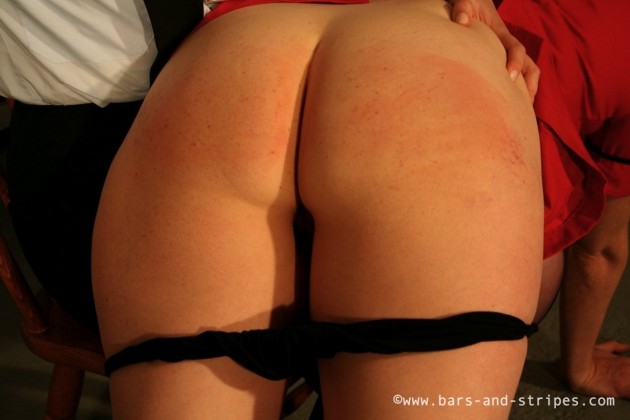 See what is currently happening to other foolish inmates HERE incl. a fantastic movie update with Irelynn Logeen
******************************************************************
& finally news of my update coming out tomorrow sometime tomorrow (I'll be starting on the uploads and images after I write this post). It stars Joelle Barros, Ok, she's not English, her roots from the old world are Germanic and her Latina good looks come from Brazil… mix that with the brash New York lifestyle and you've got quite a heady volatile spanking cocktail which I really warmed to! I still hope to work with her again and while we were waiting for the other girls to arrive at this particular filmshoot (tardiness… hmmm!!!) she, David Pierson and I filmed this great PJ romp. I deliberately gave her the PJs to put on without saying anything to see if she'd commit the heinous crime of putting them on over her delicate white knickers and I quietly scowled and clenched my fists together (Mystery Spanker style) as she put them on over her panties and bra and I knew EXACTLY what needed to be done as she waited for her punishment… what's more, she confided in me that the heavy hairbrush was one of her most hated implements…
Hmmm, readers, can you guess what implement I used? Bearing in mind this was her 2nd film of the day? I can tell you this spanking punishment hurt loads… and it showed, but both Joelle and I agreed it looked HOT when we played back some of the raw footage whilst waiting for the other girls to turn up and her yelps and reactions were 100% genuine as she suffered for her art early that day! So here it is! "Joelle's Hairbrush Punishment!" This will get some of you PJ lovers in a real tizz (or is that jizz? lol)… but fear not, I will also get it out on the Clips Store as soon as I can and I will inform you here when it is – this is going to be a best seller, I can feel it in my water, & I have only had one beer so far today! 🙂
Images below are early and not entirely edited, but I think you get the idea of what is coming!!!
Warning… Joelle is f*cking HOT in those PJs!!!
Coming very soon to AAA Spanking AND the AAA Clips Store!
************************************************
Happy St George's Day (what is left of it here in England!)