I'm sorry that I didn't get back here sooner, I gotta be honest and say that I preferred being in my garden, sipping a beer after work than coming inside and sitting down to the blog… I also had a bit of a writer's block so decided to leave it for a few days (it's only promo stuff, I hear you grumble… but I still have to decide what to show, how to do it, upload images etc etc… all far more time consuming than you can imagine!) …. these things happen to us all. My day job has been incredibly tiring recently so the last thing I wanted to do was sit in front of my laptop for 4-5 hours after having a hard day at work! But it's late now so I am going to try and spend just one hour online typing this and hopefully get something to you all worthwhile from a few sites you know that I like 🙂
It's HOT! So here's a random pic of a HAWT ass *smile*
You know that I love the guys at Punishedbrats.com – I really do, some of their films are vastly under rated and I know David, I've met him a few times and I like the man, I have never met Pixie in person but I hope to one day as she is the creative editing force behind PB… even if she doesn't appear on the videos anymore, which is a great shame but we all know why and understand… I think I shall have to do a Pixie retrospective one day soon, as I have really enjoyed some of her films from their vast archives… it's what drew me to the site when it all began some 8 years ago!
I'll start with one of my fave spanking models there, Joelle Barros and her latest film punished over David's lap in some cute jim-jams… and of course she gets a delicious bare bottom whacking… those long latin legs flaying provocatively *oh my*
Images below are from the film: Cold Shower
Joelle has heard that cold showers are good for one's health so she takes it upon herself to shut off all the hot water to the house. David finds out about this the hard way when he steps into the shower one morning… oops! Cue a fantastic PJ discipline film with lots of gratuitous red bottom scenes!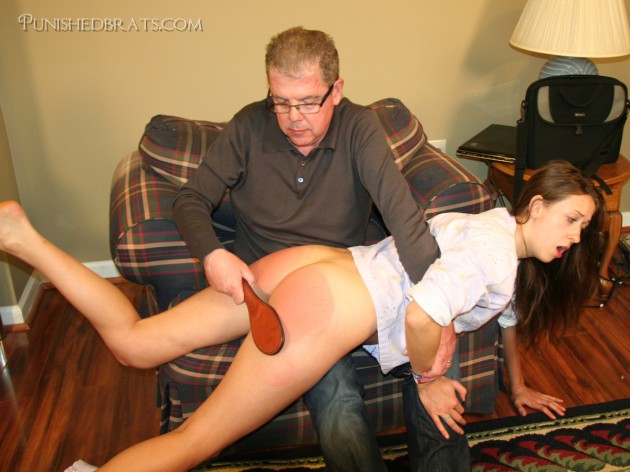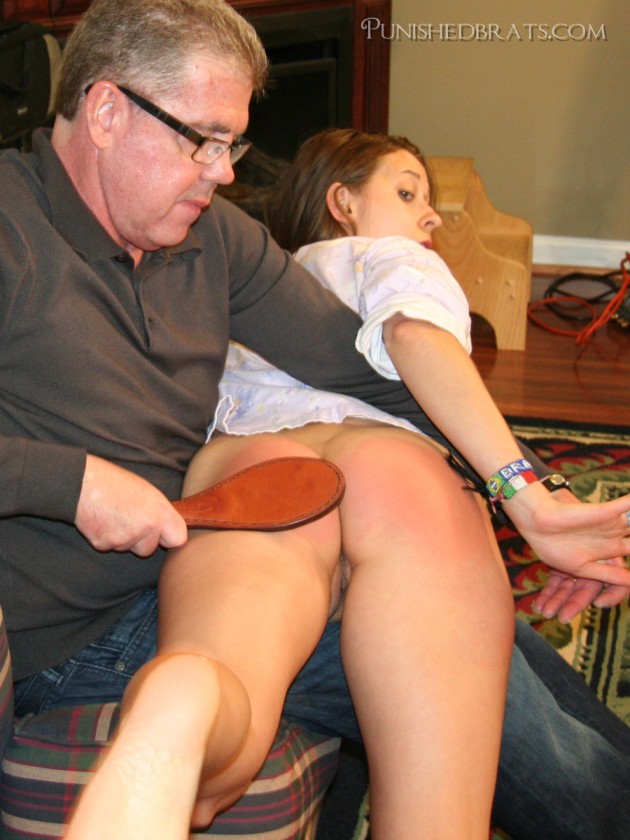 Click Here to see the very latest films including some new girls COMING SOON! Still from just $17/month!
************************************************************************
A girl who is "HAWT" as hell, is the gorgeous smiley Jenna Jay… with a very spankable bottom as you'll see from another site I love reviewing on here… NorthernSpanking.com – Jenna is spanked by David de Wolfe in this latest new  film called "Toasted Buns" – David is having some problems with his Au Pair but he knows what the solution is… spank her and cane her of course! It seems that Jenna is not averse to the idea either! the Hot minx! Check out these incredibly lush images of the spanking pair:
See a ton more stuff of Jenna Jay exclusive to this site HERE
********************************************
A new girl (and a truly stunning find) for Mr M at RealSpankingsInstitute.com – a fantastic girl next door type on the receiving end of the tawse in a continuing punishment… this is Alyssa, naked, in the lunge position before she does more humiliating waiting time for her ongoing punishment! Images are screen grabs… as their new style film formats are at last on 21st century technology… and so it's worth showing you here!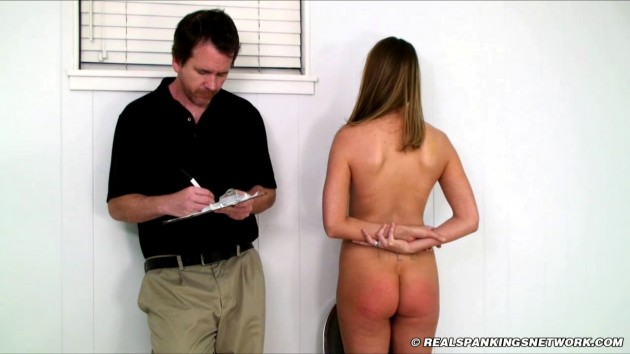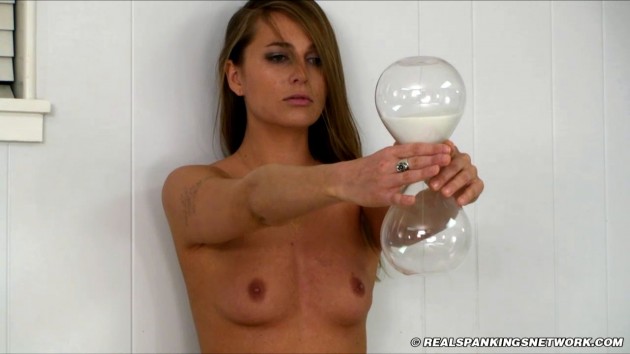 You can see more of this beautiful new girl at Real Spankings Institute
***********************************************
Finally for today, I hadn't featured this before as it was too painful for me to view at first as I had planned to do EXACTLY the same thing with Mila… I hadn't done a soapy sud spanking bathroom scenes in ages and thought that Mila's gorgeous curves would be ideal… to cut a long story short, I think i had droned on about the fact that Mila didn't turn up for my shoot, literally as Paul was bringing her she was sick… pisser I know, I have to admit I was furious at the time – you can't help but be: all my carefully laid plans  ruined… but shit happens, I guess… anyway, I'm over it now (really Chief? stop blabbing on about it) even though Mila and I have not mailed or texted each other since and we had been mailing each other pretty much beforehand… hmmm, gotta admit that kinda irks me as well… but, she is still cute, and I am rather jealous of this scene – so do enjoy it, that means it's good – and it damn well is! I look on this as what I might have done… I'm still gonna do a bathroom scene in my next shoot, so will gather some soap suds and entice whoever it may be into the bath tub for some soapy spanks… heh heh!
Images below courtesy of Dreams of Spanking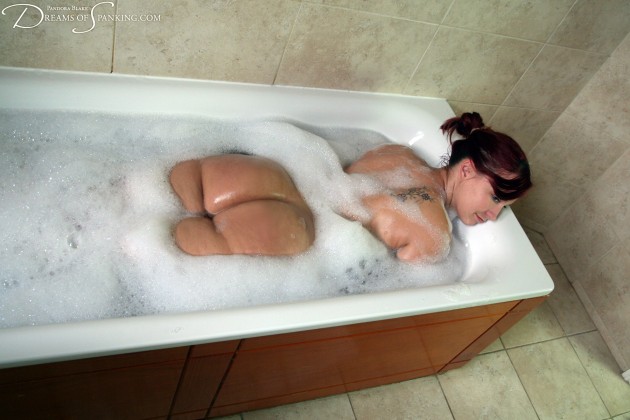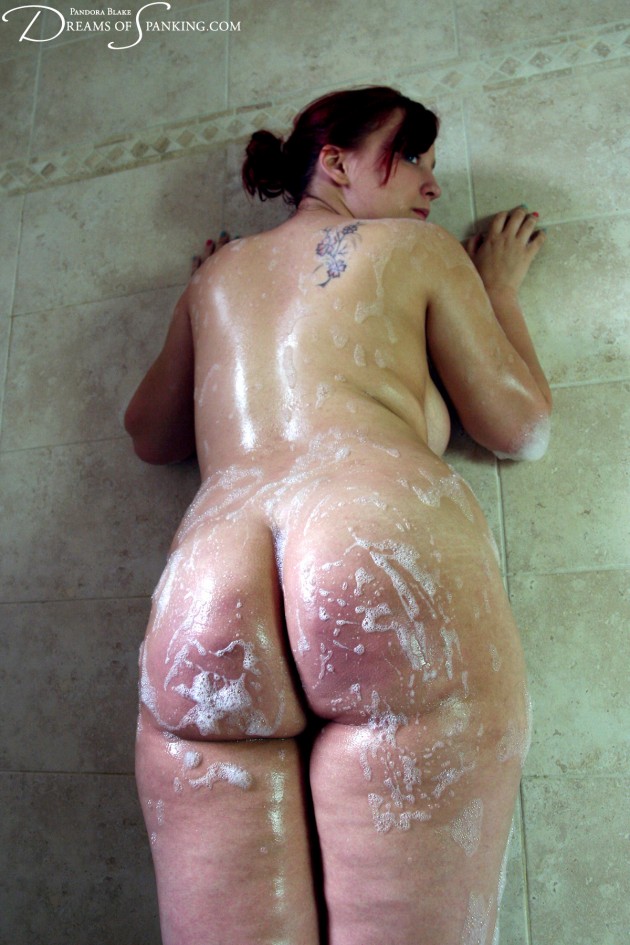 Paul comes in while Mila is relaxing in a bubble bath, and the naughty girl can't resist the urge to blow foam at him, earning herself an on-the-spot spanking on her wet bottom. CLICK HERE to see a free preview
**************************************
Good night… and don't fo far as I have news of my latest film (below) coming out at AAA Spanking tomorrow 🙂