Phew! Another scorcher of a day… I won't drone on about the weather, you're here for a spanking update, not a meteorological forecast so let's get on with it 🙂
Hot weather = HOT Spankings (I like this equation!)
Starting today with a film I saw recently at Dallas' fine site DallsSpanksHard.com where he drags a naughty Krissy Kage out of his pool (she did turn up an hour late for the shoot too) in this return spanking film she no doubt regrets as her ass got a hell of a tanning as you'll see. She's an ink model (tatts, as you know are not my fave item on a lady), typical of many Californian girls but she's cute, very very cute with a giggling accent and a hell of a gorgeous (at first) unblemished butt that gets the full range of Dallas implements across her wet behind! You can tell Dallas really enjoyed this one!!! I did too! Did I say how cute she was? "Damn!"
Check out more of Krissy & the other cute girls getting blistering spankings HERE
********************************************
Another group of sites that I love "Stateside" coming up now…
First up, featuring 2 of my fave girls from this network – Veronica Ricci & Kay Richards, I love it when they are placed together, even more so when they are BOTH spanked for our viewing pleasure at the same time! Add to that some dropseat pyjamas, some humiliation by wearing some toddler clothing in an age dominance role and you have one hell of a hot film in the latest Governess series from GirlSpanksGirl.com
"GOVERNESS RETURNS"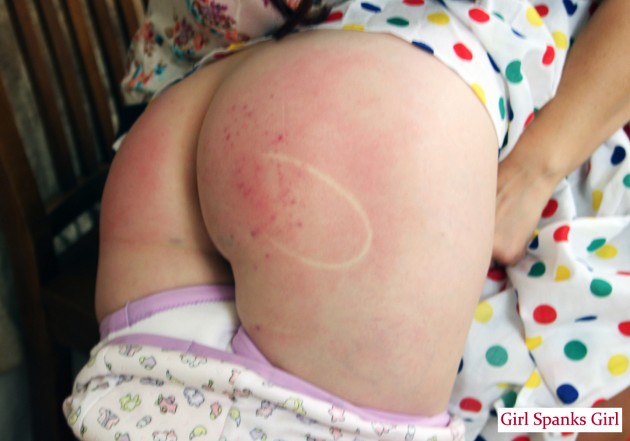 This film is a continuation of the recent "Governess Rules" storyline. Strict governess Syren De Mer is back to bring discipline to the two naughty sisters, Veronica Ricci and Kymberly Jane (AKA Kay Richards). She spanks them on their drop seat pajamas first, then they are made to wear toddler outfits and pacifiers and are spanked with the hairbrush. Hard spanking and lots of humiliation are in store for these two!
Check out the full HD film HERE
***************************************
There's not much to be said about the next set of images from SpankingSororityGirls.com – starring Christy and Riley… these girls spanking each other is as hot as it gets! See below for more from this fantastic G/G spanking site!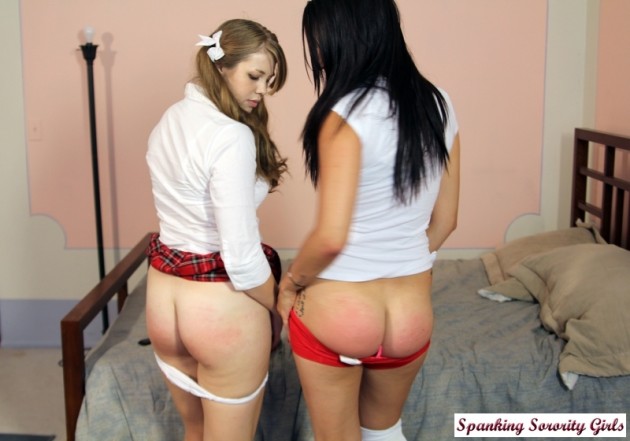 Roxie has ordered Christy and Riley to spank each other. And if they don't do a good job, she will paddle them. So they spank each other harder than they'd like, with hand a leather strap, till both of their curvy bottoms are red and sore, making it difficult to sit down. Check out the full film of these 2 girls HERE
Both these sites are huge in their own right (GSG spans back over 10 years!!!) but both are even better value as part of the CLAREFONDAPASS network – 5 sites for a fraction of the combined monthly cost with one set of codes (click banner below for the sites and latest fair costings!)
************************************
Some updates at Punishedbrats.com – ALWAYS a popular site on my bookmark bar and for good reason when David is spanking the lovely Joelle, one girl I definitely have a crush on… and an equally alluring G/G film with Audrey (she plays the spanking part so well) with Tara over her lap!
Joelle & David in" Just a sip"
Joelle proves herself a total hypocrite when David catches her drinking what's left of his pricey tequila!
& Tara is staying with her childhood babysitter, Audrey, while she looks into nearby colleges. She ends up right over Audrey's knee as if she were still a little kid when she skips an important meeting with admissions in favour of "sleeping in" (the new title of this film).
Looks like Tara is still the incorrigible brat she was when Audrey babysat her years ago!
Click here to find out more…