Just a very quick update here until I get you a more detailed look across many more sites tomorrow… I have news today for you of a new long play film starring Lola Marie & Wynter Sky in their 1st collaberation shown at my site AAAspanking.com – Lola should have filmed with me way back in April/May but because of the tight filming schedule I had to delay that due to an overseas visitor (I grow more weary of these now as I know other producers do too as you never know whether they are filming with a dozen other people in a short period and so on…) sometimes you don't mind, it depends on how you feel about working with the person so when they don't turn up and you're all ready to go, then it kind of sucks… but I'VE DONE THIS ROAD MANY TIMES… so you bide your time, regroup and meet someone you should have met earlier and make up with it with some great films… and why not throw in a girl you loved working with in the past too? Result: a great day's filming!
Check out this new film with a twist… my famed twisted Girl Guides, disgracing their uniform by peeing their panties and walking along with wet knickers (and predictably) getting caught and punished! Ladies & Gents… I give you the lovely and aptly named new long play film "Gushing Girl Guides" – this was my 1st peeing and spanking film… and it was also Wynter's 1st peeing action caught on film too!
The girls show off their pee soaked panties!
An awful lot of images compliment this film, there are around 200 screen grabs and about 100 HQ stills…all fully uploaded – the original images for members are 1800×1200 in size – all zipped: already along with the film so it's a great new update this week and as some of you may well be aware, taking stills after the event, it compliments the film so when Freddy the cat wanted in on the action (I love Freddy… such a cute kitty) he wanted to say hello to the girls… I think he likes the smell of pee pee, not only a cute kitty but a pervy one too! So Freddy stayed in some of the images we took… the girls liked him too 🙂
*sniff* "What the deuce? I smell pee pee!"
Below are some screen images from the movie and the film plot so you know what it's all about!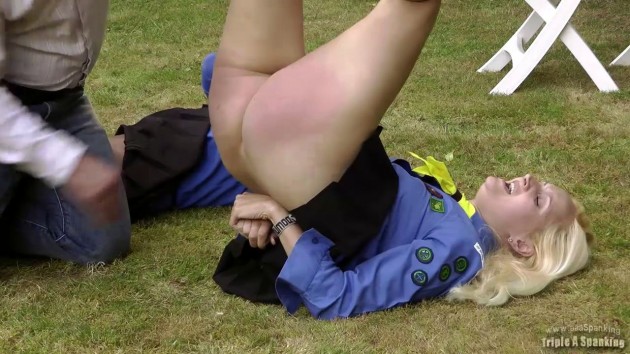 These 2 girl guides were a disgrace to their uniform as they wondered if they could make it back to the Guide HQ before needing to pee… they could hardly walk, their bladders were so full & each girl in turn relieved herself. Lola pulled her panties down & gushed freely, but the daft girl peed directly onto them! Wynter didn't even have the luxury of that option as she couldn't wait & peed in her panties stood up, the tell tale trickle running down her legs. Both girls returned to the HQ in shame but not before Troupe Leader Mr Osborne had guessed what had happened from their nervous walk & decided to teach these madams a lesson in humiliation & discipline on how to avoid such unladylike disasters in future. This film features wet panty investigations, spankings with humiliating gaze of the other & the final insult of a diaper positional spanking before being placed in an embarrassing reflective aftermath position both girls would not forget! This isn't for everyone & hardly traditional, but for those that like something a little bit more kinky, we are sure you'll enjoy this long play film.
View a free preview of this film HERE
********************************************
Various short clips are being uploaded to the Clips Store… I have uploaded the pee scene only… as well as the 1st spanking scene of Lola. Tomorrow the spankings of Wynter followed by both girls finale of a humiliating diaper position  spanking will be available to download giving those who like to download one off clips a great choice!
1st 2 clips are below and available to view: