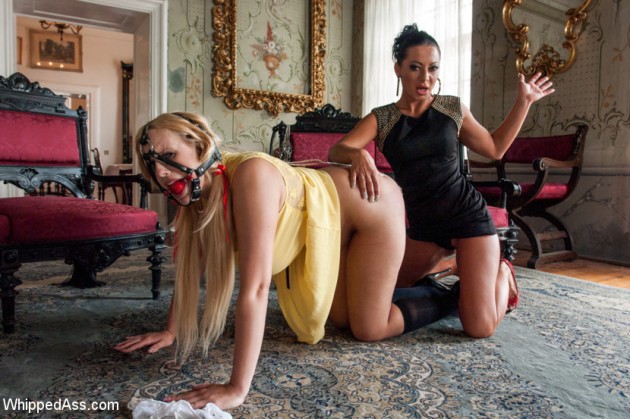 Every now and then I like to explore my kink and these websites from renowned kink.com producers from San Francisco enable me to do just that! From lesbian submissives to public displays of sex and submission, there is something for every desire and taste as you'll discover below… this is a distraction from my usual postings, but I do hope you explore these sites I have highlighted today… they have some AWESOME previews too… enjoy!
**********************************
Filth and Sin: Ana Foxx has led a life of sin where shameless masturbation was the norm in her life until she chooses to join the nun hood. Looking to change her life completely she trades her favorite sex toy for her first bible and swears to a life void of filth. When Mother Superior Preston discovers this dirty secret it opens up a side of her that insists she's the chosen one and in order to make it day to day in the convent she must pay the biggest price submitting to Mother Superior's every whim! Spanking, candle wax, heavy paddling, single tail whipping, strap-on fucking in unforgiving stocks, nipple tortures, ass licking and much more!
************************************************
Everything Butt: Anal Domination!
Phoenix Marie and Cassidey get a full dose of anal domination from Francesca Le!
******************************************************************
Available now at The Training of O: The Training of a Domestic MILF
This is what the guys at Kink had to say about this amazing film shoot! "MILF: Mother I'd Like to Fuck. SMILF: Submissive Mother I'd Like to Fuck. Let's take the trainee out of the dungeon and put her in a domestic setting. Let's teach her the three prime rules: Honourific, Eye Line and Deportment. Let's teach her that Training of O is where the "Slaves Do The Work": make her fuck the biggest rubber cock in the house with her face hole and her pussy hole. Let's test her attitude and probe her strengths and weaknesses. Let's tease and torment her like we would any other slave in the dungeon, and leave her thoroughly used and spent at the end of the day. And this is just the first day."
****************************************************
The Upper Floor: Beautiful Cock Suckers, Part Two
Senior slave Bella Rossi takes matters into her own hands when she realizes that if the petitioner Penny Pax fails, it is her ass on the line. Anal Slut Petitioner Penny Pax proves her worth at the hands of her sadistic slut sister by taking the biggest dick in the room up her ass and getting all the come in her slutty talk hole.
********************************************************************
I'll be back with more regular updates very soon… hope you enjoyed this little diversion for now 😉