Seems I have a little time to play catch up and I need to prepare for what looks like an extra film shoot next week… it'll be my first time filming since Shadowlane… which seems like an age ago, so I'm up and aching to go and film some new naughty kinky stuff for y'all… but in the meantime, check out my good friends from Northern Spanking first who have a great Halloween film for everyone which stars the talented and beautiful Amelia jane Rutherford and Mila Kohl who are both beyond cuteness in their fancy dress outfits… om nom nom! I'm not so sure Mr Lewis agrees though as he, rather like me, to be honest, is sick of the Trick or Treaters… I had to buy some candy just in case some little horrors come knocking tonight…
<grump mode>I must remind myself that I was young once!!!</grump mode>
Trick or Treating for grown ups… now that's more like it!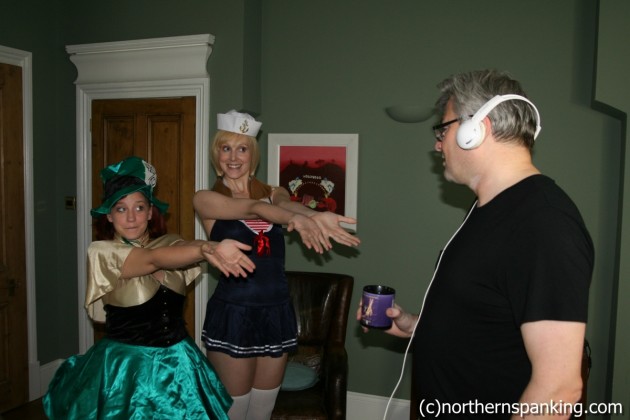 The Curse of Mr Lewis (Part Deux – & STILL cursed!)
He has moved house. He has boarded up his front door and is looking forward, finally, to an All Hallows Eve free from girls insisting on being treated or intent on tricking him. His dinner is in the oven and he is looking forward to watching the football in peace. Then Amelia and Mila arrive and it looks like he is going t have to move house. Again! But not before he has shown this latest pairing what a painful trick or two.
& of course you will be able to see Mila's spanking coming up – or if you join here – you can see it NOW!
***********************************************
Poor ol' Christy Cutie… she gets asked to make lots of Halloween films… here she is appearing in the full film now available by today at Chelsea Pfeiffer's fine site GoodSpanking.com where she is NOT having a "Good Halloween" far from it, in fact… as Christy has forgotten to get the candy for the kids and this rather annoys Chelsea who was all set to go… poor Christy needs to learn to remember things! I think she'll remember this spanking given over Chelsea's knee, panties down… then paddled and strapped until she is close to tears! Ouchie!
Download this and many MORE films featuring the lovely Christy HERE

********************************************************
So Happy Halloween… I can always hope that this young lady comes knocking at my door tonight 🙂