We Brits LOVE to talk about the weather (over a nice strong cup of tea or "cuppa" and have a good moan about it) – God knows why, it really doesn't change much as we have some of the most dreary seasonal weather on the planet which usually involves some form of rain or grey (gray depending where you read this) overtones to it all… so imagine my surprise when the start to this October is still quite mild for us, sure it's cooling down a lot… but the rain (in general) has eased, mercifully, and the sun is shining… which means later today I gotta go out and cut that damned lawn and grass bank before the monsoon and cold really sets in making that task impossible to do before winter takes grip. I have also noticed that the leaves on the trees have hardly fallen yet, they are only now starting to change and drop whereas I see online in New England and some other amazing places where you really get to appreciate "Fall" – what it is really all about! Anyway, another paragraph on waffling about weather and climate, yup… I'm a Brit… so let's start off with some UK based spanking whooty erotica and where better to start than Postman Mr Lewis delivering a package to a horny & kinky Kate James at NorthernSpanking.com who invites him in to use what he has just delivered to her… what a sexy inviting costume she's wearing – oh and what a glorious spankable bottom, how could anyone resist that???
OMG! That is a classic Whooty pic (above) – nom…nom…nom!
You can much more of  naughty curvy Kate James at NorthernSpanking.com
*************************************************
Continuing on with this delicious "WHOOTY" theme…
Please check out popular Darcy Leigh's latest showing at RedStripeFilms.com in a double spanking!
The Cheating Wife
Big boobed Darcy Leigh has been cheating on her husband and is confronted by an irate wife and her husband. She tries to deny it but has to own up in the end. She is placed over both knees and spanked and then her husband gets a thin nasty leather paddle and sets about producing marks and bruises on her large firm bare bottom. This is a real hard punishment which would reduce any young lady to tears.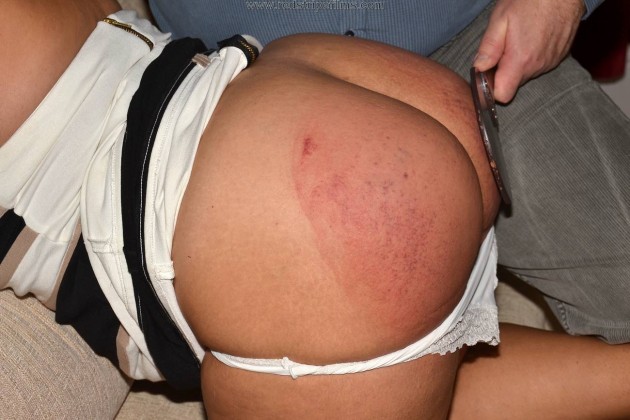 See MORE of Darcy's ample bottom and delicious curves spanked hard in this & other films HERE
***************************************************
Nimue & Pandora are good friends away from filming and regularly help each other out at their own sites so I guess they feel more at ease filming more risque stuff (as Pandora mentioned recently about her 1st ever time filming herself masturbate intimately to full orgasm… but that is another story!) Here, in one of their other most recent collaborations now just showing online at Pandora's site DreamsOfSpanking.com – Nimue plays the submissive role in a short sharp shock film called "Lady Godiva" featuring good use of a riding crop from a beautifully stern looking Pandora!
Nimue finds herself in trouble with the Treasurer of the Pony Club for her unconventional efforts during Charity Fundraising Week. It seems that the Pony Club does not approve of a dressage show that involves naked bare back riding… no matter how much money it may have raised! A brisk whipping with the riding crop will remind her to behave more modestly in future.
See MORE of both ladies in many films at Pandora's site HERE
******************************************************
A new girl featured at English-Spankers.com last week, and as many of them do, they have to take the Sexy Cleaning Company induction with pervy Mr Stern and his intrusive camera and wandering spanky hands…. Mia is from Germany on a visit to the UK… they have promised she'll be back… what a delicious growing spankable whooty she is!
The sexy cleaning company is really happy to extend the hand of friendship to our Russian friends, well extend a hand to one named Mia who is our latest recruit. She needs a job and what better than showing off her assets for our lovely members. She knows the rules of the company and it is not long before she is bent over being spanked on her delectable bottom, a good, strong big bottom and it is made to take a real hard spanking.
 There is a free HD preview clip of Mia which you can view and download HERE
*****************************************************
Big bottoms in Japan? Are such things possible? Well, in one of the most recent films  (which is one of their most enjoyable, for me, to date) from this girl/girl hand spanking site which is aptly named Hand-Spanking.com – check out what happens when 2 girls get a little drunk after work and one lusts after the other's larger bottom… I think I would too! There are also some (thankfully) much harder spankings scenes – want proof? I have cut a short little clip as well as some lovely images you get to download as a member! See below! This is HOT!
Yuria visits Remi, her older co-worker, for their drinking party. Remi gets drunk and lies down on the couch. Yuria is fascinated with Remi's big bottom and impulsively begins to spank her… also check out the amazing free previews, and another big bottom episode with Remi (see below!)
************************************************************
My favourite uniform niche (the airline stewardesses or "flight & safety attendants" as some overly PC peeps would call them) has had a double update, a great 2 parter with 2 very naughty Dutch ladies who have rather curvy and very spankable whooty bottoms which deserve a mention here today, for sure! Loved this, loved the uniforms, of course…. and I loved seeing their asses given a proper whacking with a ping pong bat in part one and a hard leather strapping in part 2! All info and imagery courtesy of Spanked-in-Uniform.com
After a flight to Budapest it had become obvious that stewardesses, Adrienn and Timi, had lied on their CV when they said they both spoke perfect English. Before Mr. Johnson punished them properly for lying, he decided to give them an English lesson with the help of his hard hand and a little nasty ping pong paddle.
After the lesson it was time to give the lying little madams their proper punishment. They were bent over the desk and Mr Johnson's big leather strap turned their bottoms a fiery red. They were each given an "English for beginners" book and told to learn the first three chapters before being sent on their way!
This is just one of upteen uniform specialist spanking style niches!
… & you can view more HERE
*******************************************************
Punishedbrats.com doesn't hide from showing us the odd incredible Whooty either… and in the very shapely form of Audrey, I have saved one of the best til last as you'll see from this amazing spanking finale at the hands of Miss Pandora in a tough love style spanking film…
Ms Pandora is letting Audrey stay with her while she gets on her feet after a recent divorce. But when Audrey can't even manage to pick up after herself, Ms. Pandora realizes she is going to have to show this divorced diva some tough love. Audrey is made to wash up all the dishes sporting her spanked, red  bottom.
*Trouser Arousal Alert* I'm sorry… "I have wood" looking at these spanking whooty pics! – Ms Pandora is letting Audrey stay with her while she gets on her feet after a recent divorce. But when Audrey can't even manage to pick up after herself, Ms. Pandora realizes she is going to have to show this divorced diva some tough love. Audrey is made to wash up all the dishes sporting her spanked, red  bottom!
.
Check out the full film of Audrey getting her amazing full bottom spanked HERE!
**********************************************************
So what inspired all this WHOOTY appreciation today? I was looking through my files on something to update my site with later today and realised that I hadn't uploaded stills photography accompanying certain shoots so I shall be adding 2 later today featuring the gorgeous Sophie below (who recently contacted me about another filming session and I had just realised in my busy untidy mind that I should reply to her and say, "yeah… love to film!" and am currently checking out some locations to do this in!
However…. If you're in the UK (in this case preferably the Midlands or the North) and have a house to film from, want to see what a (small, easy day's) spanking shoot looks like, maybe even participate… then write to me HERE and we can discuss things further! Hopefully we'll get to make much hotter and naughtier stuff than I have shown below… but enjoy, my whooty lovers! 2 small sample  images of what will be going up later today of naughty Sophie! *sch-wiiing!*