Hello everyone, I have had a really crappy day at work, I won't explain in too much detail as to outsiders it's pretty mundane but I have posted the patented warning of the "Chief's Soap Box Rant" in case you want to move onto the update paragraphs instead (lol). Still here? OK… well, it just was not fun at work at all, and it is really grating at times…. why do those at the top think it's ok to get by on not even the bare minimum of staff to cover various departments? We are overstretched and pissed off enough as it is… so when someone takes a "sickie" (older long term employees naturally have a generous contract that means they can take up to 3 days off without losing pay… I would lose pay until the 4th day, which is pretty crappy) as I said, those on those contracts are more prone to take the odd day off more than the rest of us. So now we have to work even harder and be grateful we have a job – I am utterly fed up with it. Also there's a ban on overtime at the moment, well, getting paid to do overtime, yet "muggins" here is expected to ensure his dept. runs smoothly with new trainees & has to spend extra time, unpaid, covering that they at least know the basics *sigh*
Anyway, here's some news of a site's sudden return and some updates from around the world of spanking for you today – writing about this should cheer me up!
Imagine my surprise when I saw that a site that had got me addicted to all things Japanese has made a very welcome return to updating again… Cutiespankee.com is back and updating, they have a recurring membership option re-instated starting at just $21 then $19.95 a month (which is pretty good), which shows they are again filming and updating, and also they have upgraded their image sizes and film quality…. it's good news as now I have 2 lovely japanese sites to once again perv over, the latest updates are below and i'll let the images do the talking, they are rather beautiful, are they not?
A Punishment at home by mother who enjoys her girl is properly dressed and humiliated in a gym kit!
…then the very latest film just released and it's a stunner… it's secretary based and called "Red Badge"
All the secretary trainees at this place of work are fearful of getting the dreaded red badge from their section bosses – now I wish I could do this at my workplace, i might just enjoy the following procedure! The red badge is a sign telling everyone that she has made a mistake and everyone knows that she will be due a punishment in the private offices after work! Want to see more? Check out the very welcome return of this site HERE

*********************************************************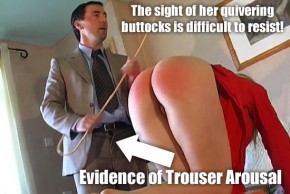 & of course the other fine Japanese site is Hand-Spanking.com – and this very latest film shows just why I love the Japanese sites so much, their attention to detail, the erotic hand spankings by females… if that's not an excuse to get out my patented Trouser Arousal Alert banner out…. then what will? The English translation at this site is far better, which helps… but I have never really had a problem at the previous site either, I easily understand what is going on!!! By the way, today's whole posting is damned hot as you will discover, so, gents, beware tight undergarments constricting parts you'd rather not have squeezed further…. and ladies, please check that your gussets are not too moist and uncomfortable – I can not be held responsible for any of these side effects from reading today's blog post, thank you 🙂
OK, I am waffling… check out this film about cabin crew training with a twist!!! Misaki, a rookie cabin crew girl, receives a training from her supervisor Erica. Watch as Erica becomes furious with Misaki's sloppiness and gives her the harsh spanking she deserves! (and look at those uniforms, ladies and gents, THAT is how you do flight attendant spankings, O-M-G!)
Check out the FREE HD Preview clip of this latest film HERE
**************************************************
Meanwhile in the UK… Sarah and her partner Mr Stern have been busy getting in some lovely new faces, some new to spanking, some not… but this new girl at English-Spankers.com is a real peach… please welcome Belle Calder, an attractive yet very lazy teen who soon learns a lesson in tidiness and manners from the put upon housemaid, Sarah Bright! I have to say, after reading Sarah's blog HERE about her worries of how she looked previously, I hadn't really noticed… but I fully understand her anxieties, I have those all the time about my appearance though I must admit I never try to upstage the girls where poss as I am well aware THEY are the reason people visit my site… I am merely a cheap stunt hand 🙂
Belle Calder is an unruly teenager and this is her first run in with the housekeeper. She is to learn that being untidy and cheeky around the house carries a penalty. In this case it is to be a bare bottom spanking, a very hard and well delivered spanking onto her tender bottom. This is her very first film and indeed her very first spanking experience – see the free clip of her punishment below!
*********************************************************
A couple of amazing new film updates from the Fonda Group of sites run by Denn, The Cameraman… at Spanked Sweeties there is possibly one of the hottest mom daughter and sibling scenes I've seen, mainly because it stars some of my fave stalwarts from this group, Veronica Ricci and Kay Richards… along with Jenna Rose, last year's Penthouse Pet of 2012! O-M-G! Seeing these girls getting a  spanking off their stern mother figure played by Syren de Mer is a visual treat! Check out some sample images below:
Beautiful Penthouse Pet of the Year Jenna Rose was spanked often growing up. Usually by her mom. Veronica Ricci plays Jenna's young mom, who spanked her for leaving the yard. Syren De Mer plays Jenna's mom when Jenna was a little older, and she got spanked along with her siblings, with the belt. Veronica and Kay Richards step in to play Jenna's siblings. Amazing interview by Veronica goes over many descriptive childhood spanking experiences. One of the best Sweeties ever! CLICK HERE for the full film previews
*******************************************
Also within this fine group is this recent film update from Spanking Sorority Girls
Edanya and Cheyenne Jewel were supposed to make sure Senior Roxy Jezel got picked up. But they forgot. So they start spanking each other right on the stairs – until Roxy gets home and displays her anger by spanking each girl super hard with hand and hairbrush, first over knee, then bent over the ladder for some whacks with the large wooden pledge paddle. See ALl the very naughty, sexy and extremely perv-worthy spankings of these sorority girls HERE
Both sites are noteworthy on their own, but you will also be aware that they make up the awesome 5 Site Clare Fonda Pass network – giving you access to 5 sites for a fraction of the combined costings! (click banner below for the latest info on this!)
*************************************************
Ok, that's it, I have pretty much managed to get you many updates, though not as many as I'd have liked. I am attempting to upload part 2 of the Lola Marie pee pee spanking film on my Clips Store – but it has been refused twice on upload at 85% which is frustrating… however, part one, which contains her peeing over my knee is already up if you're only after the odd clip, don't worry, it contains some good OTK spanking scenes too 🙂