I started this Friday evening and will finish it Saturday morning! A veritable weekend spanking post that I hope you enjoy! OK… do you remember on Monday that I gave you part 1 to the MommaSpankings.com feature from their archives where naughty Sarah had faked staying at home from school so the nasty nurse came round with a rectal thermometer and discovered that she had been faking it? She sent her to school with a freshly spanked bottom for her troubles… well this conclusion is the homecoming scene… and Momma is waiting for Sarah – having heard what had happened – oops!
… After the nurse had sent her to school to finish her afternoon classes, she informed her mother on the phone what had happened and when she returned home from school she found her angry Mom waiting for her with hairbrush in hand and a scowl on her face! Oops!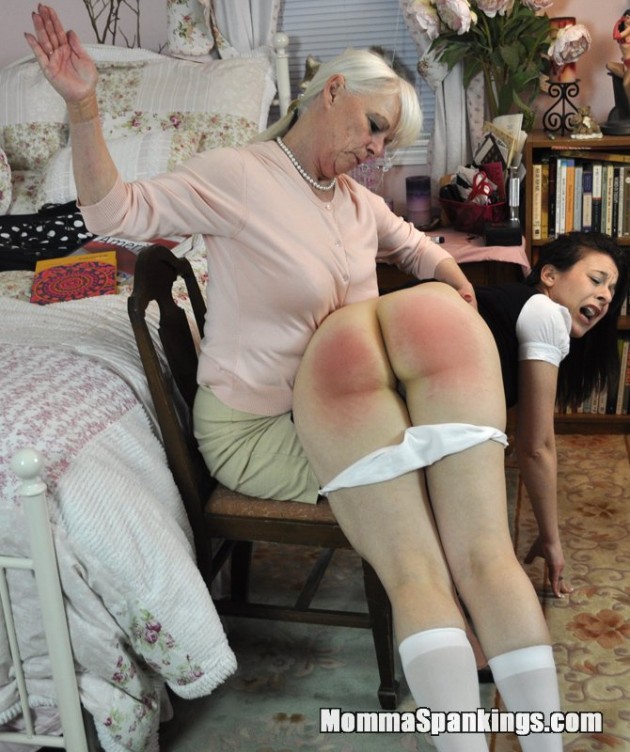 You can download the full film HERE
& that takes us nicely to the very latest film (just released) which again uses the hairbrush… (did I tell you that I love the hairbrush and have half a dozen different ones for various punishment scenarios?) anyway, I digress – this film is aptly called "Don't make me fetch the hairbrush!"
Of course, Sarah is pouting and sulking… being a sassy little brat just itching for a thrashing as she listens to one of the best scoldings I've heard in ages (Momma Dana does this off camera) and it is a relentless tirade against Sarah… oh the film is also uploaded in 1920×1080 MP4 or MOV formats (as will all her new movie formats at both her sites from now on) & I gotta say, it's awesome! #yay!
After the scolding comes the punishment – over her knee to start with!
I am loving these action shots… this is a fast paced no nonsense mother/daughter spanking film!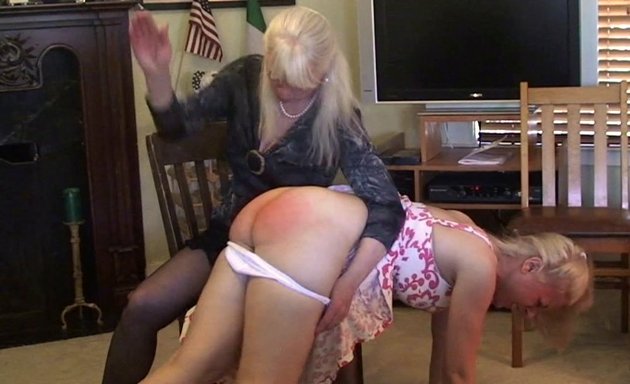 Coming up… oops… Momma has fetched the hairbrush!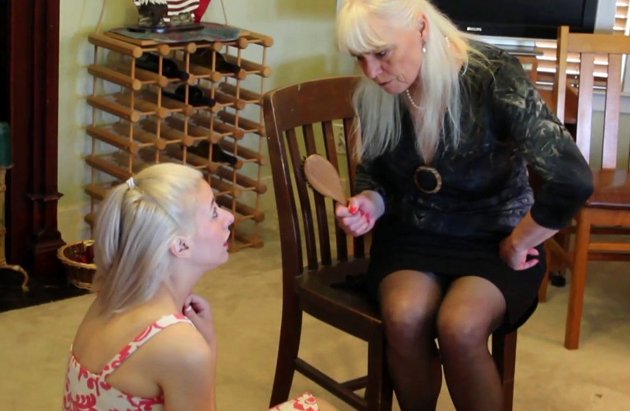 See what happens next exclusive to MommaSpankings.com
This site is part of the Sarah Gregory Pass
saving you a bundle on her 2 sites together with the same membership codes!
***************************************************
Staying with the "family" theme… the continuing series of "Brotherly Love" at Firmhandspanking.com stars Samantha Woodley and Katherine St James who take a bottom-quivering double strapping of 132 licks on their bare bottoms. Lying side by side over an ottoman they kick and buck as Kyle Johnson lays on the tawse… hard! As you'll see, that'll teach them for cutting college to strip in a club!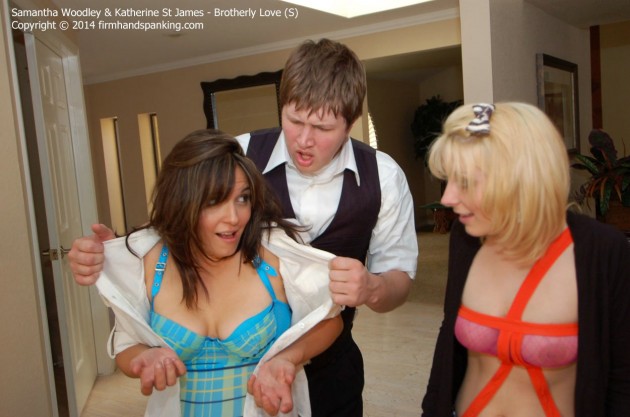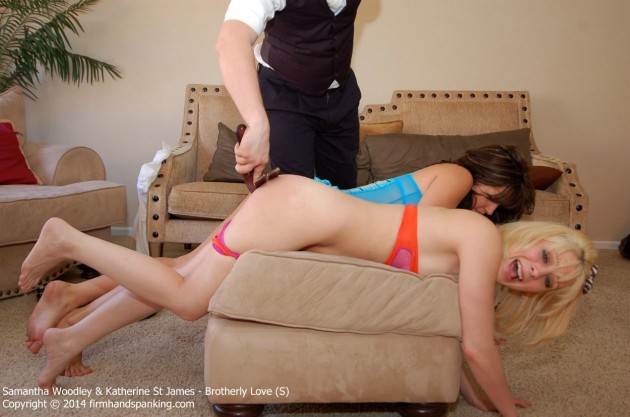 Check out the full archive of unique films starring these 2 gorgeous girls HERE
*********************************************************
As I mentioned archives… why not check out this awesome reminder of just how hot Amber is?  Below, she has no one to spank her so she does it all by herself, getting turned on feeling her bubble butt getting redder and warmer until she feels another type of throbbing itch that needs to be satisfied elsewhere (ahem!). One of the many HOT films taken from SpankAmber.com
Join SpankAmber.com and get access to her other awesome sites for free!
*************************************************
Ah, while we're at it… I delved into the archives of NorthernSpanking.com and thanks to their excellent model search function looked up one of the hottest girls they had filmed (in my opinion) that I had not seen anywhere else, Roxy Valentine – I remembered this naughty bunnygirl spanking tease production… I'm sure you will too. I must apologize to my male readership everywhere, if you are experiencing the dreaded TA (Trouser Arousal – tm Chief) then, like me, you have probably relieved the detestable tight fitting undergarments causing said  uncomfortable restrictions "down there" – I always recommend reading this blog with loose fitting undergarments… or none at all (as I often do, lol!) Of course, for ladies who LOVE to get off to the beautiful sight of naked/female red bottoms and such… I would recommend that you change your underwear in case of gusset overflow… #MOIST ~ #SHE KNOWS (if anyone is a fan of dapper on facebook and/or the Vines, you'll understand my hashtags… heh heh)
Sexy Roxy throws herself at lucky Stephen Lewis! She wants to know what effect her costume for the party at the weekend is likely to have. And finds her answer!
Yikes! see what else Roxy got up to exclusively at NorthernSpanking.com
**********************************************
I'll get you some more updates hopefully this weekend, there's plenty to see! Have a good one!