I have never forgotten this film which is now out for members at AAAspanking.com to download – it is also available as a one off HD720 download too at the Clips Store HERE – it had only previously been available as a smaller wmv file at the store way back but I wanted to give something special to all the loyal members of Triple A and I know that there were those that had been begging me from emails and such about this film as they had seen it at the Clips store so I have relented as I was in a good mood at the time and decided to include Kami as the 1st new film release for the site at the start of the year! & what a year I have planned, I have just finished with all the edits from my recent filming with Joelle Barros and Sarah Gregory and have literally been watching the movies with some rather uncomfortable "Trouser Arousal" (tm Chief) or "TA" as Sarah and I call it… since she gives me that so darned often!!! Seriously, I loved the film the girls did together and I thought it would be a nice break from you guys seeing my ugly mug on screen so the next couple of weeks will feature 2 F/F Spanking movies… the first will feature the delightfully bonkers and unhinged Zoe Page who plays a scary psycho house owner who doesn't take too kindly to a rude mouthed and obnoxious Aleesha Fox trespassing on her property (don't feel sorry for Aleesha as she deserved what she got!) and gives her a rather wicked and humiliating punishment outside in her garden!
Then the following week, as I had just mentioned, Sarah gets her way with beautiful Joelle and I have to say I got some great shots of Joelle's long legs draped over Sarah as she spanked her rather hard and paddled her buns to glowing red perfection! Awesome… I loved the masks too, which were the feature of the film… I will let you in on the exact storylines (Sarah was being a bitch to Joelle and THEN… got her way with her). You'll get the full recap sooner to the time it comes out but I just wanted to show you what is coming over the next few weeks!
& so back to today! Kami dressed as a naughty girl guide was a fantasy of hers, she loved the uniforms that she had seen on the site tour pages and asked if I would be bringing them to the set that day, I confirmed that a uniform would be there and she would look AWESOME in them, and of course the rest is history… Kami and I came up with a plausible storyline (as she didn't like madcap plots I sometimes involved myself in… and once she was satisfied with the story played her role to perfection) So it was nice to see Kami trying out the uniform and getting excited. I loved the fact that her punishment was to be one done "in private" between her and Mr Osborne for an indiscretion that would humble and embarrass his school if it were to be leaked out that his prize running star had cheated… only he and Kami knew what happened that day and so they kept it secret, but she had to pay the price with a spanking, leather strapping and a hated bathbrush punishment to ensure she wouldn't forget what she had done!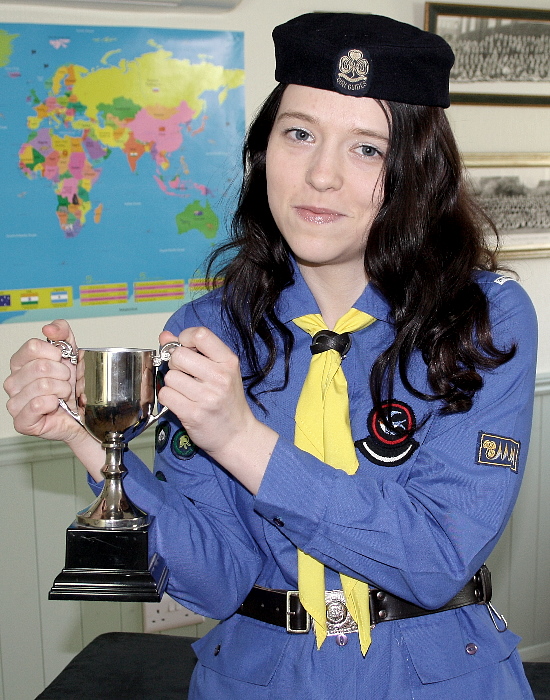 So check out the images below taken directly from the film, they are reduced in size… members can have the original 1920×1080 HD screen edits, the MP4 films plays back at the usual HD720… but I will probably get a few of these films remastered at some point to full Bluray standard HD1080 and this will be one of the few films I will want to get done first from the past! (Remember this film was edited over 2 years ago and has lain dormant gathering dust in the Triple A vaults until now!)
Kami Robertson has let down her school & the Girl Guide troupe that she belonged to by cheating in the final of the Annual Inter Schools & Guide 100m Race.
She had placed dried peas inside her fiercest competitor's shoes to ensure that the other girl wouldn't beat her & the 1st prize she had earnt was undeserved.
In a private meeting between Mr Osborne & Kami, only he knew what she had done from the CCTV footage he had viewed which he had not disclosed to any third party! She accepted his offer to punish her privately to avoid embarrassing the school & the Girl Guide troupe if this was ever to come out! He spanked her bare bottom then used a stinging leather strap before finally using the dreaded, nasty bath brush on her sore burning bottom whilst she was still in her Guides uniform! Enjoy this movie with Kami, who wanted to be punished in our famous girl guide uniform to fulfill a dark fantasy of hers, making an addictive punishment film for you to view! Fans of Miss Robertson & those seeing naughty madams spanked in Girl Guide uniforms will enjoy this very much!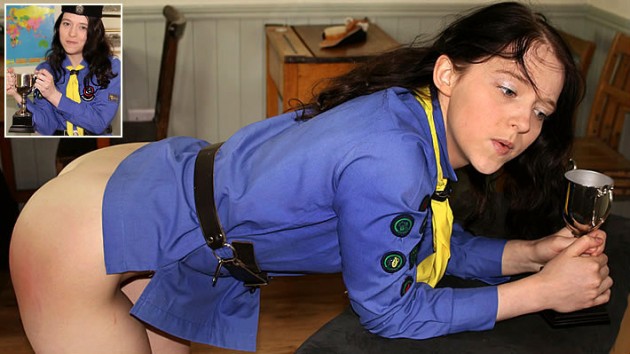 You can see a free clip of Kami's punishment HERE
*****************************************
All of Kami's films are available via the main membership site
or check out her films one by one at the CLIPS STORE

***********************************************
I have also uploaded a new style POV film starring Katie who is Mistress Katie B in this film… she is displeased with the way you are eyeing her up, looking up between her legs… you can't help it though… she's teasing you but it's an excuse to punish you. You've been warned, but you're weak… you can't help it and the next few minutes are a blur as she takes you across her lap, pants pulled down and she's spanking and paddling you hard! This POV movie is from your perspective as a sub, a spankee!
Images below are taken from the HD1920x1080 high quality playback clip!
Check out more of Katie who is rather frightening as she switches too convincingly!