I've been rather busy writing and planning elsewhere today, so I won't bore you all with this and just catch up on some missing updates and new stuff you are gonna love!
A new film has just been released at Pandora's excellent site DreamsofSpanking.com co starring the wonderful Lola Marie… getting a tawsing in some vintage Victorian style bloomers! Check out the free sombre clip and images which should whet your punishment appetites as it has mine!
Lola Marie is the scholarship girl at a Victorian school founded to educate promising young women. She works hard and tries to behave herself, but the rules are very strict and she keeps breaking them without meaning to. Normally she is clever or lucky enough to not get caught, but this time she's really done it. She has formed a close friendship with one of the grooms from the stables, and they have been caught together. Lola finds herself standing in front of the schoolmistress Miss Blake, facing the ultimate sanction – corporal punishment.
See all of the full film and the exciting image gallery HERE
****************************************************
More beautiful F/F spankings always come courtesy of the impressive Hand-Spanking.com – being a Japanese language site, it helps that the owner knows how to translate into English subtitles for the majority of us… it does help greatly as some of the plots at this site can be a little complicated, believe it or not… and we all understand the spanking actions and consequences, but it is nice to know what the dominants are saying as the poor victims plead and beg as we would normally expect! Take this very recent new film update… I love the authentic mother/daughter aspect that Japanese spanking sites ALWAYS get right every single time!
Taking advantage of her time off, Manami decides to go back home. However, she receives an OTK spanking from her angry mother who comes across her poor marks and finds her behaviour unacceptable…
You can see a free HD clip of this on the site tour pages, along with other recent movie updates for your perusal. CLICK HERE for more info…

****************************************************
I have a special treat for you from Firmhandspanking.com as I give you a double update since I missed them last week on my round up… this is from both sides of the Atlantic and features British beauty Belinda Lawson in the UK and new girl Tara Somerville given a harsh reminder paddling with a ping pong bat in California!
Belinda Lawson grabs her ankles for a 12 swat paddling
(in the Executive Privilege series -part H)
Stripped stunningly nude, secretary Belinda Lawson is punished for hiding Earl Grey's paddle. His discipline is strict, his authority complete. Belinda has to strip and hold her legs, then her ankles for 12 bare swats with a wooden paddle in Executive Privilege
Beautiful newcomer Tara Somerville is back as The Intern in Mr Reed's office for those perfect, jutting bare butt cheeks to be soundly spanked 71 times with a ping-pong paddle for disrespect. Hands on his desk, it's a teeth-gritting spanking to remember!
View both these films IN FULL and check out all the films now showing HERE
************************************************
There is another film starring newcomer Ally at SpankingServer.com – I still haven't guessed her nationality yet, but she forces peter to speak to her in his broken English, which I like… and of course there's nothing suspect about the strapping he gives her as it makes her eyes water as the leather licks into her sweet bottom! Check out these image stills and see for yourself what you are missing this week!
See MORE of Ally only from Spanking Server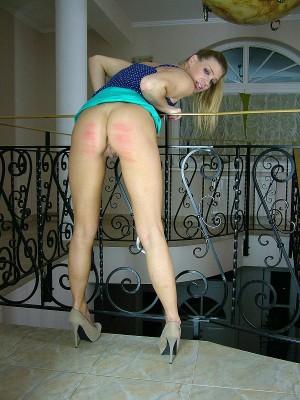 ***********************************************
Finally coming to the stage for today's updates there is a great girl fight spanking film from SpankingSarah.com – with Darcy Leigh and Bow Jangles (aka Kissy/Kissie etc)
Darcy & Bow are instructed to bake some cakes whilst Katie goes about her business. They soon get into a fight, throwing the ingredients at each other and making a mess of the kitchen. Bow decides it's time she taught Bow a lesson and takes a spatula to her bare bottom giving her a real hard whacking and leaving it well marked. They are sure to get into more trouble but just what?
& if you thought Sarah has been neglecting her spanking and punishment duties… fear not as there is a terrific caning film coming out with Belle Calder with a gorgeous soft bottom which marks far too easily for the nasty cane! You'll love the film!!!
Belle Calder is in more trouble. She says she has been in school all day but the truth will out and when it does trouble is not far behind. After a severe lecturing bell goes over the knee for a spanking on her white school knickers. These are then removed and the thing she fears most is about to happen. Her first caning. It is delivered hard, accurately and the pain seems to go on forever. Her bottom is left sore and well marked and she is close to tears.
Check out the HD previews of these films and more HERE

************************************************
That's it for now… but don't forget tommorow at my site there's a fantastic loving domestic bliss discipline films between Paul Kennedy and Alex Reynolds that you will not want to miss… it's just full of "awwww!" and such… I'll let you know more tomorrow 🙂
******************************************
Oh… and do go check out these sites that I also run, I have found a great reason to update Barebottom.biz again and am really excited about the direction that will take… I have updated there the last 2 days and promise much more and it's got some great stuff featured…
Also I have finally found a way for all mobile devices to view the Free Spanking Tube Site –  it's only on the clips I have started updating the last month or so… as the others are uploaded in my pet hate – Flash… this will be a dead format in a few years (thankfully) but of course there is HTML5 which easily embeds data… so do go check it out, there's a fair few additions the last couple of days if you wanna perv and play with my bandwidth and usage 😉
 & do not forget the other blog… it's got a great F/F feature today that I highly recommend you go take a look at! (it's very spanky and naughty!)
I will be looking at the designs and themes of these sites over the coming month as I need to bring them up to 2014 instead of being stuck in 2008! Exciting times! Good night everyone… sleep tight, see you here tomorrow with my new site updates 🙂