Things are looking up… the weather is behaving, it's calm, even bright  and I did see that warming orange thing in the sky at times… the birds are busy chirping and tweeting away (not on Twitter, of course), I shall be packing my bags in anticipation of my Vegas and LA visit later today (which I'm rather excited about, naturally) and it was good to chat to Mike the other day too and he has told me he has been filming again since his hospital visit… so we can expect many more "schpannnkings!" of naughty girls from the man that puts "rotter" into Rotterdam! Take these 2 naughty badminton players (below) … it's a 2 part film… and they thought they'd got away with the second part – UNTIL Mike got back into the "schwiiing" of things again! (LOL) Below are both full length movie part previews in the SIU Badminton Girls Uniform section at Spanked-in-Uniform.com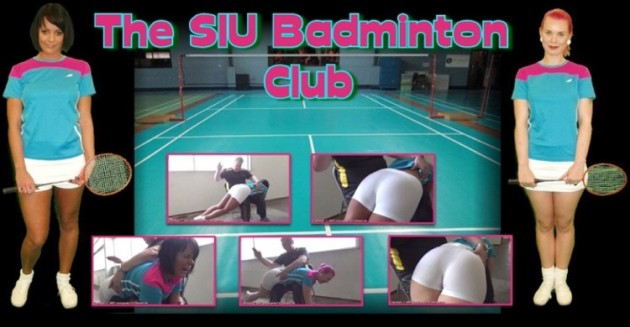 Stop Fooling Around – (Part 1 with Betty & Samantha)
With an important match coming soon, Samantha and Betty were expected to practice hard but instead they were giggling and talking about boys. Coach gave them two warnings but they didn't listen. He had enough and ordered them both into his office. He scolded them and gave Betty a sound OTK spanking and marched her outside and placed her with her bottom bare against the wall… In part two – he will take care of Samantha!
Samantha's turn – in part 2 (below)
… while Betty remains facing the wall, Samantha is taken over Coach's knee and given a good bare bottom spanking. After this punishment both girls are told to remove their skirts and panties and continue practicing with their sore, red, well spanked bottoms on display for all the other girls to see. It was a perfect warning to the others to practice hard or have shameful sore bottoms like poor Betty and Samantha.
Check out all the other latest uniform spanking punishments as they happen – HERE
**********************************************
I thought I'd remind you of a stunning model that NorthernSpanking.com were fortunate to film with a few times, I'm not quite sure if she is still in the scene at the mo, as her Fetlife and blog accounts don't seem to be updated anymore… I really missed out on Zille Defeu when she came over to England, not once, but twice, I believe… it was in the early days of me setting up my own site, so I won't knock myself out over it, shit happens… and of course the spanking parties that she once attended before I had discovered such delights… luckily, you can check out this wonderful intro on her from 2010 when I believe this was filmed in sunny Cumbria (NW England)… well, judging by the leaf count on the trees, it certainly wasn't winter, filming outdoors in Cumbria would have been suicide this time of year, lol!
Check out many more films with Zille at NorthernSpanking.com
**************************************************
Whilst I am reminiscing… perhaps you'd like a stunning reminder of Jenna Jay's solitary confinement punishments (I have the 1st 2 days below) of her at Bars-and-Stripes.com – as you'll see from her very sore red bottom, the prison warders, Zoe Page & Stephen Lewis like to play with their helpless victims in the confines of "Solitary"… where no one can hear their cries!
Jenna's Solitary Punishment – Day 1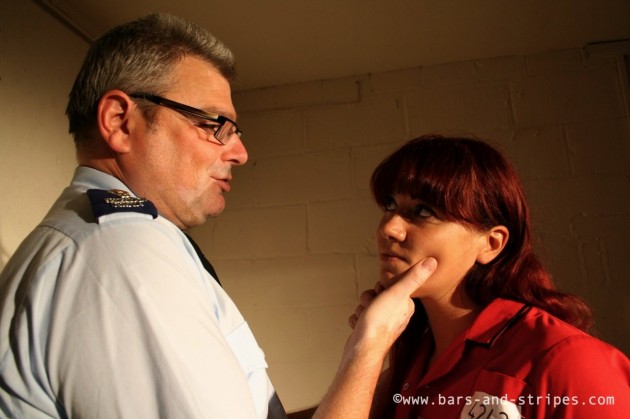 Prison Officer Stephen Lewis asks her if she's enjoying her first day in solitary – and she nonchalantly tells him it's all right. The unoccupied chair is put in the centre of the cell and she is told to bend over it. She does exactly as she is told – this makes Officer Lewis suggest that she may be learning to enjoy it. But when he starts hand spanking her – she is soon pleading with him to stop. However, he carries on with the spanking. Cruelly, he tells her to ask him to stop convincingly and nicely. He tells her to say pretty please – and when she does he tells her no and carries on spanking her very hard on her bare bottom.
Day 2 – Solitary Punishment
Prisoner Jenna Jay is gently rubbing at her sore bottom – still suffering from the previous day's spanking. Now it is day two of being in solitary and she has a visitor – Prison Officer Zoe Page. As Officer Page has brought a paddle with her- it's obvious why she's there. She orders poor Jenna to stand up and bend over the back of the solitary piece of furniture that the cell has to offer. Jenna obeys and her short tunic rides up her back, revealing a pair of black regulation prison knickers. The tell tale signs of the previous days spanking are two rosy red bruised cheeks.
 Officer Page uses the paddle – from one cheek to the other, full strength and non-stop. Jenna is in pain and whimpers but Officer Page hasn't a merciful bone in her body. Finally Officer page tires of thrashing Jenna and leaves her alone again – free to rub her bottom in an attempt to rub away the soreness.
Check out all the inmates and their severe humiliating punishments at the unique Bars-and-Stripes.com

**************************************************************
A couple of stunning updates now coming to the stage as I start to think about wrapping up today's blog post… these next 2 are from Pandora's site now… I like "Littles play" (thanks to Sarah Gregory as she is massively into it) and also I get the harder raunchy sexy images that Pandora produced with one of her lovers, D, for Valentine's Day… as it's something any lovers in our kink can easily identify with. So take a sneaky glimpse behind that stage curtain and see what Pandora has been up to!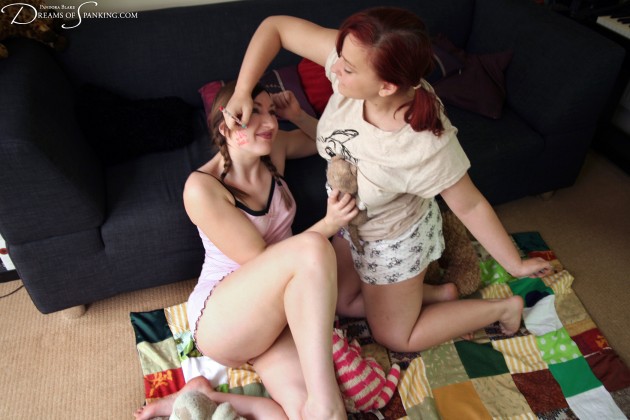 Pandora loves to tease her little cousin Mila, but Mila takes things too far one day when she retaliates by colouring in Pandora's face in red pen. Pandora runs to tell. Mila is outraged to find herself taken over Paul's lap and spanked, and vows to get her own back. Mila returns with a slipper and blackmails Pandora into bending over and taking a spanking until her bottom is also coloured as red as felt tip pen! A light-hearted age play scene with Mila at her bratty best. Her protestations of innocence are hilarious and adorable, and you'll love the way she kicks and wriggles over Paul's knee!
In the 2nd erotic set… Pandora explains that "We started out shooting couple nudes, but D and I can't keep our hands off each other. Skin to skin, our bodies tangle as we kiss and the temperature rises. Real love, real lust, and real, spontaneous sex!" Enough said… check out these lower resolution images! #TrouserArousal
Check out more of what Pandora is dreaming about this week – HERE
****************************************************
Finally, I had wanted to get this update out earlier this week, so better late than never… Ludella Hahn looks absolutely scrummy in these images taken from the latest film at English-Spankers.com – I know I'm an old daft git… but what I found more sexy than anything about this was the way her natural womanly bush complimented the burlesque style lingerie she had on… I am a massive fan of burlesque and Bettie Page in particular… so seeing this set the #TrouserArousal gauges soaring… thank you kind E-S peeps for an awesome update!
Top American model Ludella Hahn loves the English way of spanking and punishing girls so much that she wants to try it on herself, so she can spank herself when she is back home. She works her way through our nastiest implements including a large wooden bat, a loopy and some of our thick leather straps. She sets out to really whack her bare bottom till it's a bright shade of red. Just to make her day Sarah Stern comes along and finishes the job. A good hard whacking film with this beautiful lady taking her very hardest ever punishment.
Check out the FREE HD Spanking preview clip HERE

**************************************************
Enjoy what remains of your weekend everyone!