I have just spent a tedious hour trying to book a flight, all for the sake of a few Quid cheaper on one network I was sent to… their useless rotten server kept timing out and also I didn't know if my card was getting charged, so in the end I paid about $10 extra just so I could get the damn thing sorted, it just pissed off that this had wasted my time faffing with that site's useless connection. Frustrating, isn't it? I felt so helpless and so angry… I have enough worries on my plate without crap like that! So already I am an hour behind on what i wanted to bring you as well as get some other writings up on the other blogs! So I won't bore you with the detail and will limit images per site to a maximum of 8 and bring you all the relevant info you will need to see what is out there this past week or so… if I have time, I will write extra on my other blogs! I will give you links to those or announce them on Twitter so you will know they are updated. OK… let's get on with the spanking goodness and in no particular order, coming to the stage today we have updates from the following sites: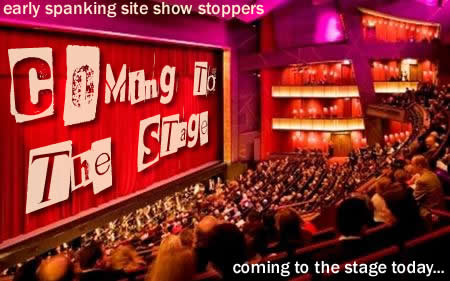 English Spankers – Spanking Sarah – Spanked in Uniform & Sound Punishment
Followed by appearances from Firm Hand, Amber Spanks and Sarah Gregory Spanking … and if I have time I will also add a fine update from my good friends at Northern Spanking too! I'm gonna be busy, so I better get cracking!
English Spankers – "A Well Deserved Punishment"
Young Jess fancies herself as a cat burglar but she does not have nine lives and unfortunately picks on a house owned by the London Tanner and Spanking Sarah. Now she is caught in the act of going through the cupboards and punishment is to be swift and very painful. After a real lecture and telling off she goes over the knee for a spanking but then the wicked pair decide to give her a nasty double caning. Bent over she has to take a long and very hard thrashing from two very accurate and hard experts with the cane.
Check out the free HD Clip of thieving Emo Chick Jess's double caning HERE
*************************************************
Spanking Sarah – "Paddle for Ashley"
It's the second part of Ashley's audition for Sarah's site and she wants to use her paddles on her bare bottom. Ashley is so lovely that she really does have to force herself to give her the hard paddling that she knows we will expect her to receive but thankfully Sarah is able to do this. Once she sees her bent over with her bottom right in the air she has no hesitation and Sarah gives her a jolly hard punishment paddling. She picks two nasty stingy paddles and these do make her jump around a bit, but it was worth it though as you will see!
See sexy brunette Ashley's first paddling from this free clip HERE
*****************************************
Sound Punishment – Amelia Jane Rutherford is the "Sorry Secretary"
Amelia Jane Rutherford, her name is a impressive as the position she holds as personal secretary to the Chairman of the Board. When she really messes up the correspondence between two customers it costs the company dear, and the Chairman exacts his revenge in a way she will always remember!
Check out a free clip of stunning Amelia's punishment HERE
********************************************
Spanked-in-Uniform – Army Cadet Section "Letter Home parts 1 & 2"
18 year old cadet Vanessa is writing a letter home how she is doing at the Academy. She mentions in the letter that in that morning she was soundly spanked by her commanding officer during inspection for having her toothbrush in the wrong place. During the spanking he noticed that she was not wearing regulation panties so he told her to wait by her bed, bottom bare, until he had finished the inspection. She then got a sound paddling. later that week in part 2, her commanding Officer decided to give her a traditional salute birching whilst still dressed in her formal uniform. She received a hard 12 stroke bare bottom Academy Salute Birching which left her bottom very red and sore…
Go check out this double film update as part of the whole spanked in uniform thing!
****************************************************
OK, I know the next update well, as poor Sarah Gregory had to edit this whilst we were out together in LA… it wasn't an easy edit either and no one will know how hard this was to complete unless you saw some of the raw footage… OMG! This is one of my pet peeves whenever we film and if I am not on cams then I have less control or direction. We don't always get the cam guys we want… & we only have one chance to get it right after we finish filming for the day so for her to edit in between constant "cuts" and cam angle re arrangements or zooming in and out unreasonably…grrrr. We live and learn. It's easy to overlook something at the time, it can't be redone and makes life difficult later… so what Sarah has done with this footage, when you see the movie, you will never notice anything… and it is in fact an editing marvel! She worked damn hard at this and I'm proud of her, I know couldn't do that! Well done, baby… oh, and it's also a really good film with Chelsea Pfeiffer too, as you'd expect! Check it out below!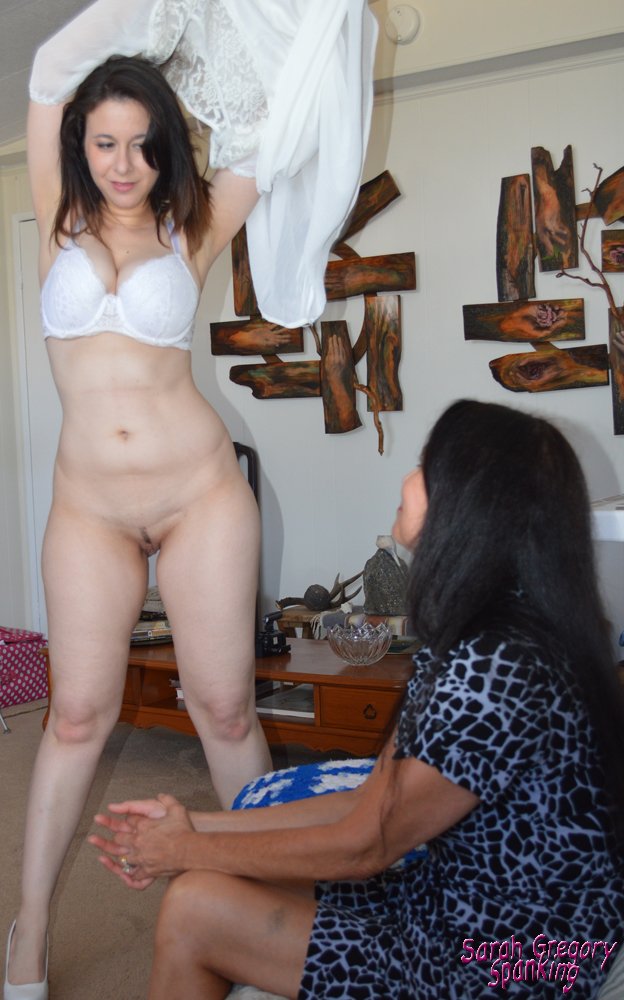 In this video Sarah plays a young innocent girl who has only read about and seen videos of spankings. She is curious and would like to try it. She contacts Chelsea Pfeiffer who has put out an ad looking for a submissive to spank. Sarah quite enjoys the sensations of her first spanking, strapping, and flogging, though it does sting and make her squeal!
Check out MORE of this film only from SarahGregorySpanking.com
or via the Sarah Gregory Pass (click banner below for her special 2 site pass saving you money)

***********************************************
Another lady I love to bits doing what she does is Amber Dawn from the Bay Area on the west coast, this hot redhead spanking model has been making her own unique and often much passed over spanking porn (in my opinion) since 2007… sign up to her network and you get 3 sites, 2 of which are entirely devoted to spanking, One features Amber getting spanked by her (lucky) Daddy and various switchy girlies… and the other site she gets to dish out some naughty punishments of her own… and of course the bonus site features a lot of her vanilla modeling stuff as well as recorded cam shows and all manner of extra perviness that I know you will all adore!
OK, enough of that… here is Amber dishing out her spankings to Amy on her birthday
Click here to see just how HOT Amber's site is!
******************************************************
Finally from Firm Hand Spanking (I ran out of time thanks to a nasty piece of piracy that took me a fucking hour to remove and it's a Saturday FFS!) I think you'll like this last update I have for you today, it stars Tara Somerville, one of the gorgeous new girls featuring presently at this site! Here she is in her ongoing "Intern" series. I have to give a "shout out" to Ralph Marvel here (aka Frank or Coach Reed at Firm Hand) he's an awesome guy and a great top who I have met a few times now!
A perfect, jutting bare bottom and a beautiful blonde! Tara Somerville comes to the office in her college cheer uniform – hot as hell! Mr Reed's paddle spanks her bare butt 40 times for disrupting the office, leaving her cheeks red and sore! Attitude adjusted? Briefly… there is plenty more to come in this hot series, that is for sure!
& you can catch up on all the latest updates incl. another with Samantha Woodley HERE
********************************************
OK, thanks to the pirates, I had to cut this short, it has really pissed me off… but what am I supposed to do? Let these greedy leeches suck the life out of my site? I promised to make it as unprofitable for them and that is the point… I'm sure some of them and their freetard lackies read this blog, seriously do they not know how much it hurts to see your hard work, the agony of those filmshoots when models don't turn up or something else goes wrong… the chargebacks from STOLEN cards they use… no, they just take and try to make as much profit as they can. There is less and less incentive for smaller producers like myself to "produce" nowadays when this happens… I seriously predict in a few years that the paysite model will be drastically changing, and that model will involve big changes most probably punishing those that try to support our work now… as without income, we die, that's a fact. It will mean other ways of trying to protect what you have built up and most probably in fractured sites/clips and one off downloads but to name some ways as getting into sites like mine and ripping it is far too easy nowadays. Sure, we often stop stolen cards, they are normally easy to spot… but we are not always online… how sad would that be… I do try to have a life, unlike one guy based in Holland (one of about 4 or 5 determined individuals across the glove) who is determined to release every film I have produced… it is truly sickening and soul destroying. So if you can put up with my ramblings, have any sympathy left after this little rant, then please do try to support my site with a membership, or any of the others you see, as this affects us all. I'm still keen to continue but seeing site rips on any site destroys that hope and fun that I and other producers once had making content! As I said, it is an emotive subject, I hate the fact I have to spend more time devoted to rooting this crap out when I'd rather be spending time on my site and blogs instead or even enjoying a break as I had planned to. So have a great weekend, I will be back tomorrow and trying to update my other blogs and sites of interest too! Night all!
– SUPPORT OUR SITES –  
PLEASE BECOME A MEMBER TO THOSE YOU WANT TO SEE CONTINUE!