I recently filmed with Casey, as you'd know if you are a reader of this blog… well, many of the films have now been edited and are being included into my schedule… this week there is a double update as she also appears in one of many POV style films too… and I thought the first one showing was rather cute and naughty in its own way as she played a babygirl teasing her daddy… played by YOU, or whoever is watching (remember it's POV!). She is pulling out all the stops to try and avoid that spanking as you'll see in some images and I have cut a short clip as the 10 second clip previews on the Clips Store network NEVER do these any justice… so you will see for yourself, but like Casey the tease… this clip is also a teaser but you'll get the idea! Yup, she's f*cking HOT!
The clips are available in outstanding 1920×1080 HD-MP4 and 1280×720 HD-WMV playback: – Adult Babygirl, Casey Calvert, has been told by you, her Daddy, that she is about to be spanked as you had pointed out to her earlier. However, your babygirl will do ANYTHING to get out of a spanking, she teases you, she uses her big doe eyes, her sexuality to provoke other emotions in you, raw lust! She knows you've been watching her when you think she can't see you…she pleads again with you, then she offers herself sexually. It's something you have thought long and hard about but despite her very tempting offer you remain focused and she eventually realizes the only thing you want from her is her submission and her tight bottom bared and ready for her spanking that you know this naughty girl deserves! REMEMBER: This is an adult babygirl/daddy roleplay from your perspective… there is no actual spanking but it is a fantastic tease and build up that is essential in any spanking scenario and will make you want to spank this minx for real!
Click below to view a short preview of Casey trying her best to wriggle out of her spanking!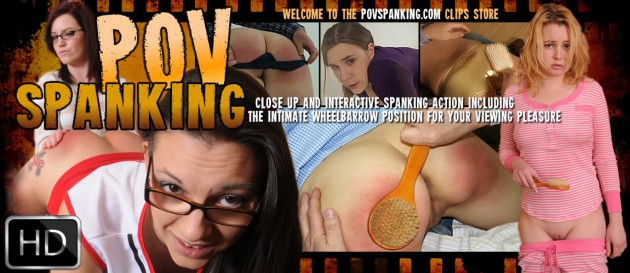 ********************************************************
In her other debut this week, it is a very naughty film with her as a cheerleader who receives a "special punishment" – she only received this for continually being cheeky and sassy… that was after she received the dreaded 3 tailed leather strap (that is a nasty thing to have licking your cheeks, believe me!) and a new stinging hairbrush that I had bought out there as well as a leather paddle and crop on her bare bottom. So of course she got something a little unexpected… and I continued on with the punishment – that shut her up rather quickly!!! Images below are reduced in size but compliment the movie along with a massive 138 video screen shot gallery (in 1920×1080 resolution) so it's quite an update!
Chief's random factoid for the day: Do you recognize that couch and fireplace? You should… it was the same place as many of the Clare Fonda filmshoots have taken place… I was rather starstruck by it all… "Ooh look, the fireplace, oh my, that's the bedroom… my my, that couch looks familar!" and so on, lol! So much spanking has gone on inside this house's walls that it is mind boggling! What stories these walls could tell, the sounds of smacking, slapping and loud yelps… it's all gone on here for many many years and I was glad I could contribute to that!!!
Casey Calvert's "Special Punishment"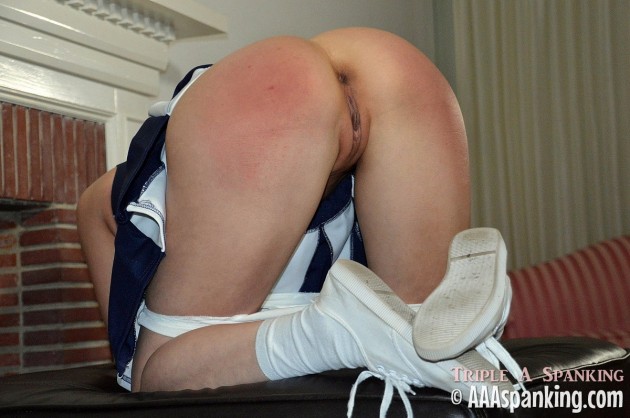 This is the stunning debut of naughty cheergirl, Casey Calvert, who had never experienced such an embarrassing discipline session such as this before. She didn't expect her eccentric cheer coach to be so mad at her, after all she was the best girl in the team, the prettiest, the ones all the boys loved to watch. Only that was the problem, she was so sure of herself that she couldn't be bothered to turn up to practice thinking she was better than everyone else. This selfish behaviour earned her a long and drawn out punishment but when she continued to sass and treat this session with disdain, her cheer coach knew exactly what to do and had her placed on all fours, bare bottom stuck out, inviting and vulnerable for his dreaded anal hook that had her gasping in shame as this was inserted for the 2nd half of her "special punishment" which included her bare bottom being smacked, strapped, hairbrushed and cropped! You will have to see this punishment to believe it! This film is also one of the new breed of true HD1080 films that gives you a better viewing experience.
There's a FREE CLIP of this below with 2 versions for you to check out, one in true 1080HD!!!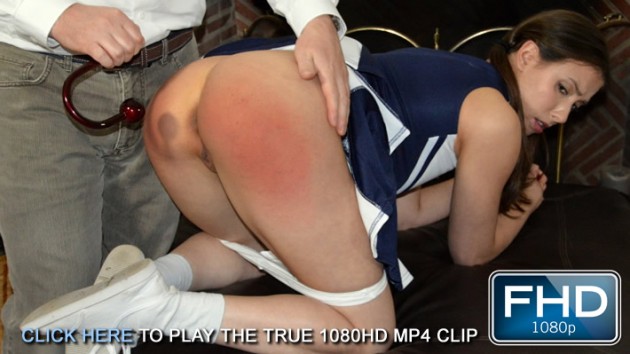 There is also the option to view the 17 Minute film  and her POV film at the sites below as a one off download, the Special Punishment film will be out in 2 parts to start with and most probably uploaded as a full file early next week if you just want the one film of Casey 🙂
**********************************************
Back soon with more updates outside of my network… good night all!