Another new week, I won't mention anything about St Patrick's Day other than this bit… to be honest, I find it odd that everyone wants to drink warm green beer or dress up and look a total idiot (I could've said much worse) with those ridiculous oversized hats and spout on about the motherland or the Emerald Isle when they are 1/8 Irish or some such bullshit… no, today, I shall just get straight into some fantastic spanking updates and hidden delights you miss at your peril… let's get it on, Monday People, and embrace another new week… let's see what is out there!
Beautiful redhead Amber Dawn from spankamber.com shows us how she spanks her fantastic girls she finds, like this submissive blonde called Anna… as you'll get to see many parts of Amber's site network with one set of codes, you can see Anna teasing and showing us what she is made of in the more "vanilla" solo girl section… and of course then there's the hot spanking… I'm featuring this one today where Anna get's spanked for continually eating phallic shaped candy… a perfect excuse for Amber to spank her… and of course get to grab and feel this natural girl's body, perfect little titties and admire just how red her bottom gets… I loved the hair pulling and Amber's lecherous demeanour throughout this film, she really got off on spanking this girl… it shows and it's HOT!
Anna teases us and strips for the camera…
…then she is punished for eating too much naughty shaped candy!
See MORE HOT images & films of Amber showing us her spanktastic charms (like these below)
Only from SpankAmber.com
*********************************************************
A couple of really hot girl on girl updates coming to you from Punishedbrats.com now with some real fave spanking stars of mine, what is there not to like seeing Audrey, Joelle and new girls Adrianna & Cadence? I have filmed and been fortunate enough to work with Joelle and Adrianna a few times already and am hoping that I get to work with Audrey and Cadence too at some point soon… I am definitely filming with Adrianna next month away from any parties anyway and am really looking forward to that as she is infectiously funny and is one of those girls that can take quite a thrashing as you'll soon discover on my site (coming soon) but today, let's start with Audrey & Adrianna here in a film called "Overheard"
Audrey overheard her daughter Adriana speaking disrespectfully about her on the phone. She wastes no time in disciplining her and takes puts her over the knee on the spot.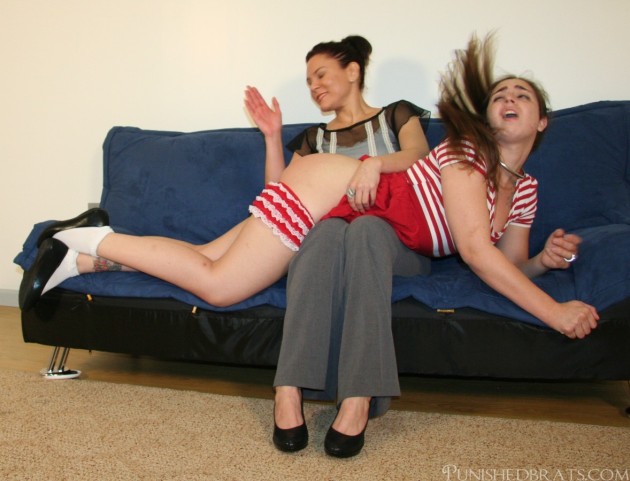 & a great schoolgirl film with a rare chance to see Joelle take on the role of being more dominant… I know she was nervous about this role on film, but seeing it, she is superb and should switch more in my opinion… I will try to get her to switch at some point for my site, though of course I love seeing her long legs kicking and wriggling when she is getting a good hard OTK spanking!!! With her most hated implement… the hairbrush!!! 🙂
This film is called: "As the hairbrush falls"
Joelle arranged to have her little sister attend a prestigious prep school in an effort to repair her academic situation so that she can return to college the following September. When Cadence misbehaves at school by calling her instructor a name, Joelle realizes that little sis needs a lesson in manners. Cadence finds herself over her big sister's lap and having her bare bottom spanked with a hairbrush.
As the hairbrush falls , time and again, upon Cadence's bare bottom the tears begin to flow. She promises to be respectful of her instructors from now on. After giving her little sister the spanking she needed, Joelle makes her sit on a hard chair that was painful to her freshly spanked bottom.
CLICK HERE TO VIEW THE LATEST BRAT PUNISHMENT CLIPS
********************************************************
Next up, a great new film from my wonderful baby's site… Sarah Gregory Spanking and it stars 2 other people I have a lot of time for… Amelia Jane Rutherford (I will be filming with her soon too, I can't wait for that!!!) and Johnny… a good friend of Sarah's and Fetlife stalwart FLApaddler … he's a great guy and I will be meeting him at the BBW event in around a month… good times! I loved this inventive storyline and of course as it has Amelia, there's plenty of drama and some (naturally) amazing spanking scenes!
The Mischievous Maid – this title was thought up by Justin… or J_ Doggg as some of you might know him on Fetlife – & I am mentoring him and so feel  naturally protective towards him too… "I Dom because I care!"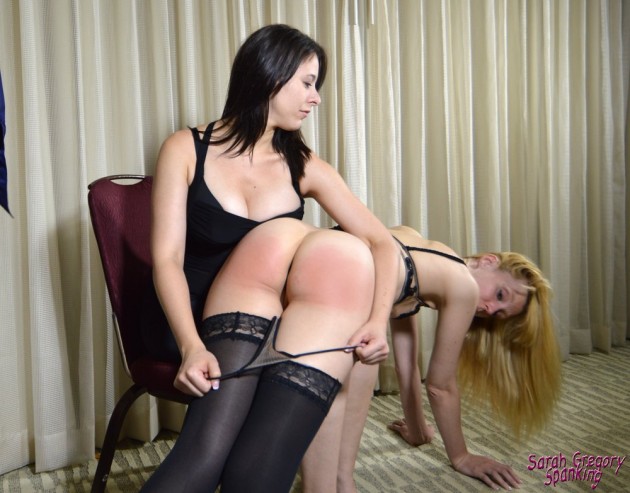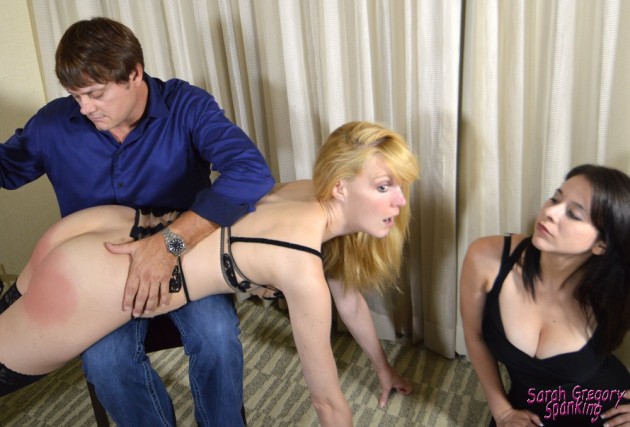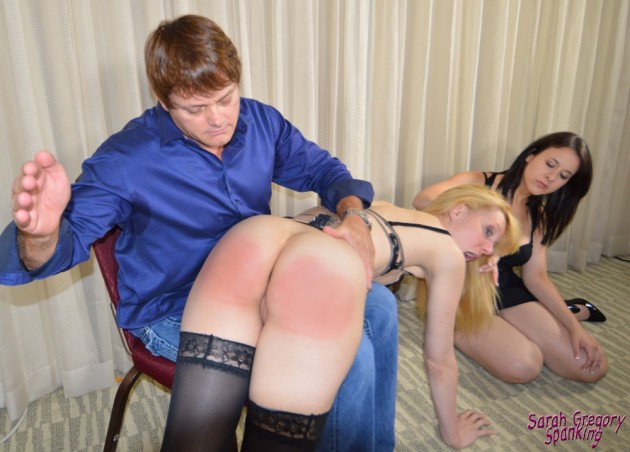 Johnny and Sarah are not happy at all to return to their hotel room after a nice evening out to the maid trying on Sarah's expensive lingerie. Johnny threatens to call security and Amelia doesn't want that and says she will do anything. Well, I don't think she knew that taking a hard spanking and strapping was what she was in for.
Click here to see the next updates from this new film HERE
************************************************
Finally today, I had to include this old line up with Dani Daniels… she really is stunning and her recent appearances as a top at Firmhandspanking.com (for which she is doing a great job) hide the fact that she has been a sub a few times for Chelsea Pfeiffer… this punishment was a little harder but she gritted her teeth and accepted everything that Chelsea gave her… and she  didn't hold back with the paddles… Dani is gorgeous and I hope that she decides to bottom again… she's a lovely top but after you see these screen grabs… you will want to see MORE of her like this, I know I would!
Click here to see this EXCLUSIVE film only from Goodspanking.com
***********************************************************
I shall have more Brit style updates here for you tomorrow including news of my latest film… don't go too far now y'all! In the meantime, enjoy this fun gif I found… it's an oldie, but still makes me smile and forget that it's still only Monday this week 🙂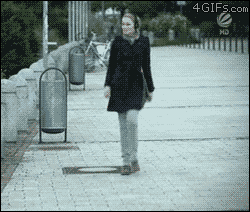 Oh, and I can't believe I have been so rude as NOT to mention that an AWESOME interview with myself and Sarah Gregory is up at THIS WEEK IN SPANKING – it's a podcast, and we discuss all manner of fun and frivolity, I won't spoil it, but it's definitely worth listening to, Joe gave us an awesome interview… thanks, man!