Hi, it's been a while since I last wrote an up to date post, that would be when I was on my way to LA… it seems so long ago now already as I shiver here in the very early hours of a frosty south west outpost of Britain. To be honest, I don't know where to begin so I will just post a few images of what Sarah and I got up to during our stay which involved hanging out with Alex, Paul and their 2 cats, thank you to them both for putting up with us… we did some filming at theirs too… some Hollywood (pre Oscars) and Santa Monica beach/pier sightseeing as well as Sarah showing me the joys of Thrift Store shopping, basically taking the "Good" out of Goodwill (I guess Americans will get this, lol). There was also the lovely Hot Tub evening where we all went out and met Christy Cutie at her place and hung out with Casey Calvert, who filmed for us the next day in the San Fernando Valley area at one of the locations that many Clare Fonda shoots were held… I was like "oh look, the pink sofa… oh look, the famous brick fireplace" etc – but the following day was reserved for more star struck witterings from me as I got to watch Sarah film at Clare Fonda's place for her NaughtyDiaperGirls.com website (the films were awesome and quite naughty, heh heh). I had already met Clare earlier that week in one of her other jobs, in which she was extremely funny as an MC for a show… throwing in some funny spanking and diapering references that went over the heads of everyone except for us, lol! A very pleasant evening only ruined by the fact that it had started to rain heavily and the weather deteriorated such that drivers in LA went into spazz mode and decided to crash into each other in the torrential downpours *sigh* – part of this affected our filmshoot with gorgeous Casey, who called us to apologize for being late as there were several accidents from her downtown location to us which was taking her far longer to get to the shoot location because of 3 accidents on the way! She was so apologetic and promised to just do what was necessary for our booking as well as the owner, John being sympathetic… the place was also a treasure trove of clothing, props and BDSM paraphernalia which fascinated us all… so much stuff had been collected over the years!
So I shall attempt to fill you in on some more detail of my stay in the LA area… my first time on the West Coast, which I was naturally excited about… thinking about sunsets and touching the Pacific Ocean for the first time were high on my early agenda… as Sarah and I drove to Santa Monica… where I had forgotten, the beach pier area was the end of Route 66 (another one of my journeys I would like to make one day… later this year at the Crimson Moon Party which I am now signed up to go you will no doubt find me searching out the street where Route 66 starts in Chicago away from my time partying!)
Santa Monica beach and pier was a place of firsts for me… the first time I had touched the Pacific Ocean, seen the end of Route 66 and eaten a Fennel Cake (sweet fatty dessert ideal for a seaside resort). It was also a rather nice day and we stayed until sunset, rode the ferris wheel at the end of the pier and got hungry so ate at Bubba Shrimp (another first… yum, that was tasty shrimp, even if the Forrest Gump test at the end was a little annoying)
The next day we did some low key filming for our sites with Paul and Alex at their place, I won't show too much right now but you get the behind the scenes scoop on Alex spanking Sarah… and rather well too! later that evening we went out and I got to meet Clare Fonda finally… she was compering a show. I was like a kid meeting their film idol, lol! Clare is so nice in real life and very funny, she loves the "lame cougar" look… don't be fooled by her lameness… it's all calculating, which is kinda ultra cool as she said to me she enjoys being called a Gilf too!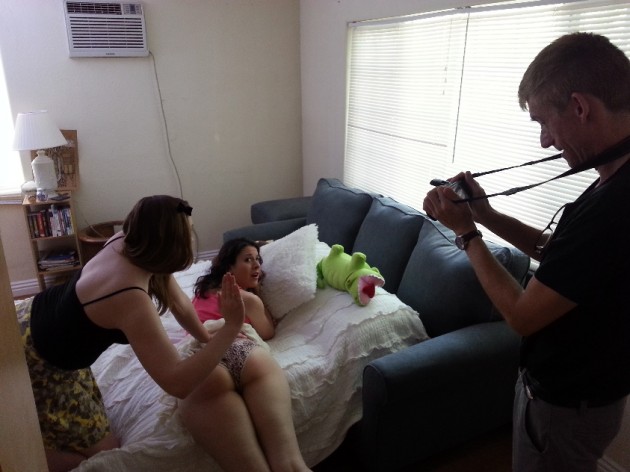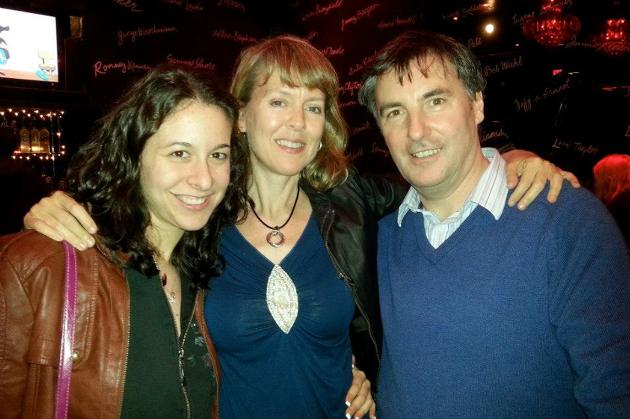 Oh and in between… some thrift shopping experiences, the first of many!!!
We also chilled out checking the sights of Hollywood (pre Oscars, of course) and both got interviewed for a Japanese news channel… I just kept thinking of Sarah starring in a Cutiespankee.com film, lol! What can I say? The interviewer was cute, eh?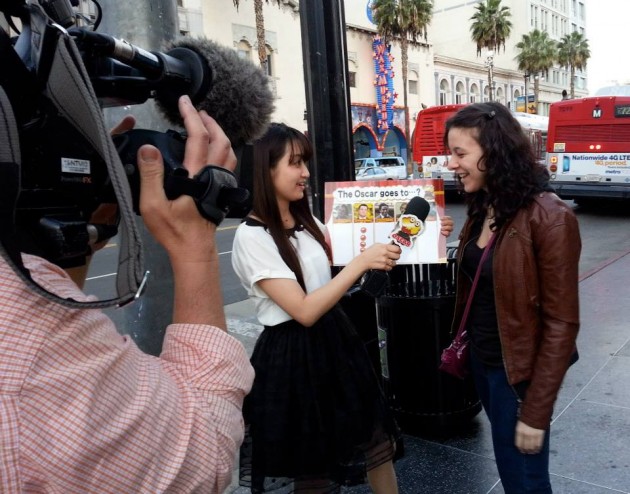 Below are some experiences including walking on the famous cling film (or saran wrapped, as I have been told) red carpet pre Oscars night! Just as well, as it rained British stylee afterwards!!! Oh did I tell you we chilled out with Christy Cutie and  Casey Calvert in the hot tub… the girls messed around inside too, for fun! Paul and I were not complaining, of course!
It was then time to film Casey Calvert… I don't have any pics of this today as it is hideously late, perhaps I should go to bed… but not before showing you me spanking Clare Fonda for fun… no films, I shall be letting you all know what she is up to as well very soon, it's quite exciting. Clare was a blast, after this we all went for lunch at a fave Chinese restaurant of hers… which was very good… I'd have asked Sarah for the pics as she takes an image of everything presented before we eat it… anyway, she kindly offered to pay the meal and we coughed up the tip… only Clare put this in her purse later as we stayed and chatted for a while at the table after our meal and the poor waiter thought she was stealing it… lol! So she got this spanking when we dropped her off at her place!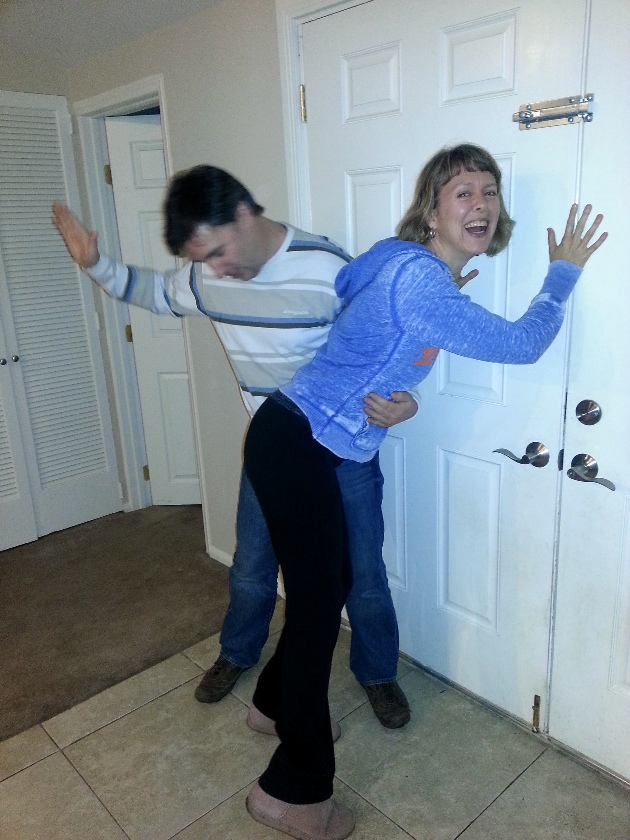 I hope you enjoyed a taste of what we got up to… seriously the stuff we filmed, I will post some teaser images after tomorrow as i want to start catching up on site updates, promos and of course tomorrow sees Erica Scott making her debut at Triple A Spanking – which is awesome, by the way! Check out this later, I promise you Erica was super feisty and needed bringing down a peg or two!!! All the inside goss and info on that coming VERY SOON! Good night!
Erica Scott… appearing soon at AAAspanking.com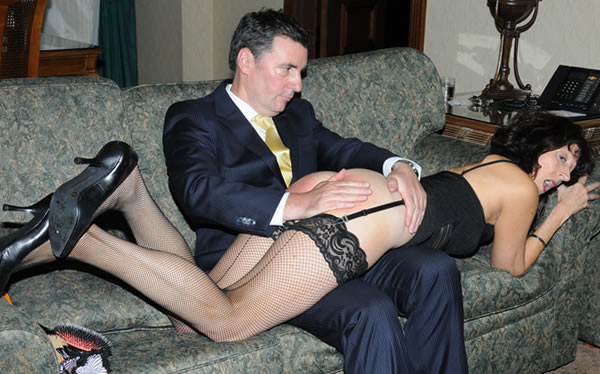 **************************************************************
Oh, I have told everyone about my "vanilla fetish" for palm trees!
I love them, they make me so happy, whatever the weather!!! #yay!