Another classic "cream Horn" moment for you all to enjoy!
Sorry about the absence! As I said I've been busy away from the blog so once again "Sorry!" My humble apologies if I seem somewhat tardy in updating nearly everyday to just 3 or so times a week but what I will update I hope you all love! Better late than never and just released at SpankedCallgirls.com is my long standing favorite spankee, Kay Richards who looks super slutty and amazingly "dee-lish" in that outfit with her dress showing off all her natural curves… She gets properly "man spanked" by Double Dan… and I gotta say, if ever I make it over to LA (which I hope to much later this year) I will be looking up Kay for some man spanking of my own… and that's a promise! Find out why she gives ol' Chiefy his trusted "Cream Horn" Award!

Today's Cream Horn Award goes to Kay Richards at Spankedcallgirls.com
This is something we should see more of, Kay getting MAN spanked! I love Kay's husky accent and the way she moans and complains, it's just so sexy! In this episode, you'll see Kay getting some hot OTK action from her client which is one of the hardest thrashings she has had in a long time. Kay always gets very red and sore, vulnerable and weepy as we all know! Mmm!! See more of Kay HERE
**********************************************
Another of my real faves is the lucious Michaela mcGowen, another who easily earns the Cream Horn from me everytime, again it's her cute accent, the way she whines and complains when things go against her like this wonderful scene from the infamous "Houseguest from Hell" series just over a year ago at Firmhandspanking.com – yeah, I know it's old but it's worth posting, and bear with me as I'll update with a brand new honey from there afterwards!
OMG she's incredible, isn't she? I have gone Michaela mental recently, check out how Aunt Cindy disapproves of Michaela's short skirt then chases and spanks this gorgeous brat in the long play streaming clip below: Enjoy!
& as promised some short clips of a newbie and some images too which I'm sure will have already been circulated, but this new girl has the look of Ann Hathaway about her, don't you think? I kind of want to see the actress spanked for making some criminal films like that awful princess one (can't remember the title) oh hang on, I'll go Google her film biography…. one sec!
tum tee tum…. just looking
still looking her up… *sigh*
Ah yes… "The Princess Diaries" (d'oh!) and I think they made a sequel too (WTF?) Anyway, as I said, new girl Carey Brooks has the touch of Ann hathaway about her…. and I'm sticking with that as it does it for me!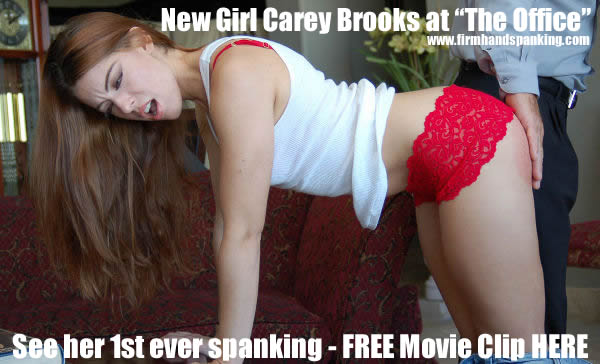 Yes! Those buns ARE real, carey is the possessor of a fantastic bubble butt!!!
!!! SEE MUCH MORE OF ALL THE NEW GIRLS LIKE CAREY BROOKS HERE!!!