It's been a while since I did a multi site update outside of my network, and now that I am back and free from jetlag (which I got real bad over 24 hours) … I feel able to get you a decent sized update and also promise you news of what I got up to on my last American trip – which will be coming up in my next blog post… which I absolutely loved.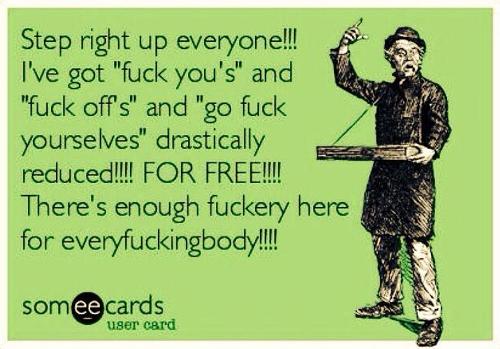 WARNING TO CREDIT CARD THIEVES & FREETARDS: If you are neither, please ignore this next paragraph (below).
It would appear that some asshat is continuing to use their quota of STOLEN credit card details (I do wonder how they get them, or if it is actually from organised crime in some way!) and then they petulantly pass on their illicit codes to others when I get to them and kill them (quickly, I might add) via messageboards or sites, I guess… it is rather funny seeing multiple user details showing up often with the same old IPs from those who just don't want to pay… I would like to remind these freetards that you are helping those using stolen card details  – I know you read this. Remember, these thieves are the lowest of the low…  how would you like it if you suddenly found internet transactions on YOUR card you had no idea of… your card's details would be harvested, you'd feel violated, right? Imagine the worry it brings, the time you then have to waste to contact your card provider or bank… this is NOT victimless, but what would you expect? I guess you still feel it doesn't bother you… well, it will if I won't produce more content in future. I voided 3 transaction sign ups alone earlier today… 3, all from the same person. Would it really hurt those who are so cheap just to support the site for once – FFS… I have a trial option for just $15 – is that so much for some of you cheap asses? Think on it, YOU could actually view and download the content you wanted to see and actually HELP my site to grow rather than try to bleed it dry or help the selfish thieving credit card pirates who make a good living off others misery making a good income from whatever backward hole these lowlifes crawled out of – either selling usernames or sending up files they download from a site onto various forums and torrent sites.

*************************************************
Anyway, enough of me bleating on, eh? Let's see some great site updates across the globe instead… this will cheer us all up!!! Some catching up to do starting at Spanked-in-Uniform.com with a new uniform niche or 2 and more to show you!
Little Cory was supposed to be practicing but she decided to take a break without asking Coach. He caught her and he immediately got her on her feet for some painful exercises involving her petite bottom and his hard bat. He then took her to his office for her proper punishment and after a sound OTK warm up spanking, she was strapped and told to practice hard until dinnertime.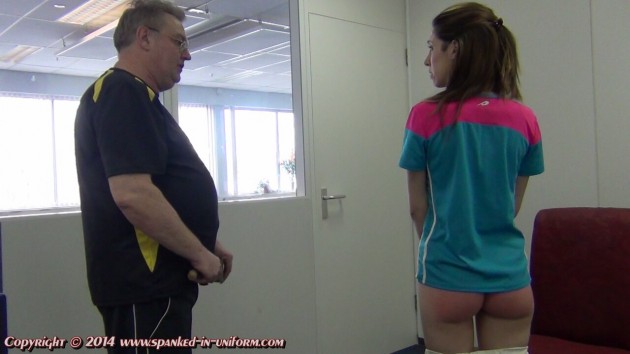 There is a new uniform feature just released and it is a welcome prison style theme… below are the 2 1st parts of the full movies showcasing the Masonfield Prison For Women starring naughty Dutch girls, Cheyenne & Julie.
Meet new inmates Cheyenne And Julie. Cheyenne has a number of speeding tickets that she didn't pay and Julie a number of bills which were unpaid. They were both senteced to two months. After the interview, as per tradition at this institution, their underwear was removed. Warden Johnson took them to their cell and gave them both a sound welcome spanking. The 1st spanking was given to Julie as she went over the Warden's knee close to tears. In the 2nd part of this film: Cheyenne is taken over the Warden's knee and her bare bottom gets a sound spanking. Then both inmates are ordered to lay over the lower bunk and they get a good stinging punishment across their already sore bottoms with the Warden's infamous riding crop.
Check out all the various uniform spanking niches now showing HERE
****************************************************
At Pandora Blake's Dreams of Spanking there is a start to a credible Victorian style Punishment Trilogy… the 1st 2 parts are already released and you can see these below.
Molly Malone plays the strict stepmother in this Victorian spanking scene, taking a firm hand with her stepson, Alexander Knight. As a dignified young man, he's shocked that she'd try to exert her authority over him, but when she repeats her firm orders that he pull down his trousers, he can't help but obey. Stepmother Molly's special brand of domestic discipline sees him taken over her knee and spanked until his bottom is bright red, before being subjected to the paddle. Alex's outraged protests fall on deaf ears, as she teaches him a harsh lesson about her authority that he won't forget in a hurry
This hand spanking from a very strict husband is the second part in our new Victorian spanking trilogy. Dr Richard Barton is displeased with his wife Molly, and to punish her for taking matters into her own hands, he takes her over his knee and turns her beautiful bottom bright red. Molly is chastised for taking liberties with domestic discipline – in part 1 she spanked Dr Barton's son Alexander, and this installment shows exactly how her stern husband reacts. From her meek apologies and his stinging hand spanks, it's safe to say she won't be overstepping the mark again…
see MORE of these latest updates HERE
*******************************************************************
My fave redhead spanko Amber Dawn has a naughty POV style spanking with her Daddy and an interesting split screen angle so you can see his view and the side view of Amber's bubble butt and beautiful mouth wrapped around his cock!!! It's very hot as these screen grabs will show you!
You can MORE of Amber at all her sites with one membership at SpankAmber.com
**************************************************
A couple of recent updates from the Clare Fonda Pass group of sites, starting with Spanked Sorority Girls and a return spanking for Pledge, Poppy!
Poppy is back to her all tricks, spray painting the back wall of the sorority house. But Star catches her and deals out some serious punishment, marching Poppy into the living room where she puts her over her knee for a sound spanking. Perhaps Poppy will learn her lesson this time.
Check out MORE of Poppy's punishments and the beautiful pledges spanked by their seniors HERE
**********************************************
Spanked Sweeties has an entire series of gorgeous Gigi Allens alongside Clare Fonda – do NOT miss this!
Gigi Allens is an amazing beauty who we are so excited to add to our list of Sweeties. She grew up in Australia, where she was spanked regularly by her mom, dad and even Grandma. Clare Fonda makes a big splash in her official return to spanking playing Gigi's mom (and grannie) and providing the authentic accent and hard spankings.
CLICK HERE to see all the intro family spanking films of the amazing Gigi Allens!
*******************************************
Finally today, one of my fave Fonda group sites has always been Spankedcallgirls and this film gets more to the point of what I want to see MORE of at this site with the girls and their tricks interacting more, and not just with each other… Logan plays a "customer" who takes no crap off these terrible twosome as you will see (below)
Alexis Grace and Brandi are waiting for their trick Logan, when Alexis decides to steal his wallet. When he returns, Brandi tells on Alexis and suggests they gang up and spank the tall beauty. They do it hard with hand and hairbrush, otk and in the diaper position. Alexis learns her lesson.
View all the callgirl and naughty sluts getting spanked HERE
************************************************************
…the above Fonda sites can all be viewed as part of the top value ClareFondaPass.com